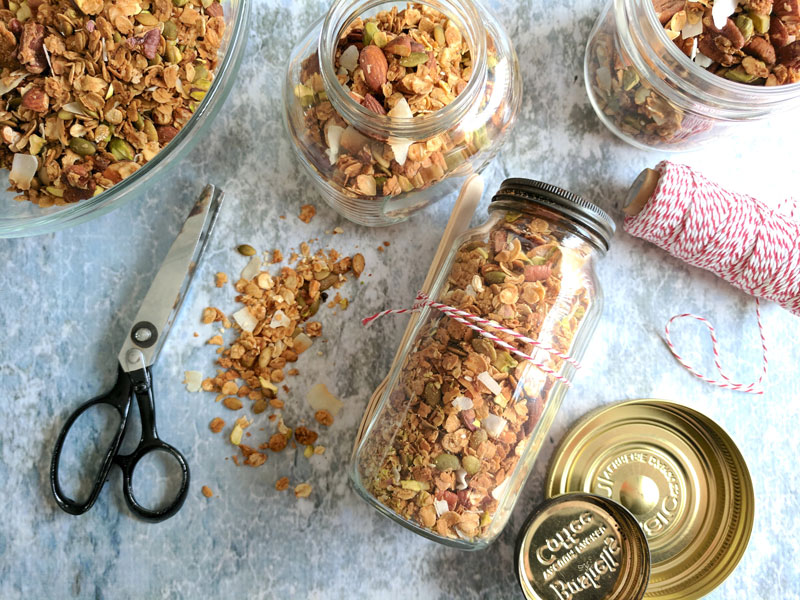 This recipe can serve multiple purposes –  make it for yourself as a kick-starter to a healthy summer or make it for family and friends for a wonderful Christmas gift. It's a lovely way to make something thoughtful and homemade and the kids can get involved too!
The granola is packed full of oats, nuts and seeds. It's great served as a crunchy topping over yoghurt or in a more traditional way with milk. Add some fresh berries or your favourite fruit to serve.
Hope you enjoy!
Makes: about 7 cups
Ingredients:
3 cups rolled oats
1 cup almond kernels, coarsely chopped
2/3 cup pecans, coarsely chopped
½ cup pepitas (pumpkin seed kernels)
1 teaspoon ground cinnamon
1 teaspoon ground ginger
½ teaspoon mixed spice
1/3 cup maple syrup or honey
2 tablespoons vegetable oil
2 teaspoons vanilla extract
½ cup coconut flakes
½ cup pistachio kernels, coarsely chopped
1 tablespoon sesame seeds
TO SERVE: Yoghurt or milk, fresh berries or sliced fruits, honey or maple syrup to drizzle
Method:
1 Preheat oven to 180C/160C fan-forced. Line two baking trays with baking paper.
2 Divide oats, almonds, pecans, pepitas, cinnamon, ginger and mixed spice among baking trays. Toss to combine. Combine maple syrup, oil and extract in a small jug. Drizzle evenly over oat mixture on trays. Stir to coat. Sprinkle with a pinch salt.
3 Bake for 20-25 minutes, stirring 1 to 2 times throughout cooking. Scatter coconut, pistachios and sesame seeds over oat mixtures. Bake for 3 minutes or until golden. Allow the granola to cool completely. Store in an airtight container for up to 2 weeks.
---
kitchenink.com.au     |     Facebook/kitcheninkau      |      Instagram/kitcheninkau