This recipe sees some roasted carrots added to a classic pizza. The kids love the sweet roasted vegetables and mums will love that it's super simple and easy to prepare. The flavours of the salty cheese with the sweet carrots and slightly spicy chorizo are a great combination.
If you don't want the chorizo and are looking for something milder, use a mild salami, ham or shredded cooked chicken – all will work well. For a vegetarian option, replace chorizo with thick sliced mushrooms, roasted capsicum or fresh capsicum.
Makes 2 pizzas
Ingredients:
8 baby carrots, quartered lengthways
1 tablespoon olive oil
2 plain or wholemeal pizza bases
1/2 cup tomato pasta sauce
2/3 cup grated pizza cheese
1 chorizo sausage, thinly sliced
100g feta cheese, crumbled
1/2 small red onion, thinly sliced
1/3 cup small fresh flat-leaf parsley leaves
Method:
1 Preheat oven to 220C. Place carrots on a baking paper lined baking tray. Drizzle with oil. Season with salt and pepper. Bake for 15-20 minutes or until golden and tender.
2 Place pizza bases on 2 baking trays. Spread evenly with pasta sauce and top with mozzarella. Scatter over chorizo, feta, carrot and onion. Bake for 12-15 minutes or until bases are crisp.
3 Sprinkle pizza with parsley. Serve with salad if desired.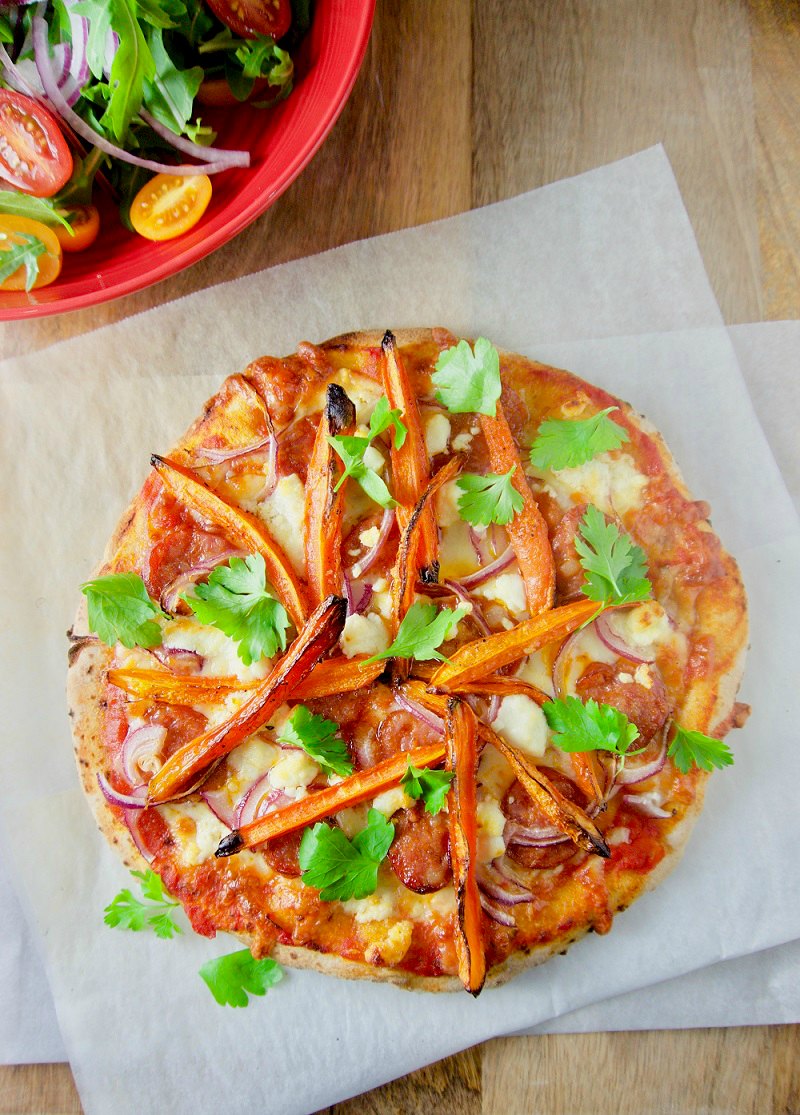 ---
kitchenink.com.au     |      Facebook/kitcheninkau       |       Instagram/kitcheninkau