Established in 2004, the Sister2Sister School of Singing is a specialised singing school offering music lessons, drama, musical theatre and fun dance classes along with varied workshops and ample performance opportunities in a family-orientated environment.
Singing classes
Your journey with us begins with an assessment with one of our school directors.  Here you will have a clear understanding of your current strengths and challenges, and learn all about the possibilities while setting some goals. You can ask questions and get to know what we're all about. We will work with you to choose a class or tuition schedule personalised to your needs. Whether training with our directors or other instructors within the school, our teachers are family. Most still train with our directors and have all come through our ranks over the last decade and a half. They are also qualified, career tutors and professional performers. This allows for strong continuity throughout your tuition schedule from your assessment through to each of your classes. 
We have a proven track record over 15 years of inspiring and nurturing our students through their studies. Whether choosing a career in the Arts, focusing on achieving a strong HSC result or simply pursuing a love of music, our tutors use both their technical and practical skills to ensure private classes are tailored to individual student needs. Each vocalise is carefully selected to achieve specific outcomes that correspond with the overall goals for improvement set out in your vocal assessment by our directors. Most importantly, beyond technique, individuality is at the forefront of our classes with pathways to explore artistry and creativity within our artist development tuition available. Each term, you will be also be encouraged to perform at our Open Mic. Days which provides the perfect environment to hone your craft and develop stagecraft skills in an encouraging environment.
Find out more here.

Little Sister Little Mister
Lead by 2 singing and dancing instructors, our Little Sisters and Little Misters will take to the piano to sing and engage in basic ear training, gently encouraging them to identify pitches, dynamics, melody, rhythms, and other basic elements of music. They will move their bodies to pre-choreographed dance routines, and experiment with props and musical instruments developing co-ordination and fine motor skills through movement & music!  Gender neutral content designed for boys and girls and parents are welcome to watch and participate.
Find out more here.

Dance lessons
Our dancers are featured in our in-house concerts and events however we do not participate in eisteddfods. Our classes are encouraging and cover technical movement and choreography to promote healthy bodies and physical awareness. We offer Hop Hop and Jazz/Funk for beginner to intermediate students.
Find out more here.

Music lessons – Guitar, drums, bass, piano and saxophone
Our music department is intrenched within our school and students are given opportunities to collaborate with each other and also vocal students. Our students are also invited to perform at our Open Mic. Days which occur at the end of each term.
Our music teachers are qualified, career tutors and full-time professional musicians. They have performed and recorded with top flight artists across a range of genres including Duo Lipa, Tim Finn, Diesel, Ben Lee, Guy Sebastian, Jess Mauboy, Delta Goodrem and Boy George to name a few. Each of our teachers boast 10 to 20 years teaching experience with us and at top tier private schools across Sydney. They have consistently lead their students to exemplary HSC results and Encore performances.
Our tutors guide students through AMEB Rockschool exams.
Find out more here.

Drama
Drama classes help with expression, confidence and self-esteem.
Drama students engage in script work and improvisation and interact with all departments of our school participating in our concerts and events. Drama classes help with expression, confidence and self-esteem. Imagination will constantly be in motion and interaction and communication skills will soar.
Find out more here.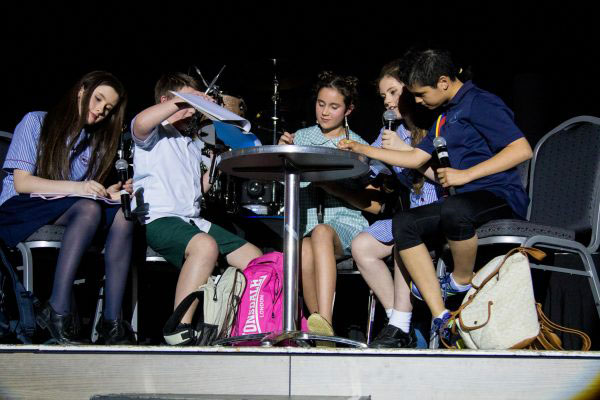 Musical Theatre
Sing, Dance & Act! Focus on the performance skills of acting, dancing and singing, staging and basic choreography, improvisation, character movement, and "acting the song."
Our Musical Theatre performance class will sharpen performance skills and familiarise students with a variety of age-appropriate musical theatre works.
Our fun and encouraging environment will develop confidence in all aspects of musical theatre performance and see students performing on our quarterly Open Mic. Day's and Showcase stages.
Find out more here.

Squad
Squad is our elite performance group encompassing first and foremost strong vocals, along with dance and performance skills. We work through creative routines which challenge and inspire, engaging Squad members in performances, writing projects and intensive camps which all extend skills and provide a platform in which professional careers can be established.
Squad have performed with Delta Goodrem on her 10 Year 'Innocent Eyes' video series, on Ch.9's The Voice, Sunrise on 7, the Morning Show and countless charity, local and corporate events.
Location: Castle Hill | Email info@sister2sister.com.au | Phone 9680 SING (7464)  |  sister2sister.com.au
Special offer: Free assessment with the Directors.