Sydney is full of beautiful spots to swim and they're not all surf beaches by the coast. Here's a list of some of our favourites, perfect for a day trip! It's always good to check local council and/or NSW Government websites or Facebook pages for the most up to date information and, for a couple of the suggestions, to confirm access, water quality etc.
Sometimes, especially over Summer, it's great to jump in the car and make a day of it by the water. And if you're looking for some natural water, be it a swimming hole, baths, lake or beach, you're going to have to drive, at least for a bit, out of the Hills.
If you have the time and your kids are a little older and can handle a longer car trip, there are some really beautiful spots a little further afield too. We will say upfront that if you visit on warm weekends, you may have to contend with some traffic. And at many of these spots you have to be prepared for the parking – it's not always easy and it's not always cheap. But once there, it's usually worth it!
*** While these options might seem more child friendly than surf beaches, children (regardless of age and ability) ALWAYS need to be closely supervised around all types of water. Many of the below options DO NOT have lifeguards on patrol. Also, it is often recommended you don't swim in certain spots after heavy rain. ***
Yarramundi Reserve
This is a popular spot recommended by lots of Hills District Mums as a great spot for a family day out. It's extremely shallow so is great with small kids. It's dog and horse friendly too! Dogs can be off leash here so if you have kids that are a little wary of furry friends, it's worth keeping in mind. Although when we visited all dogs were really well behaved and loving life! If your kids like to bob around on inflatables, this is a good spot for it. It's a great spot for exploring too, so you don't have to spend all your time in the water. There are little fish to spot and lots of pebbles and stones to keep everyone busy. There's shade in spots under the trees although we took a beach umbrella too which was good. There's a car park with quite a lot of spots and the water is only a short walk from there. There are loos too if required.
 LOT 7301 Springwood Rd, Yarramundi. THIS IS AN UNPATROLLED SPOT.
Time/distance: Approx 40 minutes / 36kms from Castle Hill.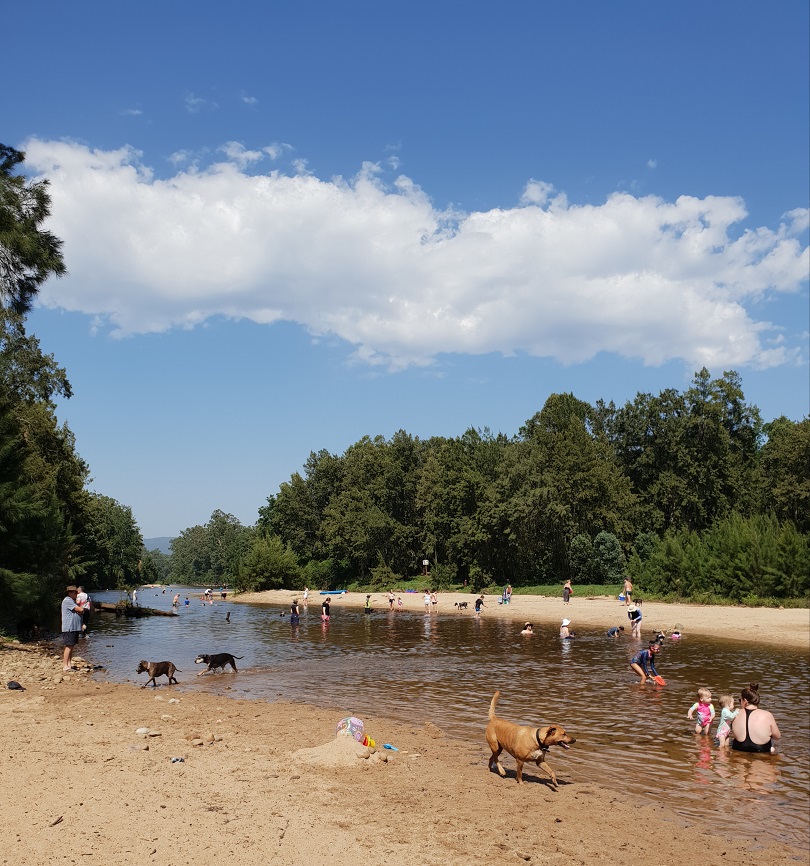 Upper Colo River
This peaceful bush setting in the reserve by the camping ground is a popular spot for families to swim and is often more of a paddle given the shallow water. The water is really clean and this area has been identified as one of 20 true wilderness areas remaining is South East Australia, with the Colo River being one of the last 'pristine' rivers. It's free for day visitors but if you're super keen, make more than a day of it and pitch a tent for the weekend! (Camping fees apply.)
Hulbert Road, Upper Colo. THIS IS AN UNPATROLLED SPOT.
Time/distance: Just over an hour from Castle Hill. Approx 60kms.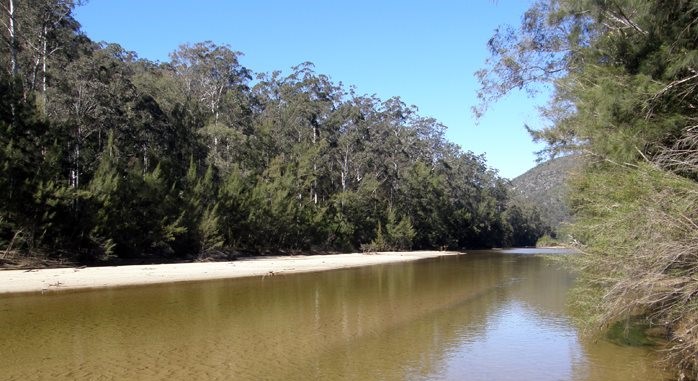 Jellybean Pool, Glenbrook
This is an gorgeous spot, with a lovely soft sandy beach. There's often a great mix of families, young people, couples and groups and everyone seems to behave! It's within an national park so you'll pay to enter. It's great with kids but be mindful of a couple of things – the closest car park is a ten minute moderate bush walk down a fairly steep decline including some rocks, so it's not great if you're outnumbered with kids who require one of your hands and if you have babies under 2 you'll need to carry them. You also need to carry all your gear too as it's not pram friendly. There are bathroom facilities but they're before the tollbooth at the start of the national park.
This is a good option if your kids are older too, or if you have a wide variety of ages, as they can be a little more adventurous and jump off the rocks.
While you're in the area, it's a 10 minute drive to Glenbrook and the well-known family friendly cafe '2773'. The playground in Glenbrook has also been refurbished and is apparently great for toddlers and there are plans for a bigger kids playground in the works too apparently.
Within the Blue Mountains National Park. THIS IS AN UNPATROLLED SPOT.
Time/distance: Approx 50 minutes from Castle Hill. About 50kms.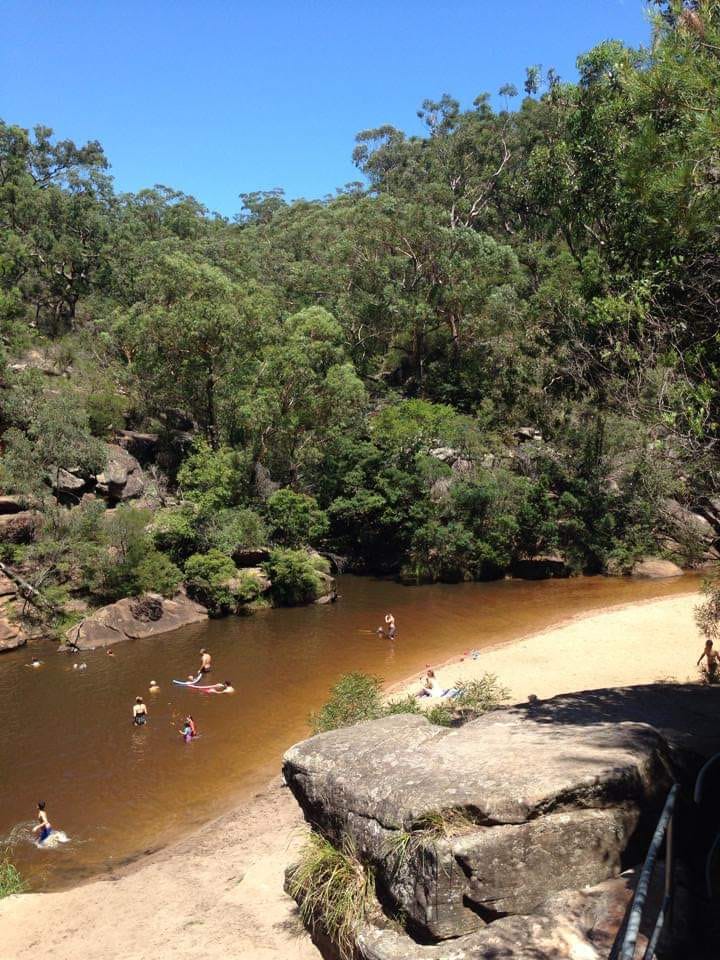 Lake Parramatta
A few years ago this spot was opened for swimming and it even has lifeguards on duty on weekends which is great for families. The swimming area is sectioned off by a rope but kids can easily get over this so you do need to watch them. It also drops away suddenly so it's good to warn kids about that too. It's probably best for kids that can swim rather than paddlers as there's not always much sand. The rocks can be slippery and there are pebbles so reef shoes can be handy too.
This spot has other family-friendly amenities like toilets, a playground, bbqs and a kiosk.
Entry to Lake Parramatta Reserve is from Lackey Street via Bourke Street North Parramatta.
Time/distance: About 15 minutes / 10kms from Castle Hill.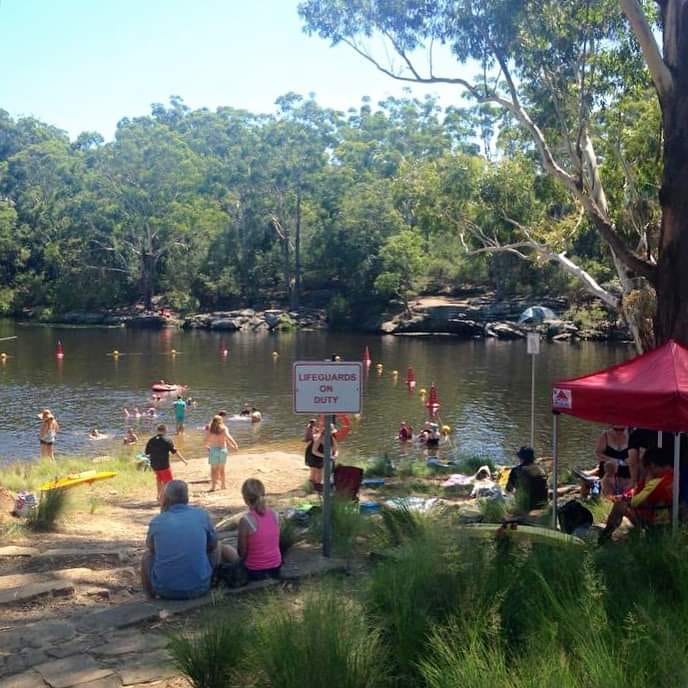 Crosslands Reserve, Hornsby Heights
This is a pretty, peaceful little place to cool off next to a camping area in the Berowra National Park. Although still technically in a suburb of Sydney, you feel a million miles from the hustle and bustle, surrounded by gorgeous trees and listening to the buzz of cicadas. Bob along on an inflatable but do watch for the current. While not strong when we visited, it's definitely something to be mindful of when swimming with kids. Ours are 4 and 6 and we would only go in with two adults present.
The Hornsby Shire Council website allows you to check water quality for swimming before you visit. Click here.
End of Somerville Rd, Hornsby Heights. THIS IS AN UNPATROLLED SPOT.
Time/distance: About 35 minutes / 25kms from Castle Hill.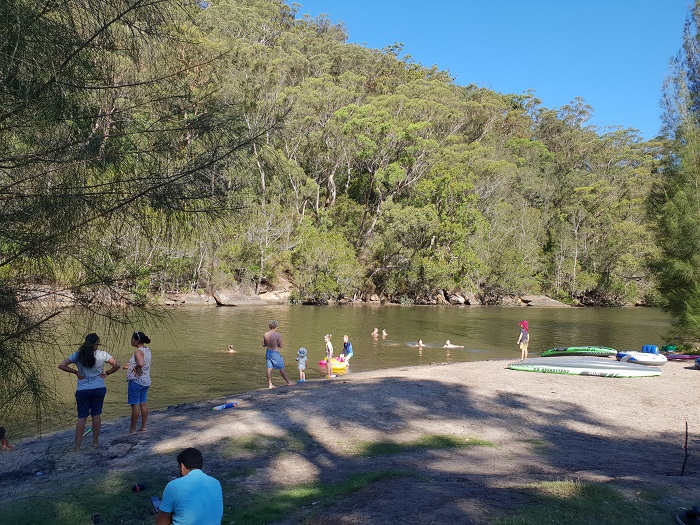 The North Shore
Northbridge Baths and Greenwich Baths
We love the idea of baths as they remind us of a bygone era and simple old-fashioned fun. We recall Northbridge Baths (pictured below) from our childhood and much of the spot's charm remains today. It's not totally fancy. Rather, a place where you can enjoy the simple pleasures of the water, sun and trees. There's some shade from shade sails and you could bring some morning tea or lunch and spread out on the grass. There are change rooms and loos and a small carpark that's free.
Widgiewa Rd, Northbridge.
Time/distance: About 35 minutes / approx 30kms from Castle Hill.
Greenwich Baths is another great option on the harbour and also has a cafe offering fish, calamari & chips, coffee, gelato and milkshakes! It's open now for Summer but isn't open all year round. There's parking on residential streets and a small entry fee (kids under 3 free).
Albert Street, Greenwich.
Time/distance: Approx 30 minutes / 25kms from Castle Hill.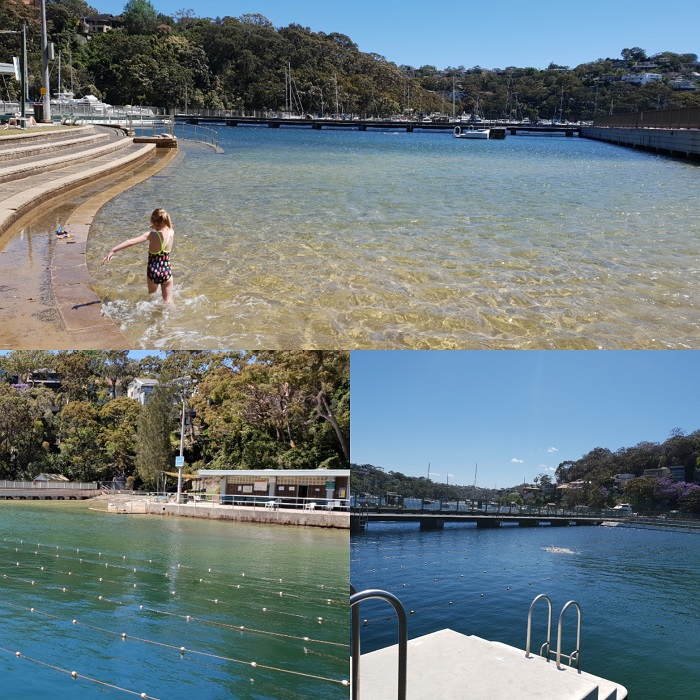 Maccallum Pool, Cremorne Point
This unique public pool has arguably one of the most stunning views in all of Sydney and the locals may hate us for sharing the details! The harbourside location and the unique character and style of the pool dating back to the 1920s make this a gorgeous spot to visit. The surrounding grassy areas on the point are a lovely spot for a picnic too and if you're up for a walk, the path winds right around to Mosman and offers stunning harbour views where you can watch the boats and ferries go by. The pool is closed once a week to be cleaned but this is usually on a weekday and doesn't take too long. A quick Google and you can find the estimated cleaning days and times.
Western side of Cremorne Point, Milson Road. (Park on this street then follow the signs for the pool – it's well marked.)
Time/distance: Approx 30mins / 28kms from Castle Hill.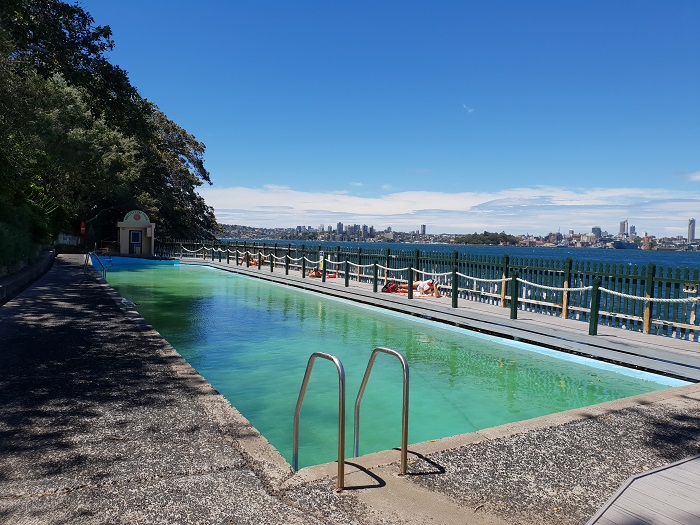 Balmoral
This is a long-standing favourite of many Sydney families and if you can handle the outrageously expensive parking and manage to nab a spot, then you're in for a lovely day. There are two main swimming spots on the beach, as well as baths. There are cafes and a lovely promenade to walk or scooter along. There's a little headland connected by a bridge which is fun to explore and there's also plenty of trees and grassy areas to throw down a picnic rug.
THIS IS AN UNPATROLLED SPOT.
Time/distance: About 40 minutes / 30kms from Castle Hill.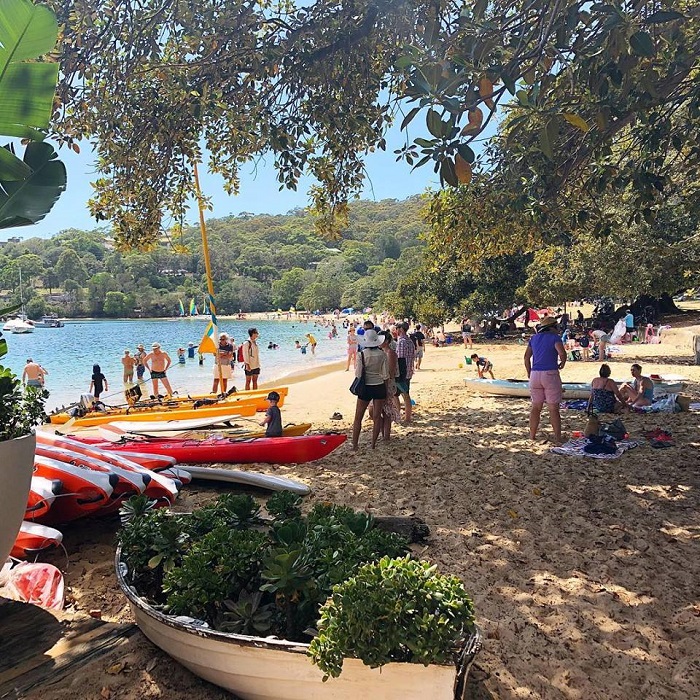 Clifton Gardens
We remember school picnic days at Clifton Gardens many moons ago! It's a stunning spot looking out over the harbour with a pretty jetty (older kids may love jumping off it!) and calm water to paddle about in. There's also a great playground with lots of shade to break up all the swimming and Bacino Kiosk offers coffee and light meals so you don't have to cart absolutely everything with you. There are toilets and change rooms too.
Morella Road, Mosman. THIS IS AN UNPATROLLED SPOT.
Time/distance: Approx 40 minutes / 30kms from Castle Hill.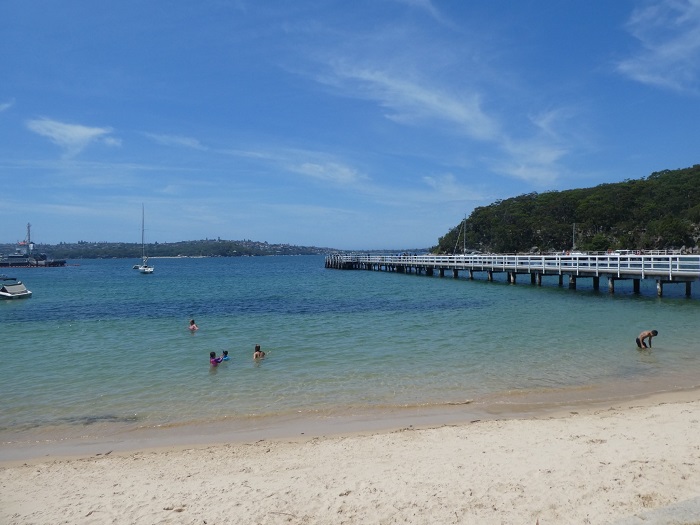 THE NORTHERN BEACHES
Lots of beaches along the coast are lovely, but we have a few favourites for families.
Clontarf
Just over the Spit Bridge is Clontarf Reserve. It's part of Middle Harbour and, with a calm sandy foreshore, it's a great option for parents with small kids who want to paddle about. There's also a good playground, a netted swimming area and large trees that can provide some shade if needed. And it ticks boxes such as toilets and a kiosk too. There's also a great cafe called the Sandy Bear on the marina that's worth a stop for lunch. And if you have kids that are into bridges, the Spit Bridge is a lift bridge, meaning it opens regularly to let boats through. Kids get a kick out of watching this! Google will tell you the opening times.
Sandy Bay Road, Clontarf. THIS IS AN UNPATROLLED SPOT.
Time/distance: Approx 45 minutes / 35 kms from Castle Hill.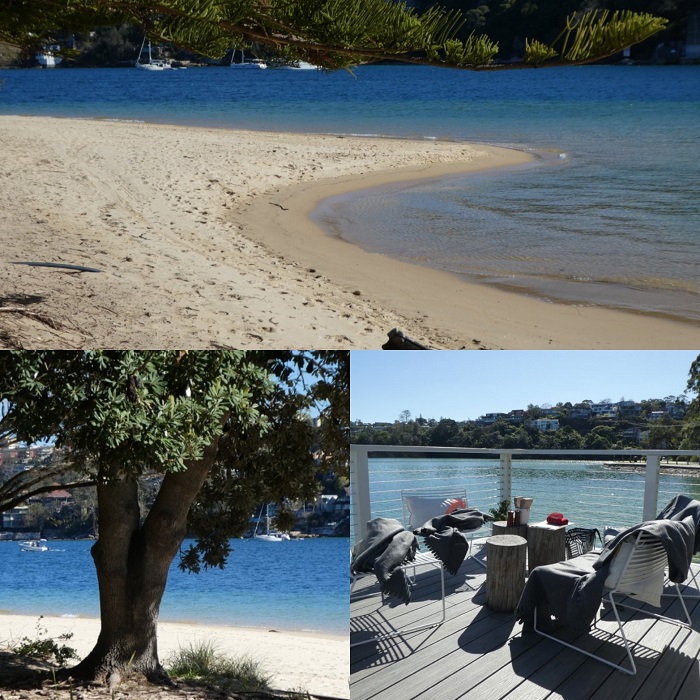 Dee Why
One of our favourite beaches to visit is Dee Why, mainly because of the pools attached to it. The blue one is great for younger kids and the other side is excellent for those who can swim. There is a cool little playground on the beach too.
Time/distance: Approx 55 minutes / 36kms from Castle Hill.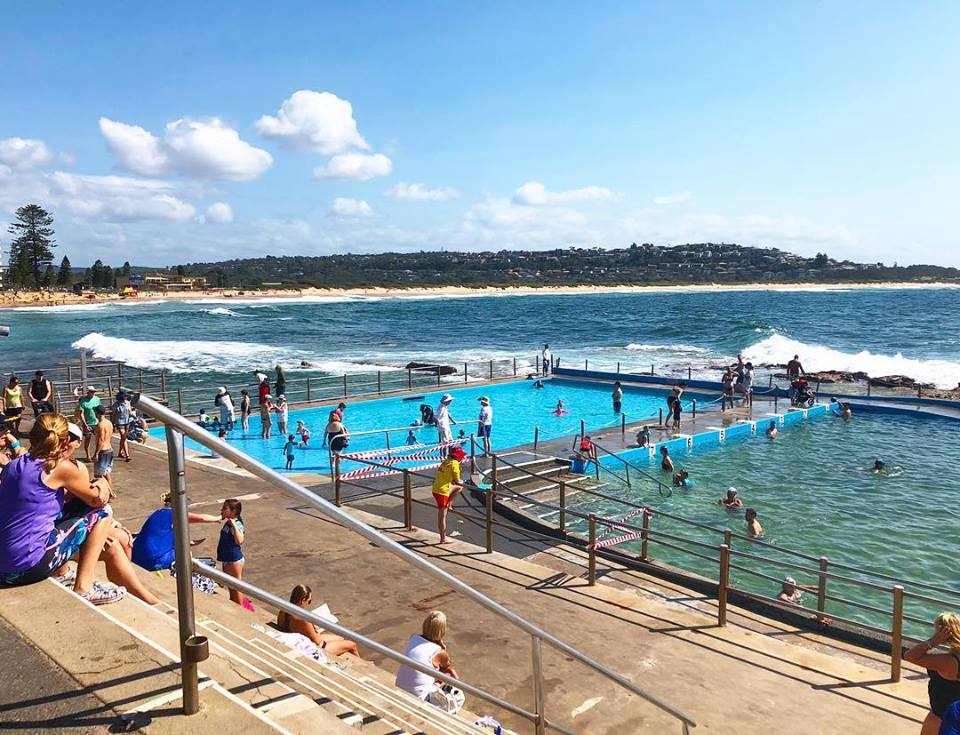 Collaroy
Collaroy is 100% family friendly! There's a patrolled beach, ocean pool for both adults and toddlers, rock pools to explore, a great fully fenced playground right at the beach and plenty of coffee and food options!
Time/distance: Approx 55 minutes / 42kms from Castle Hill.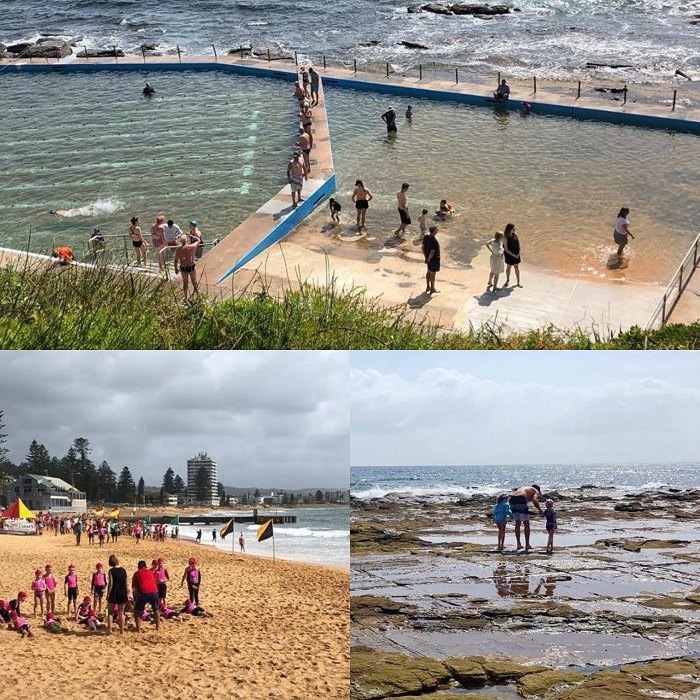 Palm Beach
This one is a definite day trip but once there offers another iconic beach offering great people watching, house porn and Home & Away vibes! Parking can be painful, but that's pretty standard for most beaches right? There are public loos and change rooms. There's also a bay side and a surf side, as well as lots of spots to grab food or coffee and a  playground in Governor Phillip Park too. And if you're feeling super energetic you can climb up to Barrenjoey Lighthouse for the stunning view – it's about 30 minutes each way. And if you get 10 minutes to yourself, pop into The Boathouse for gorgeous homewares.
Time/distance: Approx 1.25 hours / 52kms from Castle Hill.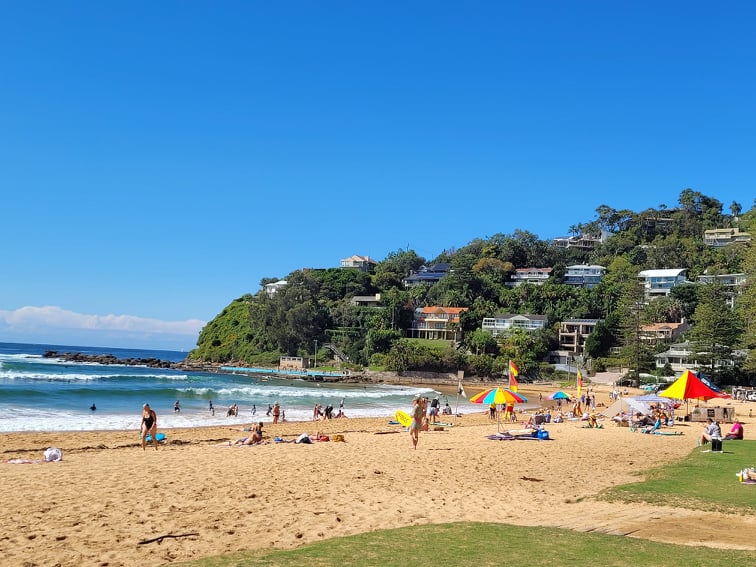 THE EAST
There are a some lovely little spots in the East and an added bonus when driving this way is the house porn you can spot!
Parsley Bay
This is a pretty little harbourside spot perfect for families. There's an enclosed swimming area, playground and toilets. The suspension bridge is pretty cool too.
The Crescent, Vaucluse. A small carpark is available from Parsley Road (Horler Avenue).
Time/distance: Approx 48 minutes / 40kms from Castle Hill.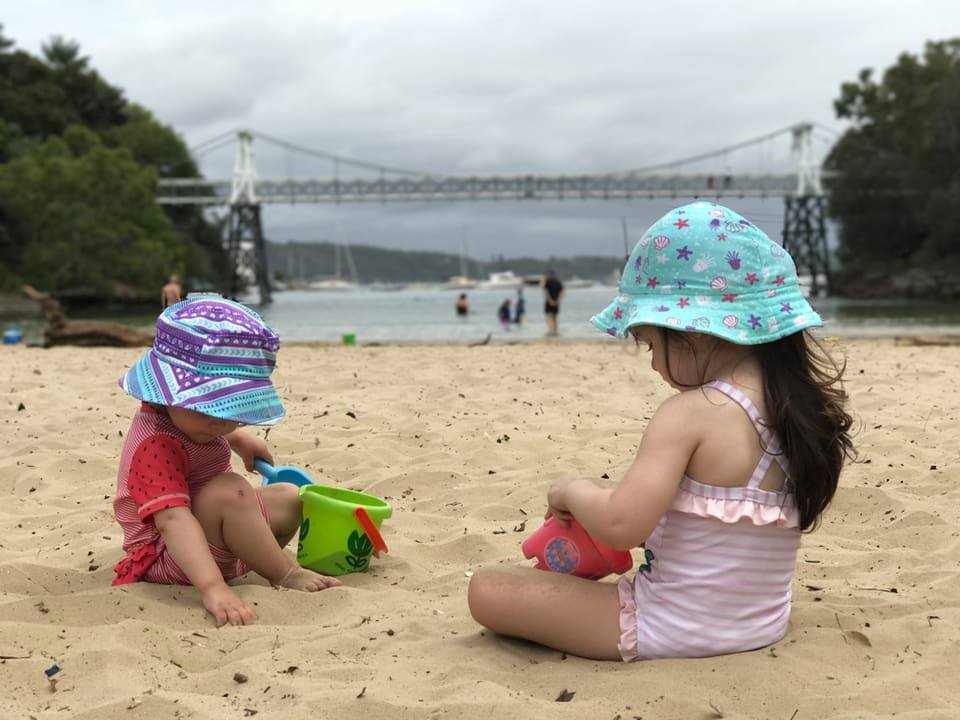 Nielson Park
Another picturesque family-friendly spot in the East is Nielson Park. It follows the winning combination of calm water, grassy spots and an esplanade to stroll along.
Fig Tree Road, Vaucluse.
Time/distance: Approx 50 minutes / 42kms from Castle Hill.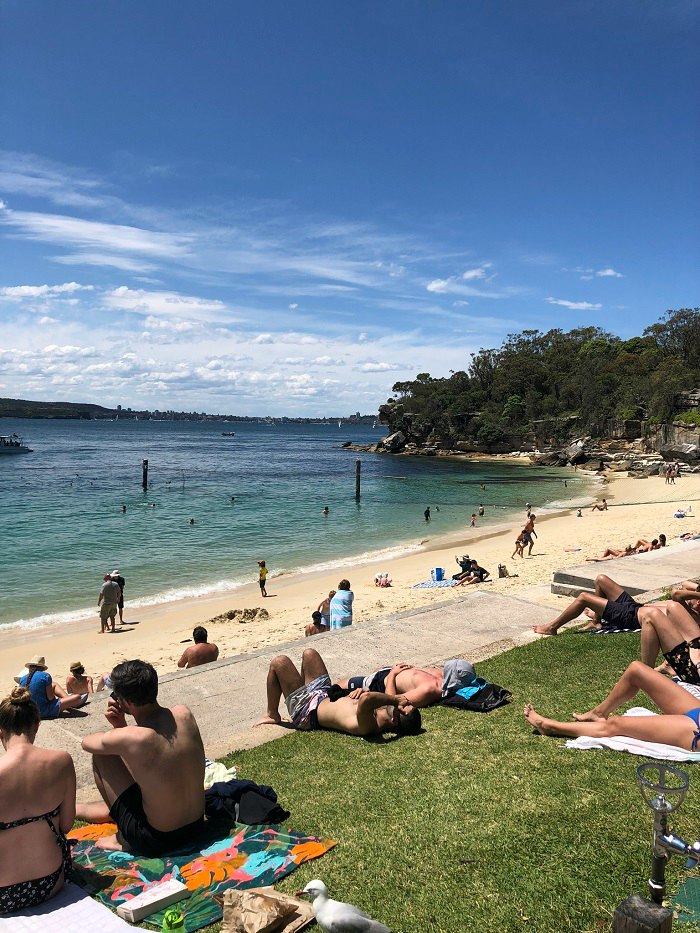 A LITTLE FURTHER
If you have kids that are up at the crack of dawn anyway, a trip that takes more like 1.5 hours sometimes isn't a big deal. And if you're making a day of it, it can be worth the extra 20 minutes in the car. Below are a couple of beaches we love that take a bit longer to get to than spots in Sydney but you'll feel like you're on holiday! They're busy on weekends, but really, everywhere is during summer!
Patonga
Patonga Beach, about an hour and 15 minutes north of Sydney, is a gorgeous family-friendly spot and makes for a great day trip, with a flat beach, two playgrounds and food options. It's the most southerly beach on the Central Coast and, while it's unpatrolled, the water is calm due to its location within a recessed bay – this makes it ideal for kids. There are two playgrounds for kids located at either end of the beach and a cool pub across the road, The Boathouse Hotel Patonga, which offers dine in and takeaway options.
Time/distance: Approx 1.25 hours / 80kms from Castle Hill.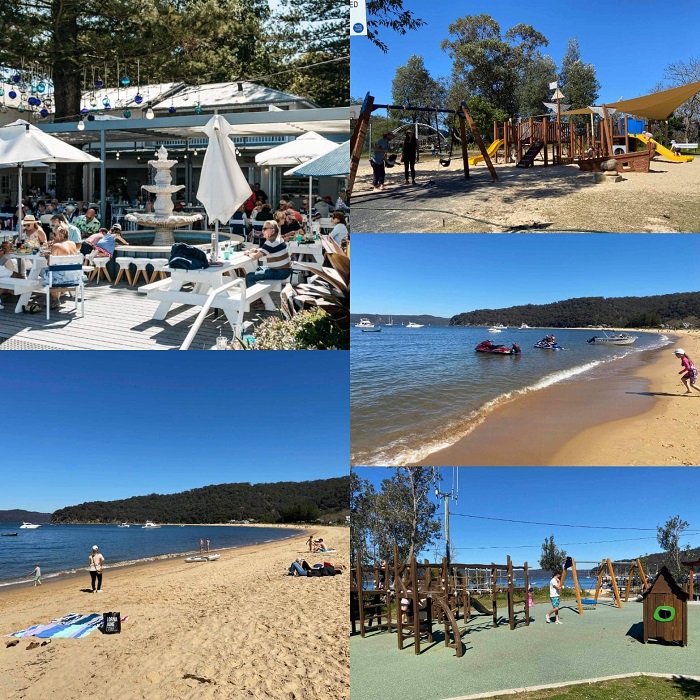 Austimer
Austinmer, just under 1.5 hours from Castle Hill on the south coast is a magic spot for families and as a result very popular. We love these stunning beaches down this way. Austinmer offers parking, a patrolled beach, ocean pools, food options opposite, a little playground and toilets. Another great beach in this area is Thirroul.
Time/distance: Approx 1.5 hours / 100kms from Castle Hill.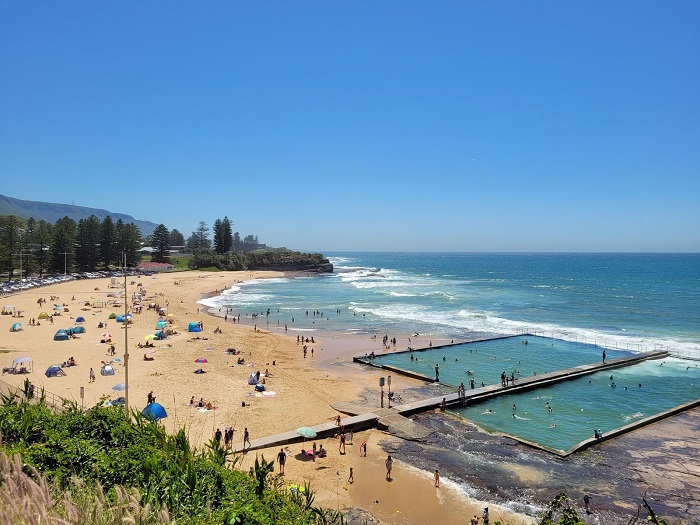 ---
*** While these options might seem more child friendly than surf beaches, children (regardless of age and ability) ALWAYS need to be closely supervised around all types of water. Many of the above DO NOT have lifeguards on patrol. Also, it is often recommended you don't swim in certain spots after heavy rain. ***