Pronounced "kla-fu-ti", this is a delicious baked French dessert, and another one of those recipes I tested and tasted and had to make over and over again. It's so simple, really adaptable (you can swap the raspberries for your favourite fresh, frozen or tinned fruit or berries), and surprisingly impressive. Everyone will ask you to make it again – just smile and say yes, and don't let on how easy it is! I serve it hot out of the oven with a sneaky scoop of vanilla ice-cream or a dollop of thick cream on top – because when it comes to desserts, there's no such thing as too decadent.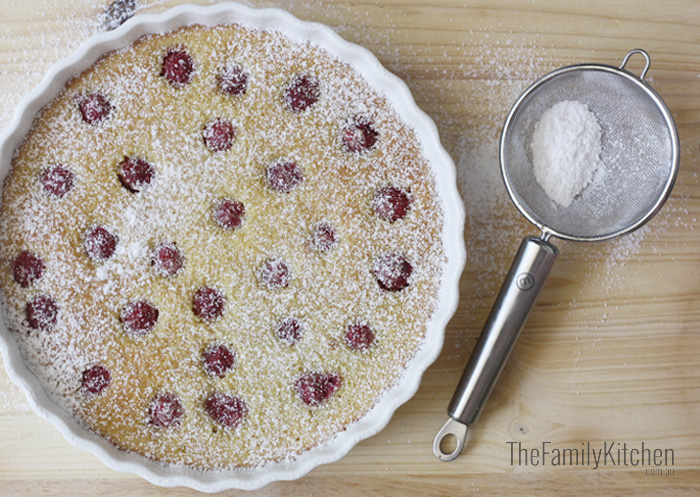 SERVES 4
PREPARATION 10 minutes
COOK 30 minutes
Equipment
measuring cups
microwave-safe bowl
shallow 4 cup-capacity baking dish
medium bowl
small bowl
whisk
sieve
Ingredients
1 cup (125g) almond meal
¼ cup (35g) plain flour
¾ cup (165g) caster sugar
4 eggs, plus 1 yolk
¼ cup (60ml) thickened cream
50g butter, melted
125g fresh or frozen raspberries
pure icing sugar, to dust.
Method
1. Preheat oven to 170C / 150C fan. Grease a shallow 4 cup-capacity baking dish.
2. Combine almond meal, flour and caster sugar in a medium bowl. In a separate small bowl, whisk together eggs and egg yolk. Gradually whisk in cream and melted butter, until combined. Gradually add almond mixture to egg mixture, whisking constantly, until combined.
3. Place raspberries in base of prepared dish. Pour over batter, until dish is two-thirds full. Bake for 30-35 minutes, or until just set. Cool slightly, then dust with icing sugar and serve.
Chef's tips
Make sure the butter has cooled before whisking it into the eggs.
You can replace the raspberries with any berry you like.
This dessert is best served warm.
---
Want to know how many kilojoules are in this recipe? Get all the important nutritional counts right here.
For more family-friendly recipes, like thefamilykitchen.com.au on Facebook and follow us on Instagram!