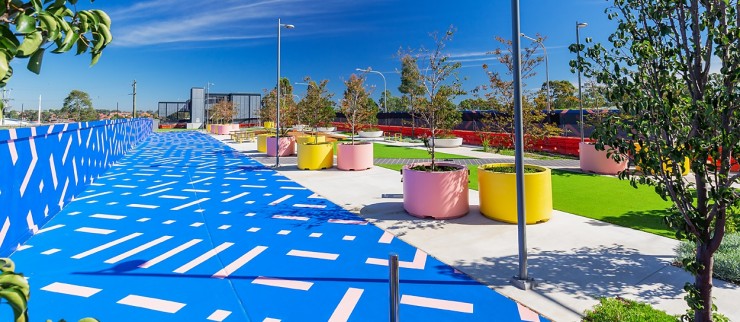 Conveniently located right by Bella Vista Station, the newest outdoor space in the Hills is now open! Whether you're looking for a place to relax, exercise, catch up with your friends and family, walk your dog, enjoy a picnic, or take part in our fun range of activities, this is the perfect local spot.
And to celebrate the opening, there are a number of awesome free activities taking place!
Learn to Skate Workshops presented by Totem Skate – every month from Saturday 10 September. Places are limited so you must register.
These fun and relaxed workshops focus on the development of motor skills and confidence building. The workshops are open to 6–12-year-olds. Helmets, skateboards, elbow and knee pads are provided, but you are welcome to bring your own equipment if you'd prefer.
The Big Busk 'Meet the Orchestra' presented by Sydney Youth Orchestras – Thursday 29 Sept, 10.30 – 11.30am.
The Big Busk is a celebration of youth and orchestral music and brings various locations across Sydney to life with over 10 hours of consecutive live performances. Bella Vista Pocket Park will host 'Meet the Orchestra', a live performance for families, friends and fur babies to enjoy in a relaxed setting.
Pre-school Dance Classes presented by Stage Door Performing Arts – every week from Wednesday from 12 Oct.
Every Wednesday morning (during school term), The Stage Door Performing Arts operates a free weekly dance class for pre-schoolers at Bella Vista Pocket Park. Classes are designed for kids aged 2 – 5 years old to help develop motor skills, musicality, and social and emotional growth.
The Stage Door Cafe will also be open during the class providing the option for refreshments and a relaxing spot for parents and caregivers to meet local families at the same time.
Doggy Day Out presented by Pound Paws – Saturday 15 Oct, 12pm – 4pm.
There'll be live entertainment, celebrity guests, dog yoga, best dressed competitions, informative talks, and great prizes to be won, plus plenty of room for dogs and their humans to run free.
Adult Fitness Classes presented by Live Life Get Active – weekly from Thursday 15 Sept.
Regular classes will include yoga, boxing and cross training. During school terms Adult Fitness Sessions will run Tuesday Thursday & Friday mornings. Family Fitness workshops will run Monday & Wednesday afternoons.
Visit bvpocketpark.com.au to discover more about the fun-filled line up of activities at Bella Vista Pocket Park!
Access via Bella Vista Station South, 2 Mawson Avenue.