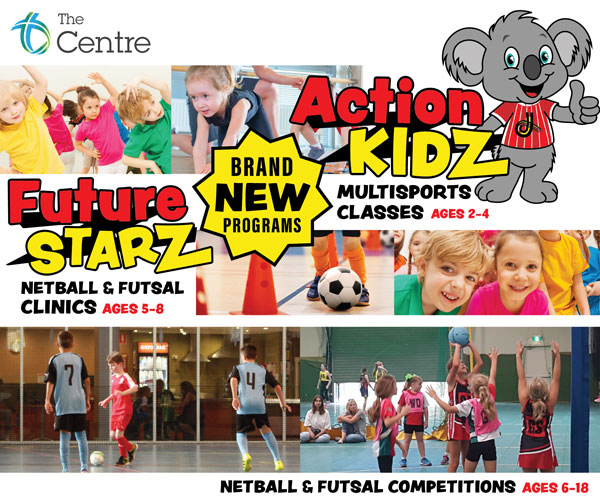 The Centre, Dural
Age group – 2 years to adults
At The Centre we value getting kids moving, staying healthy and having fun through sports and fitness. Come and play indoors, with the convenience of on-site parking and a café.
Action Kidz is our brand new multisports program for kids aged 2-4. It incorporates skills from futsal, netball, racquet sports and basketball along with obstacle courses, fitness and gross motor skills. We hope you can come along and get moving with us!
For kids aged 5-9, another brand new program, Future Starz, allows them to refine their sports skills, with their choice of Netball or Futsal Clinics. These classes are still fun, experiential and play-based while adding in a few more technical skills and drills. Sign up now to save your spot.
Our Netball and Futsal Summer Competitions for kids aged 6 thorough to adults kicks off in September. Sign your team up now ready for the start of the season (or let us know if you would like to be placed in a team).
WHY PLAY FUTSAL AT THE CENTRE?
Futsal is a fast paced, dynamic 5-a-side version of football for both male and female players.
It is one of the fastest growing sports in the world.
Futsal is played on a smaller, hard-court surface indoors, making it the perfect sport for all weather conditions.
Playing futsal develops technical ball skills and increases a players speed and agility.
The smaller court size allows all players to be constantly involved.
Weeknight games keep your weekends free for leisure or other sporting commitments.
Futsal can also be a great accompaniment for outdoor players looking to improve skills and fitness throughout the week.
WHY PLAY NETBALL AT THE CENTRE?
Netball is a fast-paced intensive game that requires players to run around the pitch, sprint, and change direction quickly.
It is a non-contact sport, so is great, safe sport for kids.
We play 7-a-side, outdoor rules on full-size netball courts, so you can play "outdoor" netball, indoors, all year round!
Our different format (2 x 20min halves) aims to jointly maximise a longer game time with optimum court usage.
Weeknight games keep your weekends free for leisure or other sporting commitments.
The Centre is an approved Active Kids Provider, so you can use your $100 vouchers towards our Future Starz program or Summer Sports Competitions.
The Centre is a vibrant community hub of sports, church and community in Dural that caters to individuals, families and teams.
Location: The Centre, 1 Pellitt Lane, Dural
Contact: (02) 8989 0000  |  sports@thecentredural.org.au  |  www.thecentredural.org.au