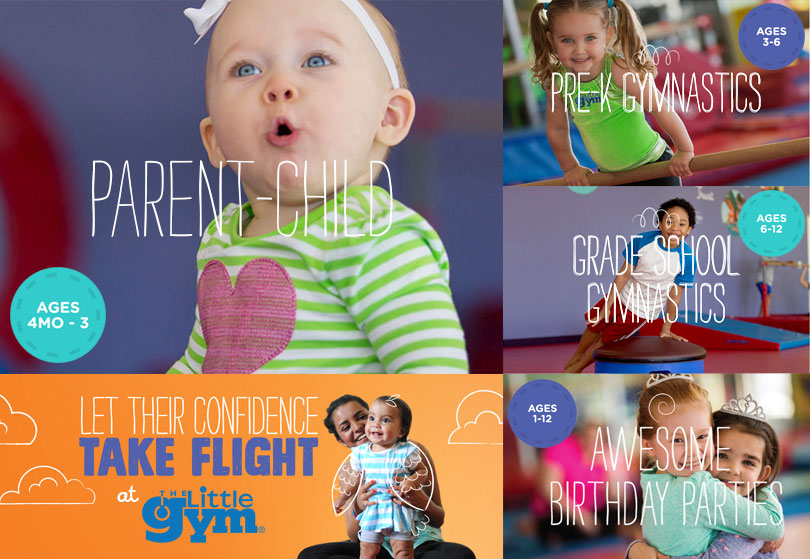 Age group – Babies to 12 years 
The Little Gym is an Approved Active and Creative Kids Provider! The Little Gym program is specially designed to create fun and special memories in a way they enjoy most and that will help your child channel their boundless energy and reach developmental milestones in a structured and nurturing environment. Life lessons that will be learnt across all classes can aid in boosting your child's confidence, increase their focus at home and school and cooperation in group settings just to name a few!  At The Little Gym, shy kids gain confidence, and confident/active kids, learn patience and control. Each child is given the opportunity to practice and progress skills at their own level which is a big bonus!
The Little Gym classes focus on three key areas.
Get Moving – encouraging exercise through gymnastics which assist flexibility, strength, balance and coordination.
Brain Boost – nurturing listening skills, following instructions, concentration and decision-making.
Citizen Kid – promote sharing, teamwork, cooperation and leadership abilities.
The Little Gym runs classes based on smaller and more specific age groups in order to carefully tailor the content and skills to match the appropriate milestones for the children.
Our age groups:
For those aged under 2.5 years, age groups are parent/child classes which promote early development and provide a strong foundation for your child's critical first three years. Age groups are Bugs (4-10 months), Birds (10-18 months) and Beasts/Super Beasts (19 months – 3 years).
Pre-Kindergarten Gymnastics – this program will help your children channel their boundless energy and reach developmental milestones in a structured environment. Funny Bugs (3 years), Giggle Worms (4-5 years) and Good Friends (5-6 years).
Grade school Gymnastics – your big kid will flip at the chance to tackle new challenged at their own skill level in a super fun environment. Flips (6-12 years) and Twisters (6-12 years Intermediate Girls).
Dance – For those kids who can't stop tapping their toes to the beat and love expressing themselves through creative movement. Giggle Toes (3-5 years) and Jazzy Jets (6-12 years).
Special offer: Call or email one of our following locations to book in a FREE Introductory class and experience a program that parents and children love:
The Little Gym Dural is a Registered Covid-19 safe business and we have put many new procedures in place to ensure the health and safety of our families. For more information on what we are doing to keeping the community safe, contact our team today!
The Little Gym Dural | P: 8443 0160 | E: dural@thelittlegym.com.au | W: dural.thelittlegym.com.au