Don't avoid seeking healthcare because of fears of COVID-19. The WiSE Clinic at Macquarie Park (just down the M2 from the Hills District) continues to provide Specialist emergency care in a safe environment – for all non-respiratory needs, 10am – 10pm 7 days a week.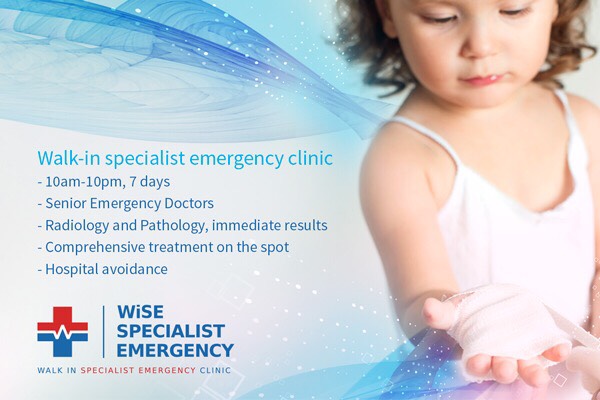 Whether you're injured, experiencing tummy pain or have pregnancy concerns, the emergency physicians can see you quickly and away from the risk of viral infection.
Walk in to WiSE for
cuts, fractures, falls, other injuries
early pregnancy complications (< 20 weeks)
infections & cellulitis
abdominal pains & suspected appendicitis
atypical chest pains
migraines, headaches, vertigo, ENT.
Learn more here.
Opening hours – WiSE Clinic & WiSE Radiology
10am – 10pm, 7 days a week.
Bulk-billed Radiology available.
For Iron infusions, CT & Ultrasounds, specialist clinics (fracture clinic, physiotherapy, cardiology) please call reception on 9216 7676 to make a booking.
Respiratory symptoms – the NEW Ryde Respiratory Clinic
If you are experiencing a cough, runny nose, fever,  sore throat or trouble breathing please do NOT present to the WiSE Specialist Emergency Clinic. The WiSE Specialist Emergency Clinic team is working with the Commonwealth Department of Health and Northern Sydney Primary Health Network to establish a Primary Care Respiratory Clinic adjacent to, but totally separate from the regular WiSE Specialist Emergency Clinic.
The Respiratory clinic will be available to assess people with mild-moderate respiratory symptoms and test and diagnose cases including COVID-19, influenza and pneumonia. It aims to take the pressure off local emergency departments who will need to prioritise severe cases, and relieve pressure on local general practices, so that they can continue to safely care for patients for non-respiratory related conditions.
Please go to the specialist Respiratory Clinic located separately to the WiSE Clinic.
Learn more here.