In these unprecedented times, kids need to play more than ever! While bringing moments of joy to the whole family, children naturally learn and develop through play. It fosters self-esteem, creativity, emotional skills and the resilience that's become increasingly important over the last few weeks. Families that play together are also happier*. So, in a time of great uncertainty, play may be just the antidote to stress we all need.
Parenting expert and mum of two, Jessica Joelle Alexander, shares a few tips to help parents play well with their families, whatever time, space or toys they have available!
Prepare a playful mindset – Making play part of the family routine can help parents leave worries and to-do lists at the door. Try and ensure you are truly present in the moment so even if you only have 20 minutes to play, it's 20 minutes of quality time together.
Make routines playful – Routines help children feel safe and secure as they know exactly what to expect and when. But routines don't have to be boring; pretending to be in a marching band when going to bed, singing songs while getting dressed or playing 'Simon says' while brushing teeth are all examples of ways to make routine more playful.
Mix play spaces – At times like this when space may be limited, expand the play area into the digital world. Children are great at fluid play; they move seamlessly from physical play into the digital play world. Kids can build with LEGO bricks and then bring them to life in a virtual game or make stop motion videos with you. These are all great ways to mix play spaces and let creativity soar.
Stay active – Physical play can be hard at home, but it's more important than ever; it burns off energy, is a natural mood booster and helps children develop gross motor skills. Have a dance off, a pillow fight or create some exercise challenges and enjoy being active with your child.
Play something you enjoy – Play is more fun for everyone if parents enjoy it as well as children. Whether it's a favourite family boardgame, trying out a new craft or making paper airplanes it's much easier to pay attention and leave stress behind when you enjoy the play activity.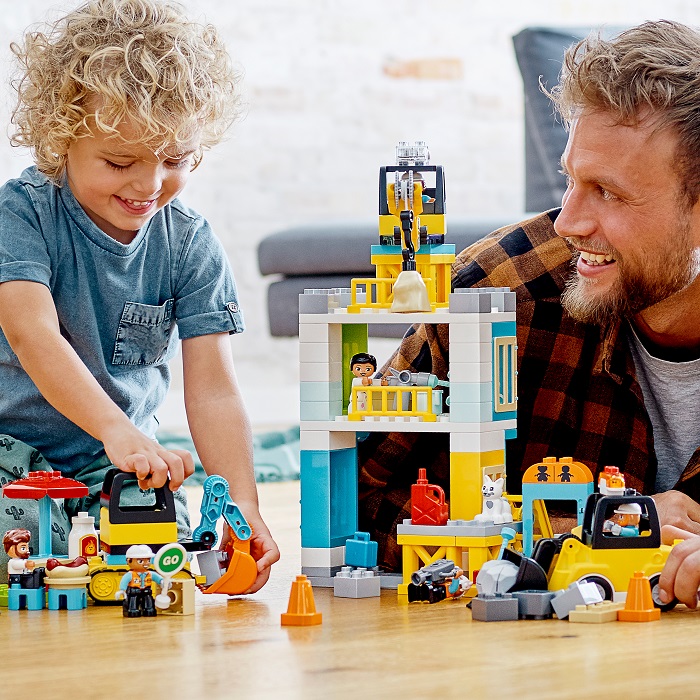 Try to make chores fun – Doing chores together can be playful and bring the family together, as well as helping parents out. Try to make tasks fun; see who can tidy their room the fastest, put on music and sing your songs while washing up or turn laying the table into a dance.
Digital play can help connect families – Online games can be fun and bring people together. Even families that are separated can easily stay connected by playing online multiplayer games which can also help kids develop communication skills.
Keep it real – Kids don't need lots of toys to be playful – they have amazing imaginations. They can turn an obstacle course made with pillows into an escape from crocodiles, or reimagine a cardboard box as a fantasy house, a ship or a puppet show stage.
Find play activities that help you relax – Putting puzzles together, building LEGO models, colouring or even baking can be really relaxing as they help the whole family focus on the present moment and enter a state of mindfulness.
Connect don't correct -–Whatever activity you do as a family, try not to not correct your child too much. At a time of uncertainty, play is about having fun, and children will learn naturally from mistakes. Ask why they put that brick where they did, or whether they think the batter is mixed well enough. By being supportive, we can help foster resilience and a growth mindset.
Tune in – Many families are experiencing changes to their routine which can leave children feeling confused and unsettled – this is a completely normal response to uncertain times. Recognising this and tuning in to the mood of each member of the family can help us understand what kind of play is best for that moment.
Play is a space where parents and toddlers can truly bond and connect. Developmental toys like DUPLO can help bring parents and toddlers closer together. Find out how LEGO® DUPLO®  building bricks and toddler learning toys support your little one's developmental milestones, one brick at a time.
Need some inspiration on fun games? Check out these LEGO® DUPLO® no prep games.
* LEGO Play Well Report, 2018 – global survey of 9,249 parents of children aged between 18 months and 12 years and 3,723 children aged between five and 12. Nine out of 10 families (88%) who play for five hours or more a week claiming to be happy, while, of those who play for less than five hours, seven out of 10 (75%) say they are happy.
---
This is a sponsored article provided by LEGO® DUPLO®.