Fitting in exercise is tough when you're a busy mum, but it's so good for our mental and physical wellbeing. When we're not in lock down we meet with a group twice a week to exercise and then follow it up with coffee! When we can't do small group training (like now!), we love to do this work out and, now that we're in lockdown, it's an easy one to do on our own or with kids around.
It can be done in your back or front yard or in a local park. It can be adapted for any fitness level. It's derived from a popular workout called the "12 Days of Christmas" Workout. If you think of that Christmas song it'll help you work through the workout, as it builds as you go along. The workout is done just like the song – Round 1 = 1 run, Round 2 = 1 run, 2 star jumps, Round 3 = 1 run, 2 star jumps, 3 lunges etc.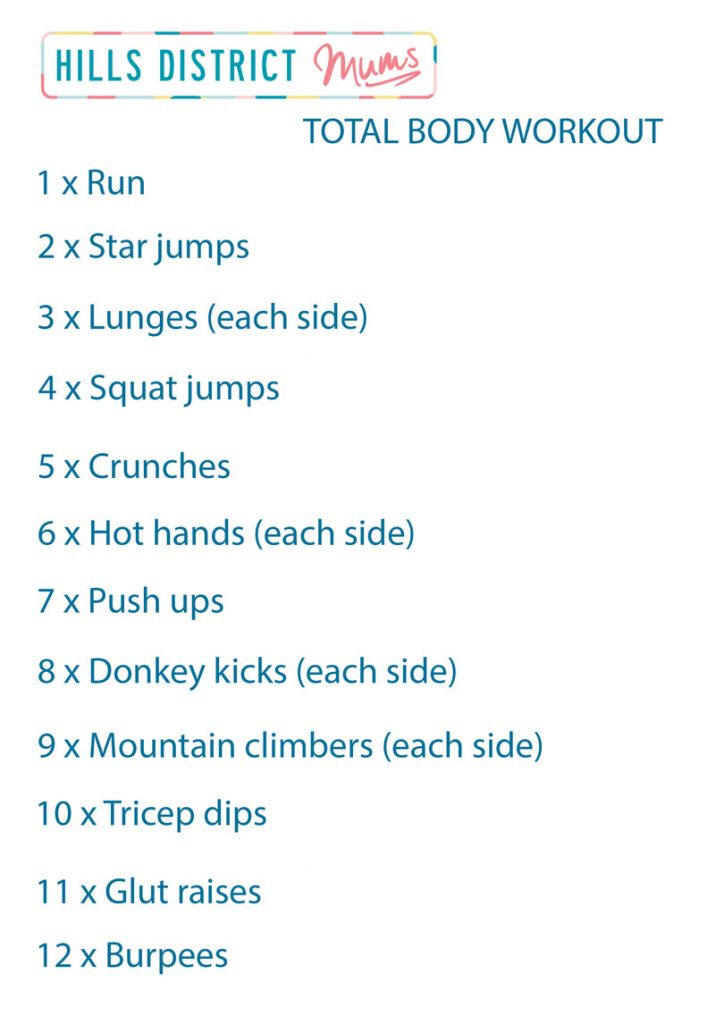 This is a free printable.
How long do I run for?
We like to run at least 100 metres which can be done on our street or at our local park. This is what really gets your heart rate up. If you can't run or don't have the space, you could do 50 high knees on the spot, squat punch 50 times or skipping. Think of something that gets your blood pumping.
Can I change it?
Of course, you can change any of the exercises to suit you. Our kids do it with us and we swap out some exercises for netball shooting as an example. If you have weights you could also add those in.
What are the exercises?
Here are some videos for the ones you may not have heard of.
If there are others you don't know, YouTube has great videos.
How long will it take?
This depends on how long your run portion is. If we do a 200m run each time the total work out takes about half an hour.