The word is out on the street that a new fish restaurant has opened in Dural! Our friends know that we're always hungry and in search of (wine and) interiors to feast our eyes upon. We head in the direction of Flippinfish and park at the top floor of Woollies at Round Corner Plaza (shhhh, don't tell anyone).
Domenic Lombardo, a builder by trade and the owner of this new establishment, recently won the prestigious Hills Building and Design Award. His previous work includes projects such as Emorio Armani in Westfield, Bondi, Tag Heuer Boutique, Sydney, and Bistro One Eleven in Brisbane, to name just a few.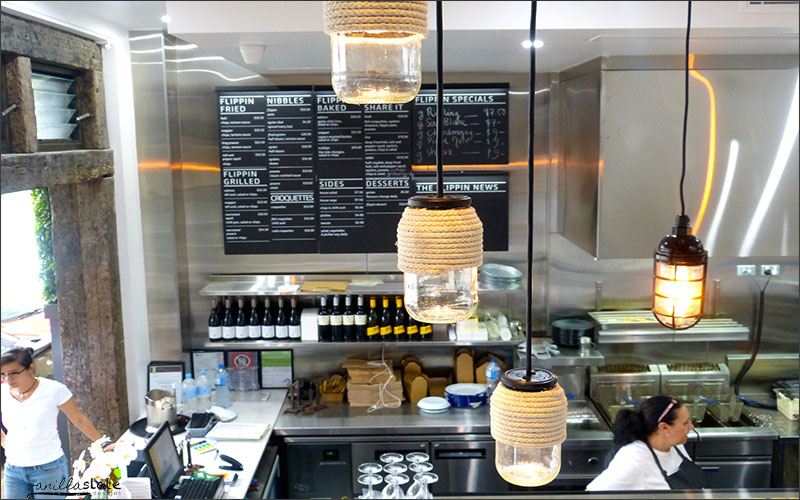 Domenic shows us around and, of course, the question has to be asked about the inspiration behind the name. He tells us, "When I identified the need for a fresh fish take away/restaurant in the area and asked my wife, Catherine, what she thought, she exclaimed, "What! Do you want me to work in a flippin fish restaurant?!" The name stuck, and so did Catherine. Along with the staff from far corners of the earth such as New Zealand, Boston and the Head chef, David, from Campbelltown (yes, even as far as that), they make a formidable team.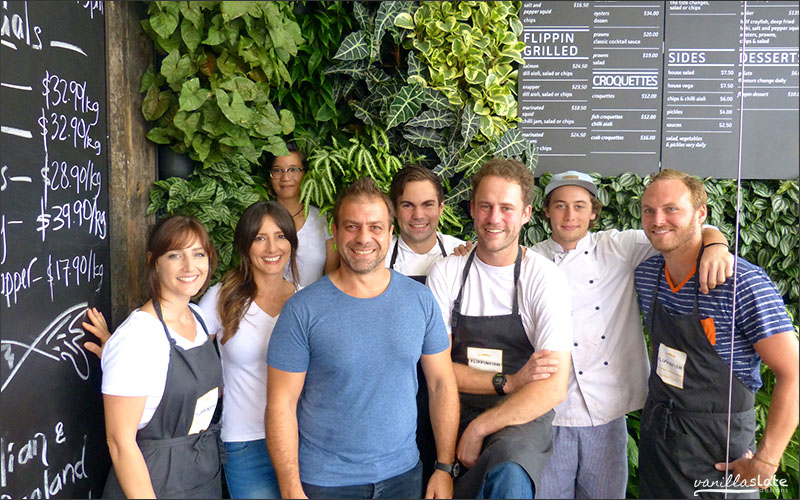 Domenic tells us that he worked closely with Arora Design to get the visual effect in the restaurant he wanted. Having been in the building industry for so many years, he has a wealth of knowledge about the local suppliers and knows whom to source from to get the effect he envisioned for the restaurant.
Rustic sleeper timber dominates the restaurant upstairs and lends beautiful warmth to the interior with its grainy texture. Sleeper timber slats in a chevron pattern create an interesting feature wall and the cosiness is further enhanced by the warm glow of industrial style lighting and sleeper timber flooring. What a lovely environment to enjoy your meal while overlooking the Blue Mountains!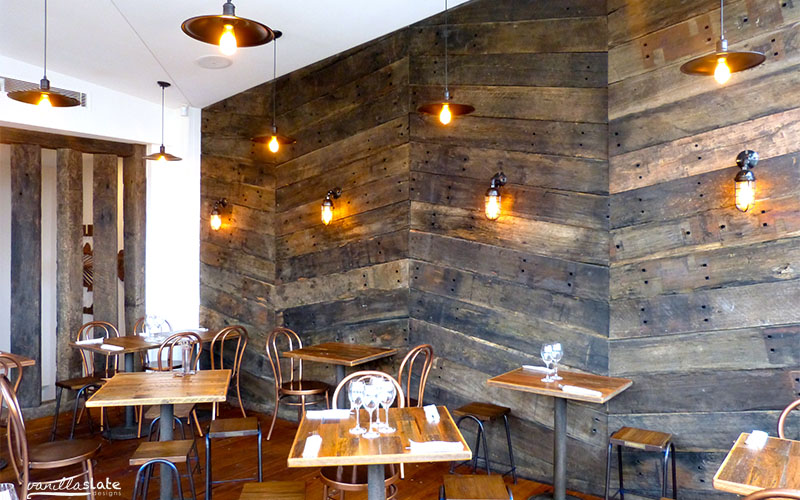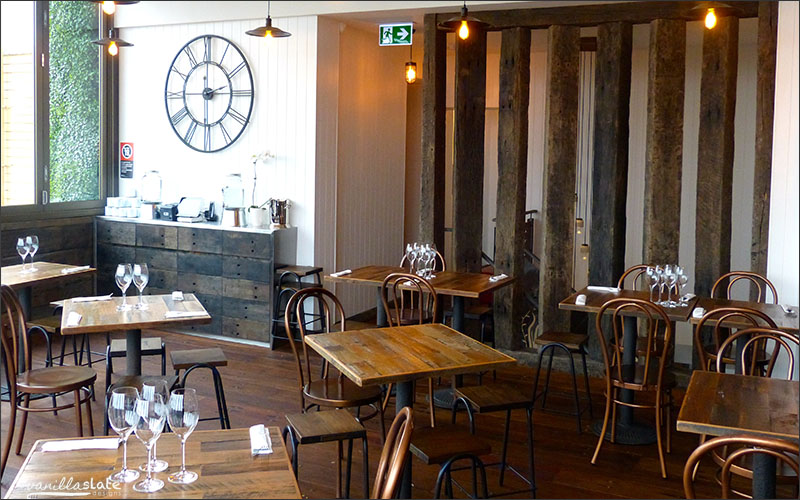 On the way downstairs, a fish with a thank you message greets us on the staircase. Dominique explains, "The message is not only to the customer, but also to the fish for giving its life for our enjoyment." A local artist, Kim, created this wonderful piece of art. Despite its deceptive look, it is entirely made from timber.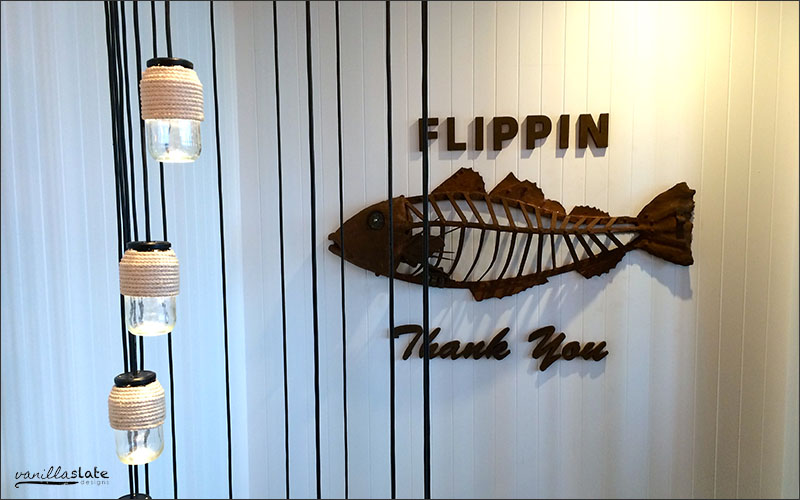 The eye-catching chandelier hanging from the high ceiling is resourcefully made from empty spaghetti jars and rope and the industrial light fittings are from Fat Shack Vintage.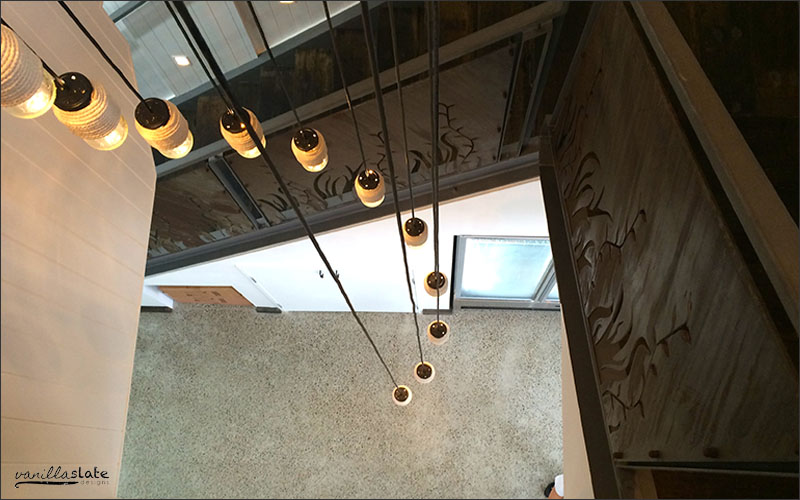 To carry the industrial look throughout the restaurant, laser cut, rust treated metal sheets are used at the entry and all the way up the stairs. James Martin from Skale Greenwall created a breathtaking display of greenery in the form of a vertical garden. The lush wall forest adds softness to the timber and marble surfaces at the entrance of the restaurant.
In a few months' time, they are planning to transform this area into a covered timber deck for extra seating. The perfect place for a lazy lunch!
As we sit at a table going through our notes, the chef serves us a taster of fresh prawn skewers on funky blue-rimmed enamel plates and a homemade tartare sauce to die for! We leave with a very generous take away each and a promise to return with a full table of friends next time – who's in?
Our visit doesn't come to an end without one of our usual minor disasters. As I lean over the counter to grab a business card, I nearly knock a very expensive-looking bottle of wine from the counter with my handbag. Phew, close call… We were already in trouble with my husband, as we ate our take-away fish and chips in the brand new car he received the day before… not sure what the problem was. Who doesn't like that brand new car smell mingled with a touch of fish?
We're so excited to have a proper fish and chips restaurant in the Hills District. Not only great food, but also fabulous décor!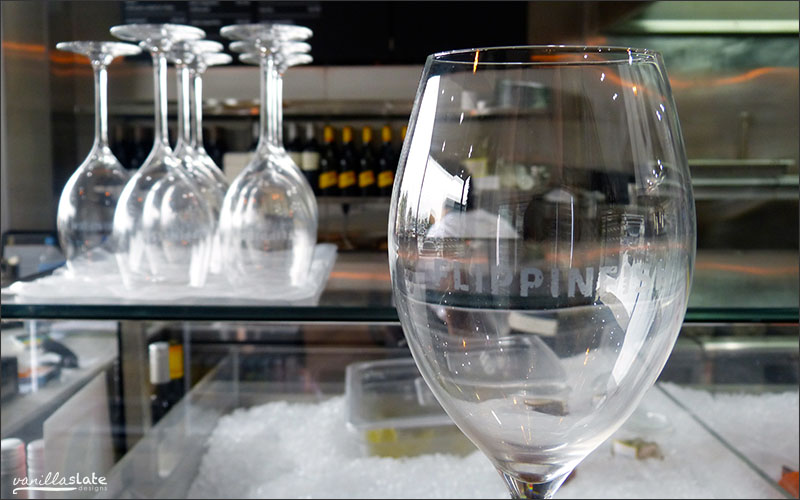 Flippinfish has generously donated a $50 voucher for one lucky Hills District Mum. To ben in with a chance to win it, all you need to do is head over to Vanilla Slate's Facebook page for full details.
Flippinfish is located at 3 Allen Way, (Round Corner Shopping Centre), Dural and is open from Tuesday-Sunday, 12pm-9pm and is fully licensed.
Until next time,
Lyndie & Eriana