Hooray, it's soup weather! Here's a classic that's always popular and is perfect for lunch or dinner.
Serves: 4
Prep time: 25 mins
Cooking time: 25 mins
Ingredients:
750g vine-ripened tomatoes, halved
2 red capsicum, coarsely chopped
2 tablespoons olive oil
1 tablespoon finely chopped fresh rosemary
1 brown onion, chopped
2 garlic cloves, crushed
200g potatoes, peeled, chopped
2 tablespoons tomato paste
2 cups vegetable or chicken stock
1 tablespoon pistachio dukkah
crusty bread, to serve
Method:
1 Preheat oven to 220C/200C fan-forced. Place tomato and capsicum on a baking paper lined baking tray. Drizzle tomato and capsicum with half the oil and scatter with rosemary. Season with salt and pepper. Roast for 15 to 20 minutes or until tender.
2 Heat remaining oil in a large saucepan. Cook onion, garlic and potato, stirring occasionally, for 5 minutes or until onion softens. Add paste, stock and 1 cup cold water. Cover. Bring to the boil. Reduce heat to low and simmer for 15 minutes or until potato is just tender.
3 Add tomato mixture to stock mixture. Carefully blend or process soup until smooth. Sprinkle with dukkah. Serve soup with crusty bread.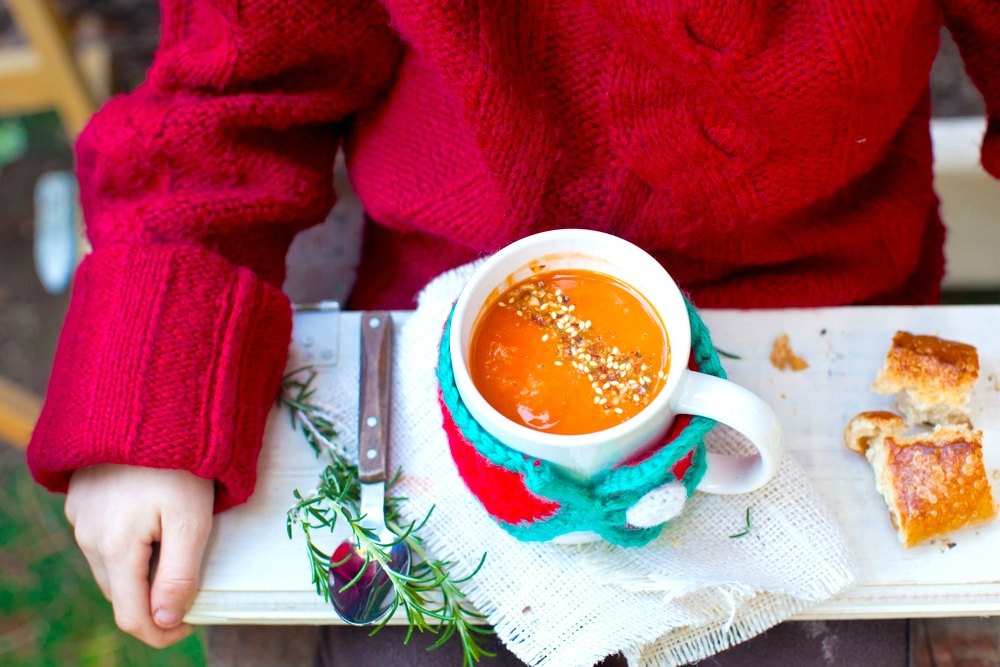 ---
kitchenink.com.au     |      Facebook/kitcheninkau       |       Instagram/kitcheninkau