This chicken casserole recipe is good – like, really good. Since testing and photographing it for my website, I've made it over and over again, most often on weekends or days when I have more time to cook.
It's a winner with everyone: I love that while the baby sleeps during the day, I can prep it all (including the dumplings, which I pop on a plate, cover and leave in the fridge until I'm ready to add them later) and cook up to the end of step 2. Then I just reheat it in the oven for about 20 minutes before adding the dumplings about half an hour before we're ready to eat. Hubby loves it because it's really hearty, and my preschooler loves it because the dumplings are bready (win!) and there's chicken (double win!). It's perfect winter comfort food for the whole family.
If you don't have a flameproof casserole dish with a lid (like a Le Creuset or similar, which can be used on both the cooktop and the oven), start the recipe in a saucepan on the stove, then transfer the chicken mixture to a ceramic casserole dish for the baking step. Leftovers – if there are any – can be saved for lunch the next day.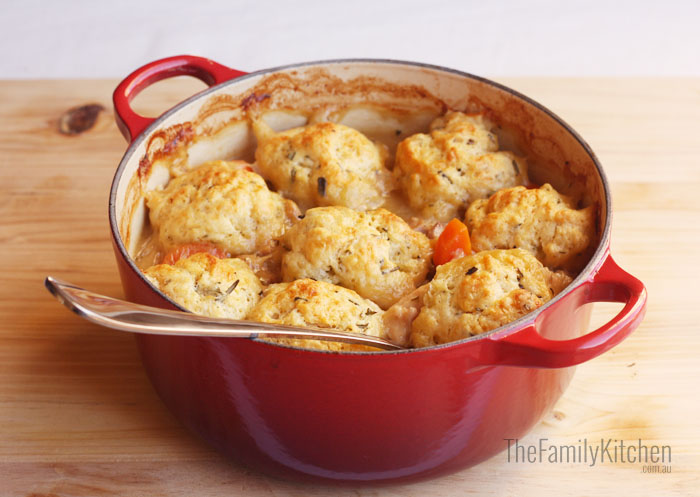 SERVES 4
PREPARATION 25 minutes
COOK 1 hr 50 minutes
YOU CAN half the recipe for two people / keep leftovers for tomorrow
Equipment
measuring cups
chef's knife
chopping board
measuring spoons
garlic crusher
grater
large bowl
large flameproof casserole dish with a lid
wooden spoon
Ingredients
¼ cup (35g) plain flour, seasoned
800g chicken thigh fillet, chopped
2 tbsp olive oil
1 brown onion, chopped
2 garlic cloves, crushed
1 dried bay leaf
2 carrots, chopped
2 celery stalks, chopped
2 thyme sprigs
1 cup (250ml) dry white wine
1 cup (250ml salt-reduced chicken stock
Rosemary dumplings:
1 cup (150g) self-raising flour
40g cold butter, chopped
½ cup (40g) grated parmesan
1 tbsp chopped rosemary
⅓ cup (80ml) milk
cooking oil spray
Method
Place seasoned plain flour in a large bowl. Add chicken and toss to coat. Heat half of oil in large flameproof casserole dish on medium-high heat. Cook chicken, in batches, for 5 mins, until lightly browned. Transfer to a bowl.
Heat remaining oil in same dish on medium heat. Cook onion, garlic, bay leaf, carrot, celery and thyme, using a wooden spoon to dislodge brown bits from base of dish, for 5-6 mins, until onion softens. Return chicken to pan and add wine and stock. Bring to boil. Reduce heat to medium-low, cover and cook, stirring occasionally, for 1 hr, until chicken is very tender.
Meanwhile, preheat oven 200C/180C fan. To make rosemary dumplings, place self-raising flour in a clean large bowl. Add butter and use fingertips to rub together until fine crumbs form. Stir in parmesan and rosemary. Season with salt and pepper. Gradually stir in milk to form a soft dough. Using lightly floured hands, roll tablespoons of dough into balls.
Arrange dumplings over casserole. Cover. Bake for 20 mins, until dumplings are puffed. Remove lid. Spray dumplings with oil. Bake for 15 mins, until golden. Serve.
Chef's tips
The casserole, without the dumplings, can be made up to one day ahead. Cool completely, cover and keep in the fridge. Reheat on medium heat, stirring occasionally, before topping with dumplings and continuing with the recipe.
You can use parsley, thyme or marjoram instead of rosemary, if you like.
---
Want to know how many kilojoules are in this recipe? Get all the important nutritional counts right here.
Visit TheFamilyKitchen.com.au for more of our family-friendly chicken recipes.