If you haven't been down to Wisemans Ferry, it's well worth a day trip! This beautiful park has been refreshed over the past months and is looking lovely, with new landscaping, paths and shaded barbeque areas. And of course, its location right by the Hawkesbury River makes it even prettier!
Wisemans Ferry Park is a large reserve right next to the Hawkesbury River, basically next to where the car ferry goes back and forth – another fun little thing for kids to watch! It's a lovely green space with lots of trees, perfect for a picnic. And there's a great playground for kids which has received some TLC recently.
The centrepiece of the park is the rope structure and attached slide. This is good for older kids and the rope makes it a little challenging to get to the slide. Miss 4 conceded defeat and found it easier to climb UP the slide instead.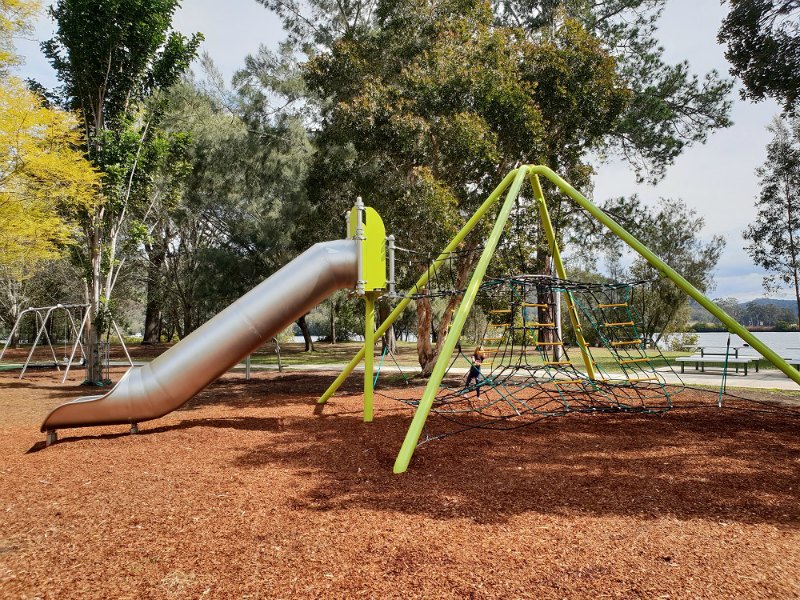 There's also smaller equipment for toddlers, as well as several different types of swings – your standard swing, bird's nest swing and toddler bucket seat swing.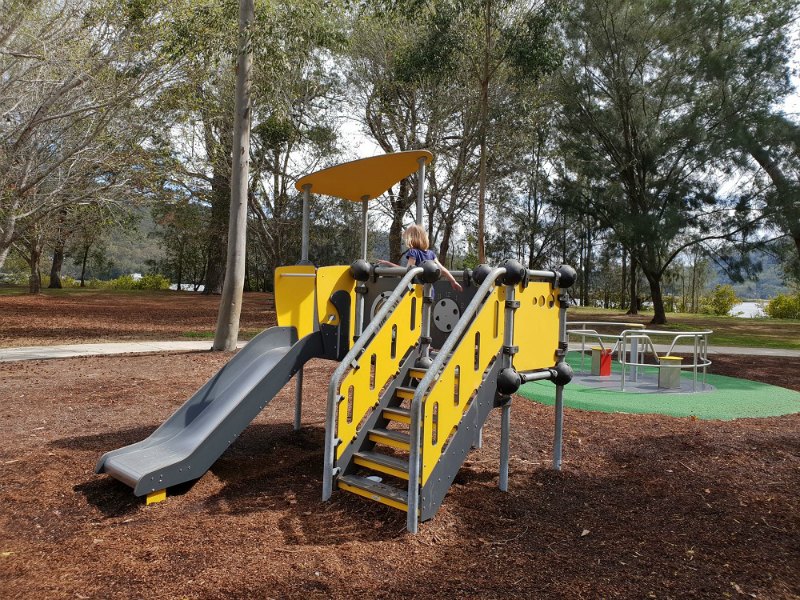 There's a small merry-go-round as well as quite a cool bouncy see-saw which we haven't seen anywhere before, but you do need two kids to make it work. If they got the hang of it, we imagine it would be good fun!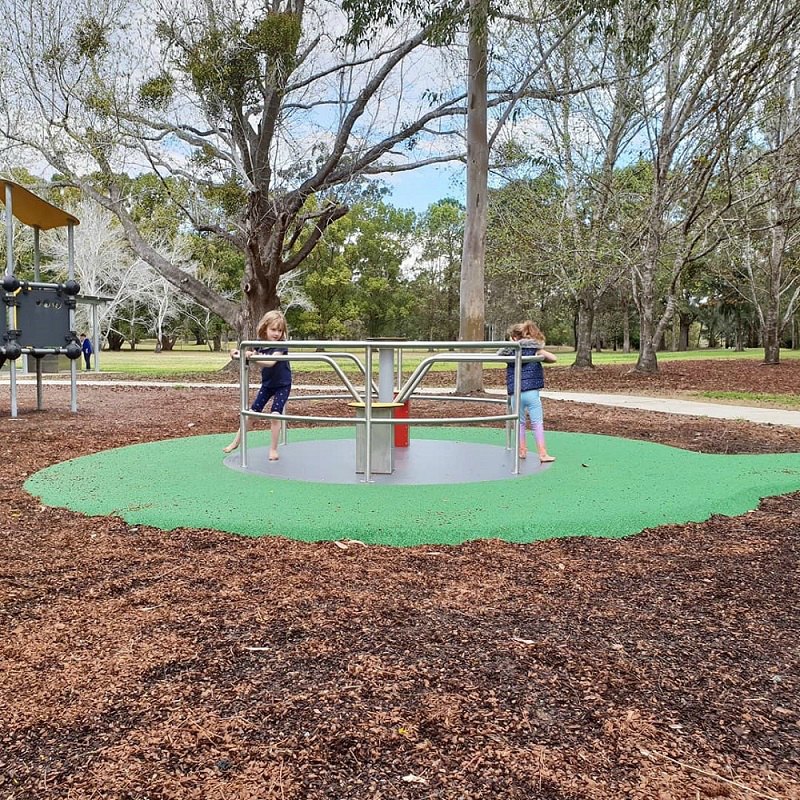 We really love the balancing beams, sandstone and log stepping stones in a pretty shaded area. This adds a natural and creative component to the playground.
The trees provide shade in various spots around the park and there's lots of seating. There's a new path that runs around the equipment which is good for scooters. And there's a new undercover bbq hut too if you've planned a picnic or family gathering.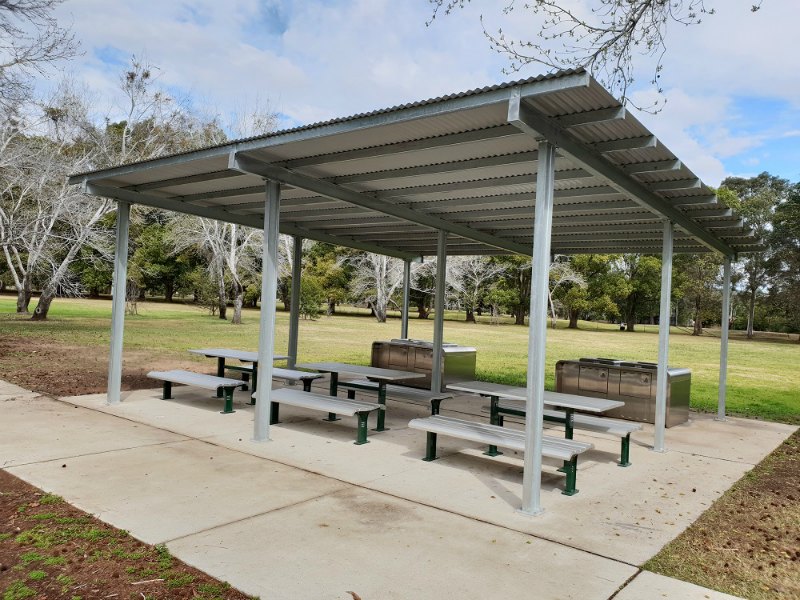 The landscaping is looking great and the mature trees make this a very pretty spot. The ground around the playground is a combination of mulch, soft fall, grass and paths but Miss 4 had her shoes off anyway because she'd been down on the sand!
There's quite a bit of parking right by the playground but in peak times on weekends when the weather's nice, we presume this fills up. There are toilets in the reserve but they're not right next to the playground. As far as coffee goes, there's a little kiosk within walking distance or otherwise we presume there's somewhere to stop as you pass through the little village a couple of minutes before you get to the playground. We'd already had a coffee so we can't vouch for quality.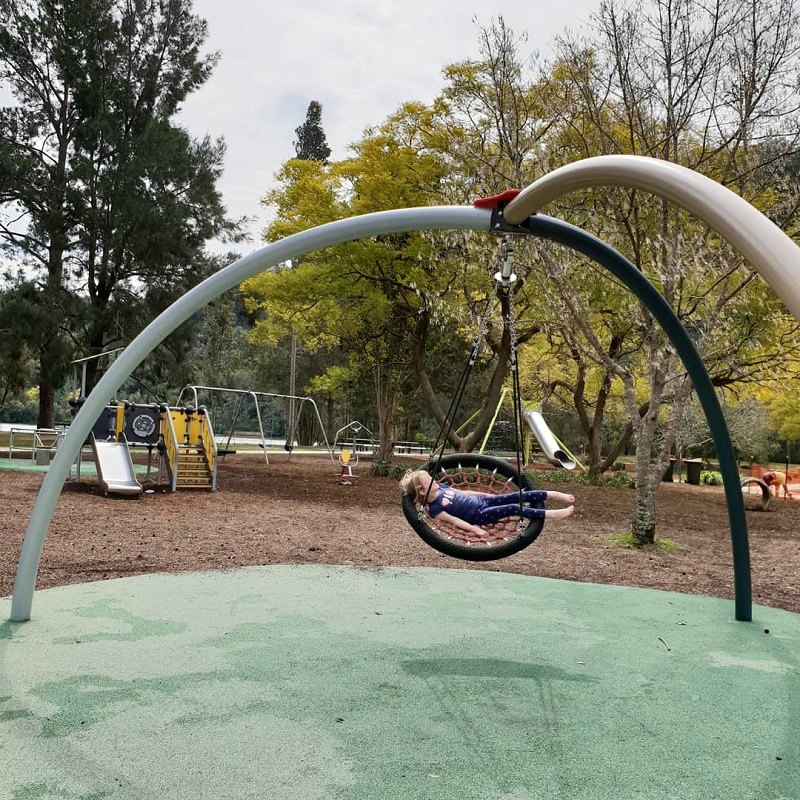 And of course, there's the gorgeous Hawkesbury River. The playground is right by the river so this is a place where you have to be active parents and watch your children if they're of the age where they wander and are curious. When we visited it was low tide so there were a couple of spots by the park where you could go down onto the sand. Miss 4 thought this was just great, so you could even bring buckets and spades and prepare to get a little wet if the weather is warm enough. She's already talking about visiting again!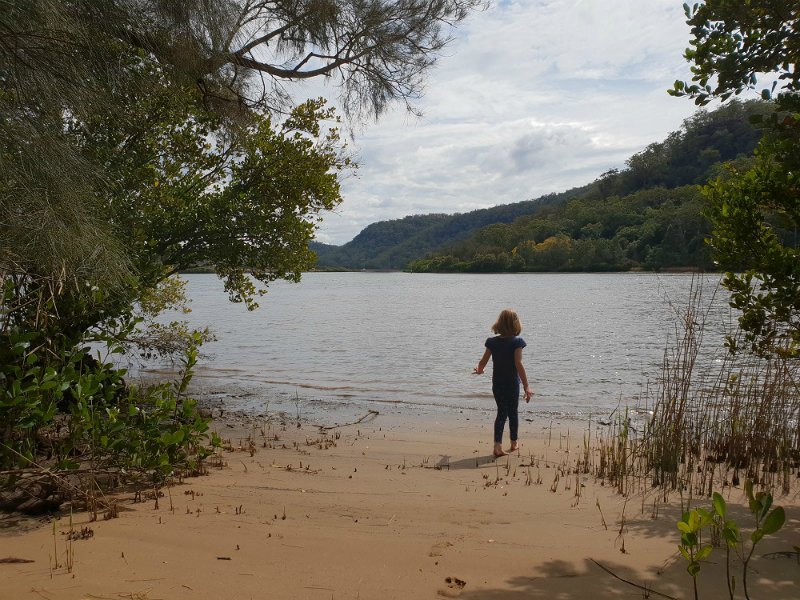 ---
Wisemans Ferry Park
Old Northern Road, Wisemans Ferry.