We've hand-picked the following parks and playgrounds for a variety of reasons and sure, there are probably others that fit the bill, but we think these five are pretty special. These are the parks that put the 'great' in 'great day out'. They lift the bar considerably, so that when you return to your humble little suburban corner park, the kids feel slightly hard done by if the memory of this recently visited park is still fresh. We think they're very worthy of a day trip from the Hills with the kids.
Livvi's Place, Yamble Reserve, Quarry Road, Ryde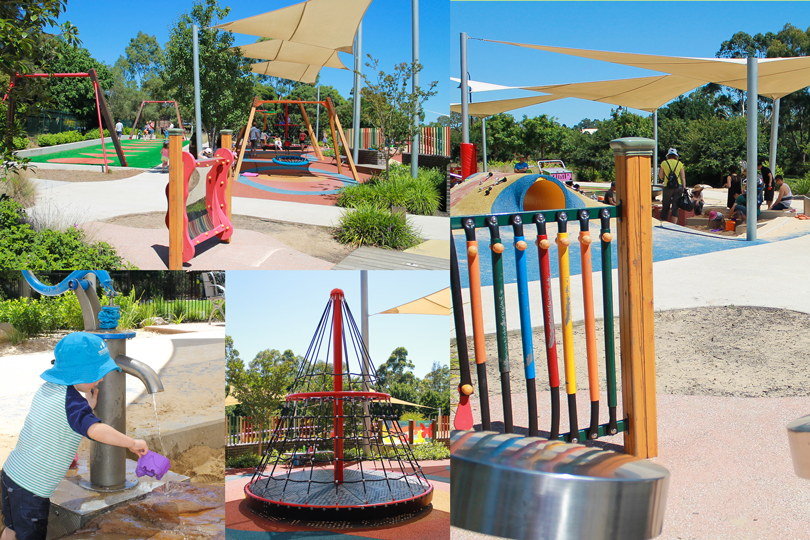 This playground is quite simply AH-MAAAAZ-ZING!!!!!!!!! So amazing that it warrants every single one of those exclamation marks. The concept of the numerous Livvi's Places in Sydney and around Australia is a really interesting one. In a nutshell, these inclusive play spaces provide a unique environment for children of all ages and all abilities to play side by side. You can read more at touchedbyolivia.com.au.
The playground at Yamble Reserve is visually stunning, with different pockets to discover and lots of brightly coloured elements to explore and ponder. There are stepping bells and bongos, a large sand area with a cool water pump, excellent long flying fox and a second one with a chair and harness, big spinning structures, little hills and tunnels and more. There are the humble old-school swings too, but these were being completely ignored given all the other uber cool stuff on offer. Poor swings.
Huge shade sails cover a large portion of the playground but not the flying fox. Some trees offer a bit of extra shade too but in the middle of the day it probably gets quite warm. It's fully fenced with security gates and there's plenty of seating. But this is the type of playground where, with toddlers particularly, you kind of have to wander around with them – but that's really no hassle as it's so much darn fun! Older kids would probably be ok to roam around a bit on their own with less supervision.
There are a couple of large shelters with tables and benches and a bbq, as well as a lovely big grassed area next to the playground. Parking was no problem – there's a car park right next to the park with over 30 spots and another smaller one off Clermont Avenue which provides easy access for visitors with mobility restrictions. And there's a large toilet block right next to the park.
There's another Livvi's Place in Five Dock with a Livvi's Café attached – extra enticing! So we'll be heading there on an outing in the near future for sure. Please, please, pretty pur-leeezzze Hills Shire Council, can we have a park just like this in our area??!!!!!!!!
Wahroonga Park, Coonanbarra Road, Wahroonga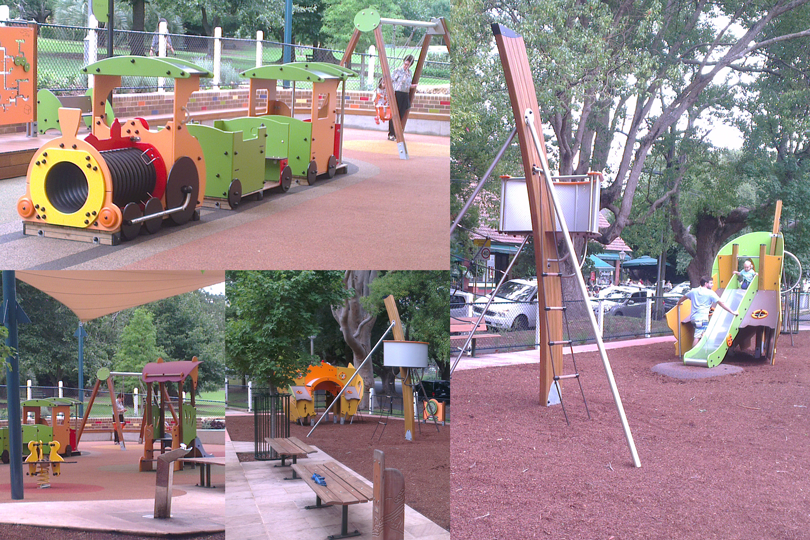 A while back Wahroonga Park had a much needed and lengthy make-over and the anticipation of the big reveal really did reach fever pitch on the upper north shore at one point! Well, it didn't disappoint.
The equipment is pretty awesome and caters to kids up to about 6 or 7, maybe 8 at a stretch. Any older and they may be a little bored or prefer to kick a ball on the grass outside the playground. There's a mini flying fox but it moves surprisingly quickly and is slightly difficult to manage – toddlers will need parental help if they insist on having a go. There's also a large half sunken pirate ship with slide, train structure, small slide and toddler swings. But the real cracker for the toddler was the stepping bells. Poor silly parents who took the seats right next to them! Speaking of seating, they've done a nice job with this – there's plenty of it to go around and a fair bit is under shade sails which is great too. And there's a cafe across the road or a number at Wahroonga shops, so once you're all set up with coffee in hand, you shouldn't have to stray too far from the plentiful seating at all.
The playground is fully fenced (aside from the swings for the older kids) and sits in a bigger park which takes up the entire block. Note, Mr 4 can very easily open the gates though. It's very pretty, with manicured gardens and a rotunda. Who doesn't love a rotunda?! In fact, we've just realised that two of our favourite further afield parks have rotundas. Maybe there was some sort of weird subconscious rotunda favouritism occurring here?
And we are very happy to note that the much needed upgrade of the toilets is now complete. Hooray!
Balmoral Beach playground, The Esplanade, Balmoral Beach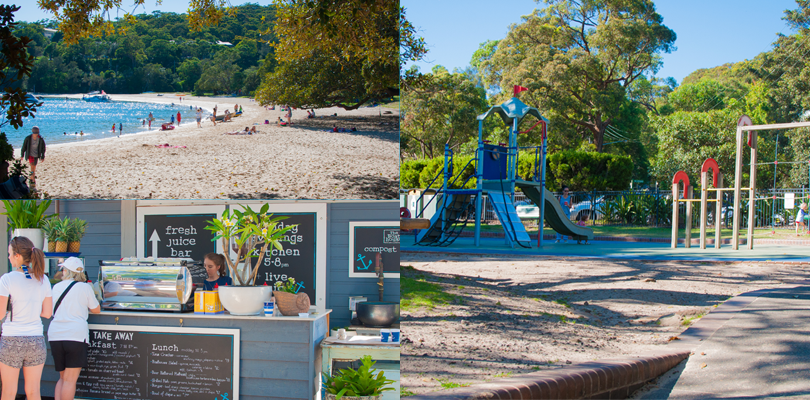 Ok, we need to confess up front on this one. We included this because yes, there's a playground. But really, who cares? It's just a bloody lovely spot to visit for mums and dads. The kids, well sure, they'll probably enjoy it too.
If you haven't taken the drive to Balmoral, you should just do it. It's a stunning part of Sydney if you manage to fight the hideous Military Road traffic (hint: go the back way), find a car spot and eventually recover from the outrageous price of parking.
The playground is at the southern end of the beach and is a lovely little playground more for the younger kids.  It's actually been done up since the photo above, is now fully fenced and it's shaded by gorgeous old and very giant fig trees.  There's coffee and an array of food very close by and there are toilets and a changing block too.
After a play and a splash there's an awesome esplanade which is just made for scooters. It's nice and flat and wide – the kids can zoom ahead towards the rotunda and mum and dad can stroll at a more leisurely pace. You just might lose sight of your toddler in the sea of cavoodles and white pants, but only momentarily.
It really is a little piece of heaven in Sydney and it would be hard to have a bad day down at Balmoral.
Blaxland Riverside Park, Jamieson St, Sydney Olympic Park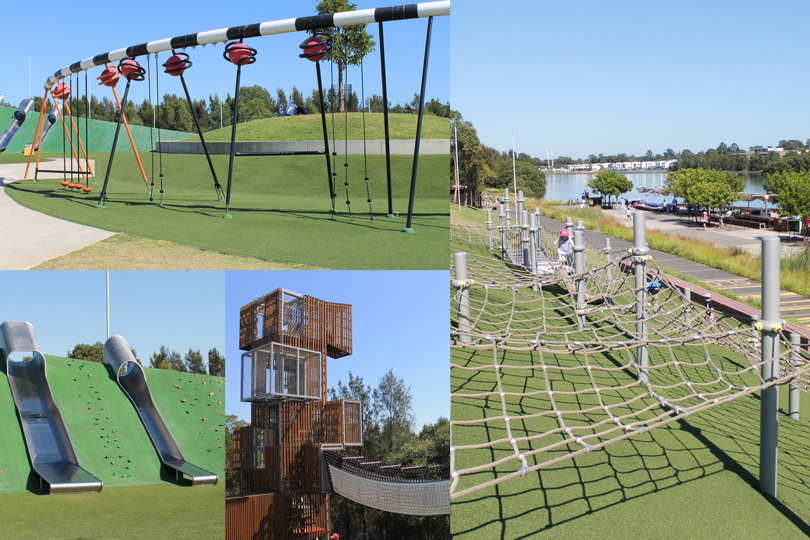 We fear our view of this park may be slightly skewed to the negative due to the excruciatingly hot day we visited earlier in the year that made this poor mum quite a mess. Ok, a lot skewed unfortunately but we're going to push through it and try not to mention it too often.
We went really early so parking was nice and easy but it gets super busy as the day goes on. You can tell straight away that this playground is a little different. It's probably better suited to slightly older kids, or if you're there with toddlers you'll need to watch them as you can lose sight of them behind the hills.
In addition to hills there are tunnels and scrambling walls, a large climbing net, double flying fox and an excellent swing section. There are cool slides too but beware, if it's hot they're not cool at all. There's even a sign warning about how hot they get. Ouch! There's also an awesome 12 metre high climbable treehouse-style structure that overlooks the entire playground and that older kids will enjoy.
We wandered down to the riverside which was lovely as you can look at the various boats passing by. If you're up for a coffee or refreshment, there's the Armoury Wharf Cafe which looks fab. There were civilised young things sans kids enjoying a lovely Sunday brunch without a bead of sweat on them. For a moment this mum considered ditching the small people and taking shelter in the shade with a lovely cold juice and the Sunday paper, but alas, it wasn't to be.
There's a little kiosk right next to the water play area, which is where the toilets are located as well. The one negative of the park, and unfortunately in summer it's a big one, is that there's just not enough shade. There are only a handful of umbrellas which obviously get snapped up quickly and there are minimal trees. The area is in desperate need of some shade sails. If you're hard core in the heat then you'll probably be able to hack it. But for this reason alone, next time we visit it will be in winter, even if this means sacrificing the water play – at least then we can safely go down the slides without burning our bottoms!
There's heaps of other stuff to do in the area so you could easily make a day of it with bike and segway riding, walking, the BirdLife Discovery Centre, picnicking and they even have a Gallery which is open on weekends. It's worth visiting sydneyolympicpark.com.au to help plan your day.
Darling Quarter Kids Playground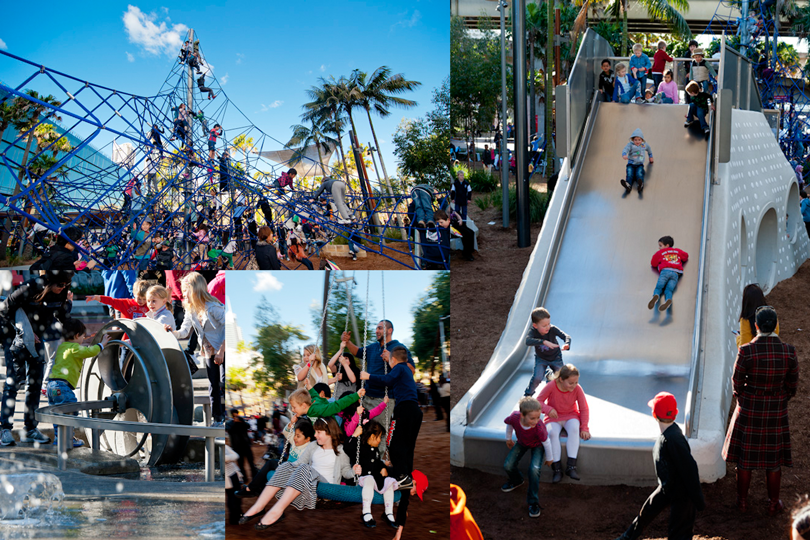 This is an awesome playground to combine with a day trip into the city, maybe by bus or train for that extra bit of excitement. The list of super cool stuff is almost endless and it's all super-sized it would seem. There's a 21 metre flying fox, gigantic climbing net (aka the octanet), a balance rope course of over 18 metres, jumbo swings, an 8 metre slide, sand diggers, water scoops, water play, a slide hill and more. Also it's right next door to the Darling Harbour Carousel which little ones love. There are plenty of food options around and space to sit and eat if you bring food from home. For more information see their website.
Not so far afield – If you're not up for some quality car time with the small people, Fagan Park is one of our all time favourites that's a little closer to the Hills. We've covered this in 5 fun and fabulous parks in the Hills.
What other parks do you feel are worthy of the drive a little further afield?