Marketplace
Bella Curtains is a boutique window coverings and soft furnishings group of highly trained and experienced professionals based in the Hills District.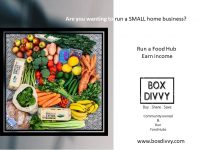 Box Divvy, Social Enterprise, online food box sharing using a smart and easy App.
Connecting farmers & food wholesalers with the Food Hubs up to 40% cheaper than online supermarkets. Run a Box Divvy Hub from home and earn income plus create a fantastic food community.