Bella Curtains is a boutique window coverings and soft furnishings group of highly trained and experienced professionals based in the Hills District.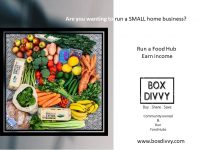 Box Divvy, Social Enterprise, online food box sharing using a smart and easy App.
Connecting farmers & food wholesalers with the Food Hubs up to 40% cheaper than online supermarkets. Run a Box Divvy Hub from home and earn income plus create a fantastic food community.
Baby and Mumma Gifts create beautiful gift hampers for new mums and babies. Our unique and special baby hampers are filled with items just for mums and babies, and are delivered directly to the door of the new mum. We offer free delivery Australia wide. We love celebrating new mums and babies.