Chalk art
Build a road and a city
Water play
Senses scavenger hunt
Make bubbles
Build a fort
Mud kitchen
Flower petal soup
Chalk art
Let's face it, now we are inside most of the time our highlight of the day is heading outside for our daily exercise. Let's spread the love and add some colour to the footpaths and our driveways! Here is some inspiration from the Hornsby Shire Council's Facebook page.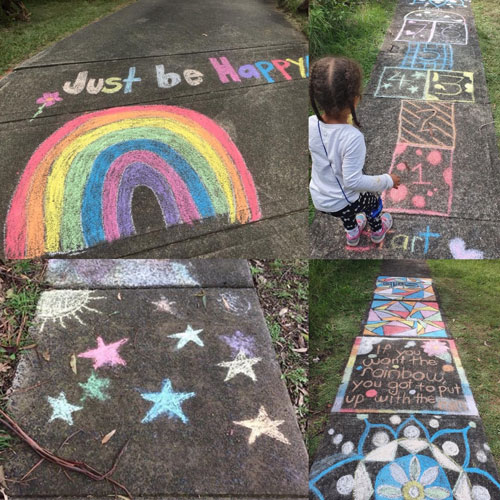 Build a road and a city
A word of warning – this one could take up an entire day and become a permanent fixture in your living room for weeks! Let's cross fingers it gives them hours of independent play! Again, let them use their imagination. Based on the way cases of wine and cartons of beer are flying out the door maybe you could make a box road. Or even just use butcher's paper.
If you want to keep it contained you could use tape and make a road on a table.
Water play
At the time of publishing this article it's meant to be hot on Thursday!  Make the most of it, Winter is just around the corner. There's nothing like water play to keep kids occupied. Here are some ideas including a dolly bath station, laundry day and window art!
Senses scavenger hunt
This is another indoor one, this time focused on the 5 senses – sight, smell, touch, hearing and taste.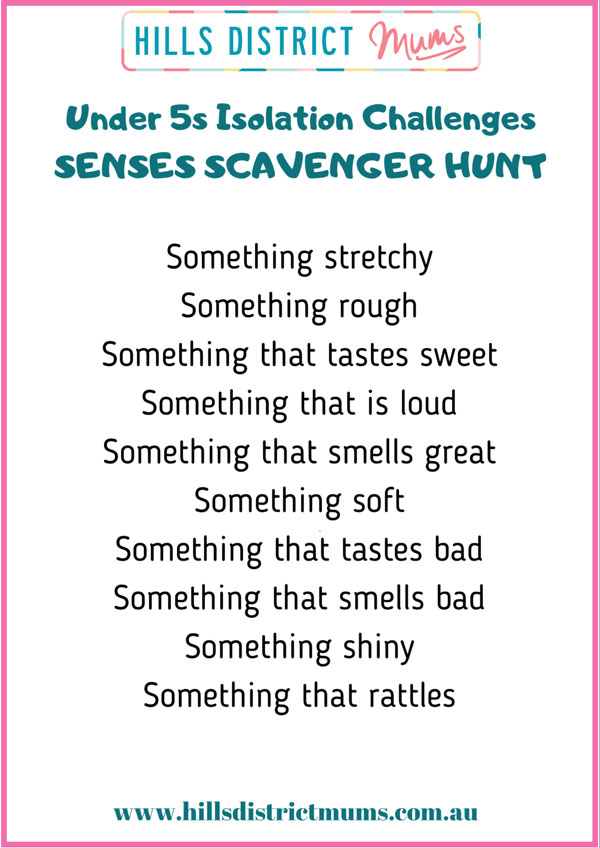 Make bubbles
Little Mess Makers has been doing daily challenges on their Facebook page. One of their challenges was to make bubbles! Here are the instructions:
We made a simple bubble mixture using dishwashing liquid and cornflour (a 1/3 cup dishwashing liquid, 2 heaped tablespoons of cornflour, mix it well into 3 cups of water, and let sit for at least half an hour).

We then made a bubble blower with a pipe cleaner. But why not experiment to see what other objects work? You could try a wire coat hanger, a straw or a tennis racket.

Build a fort
Give your child a few pillows and a blanket or sheet and challenge them to make a couch into a fort. Once they've created their secret hide out let them play in it. Beware, once forts are created in our house they tend to stay erected for weeks!
Mud kitchen – collect, play and clean up
Our kids had a mud kitchen at their preschool and they LOVED it! This activity could literally take up an entire day! First things first, you need to collect items for the mud kitchen from the garden. Sticks, twigs, leaves, rocks, flowers and obviously you'll also need dirt and water. Once you've collected items from outside you'll need to provide kids with some bowls and utensils from the kitchen. Let their imagination run free! Enjoy the treats they make you and at the end see if they are keen to help with the clean up. This is an activity in itself. Teach them to rinse, wash in warm soapy water then dry.
We've attached below some ideas from twinkl.com.au. If you haven't come across twinkl.com.au yet it is a fabulous website used by teachers. They're offering teachers, carers and parents free access to all Twinkl resources during the Coronavirus pandemic. You can find out more here.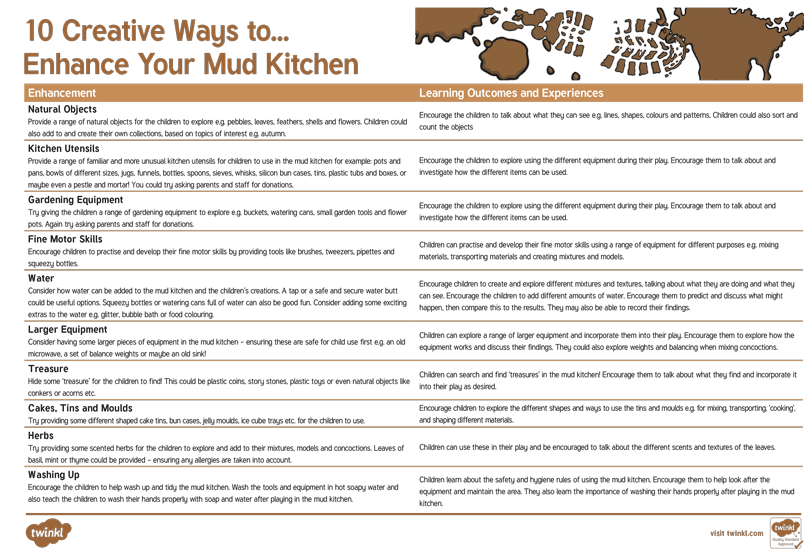 And if a mud kitchen ends up being a dream come true for your child, you could look at building them an official mud kitchen. Bunnings has this guide to building one which might be a great COVID-19 activity for an adult!! But if building one isn't in your skill set then you can buy them from Kmart.
Outdoor scavenger hunt and flower petal soup
This one is similar to a mud kitchen. Get your kids to find materials for flower petal soup. Look for flower petals and herbs. You then get a bowl with water and they mix the flower petals and herbs in. Here are some more ideas from Imagination Tree.