I'm going to declare up front that I LOVE CANBERRA! In fact, I could be Canberra's number one cheerleader. Actually, scrap that, my mum is probably number one cheerleader and I come a close second. This is what happens when you were born and bred in Canberra and have been defending it for years! I've heard it all….too cold, boring school trips to Parliament House, too dry, too many politicians, nothing to do. Well, I'm here to tell you that Canberra is none of these things (ok, sometimes it's really cold). It is in fact actually cool! According to the New York Times, Australia's capital features 'big-sky beauty, breezy civic pride and a decidedly hipster underbelly'. There you have it. It's official. Cheer, cheer!
And it's a great place for a family weekend away from the Hills as it's not too far and there's stacks to do that the whole family will enjoy. Here are some ideas to keep you entertained during your visit.
The Australian War Memorial
If your kids are a little older, a visit to The Australian War Memorial is well worth it. It's a sombre and beautiful place and a nice way to talk to kids about the significance of the memorial and lost soldiers. Every day at 5pm they play the last post and tell the story of a soldier and relatives of the soldier lay wreaths. This was a truly touching experience that we weren't expecting and we were so glad we made the decision to stay for it.
If you have older kids, the dawn service on Anzac Day at the Australian War Memorial is extra special as well.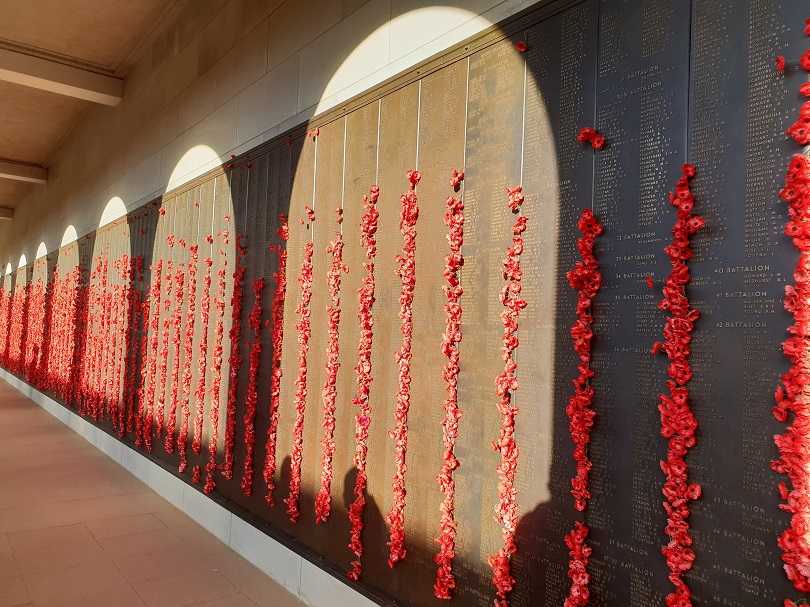 Visit a playground
Ok, slightly weird that playgrounds feature high on the list of things to do but Canberra has a couple of crackers! There's Boundless all abilities playground which is located next to Lake Burley Griffin – it's fully fenced, for all abilities, has fancy toilets and great equipment and best of all it's FREE. This park is awesome and a great break from the traditional sight-seeing things you might do in Canberra. You can find out more here.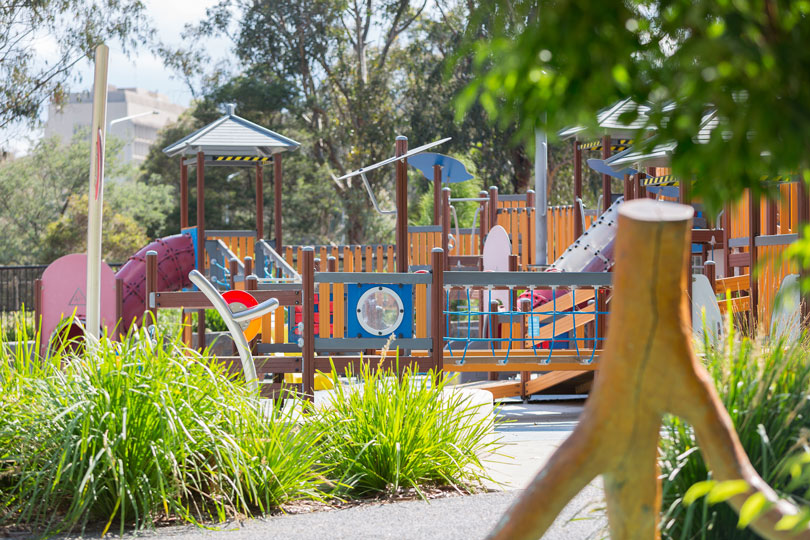 Denman Prospect is a new suburb in Canberra and it has a brand new $6m playground! Unlike Sydney, Canberra has mountains and this playground is located on top of a hill. You have 360 degree views over to Canberra, the mountains and across the Molonglo Valley. The play equipment is fantastic particularly for older kids, with climbing frames, slides and a flying fox. They've also retained nature around the playground which is great for kids to explore. When we were there a group of kids had spent hours building forts and mining for gold (all imaginary of course). Toilets have also been added which is a great inclusion and there's a shop five minutes down the road for coffee. It's well worth a visit! Just type Denman Prospect Adventure Playground into Google Maps and you'll find it!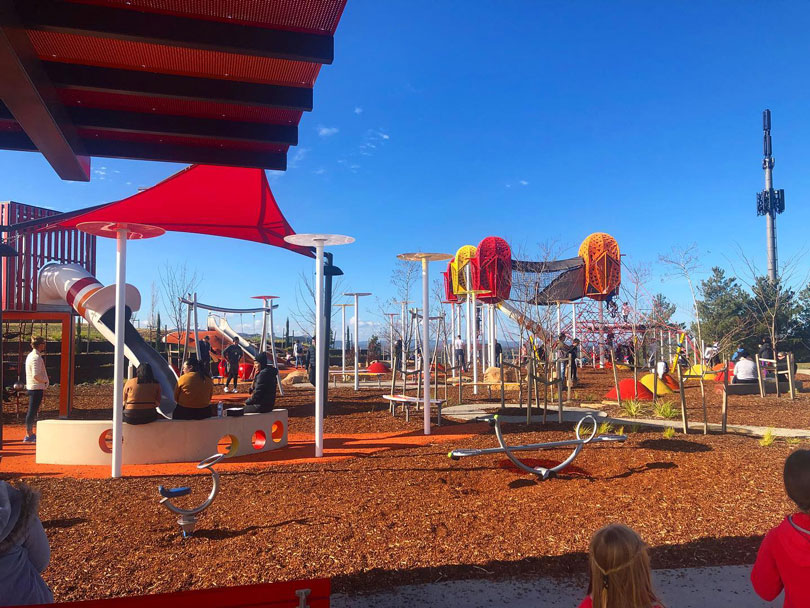 The National Arboretum
What is an arboretum I hear you ask? It's a botanical garden containing living collections of woody plants intended at least partly for scientific study. Some of you will be really interested, most of you will have switched off and moved on. But don't. The National Arboretum is home to a magnificent playground called the Pod Playground which was designed to challenge and excite. For older kids there are large acorn cubbies on stilts, connected by net tunnels and ending in a spiral slippery slide. For younger children, Pod includes a single ladder leading into a single giant acorn cubby with a standard slide. And on a windy day the hills of the National Arboretum are perfect for kite flying. There's even a great cafe to have a coffee, morning tea and/or lunch.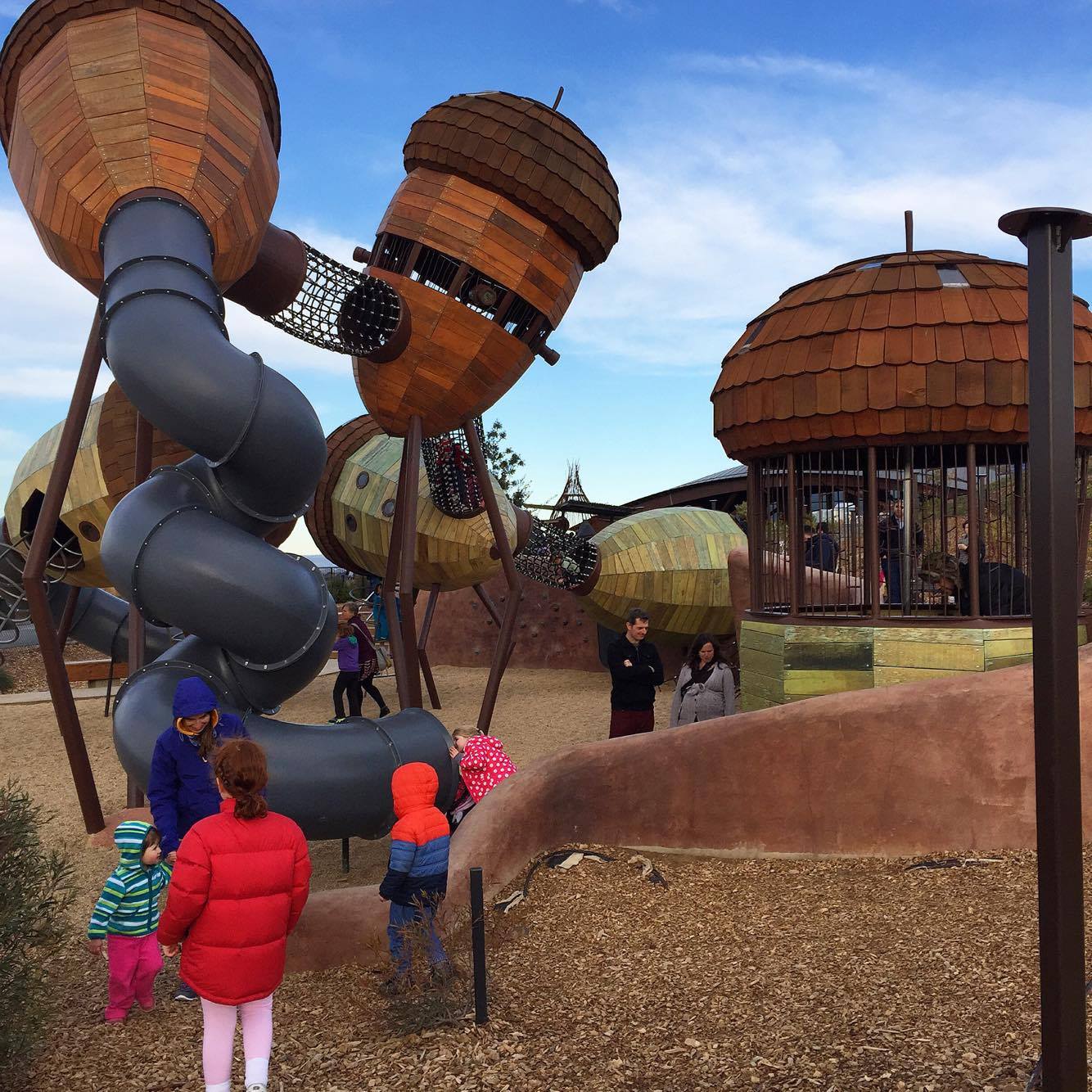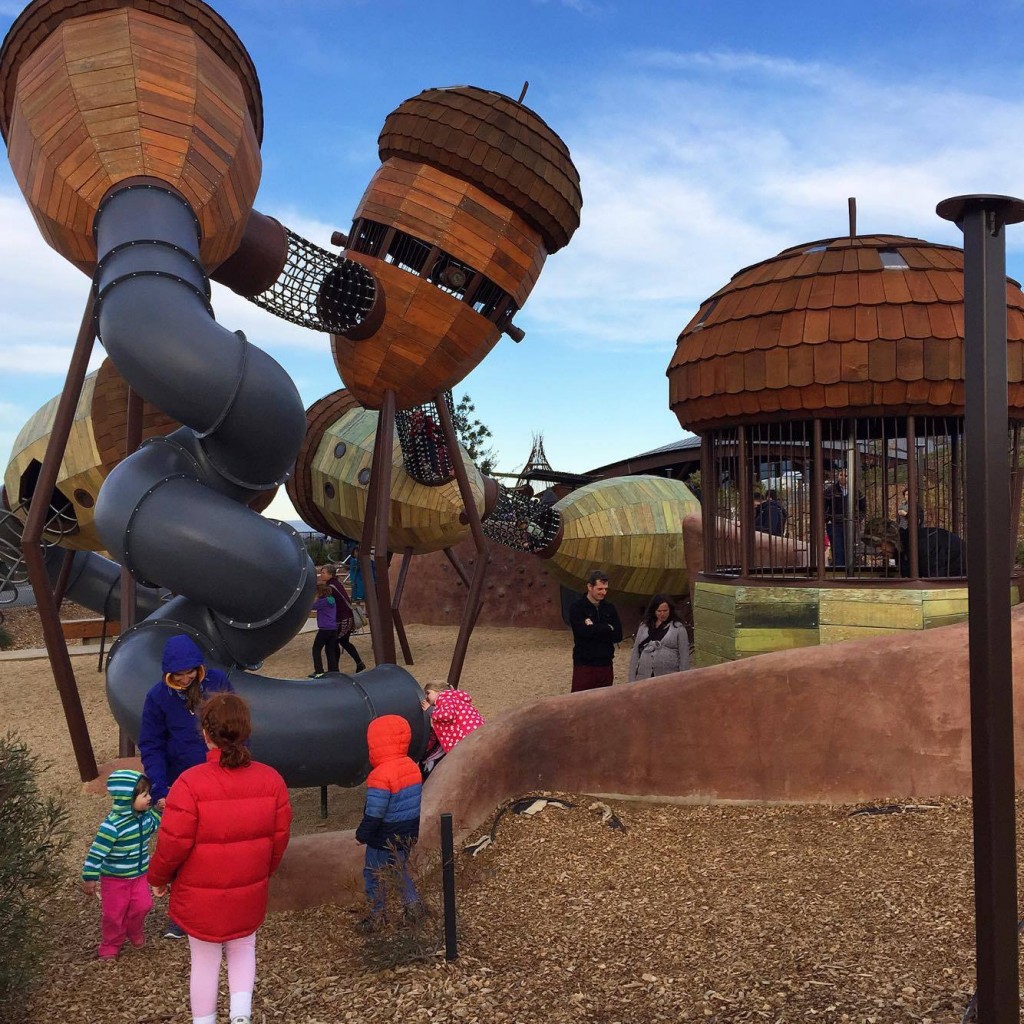 Questacon
I know Questacon is probably already on your list of things to do. And it should be, as this place is great! Mini Q for kids aged 0-6 years old is fabulous. There's also a water play area, imaginary play, a little play gym, sensory and space play. You can easily waste a couple of hours with young ones in this area. Just don't forget a token to this area when you get your tickets as they manage the numbers they let into this space at any given time. And for older kids there's so much to do, explore and interact with. You could easily spend an entire day here! You can read more about our visit here.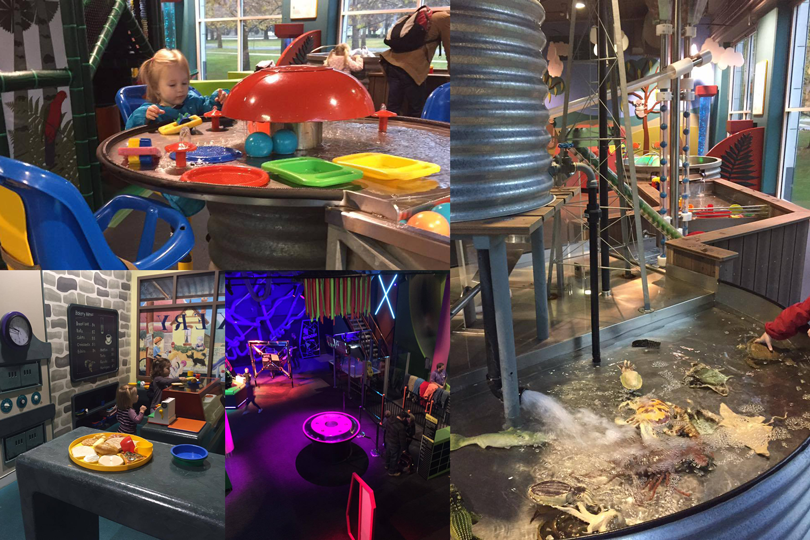 Yarralumla Play Station
For any Canberra old girls, this is the Weston Park Railway. It's had a revamp and been renamed Yarralumla Play Station. The old park/playground area has been tidied up and restored to its former glory, plus there's the Weston Park Miniature Railway, Lake Walter Mini Golf and the Petite Park Petting Zoo.
Weston Park Miniature Railway is home to a train called Bluebird that's often mistaken for Thomas! It runs every 30 minutes during opening hours. While there are no windmills in this mini golf course (a putt putt staple!) you will spot some famous Canberra icons. All in all, a great place for little ones to visit and have fun! And there's no doubt you'll see wild kangaroos here – they love this place!
Cockington Green
Cockington Green is good old-fashioned fun and kids just love it. Miniature houses and scenes, beautiful landscaped gardens and a little train that runs around it. It really is a wonderland for children.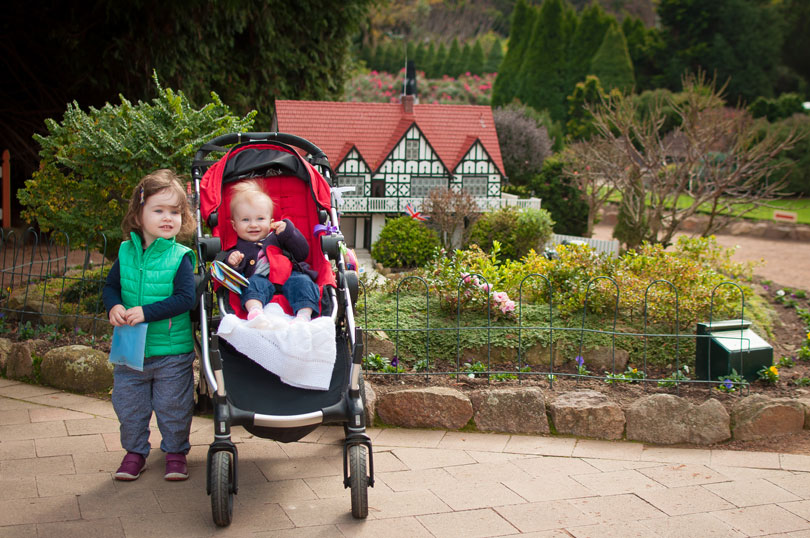 Take your scooter and scoot around Lake Burley Griffen
We like to park at the Questacon carpark and head down to the lake from there. We do the 5km 'bridge to bridge' walk. We turn left when we get to the lake and head up to and over the Commonwealth Avenue bridge. We then walk past Commonwealth Park and the Carillon back over the Kings Avenue bridge and to the start again. There's plenty to explore on the way, including the Boundless All Abilities Playground (see above) and I'd recommend stopping at the cafe in the National Library on your return as the coffee is great and the food is spot on! If you still have a young one in a pram or need something that's wheelchair friendly this is a great walk too.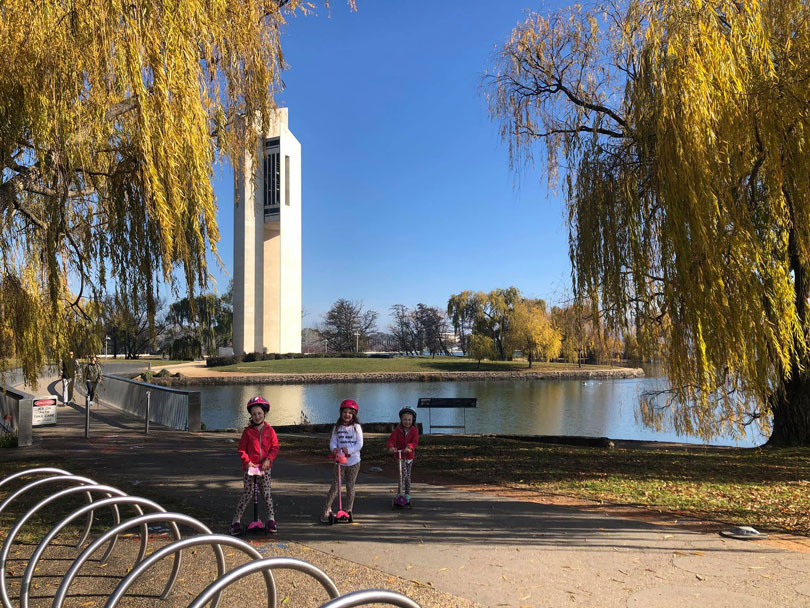 Seasonal options
Autumn is a beautiful time of year in Canberra. It gets cool overnight but the days are usually a perfect temperature, free of the humidity we sometimes struggle with in Sydney. And best of all, in early March, Canberra Day celebrations start and the city comes to life.
One of my favourite events in Canberra is the Canberra Balloon Spectacular usually held in March. Held on the lawns of Old Parliament House, this is nothing short of spectacular and the kids will love it! There are normal hot air balloons but they also have a handful of awesome special shaped balloons that have appeared over the years. How magnificent are the floating nipples?! The downside is the early start – balloons start to rise at dawn – 6.15am.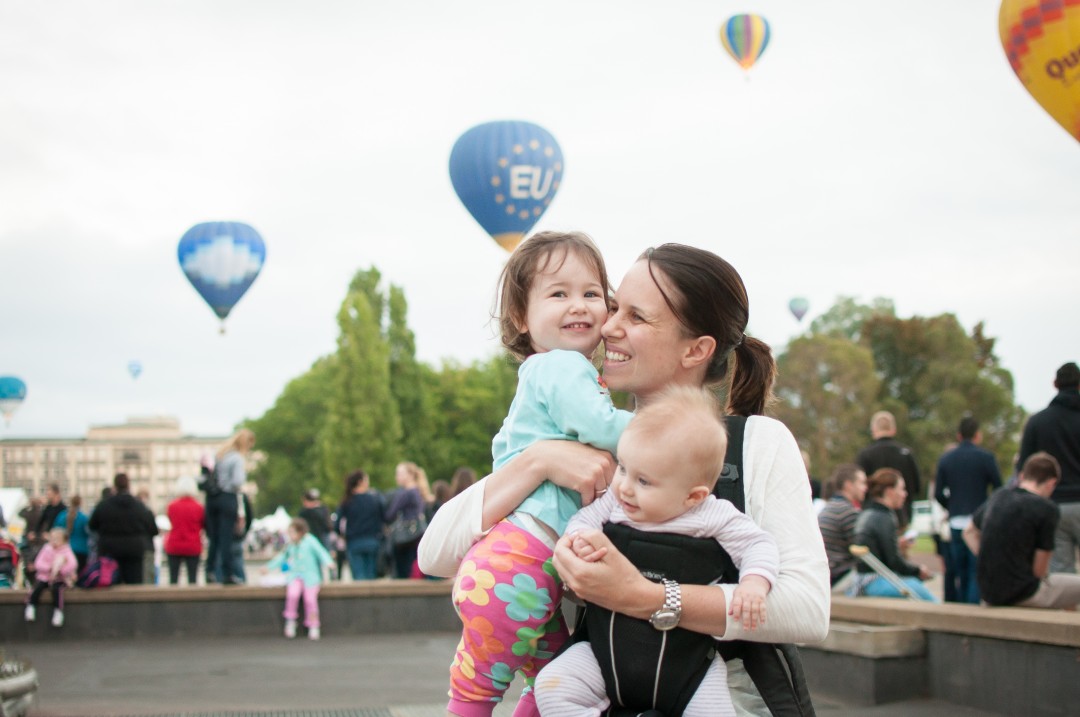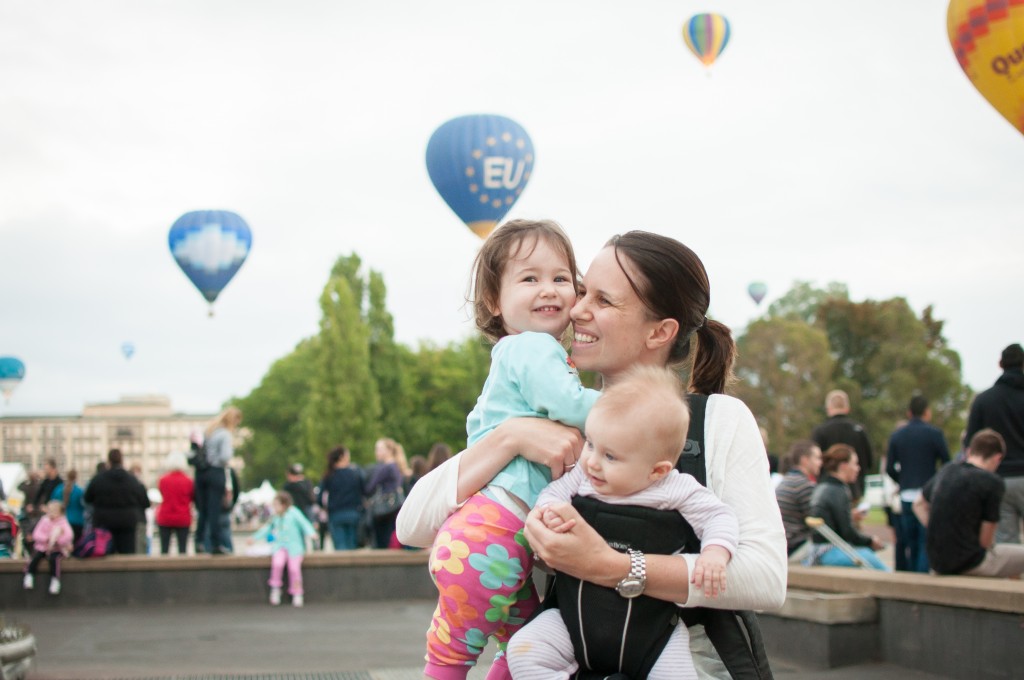 Also in March is the Enlighten Festival. Imagine a beautiful autumn evening in the Parliamentary Triangle and beyond, with some of Australia's iconic buildings aglow with architectural projections. There are exclusive after-hour events, many of which are free. And the Night Noodle Markets are on as well. You'll find all the details on the festival's Facebook page and the Visit Canberra Facebook page is great to check the key dates and what's on too.
But if that time of the year doesn't work for you to visit don't despair, as other times of the year are great to visit Canberra too. You could always take a trip in Spring and visit Floriade. And in winter, you could combine a visit to Canberra with a trip to Corin Forest for some snow play. This is a great way to show the kids snow, without having to do a full on trip to the snow!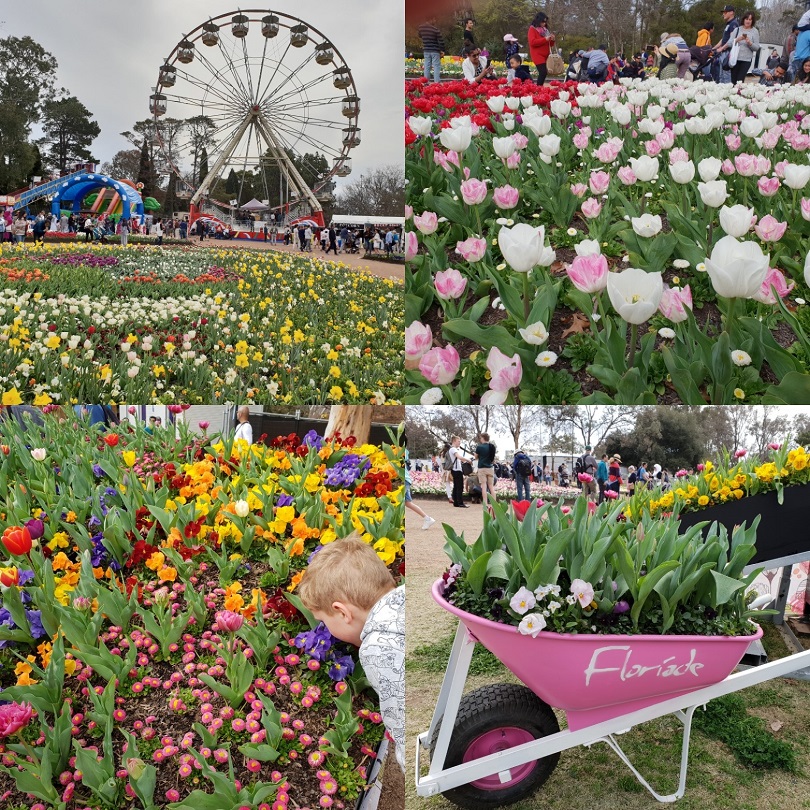 Other ideas
National Dinosaur Museum
National Zoo and Aquarium
The Royal Australian Mint
Canberra Deep Space Communication Complex
Check out the kids exhibitions/play spaces within the National Gallery of Australia or National Portrait Gallery or National Museum of Australia – they often have kids activities which are free.