If you still like to get out each day with your little one even when it's raining, here are some ideas for things to do in the Hills and surrounds that won't leave you drenched!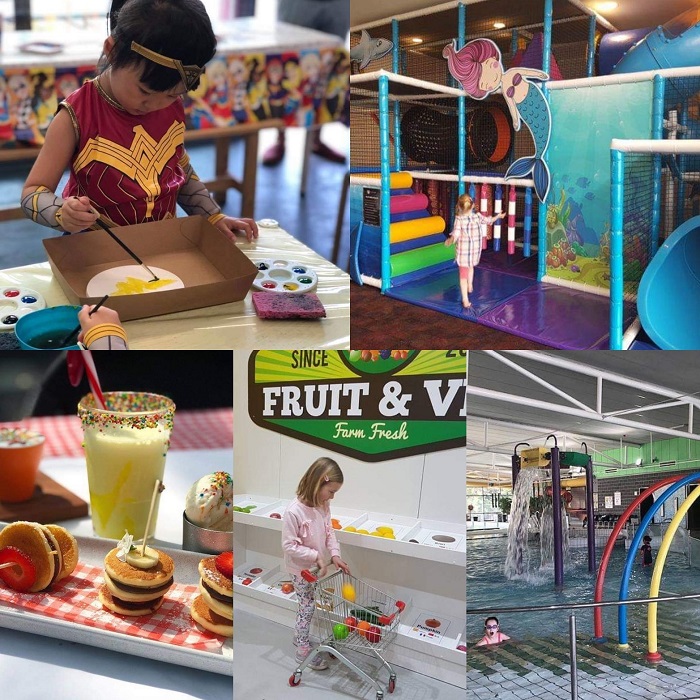 1. Head to a shopping centre that has indoor play equipment. If you're feeling really adventurous you could check out The Monkey Bar at Rhodes Waterside which is fairly impressive! Otherwise North Rocks Shopping Centre has a little toddler play area just outside Pronto Rocks Café. Castle Mall has the Pirate Ship Playland located outside Supa IGA on the ground floor. Stanhope Village also has a good indoor one for toddlers near the Leaf Café. (Note, these spaces are really for toddlers only – kids any older would be bored or too big.) You could even head to Bunnings Castle Hill or Dural – they have great indoor play equipment. Click here for a full list of shopping centre play areas in the Hills (note, not all are indoors).
2. Let your child's creative juices flow at the Little Plaster House. Located in Norwest Business Park, they're open most days for casual visits (just check their website and give them a call to make sure they're not closed for a party).
3. Visit an indoor play centre. There's Kids Play Land in Castle Hill at Castle Hill Indoor Sports Centre. On weekdays it's transformed into a soft play area for kids under 5 with games, toys, cars, riders, climbing tumbles, jumping castles and more. And there's a cafe on site. Others to check out are Croc's Playcentres at Rouse Hill, Castle Hill and Marsden Park. There's also, Lollipops Playland & Cafe in Castle Hill, Chipmunks at Macquarie Centre and Candyland Playhouse in Vineyard.
4. Burn off energy at one of the indoor trampoline arenas. Flip Out is located in the Hills District. Or check out Ultimate – a play centre and trampoline centre in one! Or go rock-climbing for something a little different. There are two options in Castle Hill – The Edge and Peak Pursuits.
5. Hit up Google – there are stacks of craft ideas on Google that little ones would love!
6. Visit a library – you can even time it with one of the reading sessions held for children. Click here for details on bubs and books sessions.
7. Catch a movie – if you have young ones head to a 'Bring Your Baby' session at Event Cinemas Castle Hill or a 'Spit The Dummy' screening at Reading Cinemas Rouse Hill. Or check out what kid-friendly movies are on for those slightly older. Look for Event Junior as there is an intermission and modified lighting and sound.
8. Head to Kellyville Pets – have a coffee and say hello to the animals.
9. Seek refuge at Ikea! It's great for a wander and a cheap lunch.
10. Check out a restaurant or café with indoor play equipment. We have some listed in our article cafes next to play areas (note, not all listed are indoors). You could also visit Wenty Leagues, The Australian Brewery, Pennant Hills Bowling Club, The Pennant Hills Hotel – these are just some of the pubs and clubs with play areas. Here's the full list of pubs with play equipment in the Hills and surrounds. (Note, not all listed are indoors).
11. It's already wet so why not head to Blacktown Leisure Centre for a swim? Check out the indoor wave pool and the toddler splash pool. Hornsby Aquatic Centre has another great indoor space.
12. And if none of those appeal to you, embrace it. Put on your gumboots and go jumping in puddles!