So you've met an awesome bunch of mums at your local Community Centre. You've bonded over sleepless nights, leaky boobs and pooplosions. The Community Centre meetings are regular, safe and, let's face it, a lifesaver but they're coming to an end – what's next?
The natural transition seems to be to catch up at people's houses. Our husbands have never seen the house so clean as the day the Mothers Group came to visit! Note, standards have slipped since this inaugural visit but there's a silver lining explained as follows… "You know we're good friends when I no longer feel the need to clean up before you come over." Awww, that's sweet… we think??
At-home catch-ups are great. What better place to hold a tummy time competition? But there does come a time when the bubs are no longer confined newborns and hosting a big group isn't as easy. So here are some other Mothers Group catch up ideas.
Cafes with lots of pram space
A good first step is cafes and we recommend you enjoy this as much as possible while you can. Soak up the sitting and sipping in relative peace and quiet. Have multiple coffees because once the babies start to move, you're better off back at someone's place! Somewhere like Castle Hill RSL is great due to the pram space. Alternatively, if it's a nice day you can also go somewhere like The Tuckshop in Glenhaven or The Bells Road Social in Oatlands – grab a take-away and head across to the park. Depending on the age of your kids you may want to check out this article too – Cafes Next to Play Areas.
Parks
A few things need to come together for this venue to work – babies need to be the right age, weather needs to be nice etc. However, on a nice sunny day that's not too hot, at the right park with some shade it can be a lovely place to throw down a blanket with a large group. Try taking it in turns to come up with a new park – it's good research for when the babies are older and begin playing on the equipment. Hillsdistrictmums.com.au has a dedicated parks and playgrounds section with our favourites in the Hills.  Click here for some great ideas.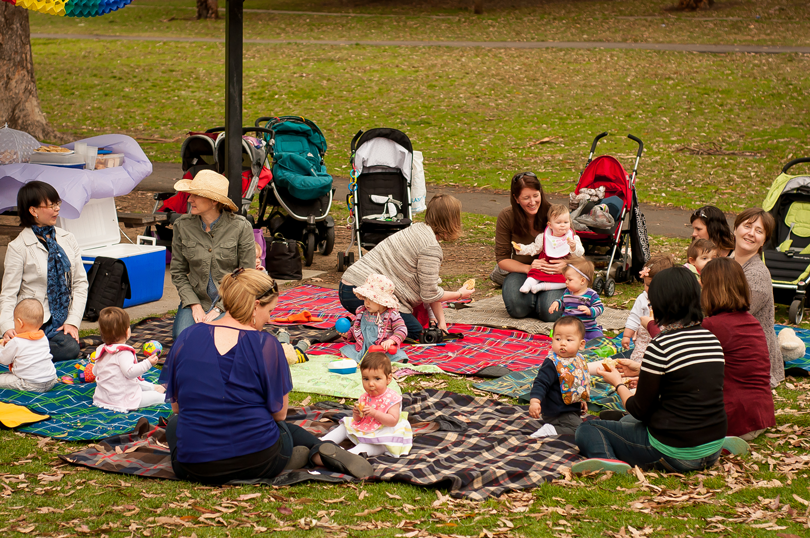 Baby friendly sessions at the movies
There's a reasonably small window of time when this is a possibility. It was good fun and allows you to remember what seeing a movie was like – because it's probably a while since you've managed it!
'Bring Your Baby' sessions are available at Event Cinemas Castle Hill. If you'd like to feel half human again and not worry about your bub annoying others, this is for you. The cinema lighting is set at low rather than complete darkness so you can continue to keep an eye on your little ones and do what you need to do like feed them or rummage around for the dummy. Check out their website for session dates and times.
Reading Cinemas Rouse Hill has similar sessions every Wednesday morning called 'Spit The Dummy'. He he.
(These sessions are not run during school holidays.)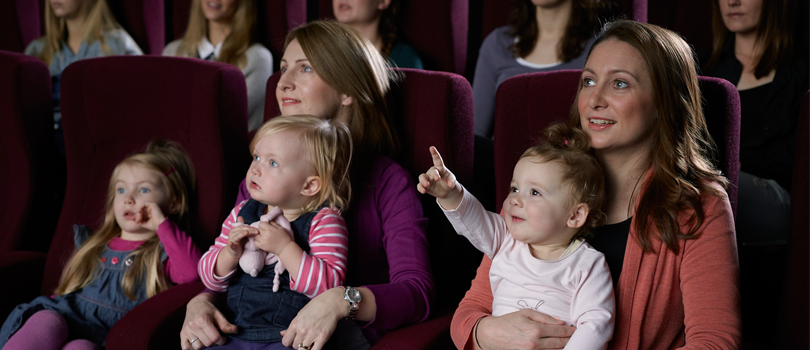 Library reading sessions
Local libraries hold FREE weekly baby reading sessions known as Baby Bounce or Bubs N Books. A combination of nursery rhymes, action songs and fingerplays, these are great for little ones aged from 0-2 years. They're also great for any mum who has forgotten the words to those well loved nursery rhymes – they come back to you somehow! It's like riding a bike! Check out our events calendar for times and locations.
Pubs with indoor play areas
Due to the space, these locations are great for mothers groups with children of all ages, particularly when your little ones start to move. And at most of these you can grab a good coffee, affordable lunch and there is plenty of space for prams.  Check out our list here and pick a place that is suitable for the age group of your children.
Indoor play centres
Again, another idea once the bubs are on the move is an indoor play centre such as Croc's at Rouse Hill. There's even coffee too. Phew.
Are there any other great things that your Mothers Group does? We'd love to hear about it…….