Governor Phillip Park in Windsor is a great park! Here's a rundown of it.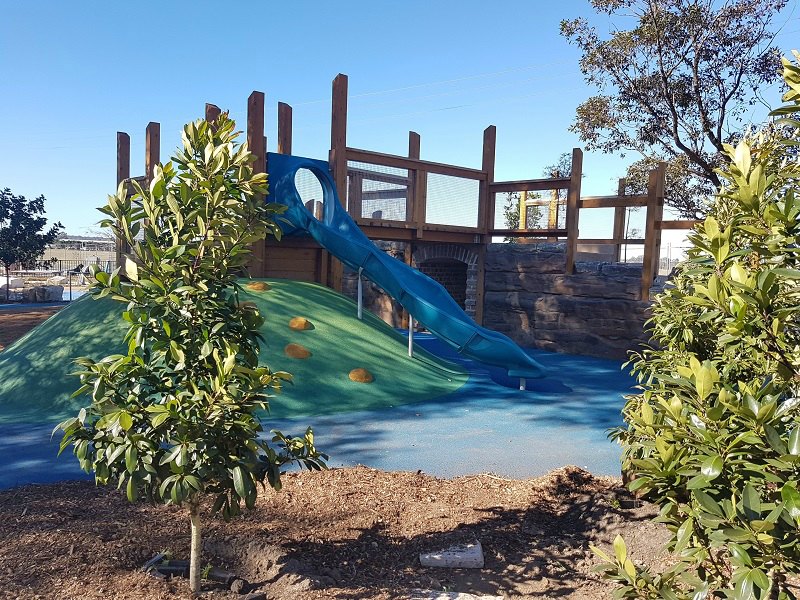 Governor Phillip Park runs along the Hawkebury River in Windsor, about two minutes' drive from George St, the centre of Windsor. We don't know the area well but it's easy to find with the help of Google Maps.
It's a very pretty spot and it's a lovely place for a playground. This one suits the surroundings well. We love the natural wood and stone elements that blend in nicely with the landscape and river. And another major winner is that it's fully fenced!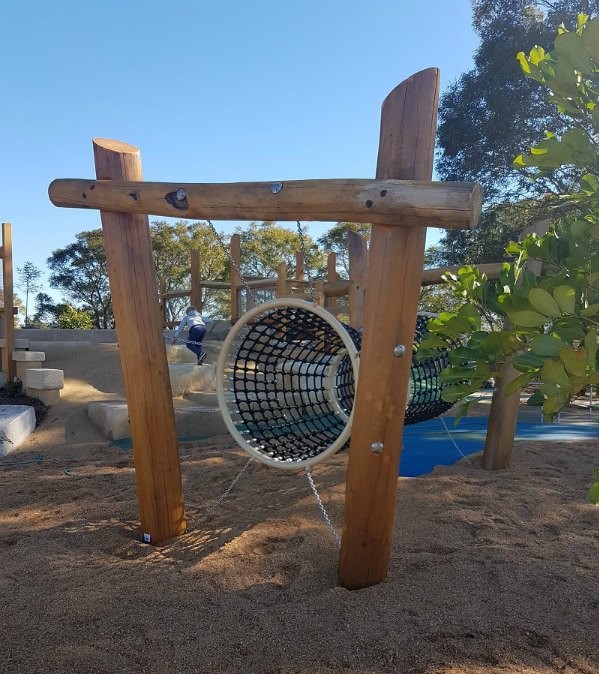 There's a slide, small merry-go-round/carousel, bird's nest swing and a cool fishnet tunnel – the first of it's kind apparently. But it's the few extras we really like such as the cool small metal creatures placed on the side of sandstone blocks or underneath the slide that kids can hunt for. There's lots around so keep your eyes peeled! When exploring the playground we spotted a bat, lobster tail, crab and frog – there may be more to find!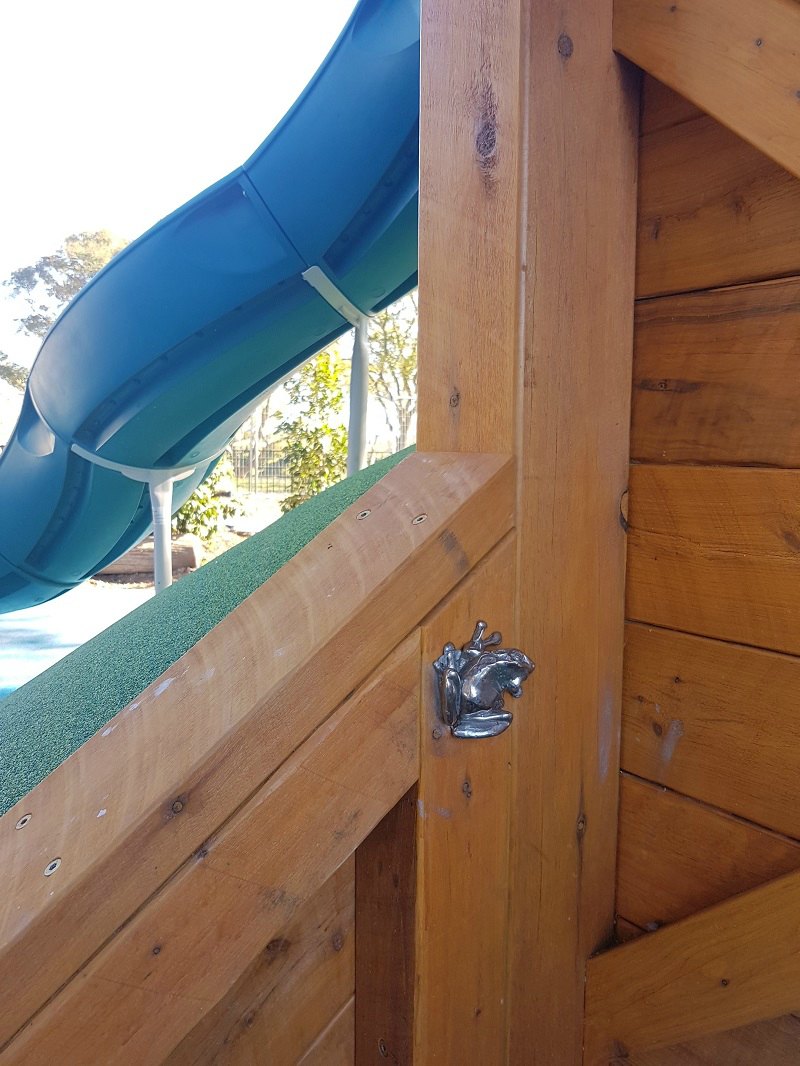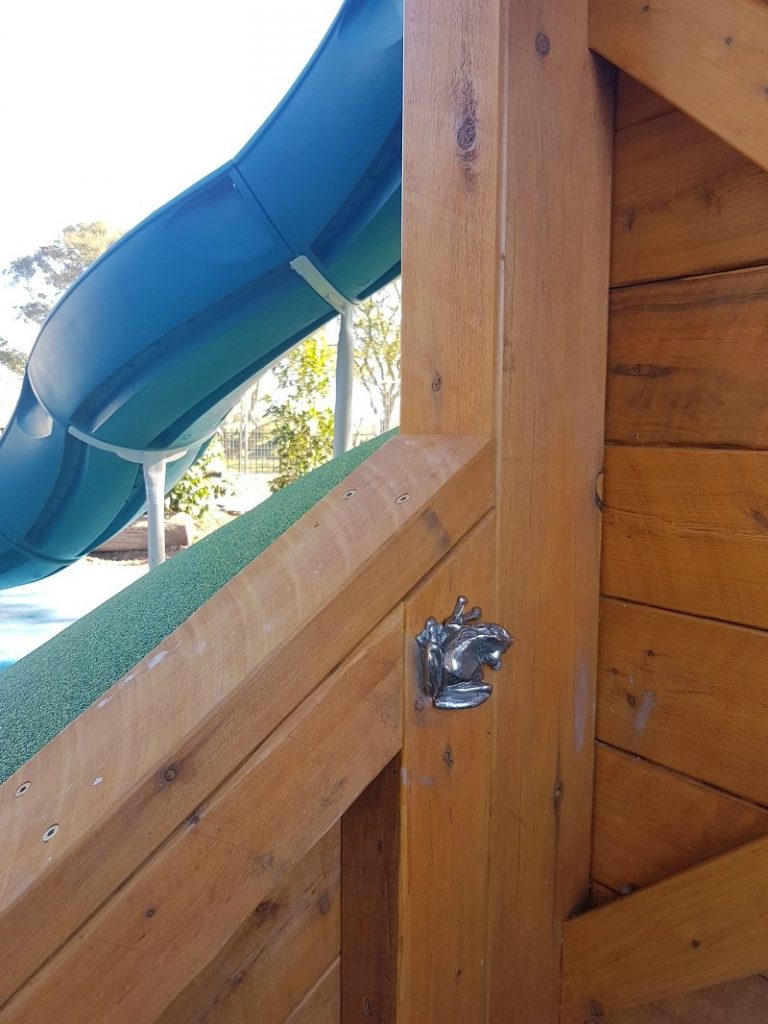 Continuing with the animal theme, there's a huge lizard and 3 giant cicada sculptures which add another dimension to the playground and could aid imaginary play. And by these there are in-built trampolines.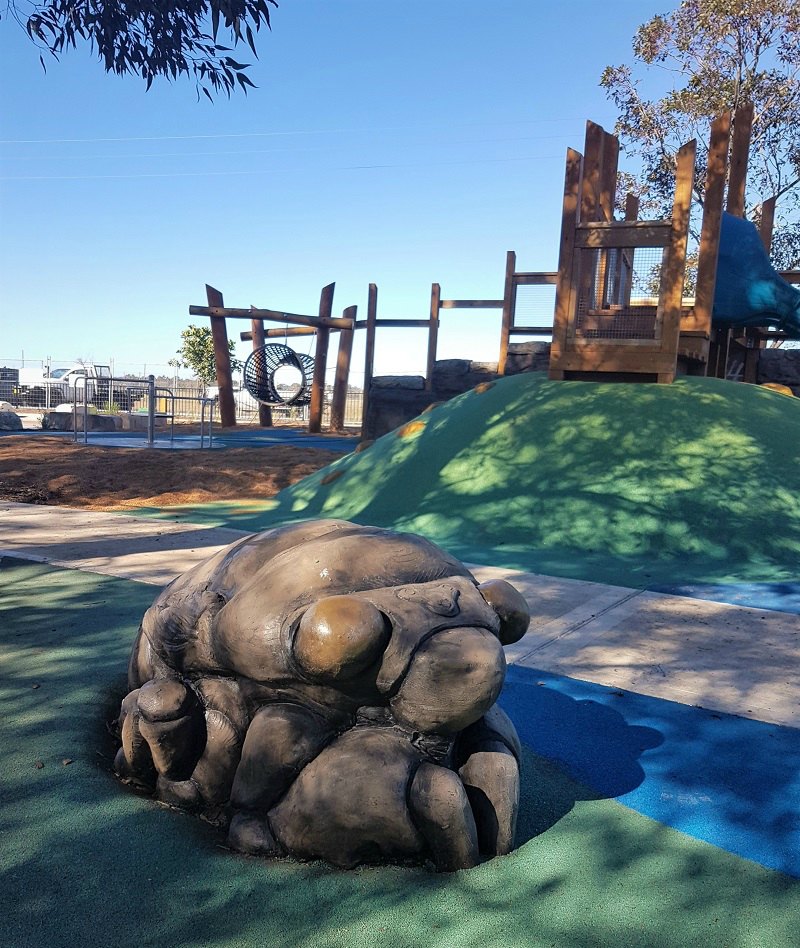 There's a tunnel and a bridge to cross over too – again, this may spark little imaginations into action with a bit of castle play. There's also some sensory play – we loved the giant chimes and there are also blackboards, however we wonder about the practicalities of these, and chalk, but let's cross our fingers and see.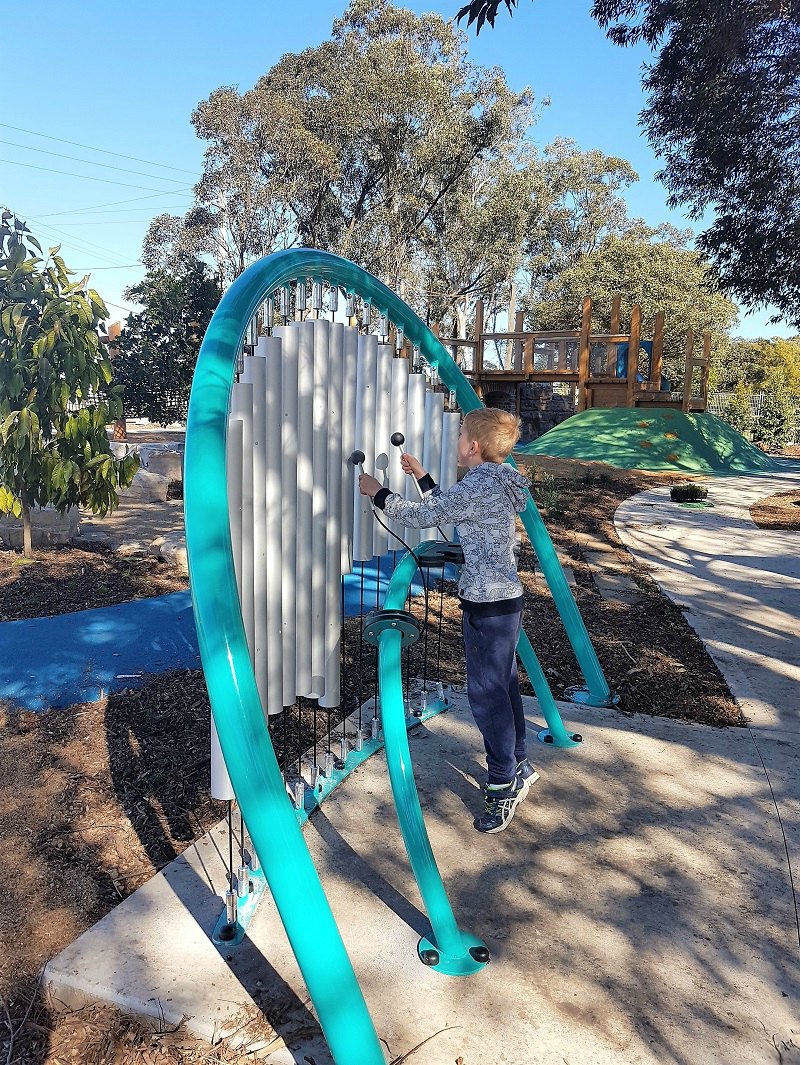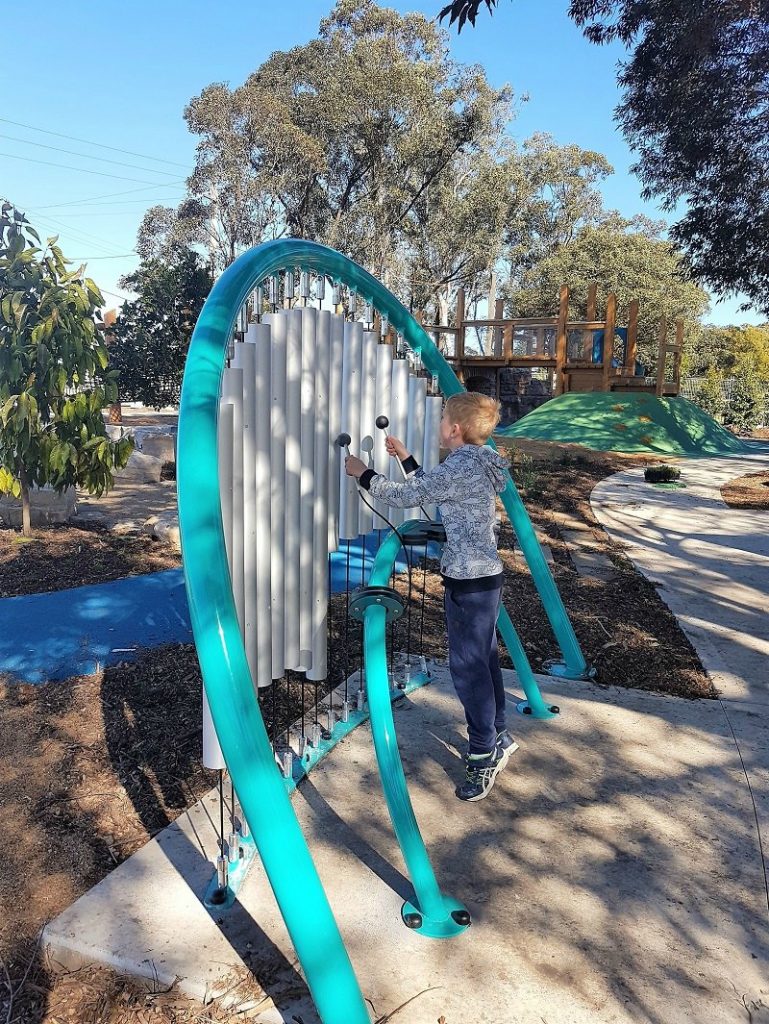 And, we've saved the best for last. Drum roll please … there's water play! We know how popular a water play area can be and we also know it's not cheap – so well done Hawkesbury City Council! We're sure it will be a massive hit in summer! It does run all the time and there's a button to turn it on. You may want to pack a spare change of clothes because even in winter it's hard to convince little people to stay out of it – as we found out!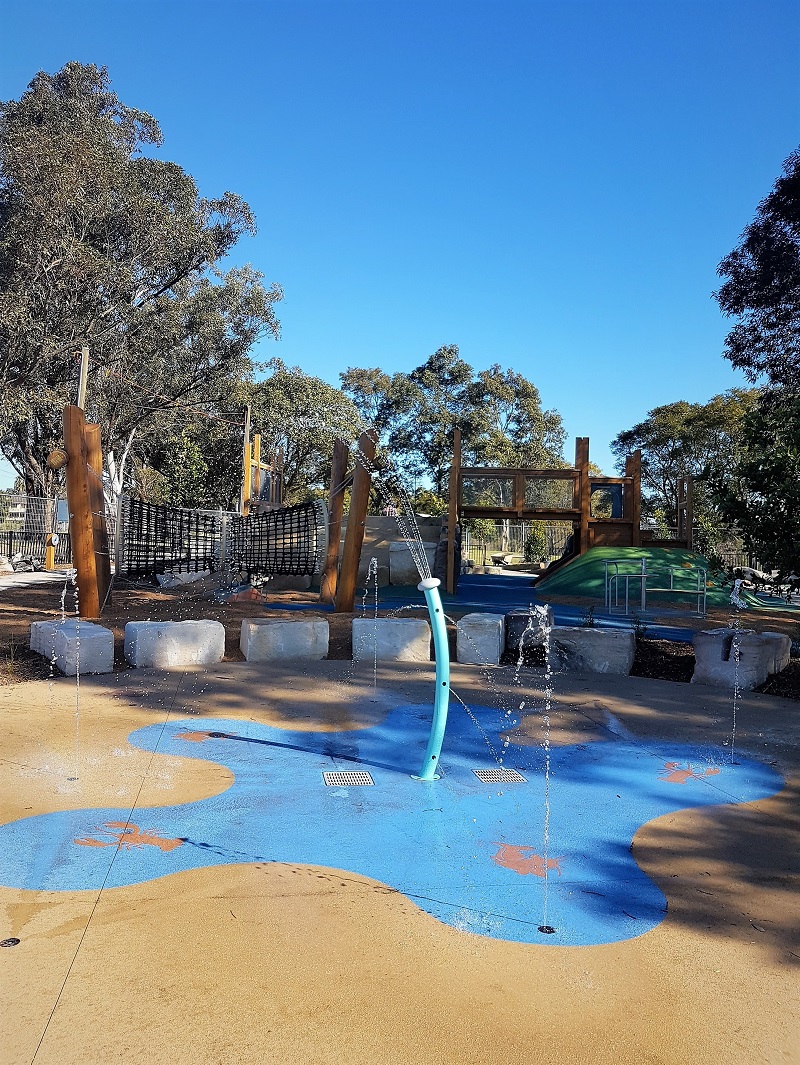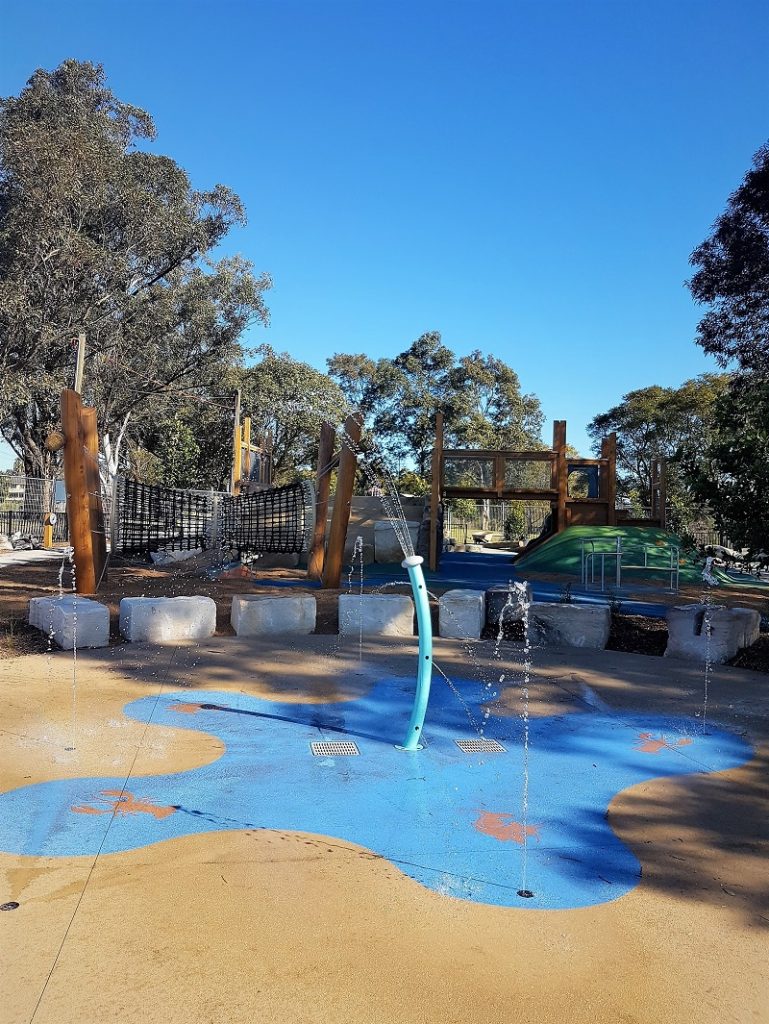 The playground sits within a larger park by the river, so it's a very pleasant spot for a picnic and you could also bring a ball to kick around. There are two bbqs in this larger space by the playground. There's some shade from the trees and a very pleasant breeze comes off the river too. There's mulch in parts of the playground, so if you have a phobia of it wear enclosed shoes.
Phase 2 of developments has recently seen the addition of a double flying fox (not in the enclosed space however) as well as another picnic shelter and toilets by the playground!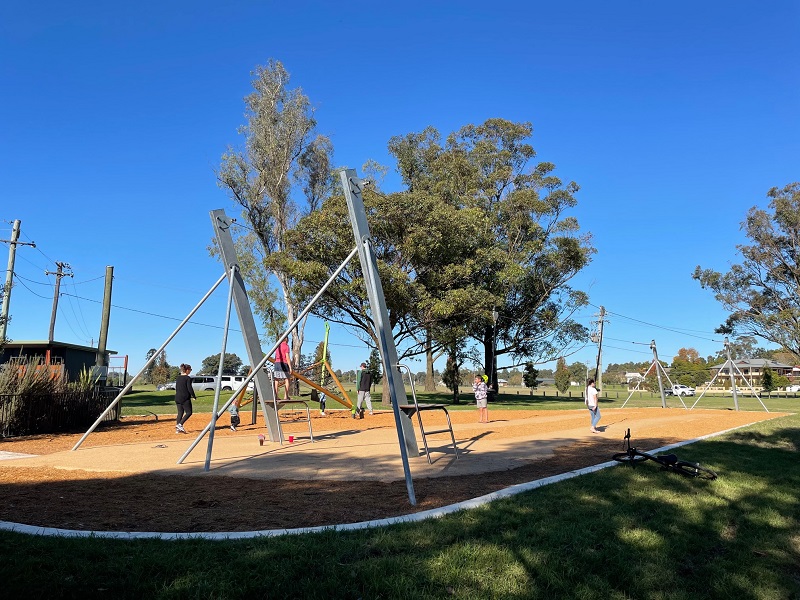 ---
Governor Phillip Park
George St, Windsor.
Other articles that might interest you…..
If you liked this article you should also check out: