Water play parks are fabulous fun and a great way to cool down on warm days. There are a couple in the Hills District and many more not far away. Here are some suggestions.
Waves Fitness and Aquatic Centre, Mileham Ave, Baulkham Hills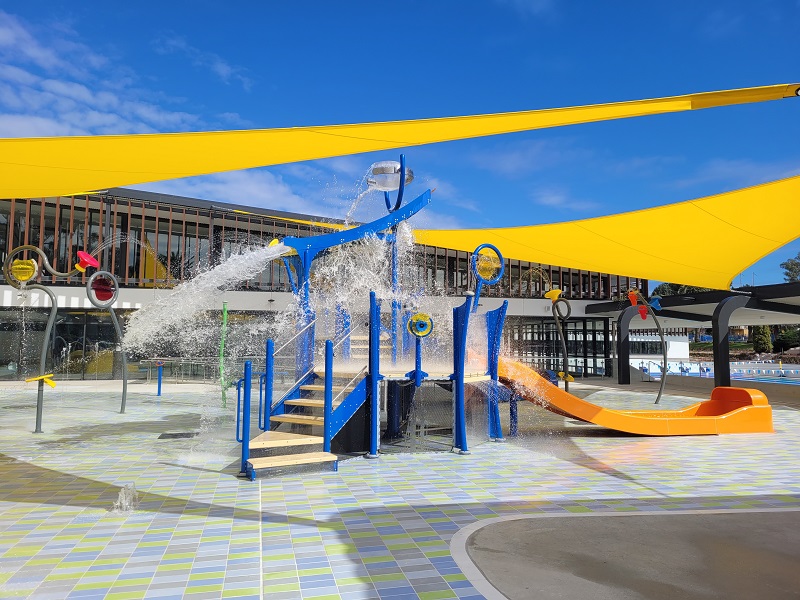 With the reopening of the refurbished Waves come the brand new water play area – something the Hills has been in desperate need of for a long time. It's so exciting to see it in action and we know so many families will spend years enjoying the space! Yay! Check the times the splash pad is open here as the water isn't on all the time.
Livvi's Place at Bernie Mullane, Marella Avenue, Kellyville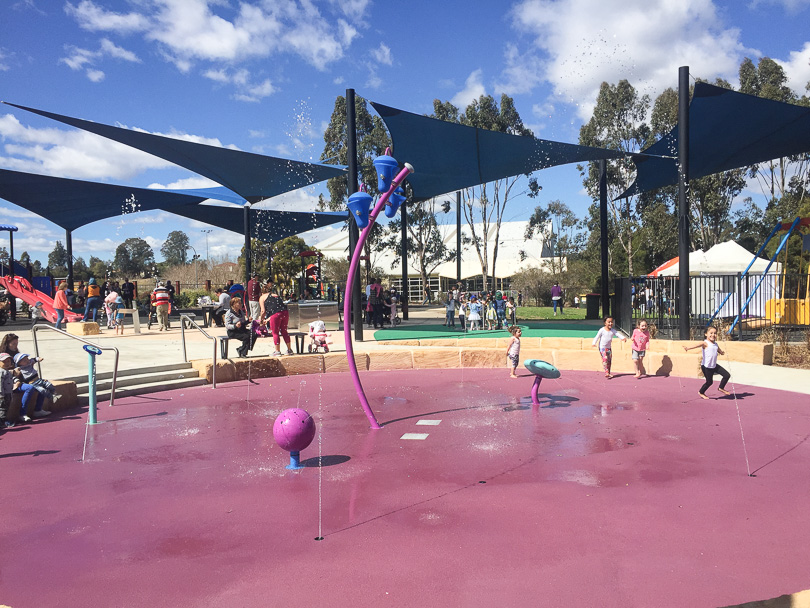 Livvi's Place boasts a number of interactive spaces, including a shaded water play area, swings, a musical play walk and cool tunnel, picnic area and seating, climbing ropes, awesome in-built mini trampolines and so much more – all elements are real novelties for little people! The space is brightly coloured (it's nice to see purples and aquas rather than the classic red, blue and yellow playground equipment) and invites kids to use their imagination.
You can read more about this one here. The water play is currently available from 8am until 8pm September through to April.
Governor Phillip Park, George St, Windsor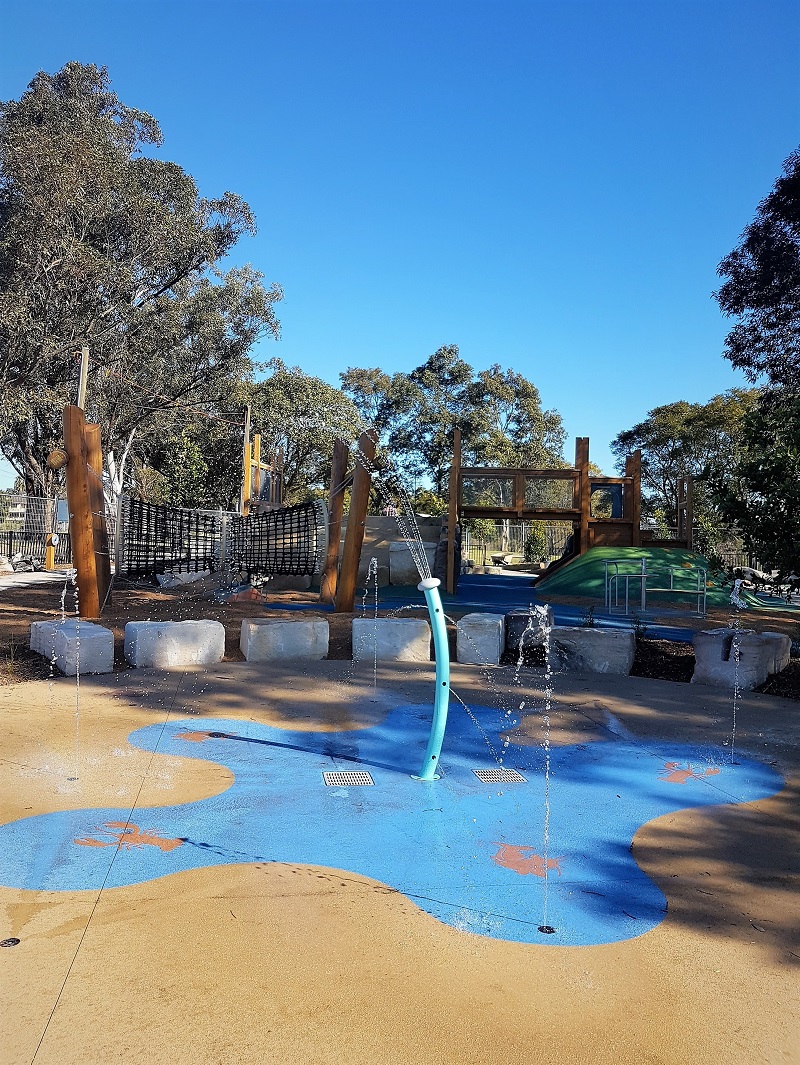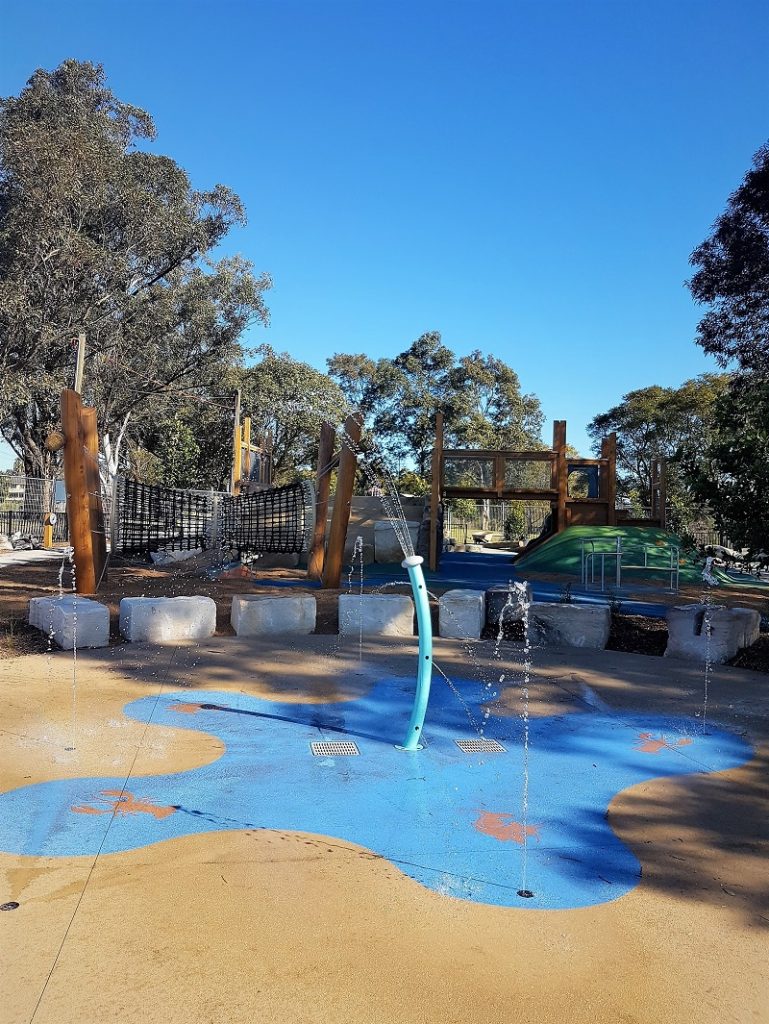 This is a great playground by the Hawkesbury River that also has water play. It runs all the time, with a button activate it. You may want to pack a spare change of clothes because, even when it's not that warm, it's hard to convince little people to stay out of it – as we found out! Stage 2 developments have recently been completed and include toilets by the playground – a huge plus! You can read more about the playground here.
Philip Ruddock Water Playground at Dundas Park (Curtis Oval), Dundas Valley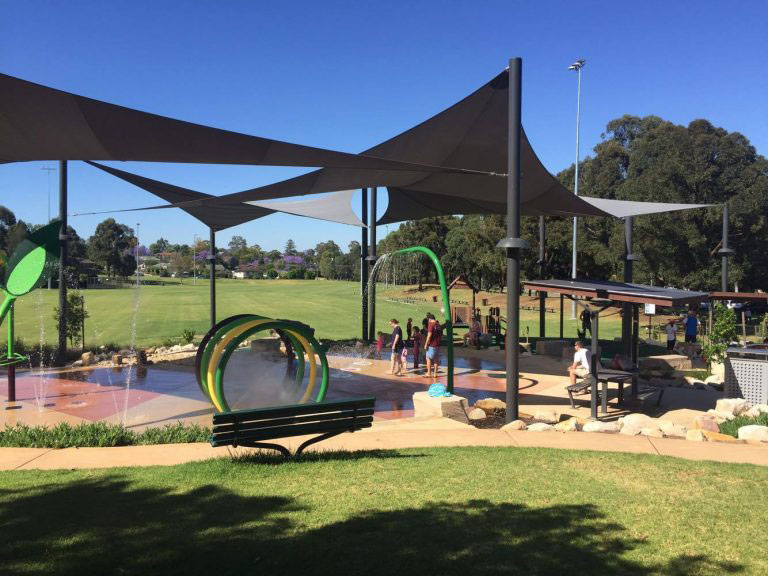 This is a lovely spot in the back streets of Dundas and from September to May the water playground is turned on from 9am to 8pm. The water park is shaded with shade sails and there are about 3 picnic tables that are covered. There are barbecue facilities and and a dry playground too. There are also a fair number of trees to sit under for shade. It's next to an oval, so older kids can kick a ball around too. This one does have toilets which are about a 50m walk from the water park. You can read more here.
Ollie Webb Reserve, Parramatta
The playground at Ollie Webb Reserve is fabulous and it includes a water play area. You can check out more details here. Water play is available from 9am to 8pm from September through to May.
Francis Park Blacktown Showground Precinct, Corner of Richmond Road and Balmoral Road, Blacktown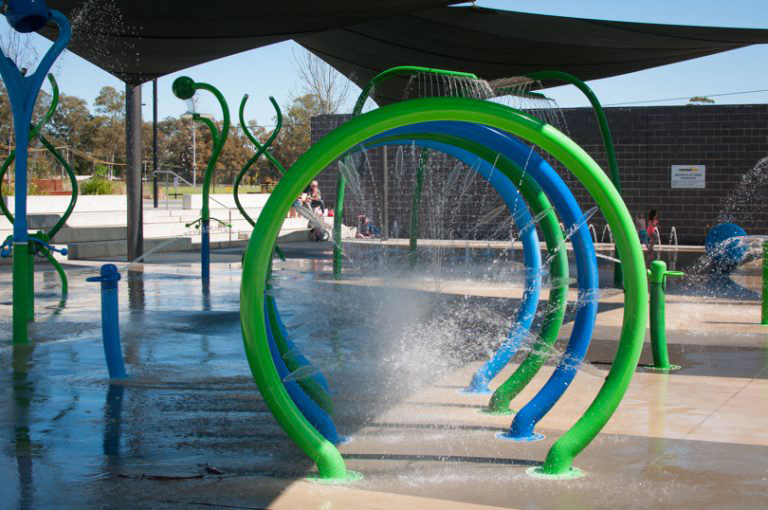 Water Play is available here in Summer from 9am to 6.30pm and in Autumn and Spring from 10am to 3.30pm. It includes a sheltered area with varying sized water troughs, a hand wheel water pump, concrete water maze, and spurts and sprays coming from all over. There are also two other playgrounds – a junior playground suited to 2-8 yr olds with a junior activity unit, swings, a rotating ball, play tables, balance beams and rubber mushrooms! And a senior playground for 6-14 year olds with a flying fox, balance cable and beams, climbing units, slides and more! There's limited shade over the seated areas but it's close to toilets – bonus!
Putney Park, 55 Pellisier Road, Putney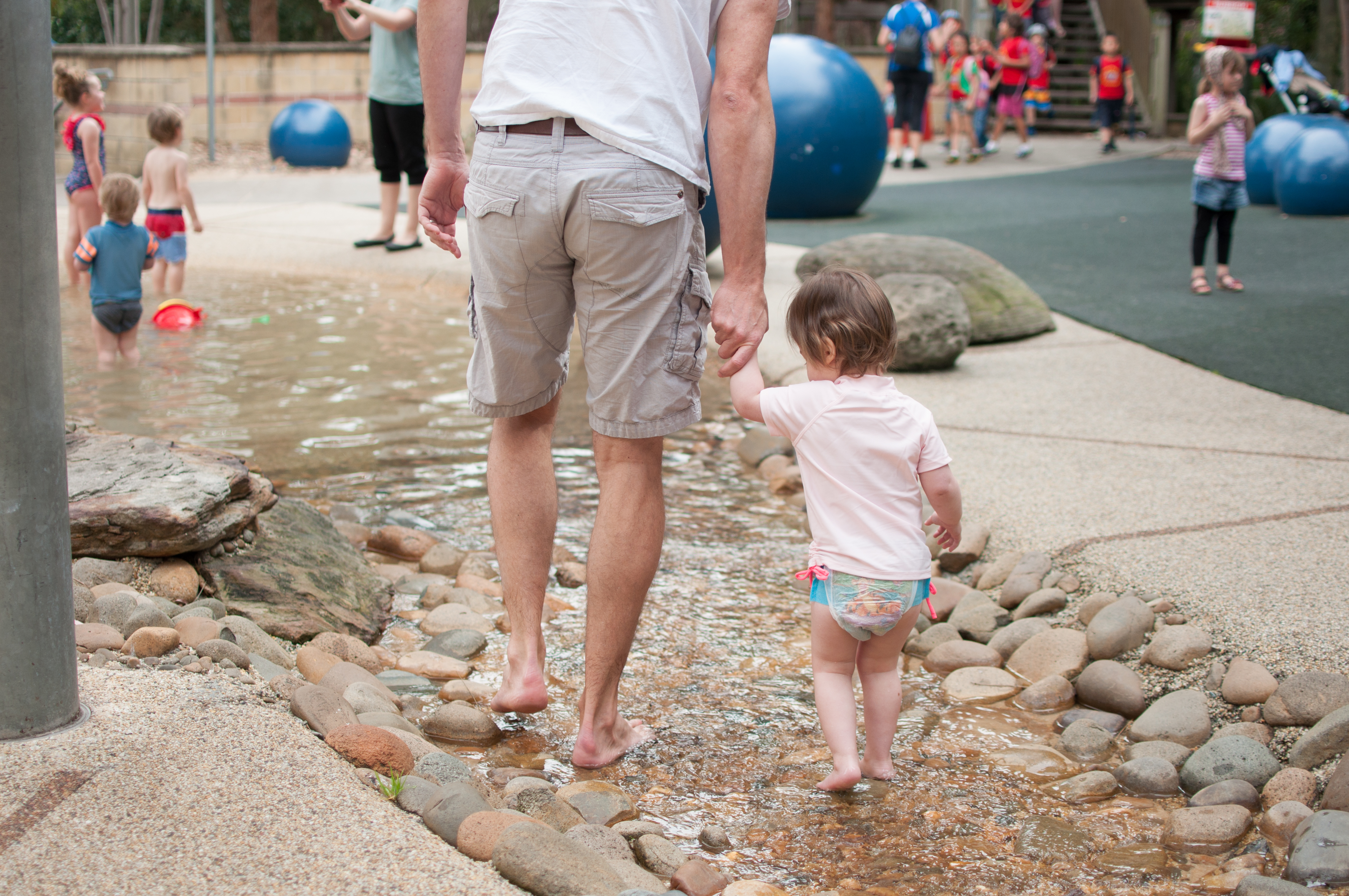 Situated on the banks of Parramatta River, this is a pretty spot and home to a fantastic shaded water play area ideal for older babies, toddlers and preschool aged children. For older children there's a cool tube slide and large climbing net. Take a picnic morning tea, have a paddle and you could even take a ball to play on the grassed area nearby.
There are toilets right next door to the water play area and there's also a smaller playground at the southern end of the park with equipment suitable for younger children.
More details can be found here.
Blaxland Riverside Park – Jamieson Street, Sydney Olympic Park
This is a good one to combine with a visit to do other things as there's a lot on offer at the park in general. The water play area is great as it can get very hot, so there's a whole lot of spouts and spirts to cool you off. Shade is an issue, so make sure you bring plenty of sun screen and hats. In summer it gets super busy. Water play is on 10am – 4pm.
James Ruse Reserve Water Playground – 45 Hassall Street (corner Parkes Street), Parramatta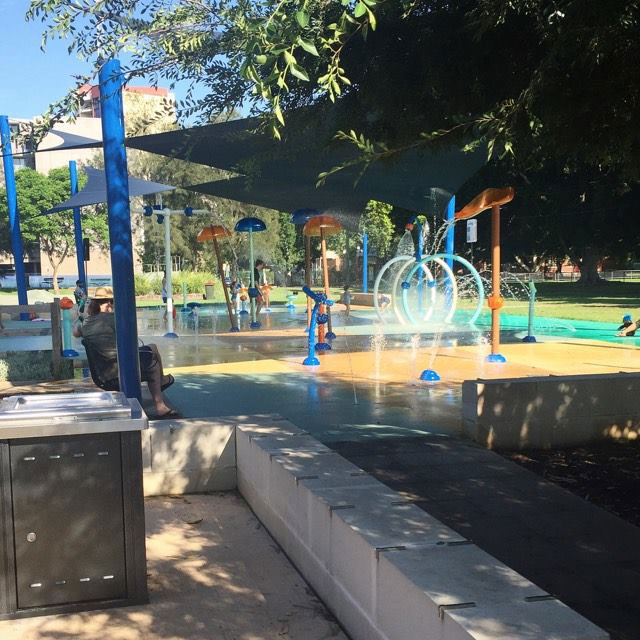 The water play area is covered by shade sails and there are areas suitable for both little and big kids. From September to May the water playground is turned on from 9am to 8pm. Word of warning……..parking is limited here so you will likely need to park on a street nearby and walk.
Nurragingy – Located in the Wren Picnic Area in Nurragingy Reserve, Knox Road, Doonside
Water play is available here in Summer from 9am to 6.30pm and in Autumn and Spring from 10am to 3.30pm.
The facilities feature a number of fountains, hoses and waterfalls to help you cool off while having fun. Parts of the water play area are shaded, however shade surrounding it is limited. There are toilets but they're 200m away. There are plenty of trees for a quick bush wee though if things are desperate.
Livvi's Place, Stockland Elara, Marsden Park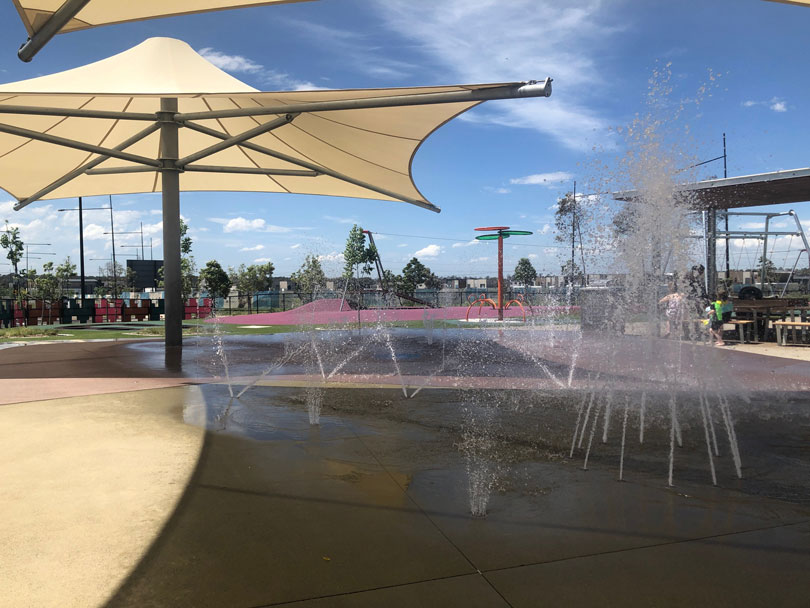 The $3.2 million all-inclusive, water-themed Livvi's Place opened in 2019 at Marsden Park. Read more here. Water play is available here in Summer from 9am to 6.30pm and in Autumn and Spring from 10am to 3.30pm.
Blacktown Aquatic Centre
A new splash pad opened in March 2022! It's made all the more colourful with the beautiful artwork of First Nations artist Leanne Watson.