We love a park, that's probably obvious by now. But what we especially love is when you happen upon a park somewhere where you least expect it or when you had no idea there was a park in that spot at all! That's often the case in the back streets of suburbs in the Hills. Where you assume it's all residential, but then you spy a lovely little park between houses or at the end of a street.
Sure, these little parks often don't tick every box, such as toilets – but we don't expect them to. And they're usually not the newest or most flash but they're more than fine for a morning play in the sun. And often these little gems, because they're so hidden, are lovely and peaceful…. until we tell 11,000+ mums about them! Here are a few we know of that we love. Care to share your hidden gem?
Robert Park, Cherrybrook
Corner of Robert and Dalkeith Roads
Cherrybrook seems to be a suburb with a large proportion of parks. We know of at least three that are probably overlooked for the larger Lakes of Cherrybrook (because of through traffic and the ducks) and Edward Bennett Park.
Robert Park is one. It's a pretty little park that's fully fenced, has lots of shade and is very peaceful. There are a couple of benches and tables too which is good if you're having lunch or are there with a group of people.
Gumnut Park, Cherrybrook
Corner of Gumnut and Holly Roads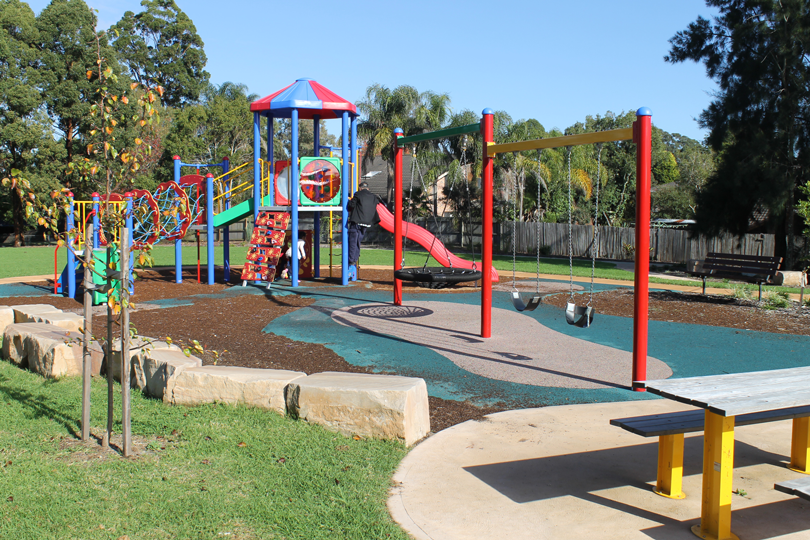 Gumnut Park – cute name huh? This park is awesome! It looks like it's had a fairly recent makeover. It's pretty, has great equipment and a scooter path, some soft fall rubber and bark, a nice big patch of grass next to it, benches and is fully fenced. And there's even some gym equipment if you fancy doing some chin ups while the kids play! The only downside is there's no shade so it's not great on a scorching hot day but perfect on a sunny winter's one!
Lyne Road Reserve, Cheltenham
Lyne Road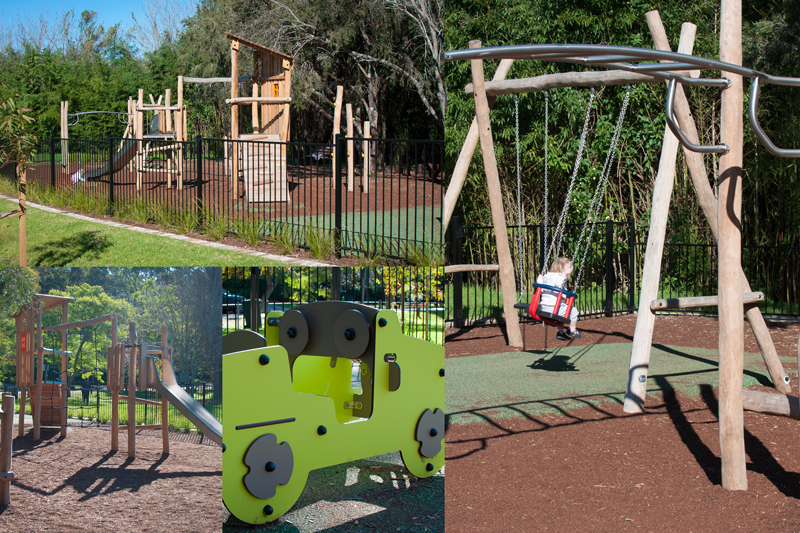 This brand new playground was built at Lyne Road Reserve Cheltenham in 2015 after the playground at Cheltenham Oval was bulldozed to make way for the Norwest Rail Project. The playground is located in a beautiful grassy reserve that's designated as a dog off-leash area but to keep dogs and children separate the playground is fully fenced! The play equipment is made from timber and is beautiful. Some of the equipment can be a little challenging for toddlers and pre-schoolers but is perfect for school aged kids. You can tell the little car was designed by a parent with more than one child as it has TWO steering wheels to save quarreling between friends and siblings!
Larry Bolitho Reserve, Carlingford
Corner of Post Office Street and Young Road

This is probably the newest park in the hills. Located behind Bunnings in Carlingford this reserve and associated playground opened in March 2015. It's fully fenced, there is plenty of shade, a path to scooter around and lots of space to kick a ball. We're fans of soft fall rubber under play equipment but this playground goes one better – it has faux grass! Hubby says that's just synthetic grass but a superior luscious version of it!
Ambleside Drive playground, Castle Hill
Ambleside Drive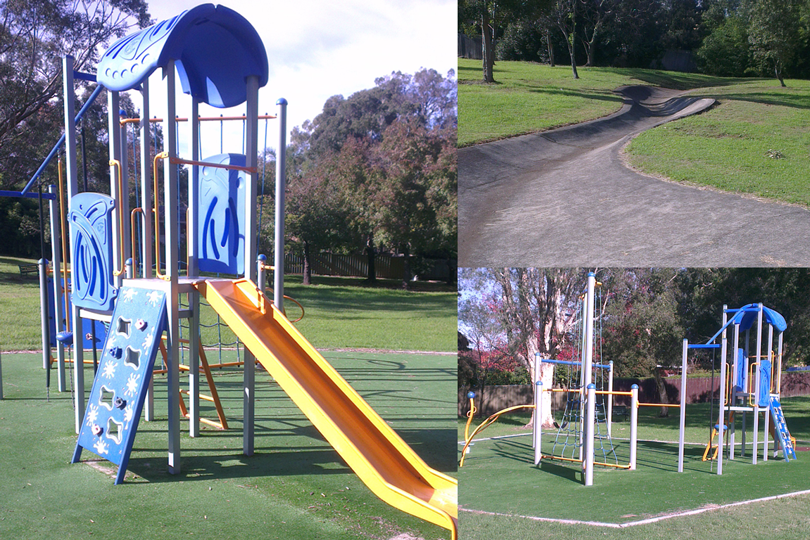 This is a sweet little suburban park surrounded by houses – its big, there's plenty of grass, there's play equipment, seating and some shade. While the equipment is pretty standard, our favourite thing about this park is the mini skate bowl for little ones learning to skate-board or scooter – it's a great starting point. Parking is easy and while it isn't technically fenced, it's set a long way back from the road.
Westminster Park, Castle Hill
Corner of David Road and Westminster Drive

This park is technically in Castle Hill, but is about 10 metres from Cherrybrook. It's a goodie as it's fully fenced, has soft fall rubber under the equipment, there's a toddler swing and it has a see-saw. Love a see-saw! There's shade and a covered table and benches for lunching or snacking.
Wrights Road Reserve, Kellyville
Lavender Avenue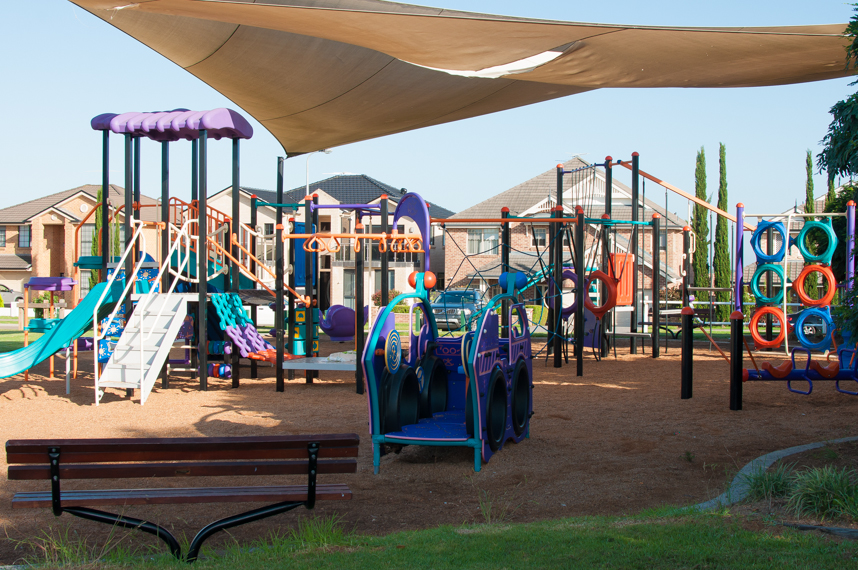 This park has a fabulous array of equipment, suitable for young kids through to early primary school aged children. There are slides, ropes and imaginative play and all the equipment is under shade sails. There's plenty of space to pull up a picnic blanket but unfortunately the benches and grassed area have limited shade.  It isn't fenced and has no toilet but definitely worth a visit.
The pirate park, Kings Langley
Anderson Road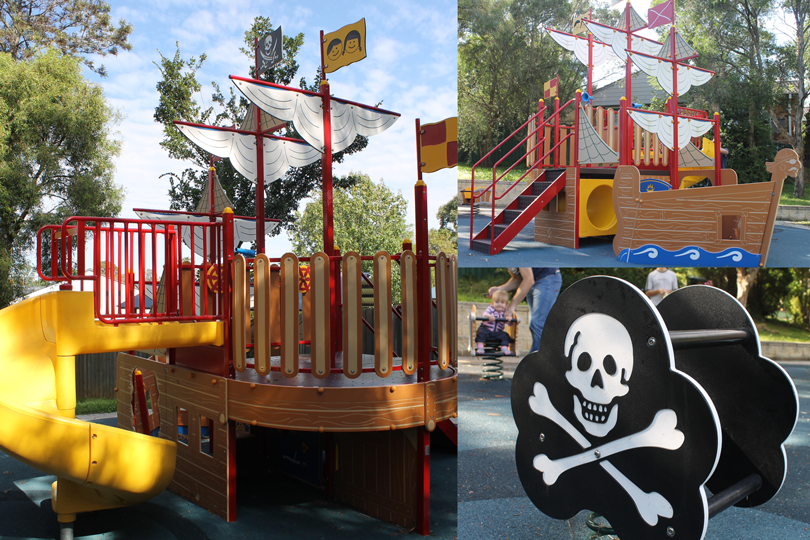 We're probably being a little liberal with the term 'park' here. In reality it's just a pirate ship, but it's an awesome one. So if you've got a pirate crazy toddler they'll love it.
Galston Recreation Reserve, Galston
412 Galston Road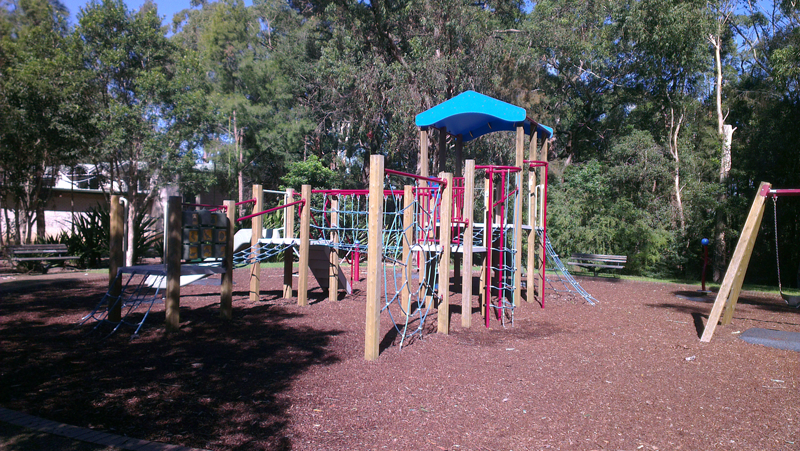 Galstoners are probably familiar with this playground hidden behind the oval, but if you're just driving past you could easily miss it. The wider recreation area would be good for families that have a variety of ages to please as there's the playground, an oval with a bike/scooter path and a full blown skate bowl for more hard-core skateboarders.
The Ponds
Corner Ridgeline Dr and Mitta Way

This park is really pretty and also cool because it has three areas to it, which makes it a bit of an adventure. It's surrounded by lovely shrubs and native plants which add to the adventure! There's a focus on climbing it seems, with a huge climbing net and several other things to scale! It's partially fenced and the greenery doubles as a bit of a fence as well. Two of the three play areas are covered with shade sails.
Stanhope Gardens
Watford Drive

We're still trying to work out if it was a truck, fire engine or ambulance but who cares … it was good fun! This park isn't huge and it's not the greatest playground we've ever seen, but it's in a pretty spot and it's nice and close to the shops without being over-run with people. It's got one of those cool spinning things that you sit on and mum or dad runs around like a maniac making it move – then it goes so fast that someone invariably flies off… awesome!