We've compiled a list of parks in the Hills that have a bike path for your little ones. Some are on the smaller side which is good for learners. Some are bigger for the more confident kids. 
In or near the Hills
Balcombe Heights Estate, Baulkham Hills
Balcombe Heights Estate has numerous paths around the play equipment and the oval where kids can practise.

John Wearn Reserve, Corner of Farnell Avenue and Balaka Drive, Carlingford
This upgraded playground is fabulous for all ages. There's a safari-themed playground, skate park, multi-use courts, dog park and more! There are plenty of paths to ride a bike on or do some scooting. You can read more about this one here.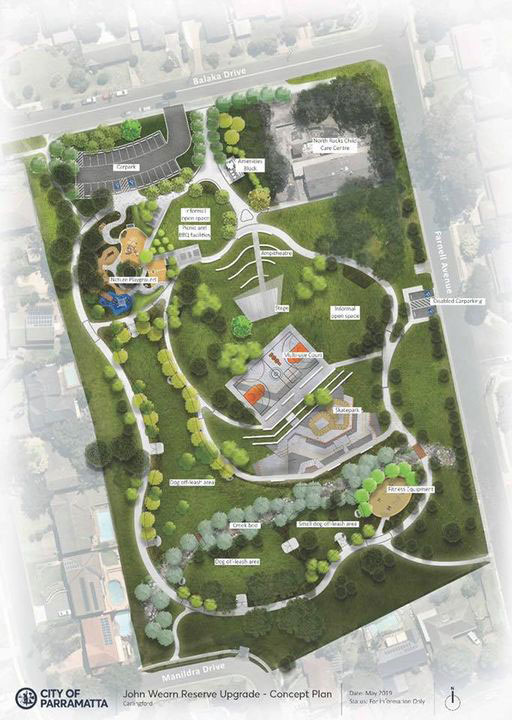 Bernie Mullane, Marella Ave, Kellyville
Bernie Mullane is one of the few playgrounds in the Hills that ticks all the boxes. Shaded, toilets, fenced and refreshments available. In terms of scooter facilities, this is one of those playgrounds that has a path around the play equipment and is nice and flat. There's also courts which are good for hooning around when they're not being used.

Centenary of ANZAC Reserve, Castle Hill
This learn-to-ride track is slightly different in that it isn't located right next to a playground. So you'll go here with the sole purpose of taking a spin on your bike or scooter. The track incorporates pedestrian crossings, stop signs and roundabouts and is great for young bike and scooter riders. There's an area for parents to sit and supervise. (Notice we didn't say relax as this word never goes hand in hand with kids learning  to ride!). You can read more here.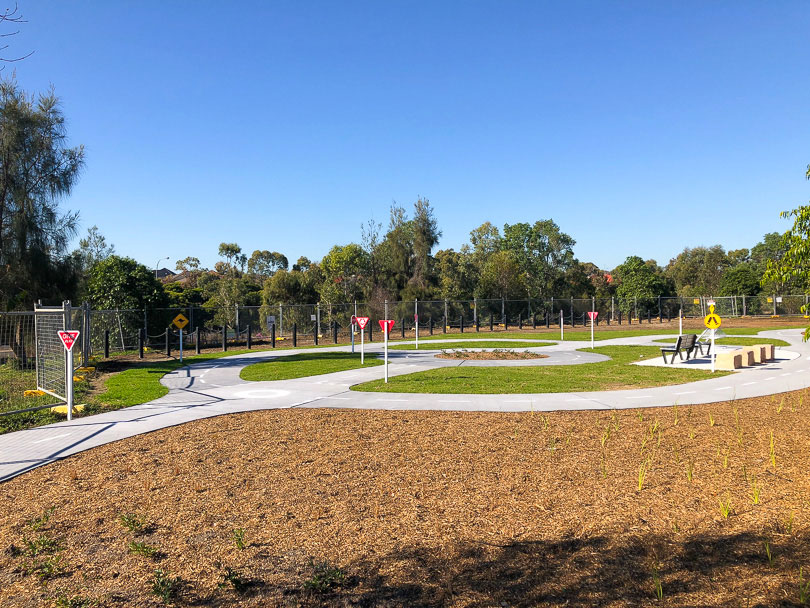 Crestwood Park, Baulkham Hills
This park is great because it has some extras to take advantage of like a skate bowl. The path itself is long so kids are entertained and it's good for slightly older kids who want a little independence. There are also other perks like bbqs, toilets, a dog leash free area and a play equipment.

There's also a learn-to-ride track at the other end of the Reserve. You can read more about it here.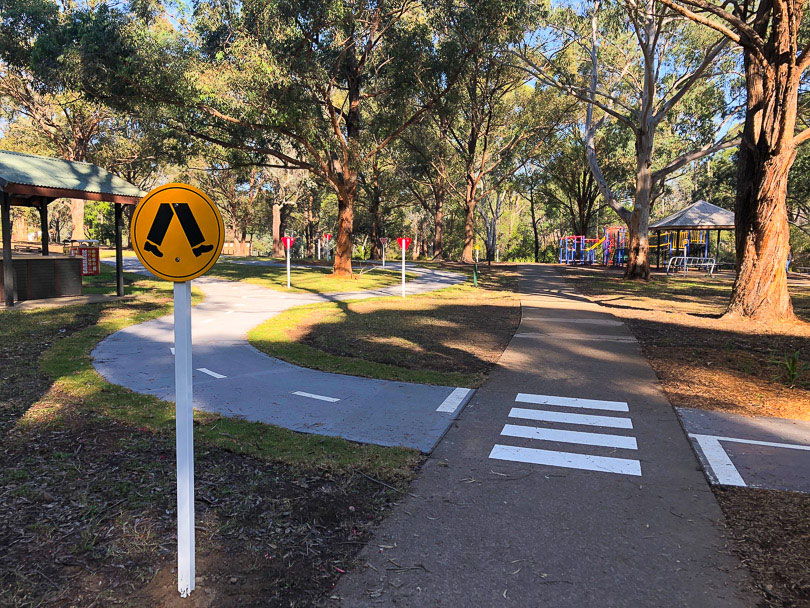 Glanmire Avenue, Baulkham Hills
There's a new little playground on Glanmire Avenue Baulkham Hills. It's super cute and shaded too! There's a path that runs all the way down to Windsor Road – perfect for a walk with a pram, scoot or bike ride.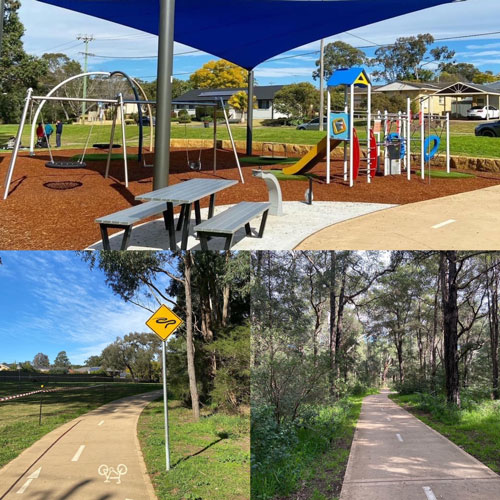 Coolong Reserve, Coolong St, Castle Hill
There are a couple of paths at this large suburban park along with a learn-to-ride track. Learners may also like the netball courts that are located on the other side of the playground. You can read more about this playground here.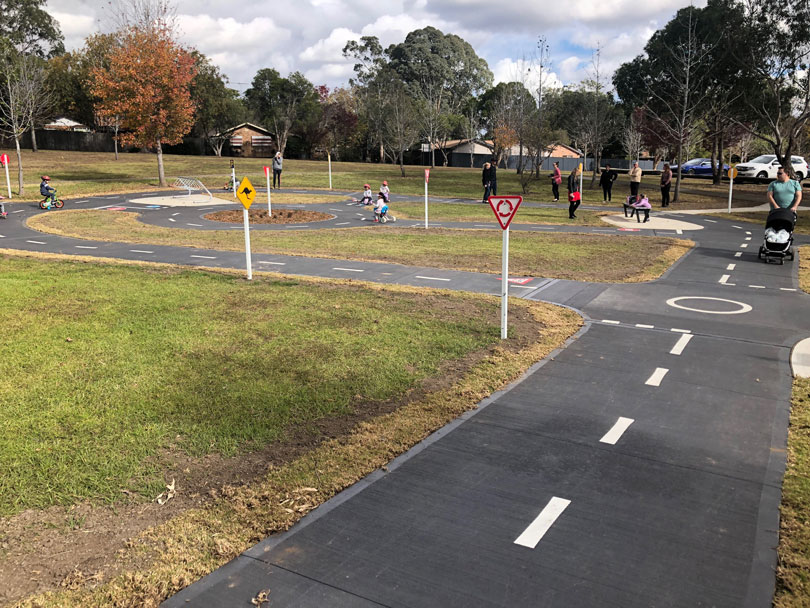 Twickenham Avenue Reserve, Kellyville
This was the first learn-to ride-track to open in the Hills. Along with road signs it even has a little petrol bowser. Read more here.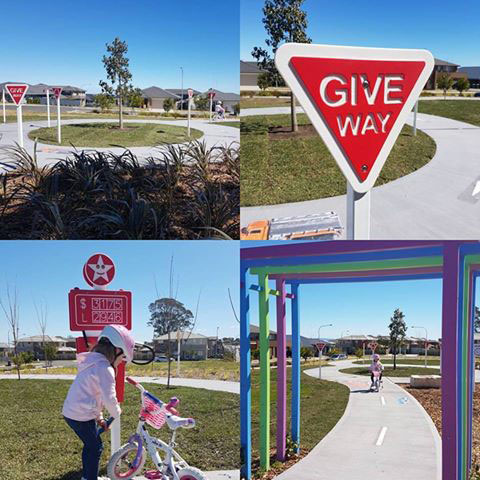 Wheelie Park, Box Hill
Wheelie park, on Cataract Road in The Gables Box Hill has been designed for two-wheel fun! It includes a 'learn to ride' scooter and bike track, as well as a longer track for those more confident in their riding skills. While there's a nest swing in the playground, this park is purely focused on two and three wheeled fun. The track is mainly flat which is great for learners but there are some little hills for kids who like a bit more action. It has a few mini road signs, a tunnel plus there's a fully operational bike tyre pump – handy! In future, connecting pathways will take cyclists from Wheelie Park through and to the heart of The Gables Town Centre. You can read more here.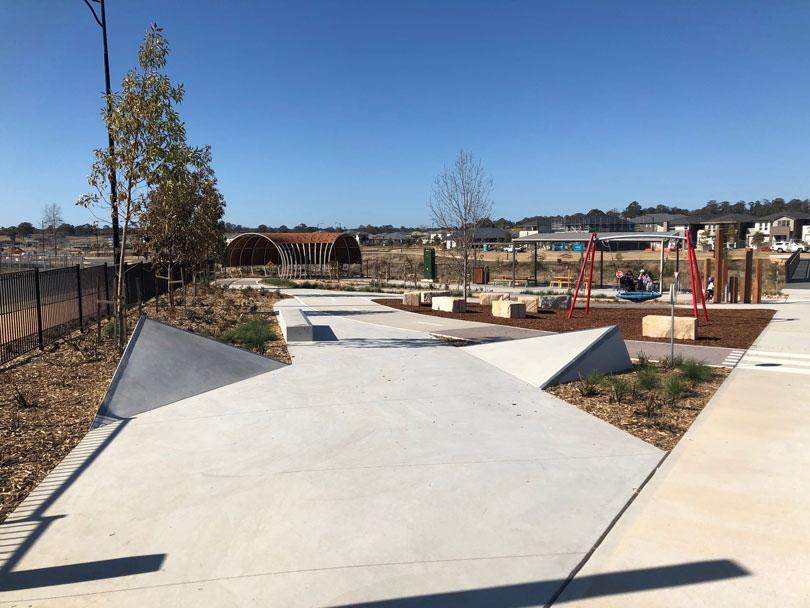 Don Moore Reserve, North Rocks
This is a great one for those learning to ride both bikes and scooters as mid week the netball courts are vacant. They can potter around to their heart's content. There's also a little playground to check out next to the netball courts.

Edward Bennett Park, Edward Bennett Drive, Cherrybrook
This is one of our favourite parks. There's a great track that circles the play equipment. There are also bbqs and toilets and the parking is easy. It's an all round winner.

Erlestoke Park, Erlestoke Place, Castle Hill
This one is fantastic as the paths are long and in a big circle so, all going to plan, they come back to you! There's even a tennis court to potter around on!

Fagan Park, Arcadia Rd, Galston
This is a gorgeous spot but a huge park. The paths are wide and it's not flat so it's good for older kids to explore if you're comfortable giving them some freedom. The grass is great for those who love to fang it down a hill (with the potential for a softer fall), but beware if they go too far they'll end up in the duck pond!  Also, expect a workout as kids don't mind heading down hill but you do have to get back up the hill so you might be doing some pushing or even riding back up yourself if little ones have run out of steam!

Fred Caterson Reserve, Gilbert Road, Castle Hill
This one is the most hardcore in our list and is the official home of the Castle Hill BMX Club so you know they mean business! It's challenging for those kids keen to test themselves but can also be used by those that are less confident. It's free and open to the public except when Castle Hill BMX club is racing or training.

Turon Avenue Reserve, Baulkham Hills
The BMX track at Turon Avenue Reserve, Baulkham Hills, is now open for riders to enjoy. There's something for every skill level. Amateur riders will be able to develop their BMX abilities, while more experienced riders will have the chance to hone their craft on some of the trickier jumps. We even saw a couple of young kids on balance bikes with Mums running nervously behind them.

Kenthurst Rotary Park, Nelson St, Kenthurst
This is another of our favourite parks and it has a large path that you can watch the kids go right around while still giving them a little independence. There's good play equipment too and great coffee across the road at The Hidden Gem.

Galston Recreation Reserve, 412 Galston Rd, Galston
This is a larger oval shaped track which circles…. the oval! It's nice and flat so is great for intermediate kids who you're happy to let roam a little further – because it's flat you can still keep them in sight. There's also a playground, skate bowl and netball courts too if you want to practise somewhere quiet and flat.

Gumnut Park, corner of Gumnut and Holly Roads, Cherrybrook
This is a nice flat park in a quiet surburban area and would be great for beginners or toddlers to do a few laps. There's play equipment and some grass as well, however there's no shade so don't go in the middle of the day in the peak of summer!

Ironbark Ridge Reserve, Rouse Hill
There are plenty of paths for kids to scooter and ride on here. The paths are relatively flat so they're good for beginners. But they're long too, so great for bigger kids who want to go on a longer ride. Read more about it here.

Lakes Edge Reserve, Camomile St, The Ponds
There are paths weaving around this large space. It's great for older kids to ride around and explore but be mindful of the lake in the middle. The playground itself is cool too. Read more about it here.

Larry Bolitho Reserve, corner Post Office Street and Young Road, Carlingford
Nestled in the back streets of Carlingford this playground has great equipment and a little path that surrounds the playground for kids to scoot or ride around.

North Rocks Park, North Rocks Rd, Carlingford
This one is great for learners. A little path surrounds the gated playground and you can potter around that. The trees provide good shade coverage and there are toilets too.

Pebble Crescent Park, The Ponds
This is a great flat space with plenty of room – there's a ramp at one end and the path around the park is a nice circle so little ones can practice some steering, while a straight path means they can scoot or ride up and down. It's just next door to the Ponds Shopping Centre.

Endeavour Park, James Cook Drive, Kings Langley
There are paths in the playground plus a big circular track around the outside. It's flat so perfect for learners and young kids. There are toilets and lots of room to explore.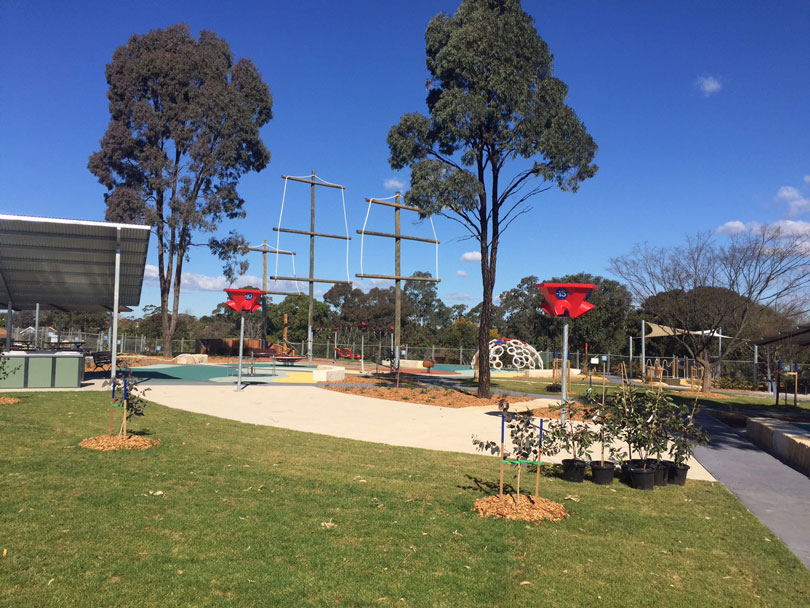 Ruddock Park, Coral Heath Avenue, Westleigh
This is one of our favourites. There's a big learn to ride path right next to a pirate ship play area. There are also toilets and plenty of places for adults to sit and watch little ones.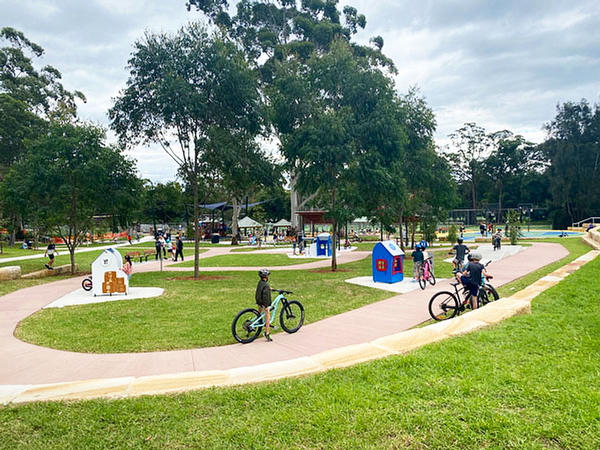 Reynolds Park, Chanel St, Toongabbie
This is a cool playground in general but it also has a path to ride on as well. For older kids, the path continues away from the play equipment so they could go a little further afield if you're comfortable.

Rouse Hill Regional Park
There's a nice wide concrete path around a grassed oval here and it's mostly flat, with just a couple of slight slopes.  Just be mindful after heavy rains as the track can get quite muddy from the reserve area around it.

Further afield
Brightmore Reserve, Cremorne
This reserve is great. It has an educational tricycle track suitable for children up to 10 years. The track simulates the public road system with roundabouts, pedestrian crossings and road signs. Set around the track is a themed play village with a service station, row of shops, fire engine and fire station. Set within the track is a fully-fenced play area with swings, slide and spring rocker.


Holroyd Gardens, Merrylands
No we haven't just included a photo of a street within the park! This learn to ride training track is set up like a mini road with signs, roundabouts and line markings. It's also right next door to a couple of cool playgrounds.
Ryde Park, Blaxland Road, Ryde
There's lots on offer here including a cafe, a cute playground, learn-to-ride track, paths for scooters and little bikes, basketball courts and open spaces to run around.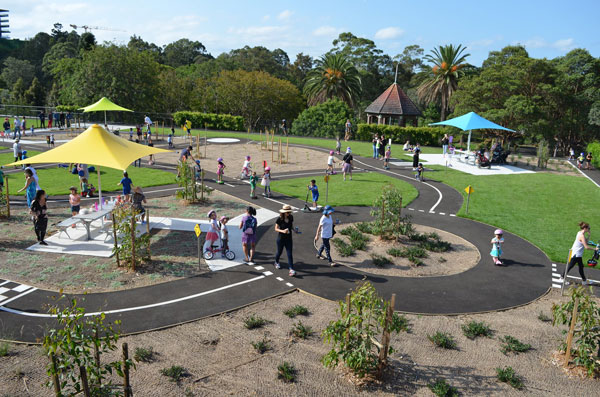 Yamble Reserve, Ryde
This park is awesome and worth the visit regardless of whether you're riding scooters or bikes – you may find they're cast aside for other exciting things! But there are flat paths around the play area and a cycle way around the reserve.

Blacktown Showground
This is a great place for kids (and adults, with the delicious new café) with a playground, water park, picnic tables and bike paths. The bike paths are nice and wide and circle around the large park area. They're not dedicated bike paths, so kids do need to be aware of pedestrians and prams etc. The tracks are hilly on two sides, so it's more for confident riders who can brake going down a hill. You can see the path from all points of the playground, but it's a large track which covers a big space, so you may want to accompany your child.

Parramatta Park, Parramatta
This is the Centennial Park of the west! More capable riders can ride around the entire park and there are plenty of areas for those learning to explore, in particular the area of the Domain Creek Playground.

Sydney Olympic Park
Sydney Olympic Park has over 35 kilometres of cycleways for safe bike riding. All circuits are close to facilities such as playgrounds, picnic areas, bubblers and toilets. More information on circuits can be found here.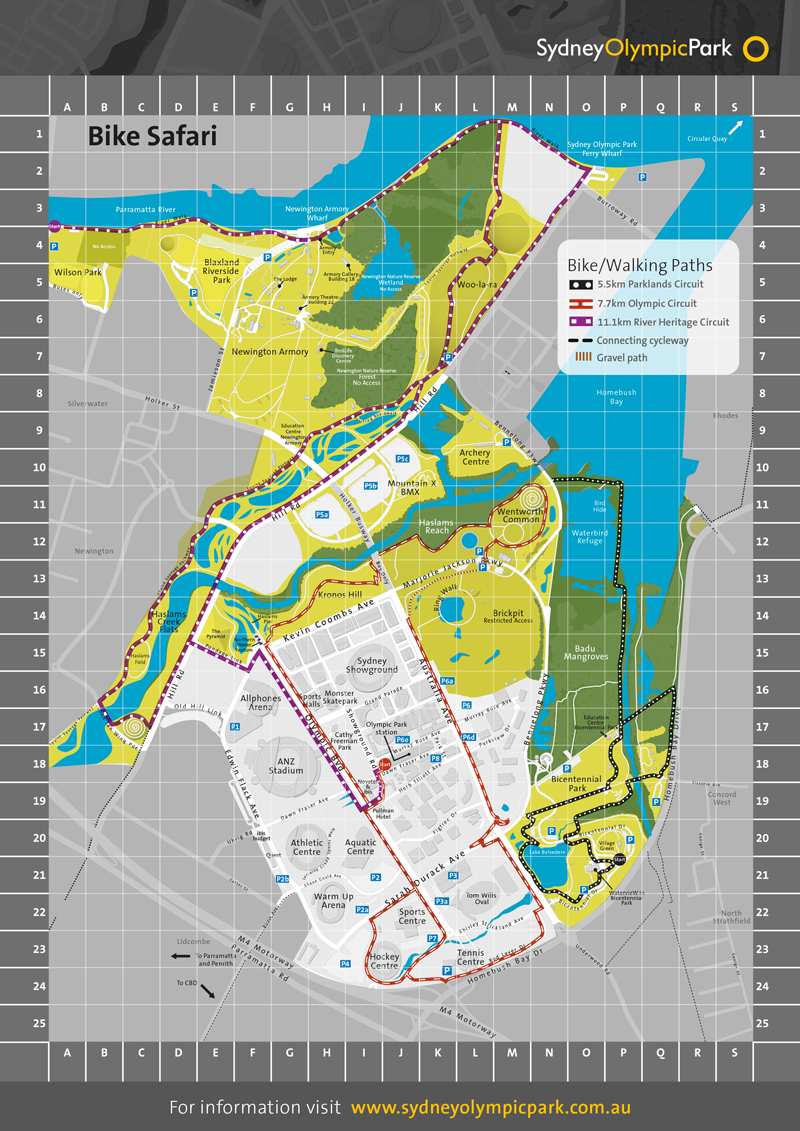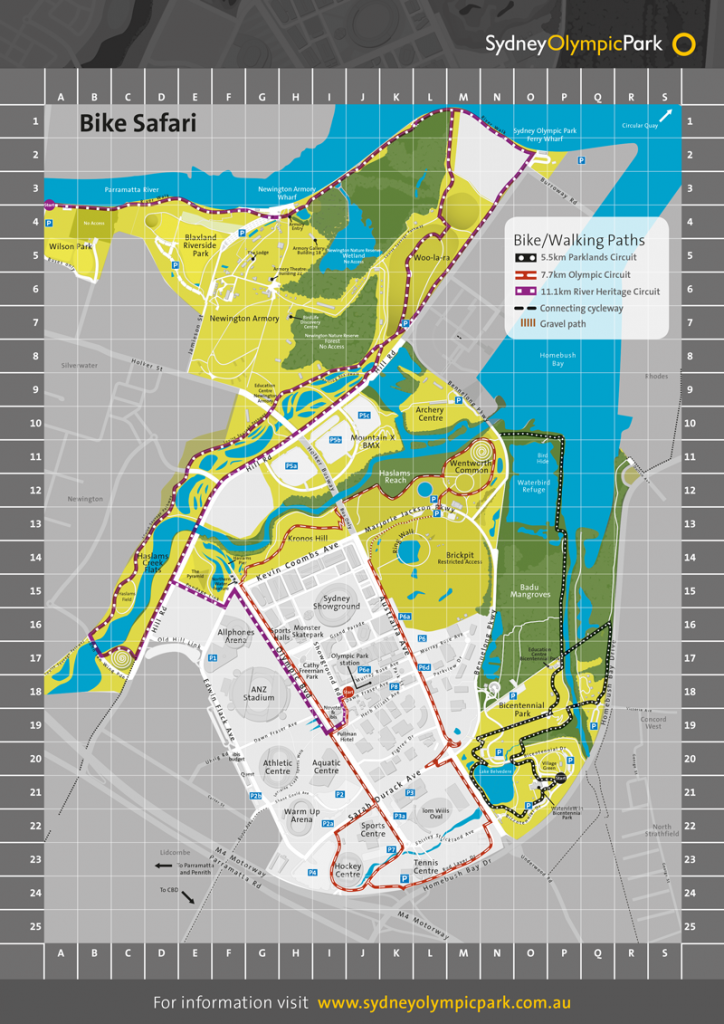 Balmoral Beach
This is such a pretty spot and a lovely place to spend a day. There's a great esplanade that weaves the whole way along the beach but it's often busy so your little riders need to be careful and courteous. There is also a path around the oval at the Southern end of the beach.

Jubes Mountain Bike Park, Wahroonga
Obviously not for learning, this one is for the more experienced bikers. It's a purpose-built facility with 3 areas:
'Skill Development' designed to help riders improve off-road cycling with rock, wood and narrow sections
'Pump track' easy, medium and difficult levels to encourage the rider to use their upper body to 'pump' through the course
'Single Track' 800 metres of track that meanders up and down the hillside.