Parks. They're a firm fixture in the weekly routine of basically every mum around. A good park can be the difference between little people that are happy and entertained versus whiney and bored.  Below we list our favourite parks in the Hills – hopefully there's one or two you haven't tried out yet. 
Fagan Park
38-48 Arcadia Road, Galston
Fagan Park is one of those parks you wish you went to all the time. But then again, that might take away some of the magic of it. And it truly is a magical place – a big one at that, at about 55 hectares. It's an oasis of rolling green expanses and pretty little nooks for the little ones to discover. There are bike tracks, small lakes and lots of wide open space to run around and explore. For something a little different there are the Gardens of Many Nations – 11 themed gardens such as the Chinese and Dutch gardens. And there's ducks (and eels and fish!) Who doesn't love ducks?!
There are two playgrounds at opposite ends of the park. The main one is better for older children (Arcadia Road entrance) with a large climbing frame, flying fox, liberty swing and play equipment. Also for the youngsters there's a sand play area with water (but not TOO much) – perfect for muddy puddles and splashing so take a change of clothes! There's another smaller park sheltered away at the Carrs Road entrance. Picnic shelters and electric BBQs are scattered throughout the grounds. (Picnic shelters are also available to hire for functions.)
There are two car parks, one off Arcadia Rd at the main park entrance, and another off Carrs Rd. Parking costs $5 per vehicle.You can read more about this fabulous park here.
Livvi's Place, Bernie Mullane Reserve
Marella Ave, Kellyville
This park makes our list because it ticks all the boxes and usually parks don't cover absolutely everything.
Fully fenced – tick. Shade – tick. Heaps of cool play equipment – tick. Trees and grass – tick. Coffee nearby – tick. Easy parking – tick.  Toilets – tick.  The playground was always great and then it was extended in 2017 to become Livvi's Place Kellyville. The new section of the playground boasts a number of interactive spaces, including a large water play area, swings, a musical play walk and cool tunnel, picnic area and seating, climbing ropes, awesome in-built mini trampolines and so much more – all elements are real novelties for little people! The space is brightly coloured (it's nice to see purples and aquas rather than the classic red, blue and yellow playground equipment) and invites kids to use their imagination. The existing playground is still there too which means there's stacks to play on.  Read more here.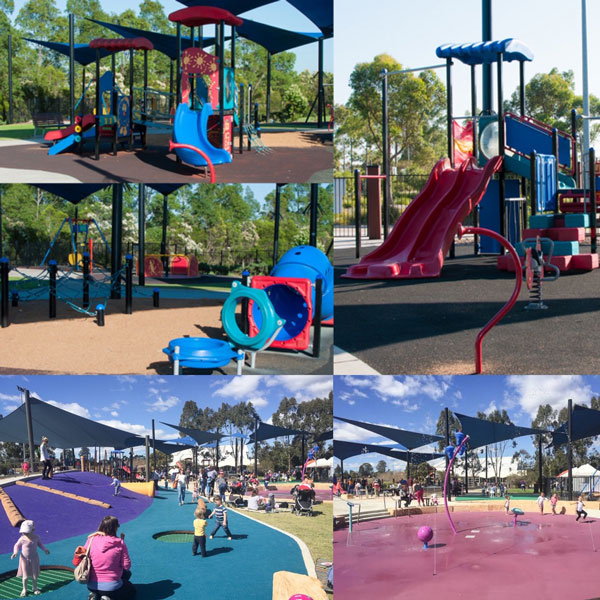 The Gables, Box Hill
Marella Ave, Kellyville
There are 3 fairly new playgrounds out at The Gables Box Hill and they're great! The only down side is that there are no toilets in the area at all. More details on these playgrounds can be found here.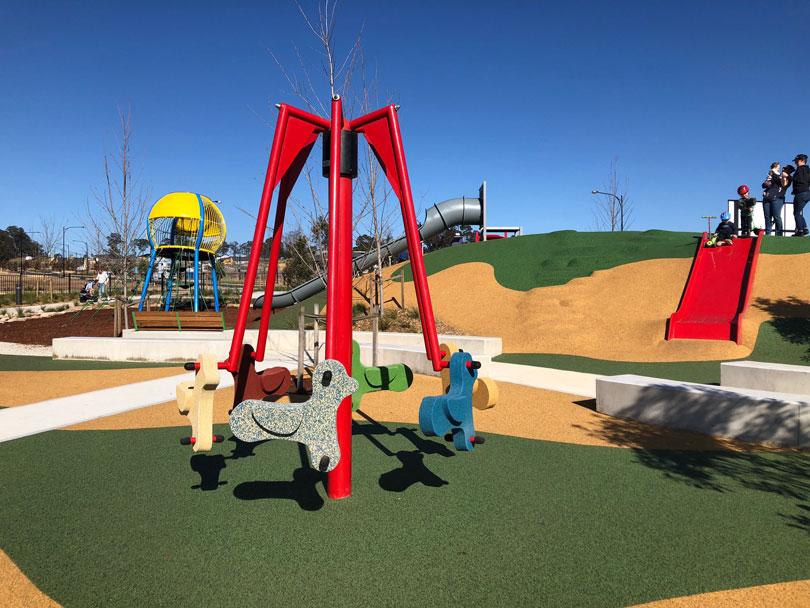 Piddington Street Playground, The Ponds
Piddington Street, The Ponds
This playground which opened at the end of 2017 has been a hit with locals! A giant tree house, in-ground trampolines and a flying fox are all part of the award-winning playground set in The Ponds. We like this park a lot because it caters for kids of different ages well. So if you have little ones and slightly older kids, everyone should be happy playing here for a while. If you're making an outing of it and having morning tea or lunch, there's not a whole lot of seating so throw a picnic rug in the boot too. Read more here.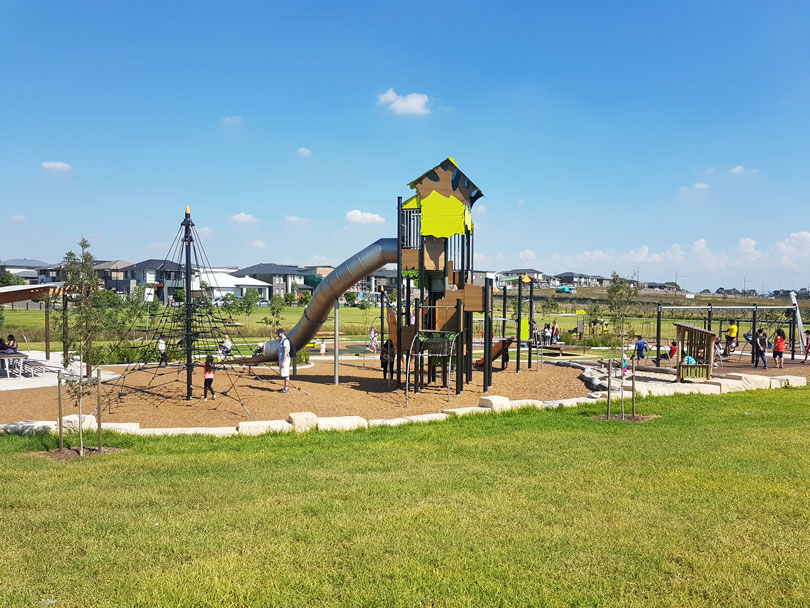 Heritage Park, Castle Hill
Heritage Park Road, Castle Hill
Castle Hill Heritage Park has always been a lovely place for families to picnic, play, walk and learn about nature. Now, with the upgraded playground the space, it's even more enticing for families with children. Playground equipment includes a flying fox, swings, timber balance beams and sandstone stepping stone, a 'Heritage' water pump leading into channels and a carved sandstone block for toddler water play, stainless steel tube slide with shade sail, 3 way spring rocker and a carousel. It's situated next to toilets and it has safety flooring under the equipment (no bark except under flying fox). Find out more here.