Parks. They're a firm fixture in the weekly routine of basically every mum around. A good park can be the difference between little people that are happy and entertained versus whiney and bored. Below we list our favourite parks in the Hills – hopefully there's one or two you haven't tried out yet. And yes, we've been a little liberal with the boundaries of 'the Hills' but we're an inclusive bunch here! 
Fagan Park
38-48 Arcadia Road, Galston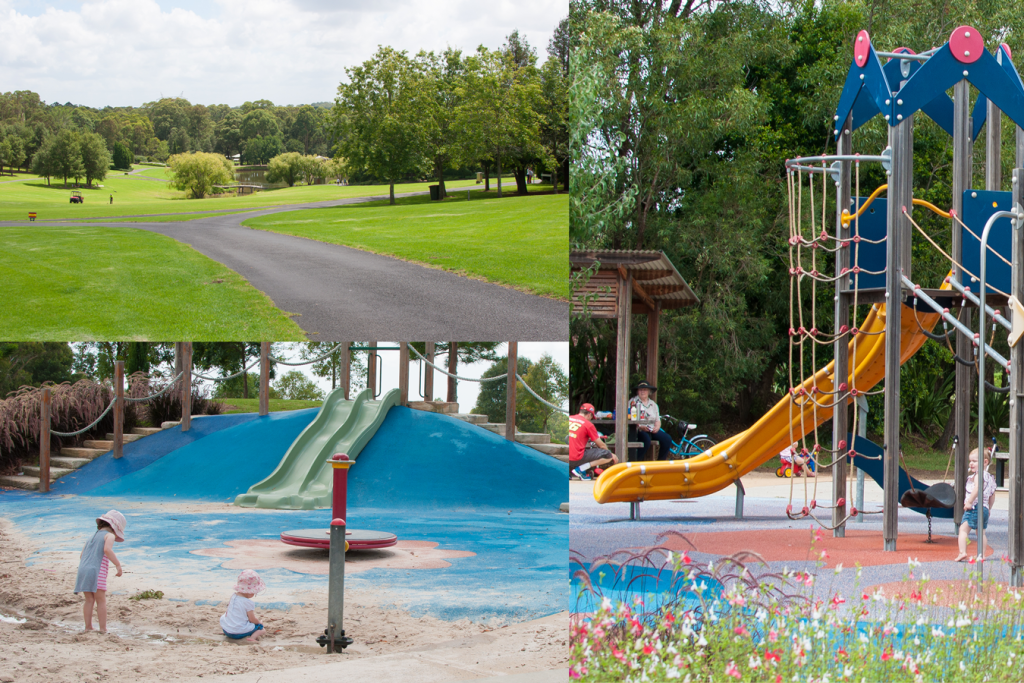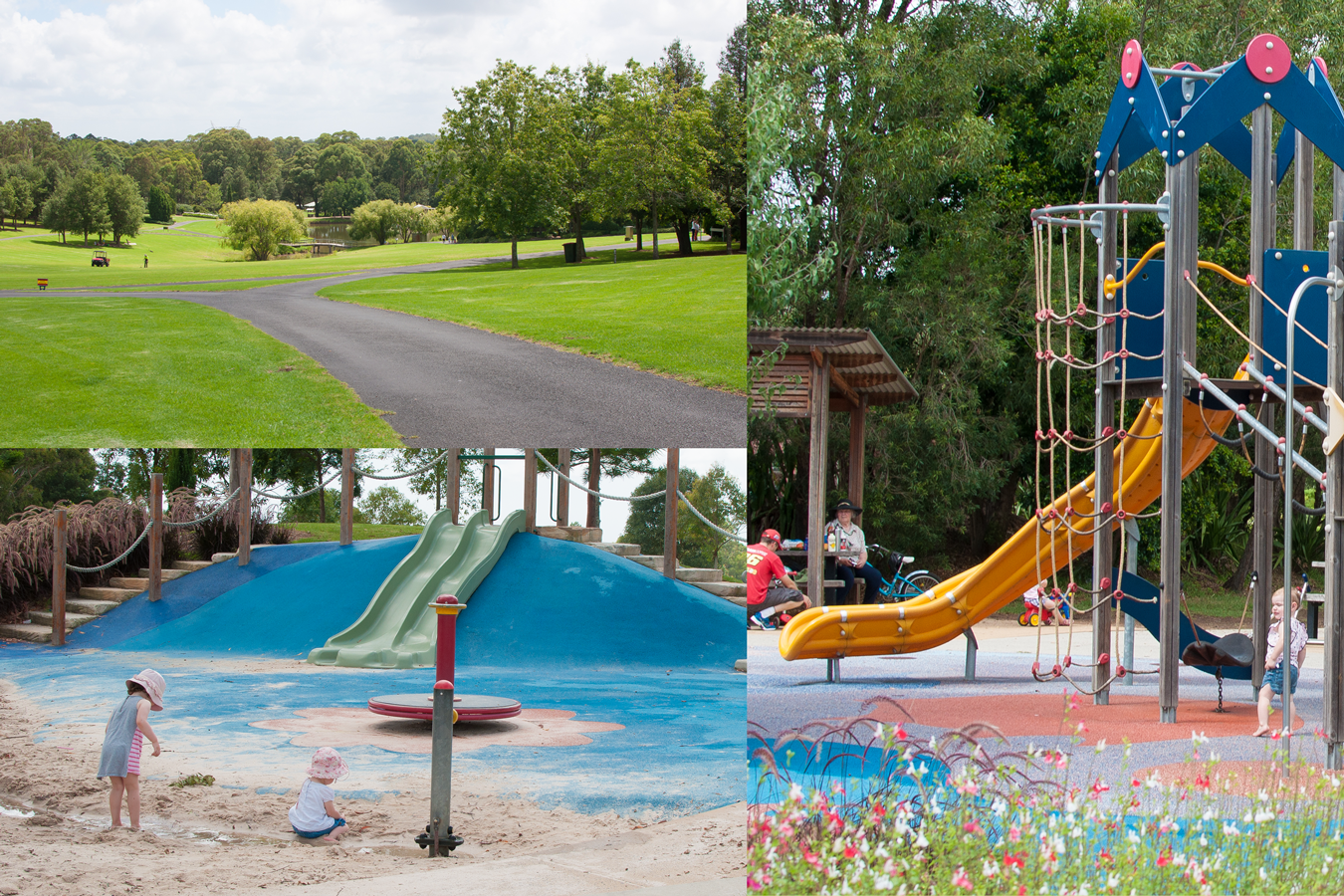 Fagan Park is one of those parks you wish you went to all the time. But then again, that might take away some of the magic of it. And it truly is a magical place – a big one at that, at about 55 hectares. It's an oasis of rolling green expanses and pretty little nooks for the little ones to discover. There are bike tracks, small lakes and lots of wide open space to run around and explore. For something a little different there are the Gardens of Many Nations – 11 themed gardens such as the Chinese and Dutch gardens. And there's ducks (and eels and fish!) Who doesn't love ducks?!
There are two playgrounds at opposite ends of the park. The main one is better for older children (Arcadia Road entrance) with a large climbing frame, flying fox, liberty swing and play equipment. Also for the youngsters there's a sand play area with water (but not TOO much) – perfect for muddy puddles and splashing so take a change of clothes! There's another smaller park sheltered away at the Carrs Road entrance but this is for toddlers really. Picnic shelters and electric BBQs are scattered throughout the grounds. (Picnic shelters are also available to hire for functions.) This smaller playground is now closed for an upgrade, so we'll keep an eye on it over coming months.
There are two car parks, one off Arcadia Rd at the main park entrance, and another off Carrs Rd. Parking costs $5 per vehicle. 
Lakes Edge Park
Camomile St, The Ponds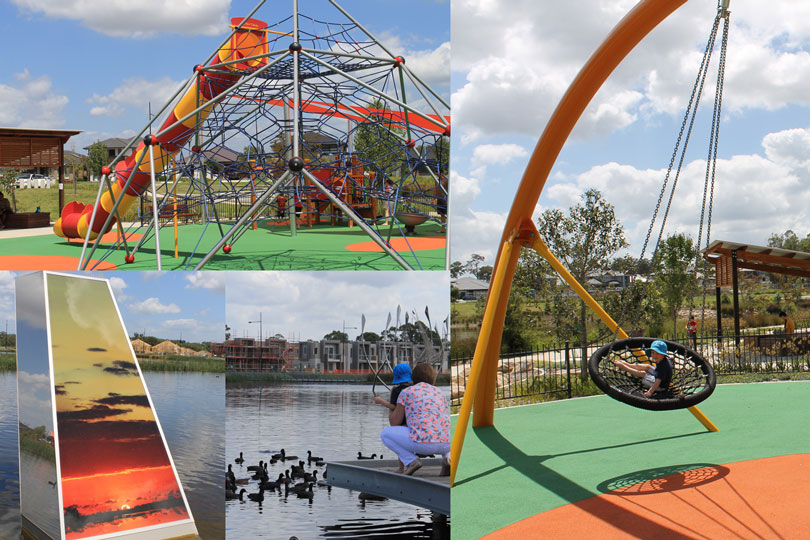 We dig this park for a few reasons.
1) It's relatively new, which means that everything is in good condition.
2) It has some cool, unusual playing equipment which means the kids are entertained, which means mums are happy.
3) It has some grown up sculptures in the water and reflective structures to ponder.
4) There are ducks. And we love ducks. See above.
You can read more about this park in our full-blown review.
Edward Bennett Park
Edward Bennett Drive, Cherrybrook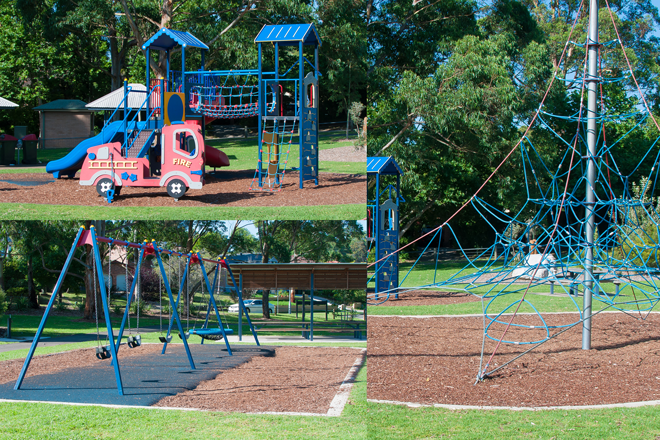 This park doesn't have a flash name with the words 'reserve' or 'regional' in it, but we've decided to include it in our list of faves as our Hidden Gem.
While it's probably best for little kids, we love it for its simplicity and sweet neighbourhood feel. It's quiet and peaceful, nestled in the back streets of Cherrybrook. Parking on the street is easy, the toilets are pretty clean and close by, and there's plenty of equipment (swings, birds nest swing, climbing net, fire engine, slide structure, little bike track) to keep the kiddies entertained, as well as an oval if you want to kick a ball around.
There are no shade sails over the equipment and it's not completely fenced but it's set back from the road. All in all, it's a very pleasant place to spend an hour or two. Someone just needs to open a coffee cart and then mumma would be super happy!
Bernie Mullane Reserve
Marella Ave, Kellyville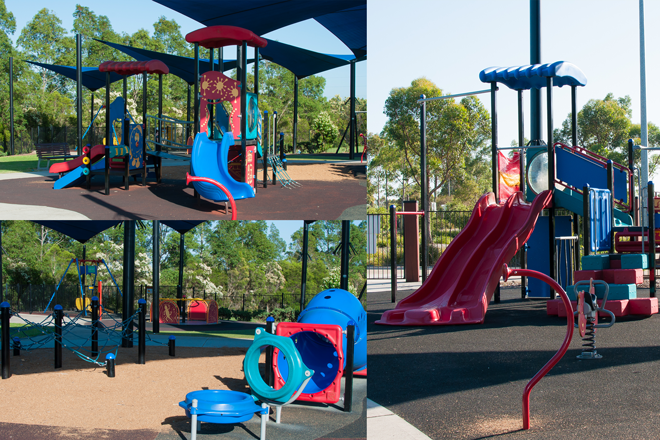 This park makes our list because it ticks all the boxes and usually parks don't cover absolutely everything.
Fully fenced – tick. Shade – tick. Heaps of cool play equipment – tick. Trees and grass – tick. Coffee nearby – tick. Easy parking – tick.  And it's just had an upgrade, making it bigger and better than ever! You can read more about the Livvi's Place extension that's been added to the old playground here. It even includes a water play area! Finally we have one here in the Hills!
Wollundry Park
Yarrara Road, end of Warne Ave, Pennant Hills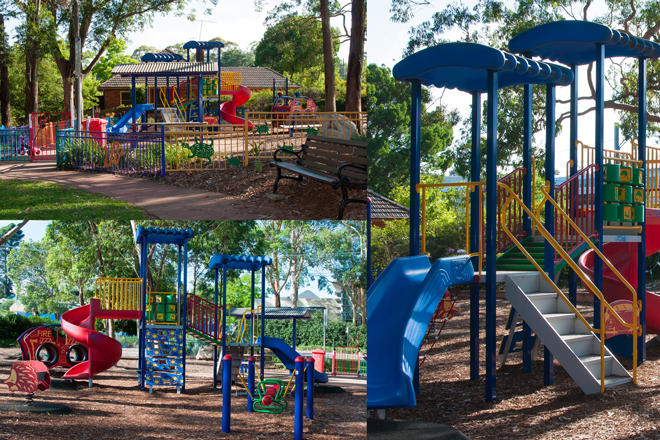 We're in limbo land here between the Hills and the North Shore, but we're going to claim it as our own, like Australia does Russell Crowe. While we love the park itself, we've included it in our list of favourites because of what's going on around it.
There are beautiful gum trees providing lovely shade over the park and attracting lots of cockatoos and other birds – great if you have an avian enthusiast toddler like I do!
It's also opposite the train line so if that's what floats your little one's boat then they'll love it – not only is it a line for standard city trains, it carries the big industrial coal trains as well. Cue squeals of delight! And at the moment, with the third train line being built, there's a tonne of diggers, dozers and trucks going past too.
Also, it's right next door to Pennant Hills library so you can combine with a trip there. And in Pennant Hills Market Place is Charlotte's Little Sister where you can pick up a great Campos coffee. What a spoilt little park, to be surrounded by so much!
Further afield – if you're up for a bit of a drive, Wahroonga Park is a lovely place to spend a couple of hours. The equipment is great, there are cafes nearby and it's set inside a larger park that's as pretty as a picture. There's shade and toilets too.
What's your favourite park in the Hills and why?