We love a park. They're crucial to the survival of all mums, particularly those with active toddlers! We especially love it when you happen upon a park somewhere where you least expect it or when you had no idea there was a park in that spot at all! That's often the case in the back streets of suburbs in the Hills, where you assume it's all residential, but then you spy a lovely little park between houses or at the end of a street.
Sure, these little parks often don't tick every box, such as toilets – but we don't expect them to. Because of their locations they're often on the smaller side and more suited to pre-schoolers. And they're not always the newest or most flash (although several in the Hills Shire have recently been spruced up) but they're more than fine for a morning play in the sun. And often these little gems, because they're so hidden, are lovely and peaceful.
Baulkham Hills – Glanmire Avenue
This is a new little playground on Glanmire Avenue. It's super cute and shaded too! If you go to check it out pack a scooter because there's a path that runs all the way down to Windsor Road – perfect for a walk with a pram, scoot or bike ride.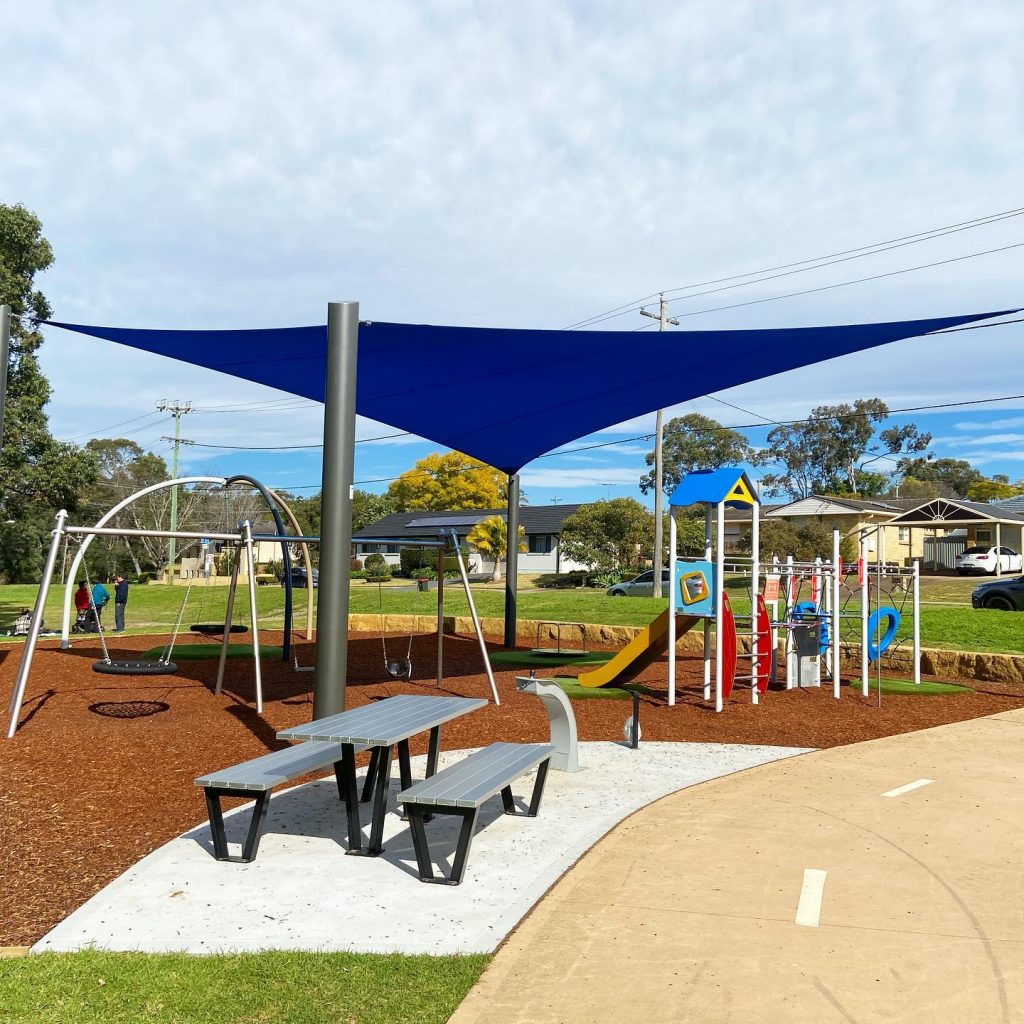 Beaumont Hills – Guardian Avenue Reserve (aka Smalls Creek Park), Guardian Ave.
This is a lovely bushland spot hidden away in back streets. It had a makeover only a couple of years ago and now boasts great equipment and pretty natural landscaping, with cool animal sculptures as well. You'll need to park on the street and follow the path – you can't actually see the play area from the road.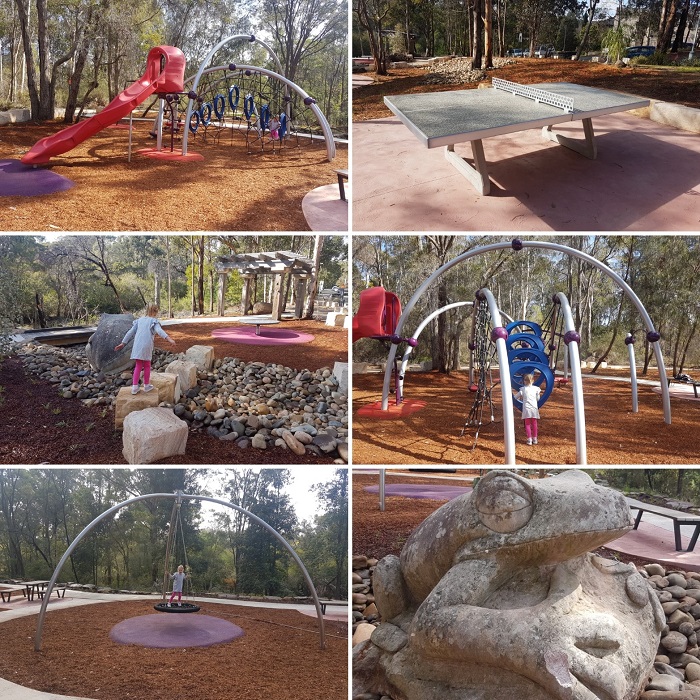 Carlingford – Larry Bolitho Reserve, Corner of Post Office Street and Young Roads.
Located behind Bunnings in Carlingford this playground is fully fenced with plenty of shade, a path to scooter around and lots of space to kick a ball. We're fans of soft fall rubber under play equipment but this playground goes one better – it has faux grass!

Carlingford – Carmen Drive.
The playground at Carmen Drive Shopping Centre has had a makeover just recently. It's fully fenced, has toilets, is shaded and there is coffee across the road! It ticks all the boxes.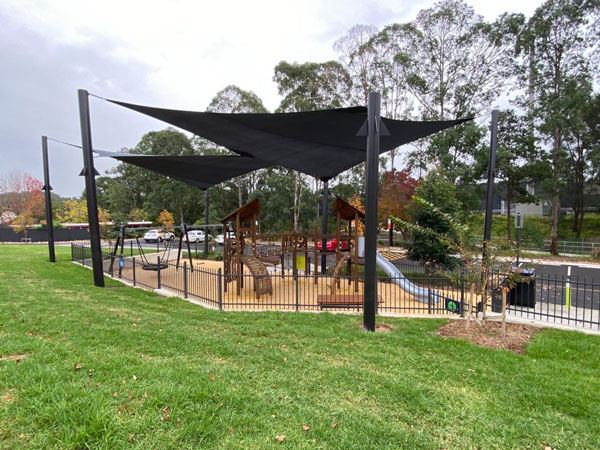 Castle Hill – Hancey Farm Reserve, Guineviere Ct (near Ridgecrop Drive).
This is a teeny tiny park tucked right away behind very quiet residential streets – you'd never know it was there! It's recently had a little spuce up by Council and is looking very sweet! A lovely little spot for toddlers just starting out at parks.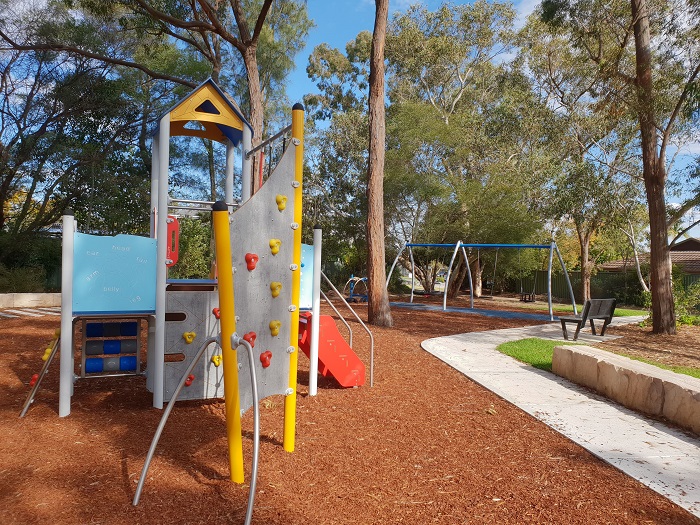 Cheltenham – Cheltenham Oval, Castle Howard Road.
This is a fantastic playground for toddlers and young kids. It's tucked in behind the brand new Cheltenham Oval netball courts which are an ideal space for scooters, balance bikes, training wheels and learner riders! There's also a big oval to run around on and the bush trails behind the netball courts are great for exploring too.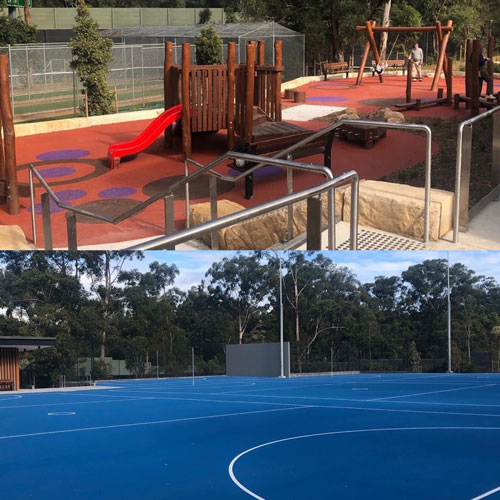 Cherrybrook – Appletree Park, Kanangra Cresent.
After the old play structure suffered significant vandalism a while back, the area underwent a total revamp. The new play equipment is fab and lots of new trees have been planted, so as they grow it will be really pretty!  There's also lots of wide open space to run around or kick a ball and there are flat paths to scoot on too. And the other plus is that you can get coffee at The Burrow Cafe within walking distance! It would be a lovely place for a mother's group to meet.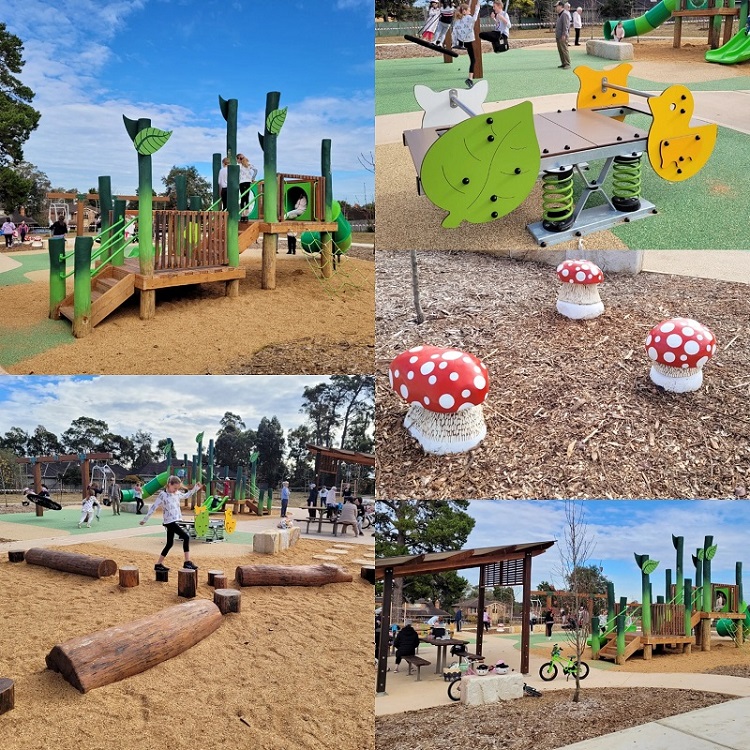 Cherrybrook – Darlington Drive Playground, Darlington Drive.
This great little playground only opened in September 2019. If you have a dinosaur fan then it will be right up their alley. The themed equipment is great, with dino eggs, a large dinosaur head, carved toten poles, a slide & swings, a climbing wall, car and more. It's fully fenced (although the locks are simple) partially shaded and there's a large grassed area too. Roarsome! Read more here.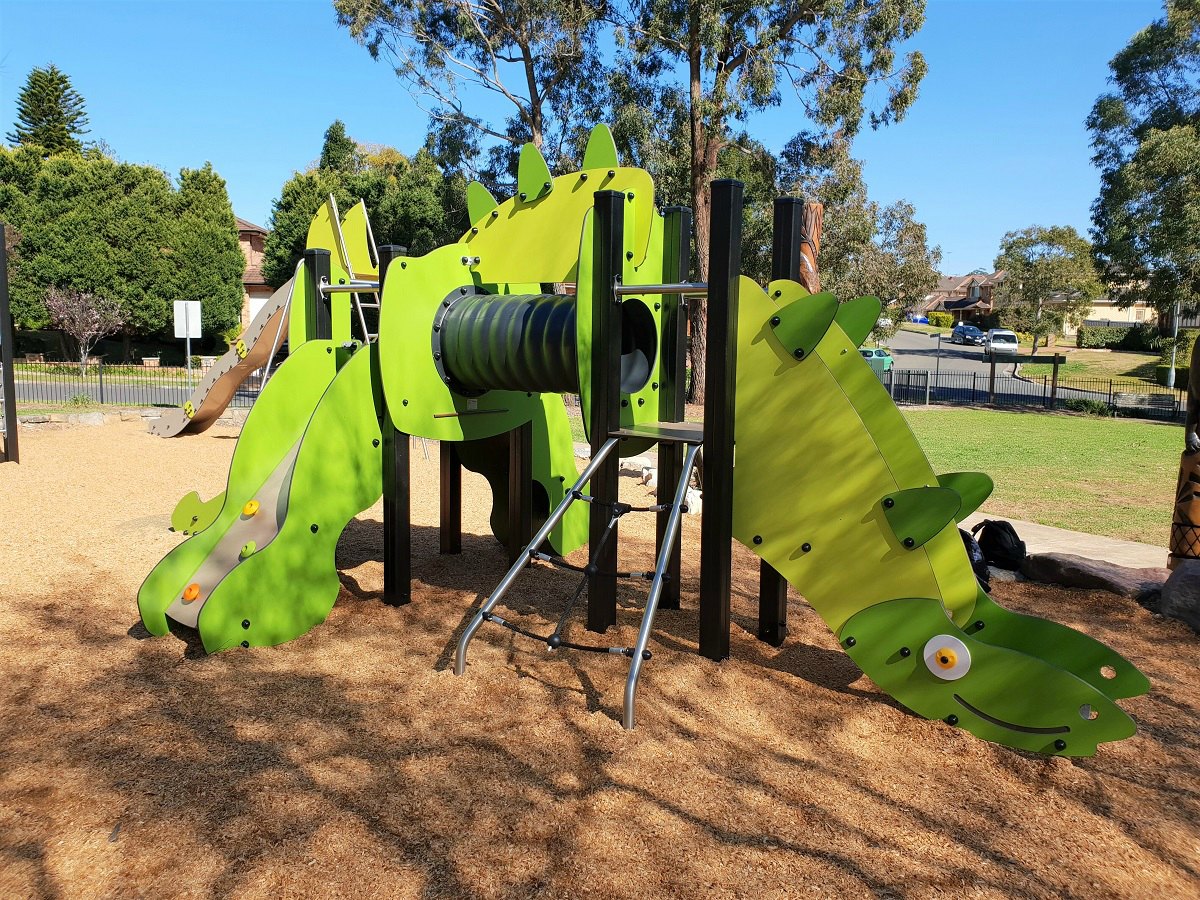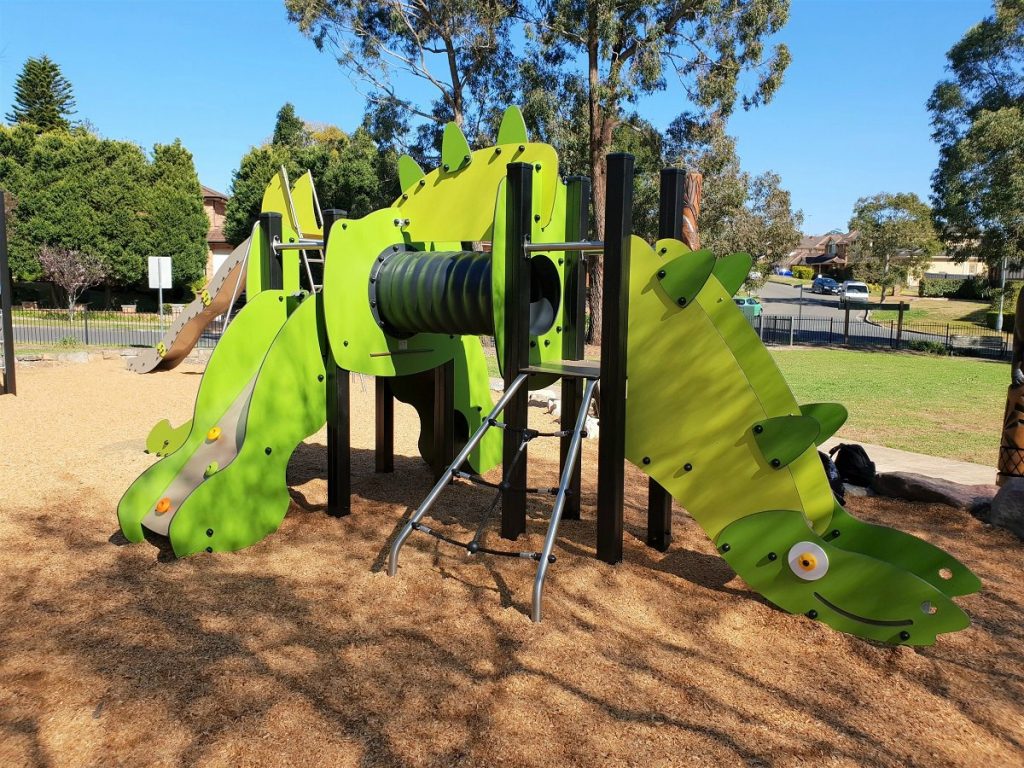 Cherrybrook – Gumnut Park, corner of Gumnut and Holly Roads.
Gumnut Park – cute name huh? This park is a winner. It's pretty, has good equipment and a scooter path, some soft fall rubber and bark, a nice big patch of grass next to it, benches and is fully fenced. And there's even some gym equipment if you fancy doing some chin ups while the kids play! The only downside is there's no shade so it's not great on a scorching hot day but perfect on a sunny winter's one!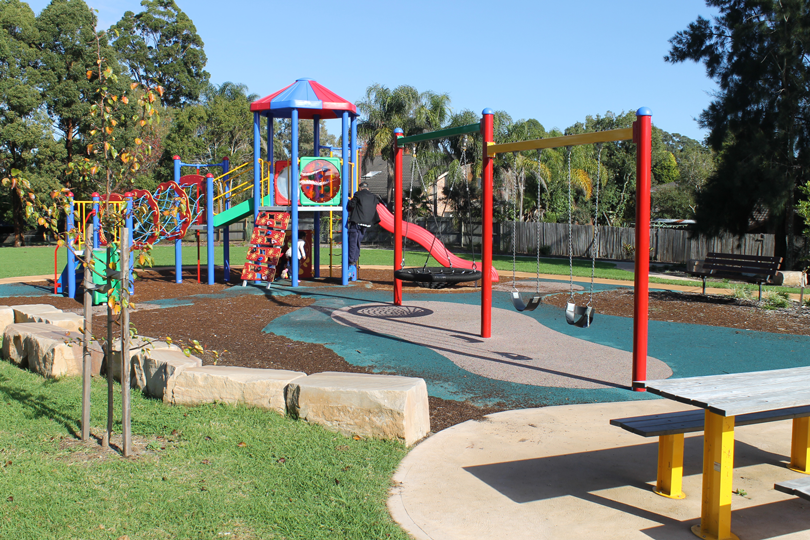 Epping – Henry Brigg Playground, Corner Essex St and Maida Rd.
This sweet little park offers swings, a boat for imaginary play and a lighthouse play structure. It's also built on a rubber flooring which is great for crawlers and little ones! There are no toilets and it's partially fenced.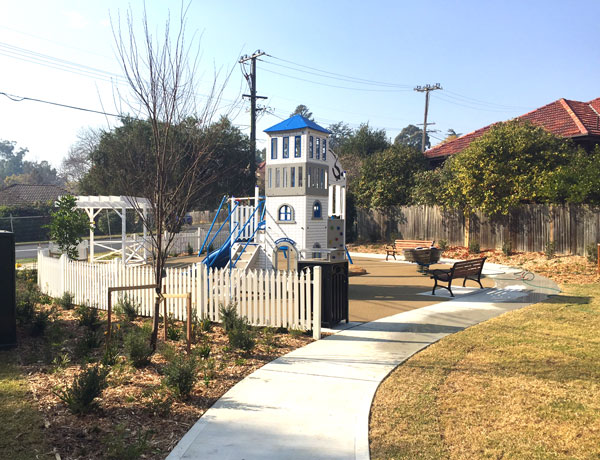 Kellyville – Mount Saint Francis Reserve, Redden Drive.
Located in Kellyville, Mount Saint Francis Reserve has fantastic, shaded play equipment for under 5s! Council has recently upgraded the flooring and put in a bubbler to make it even better.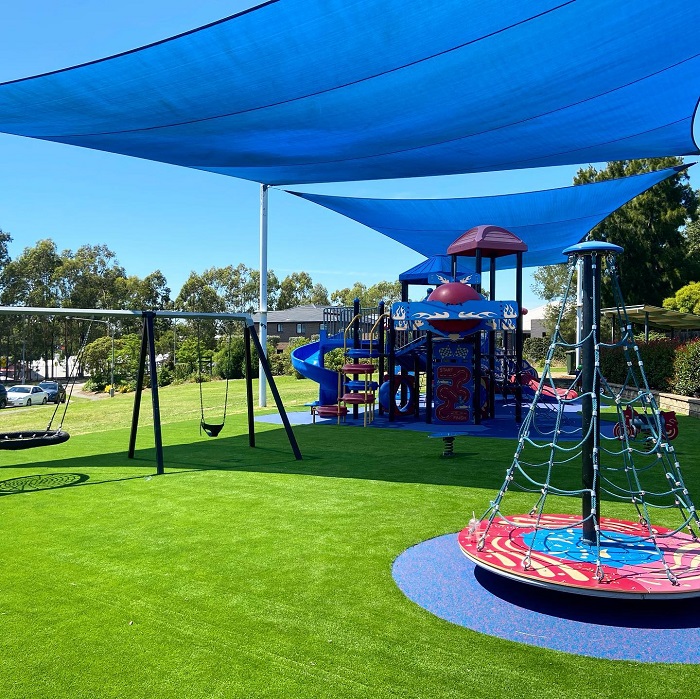 Kellyville – Golden Grove Reserve, Golden Grove Avenue.
This small reserve has recently had a makeover, with both new equipment and landscaping features added. There's a junior play unit, swing set, see saw and timber bridge. There's a small path so you could bring the scooter along if you have a learner. There's also a covered picnic table.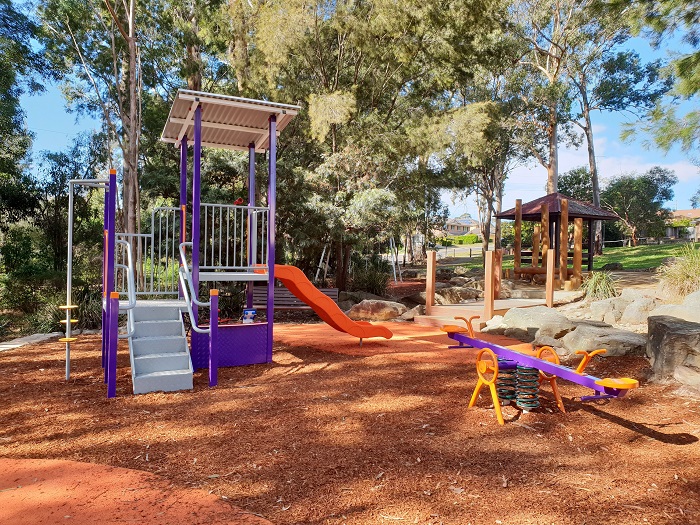 Kellyville – Macquarie Ave Reserve, Macquarie Avenue.
This playground has a little more than the usual back street park, including a bbq and a basketball hoop. There's also a large shade sail over the equipment as well as swings and a bubbler.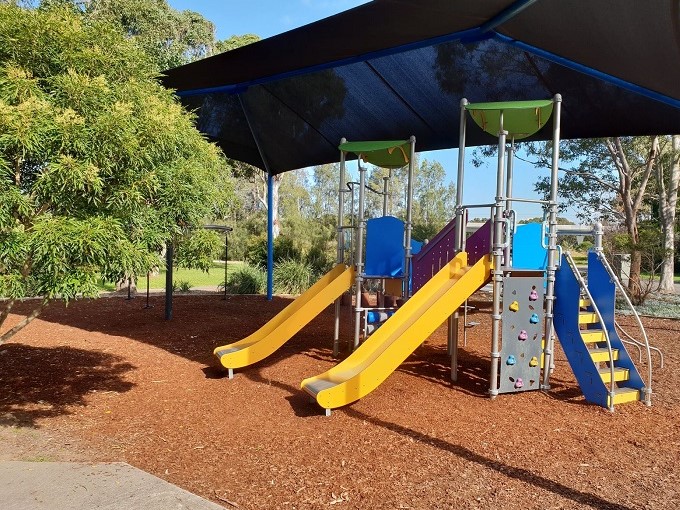 Kellyville – Fairway Drive.
There's plenty to do here with swings, little play equipment and a slide for youngsters, a mound up to a slippery dip and a tee pee for imaginary play. There's lots of green space and a basketball court. Some of the equipment is shaded but there are no toilets. The mulch used as the base isn't great for crawlers and mums that like to wear sandals!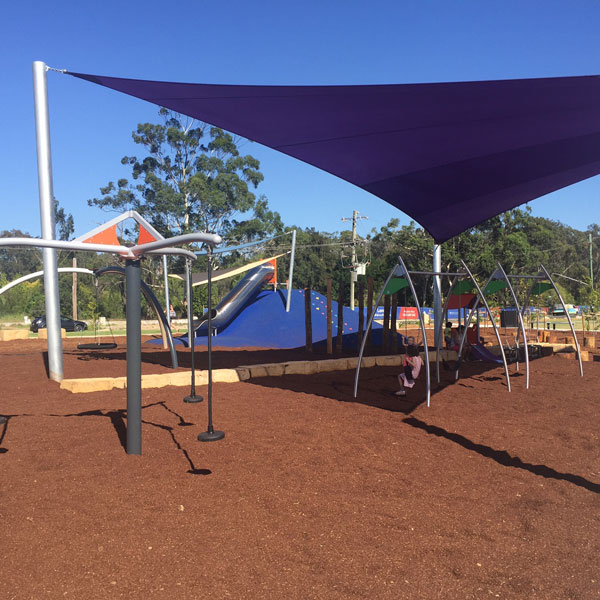 Kellyville – Kellyville Rotary Park, Glenrowan Avenue.
This playground is a pretty good one! Nestled in a large open space there's play equipment, swings (including nest swings), a little merry-go-round, monkey bars and plenty of green space to run around. It's shaded by trees, there are no toilets and it's not fenced (but set back enough from the road). And again, there's the bark mulch!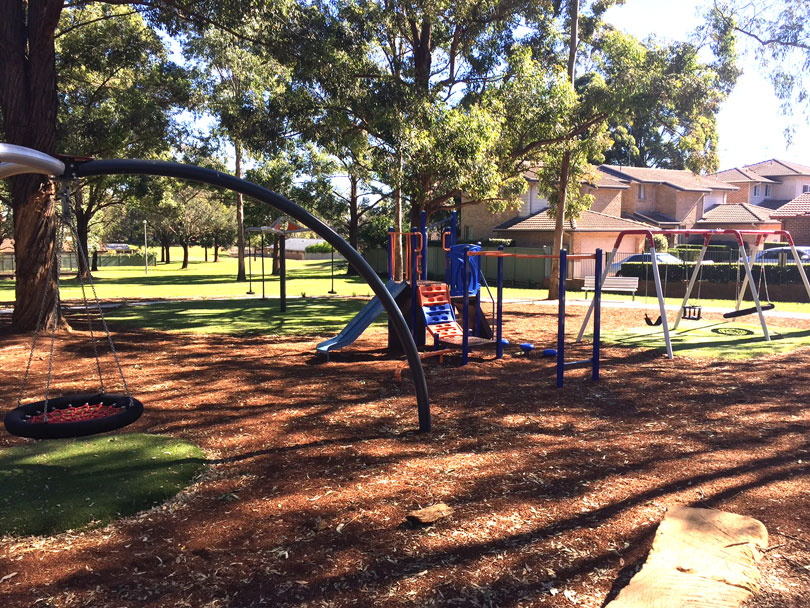 Kellyville – Wrights Road Reserve, Lavender Avenue.
This park has a fabulous array of equipment, suitable for young kids through to early primary school aged children. There are slides, ropes and imaginative play and all the equipment is under shade sails. There's plenty of space to pull up a picnic blanket but unfortunately the benches and grassed area have limited shade. It isn't fenced and has no toilet but is definitely worth a visit.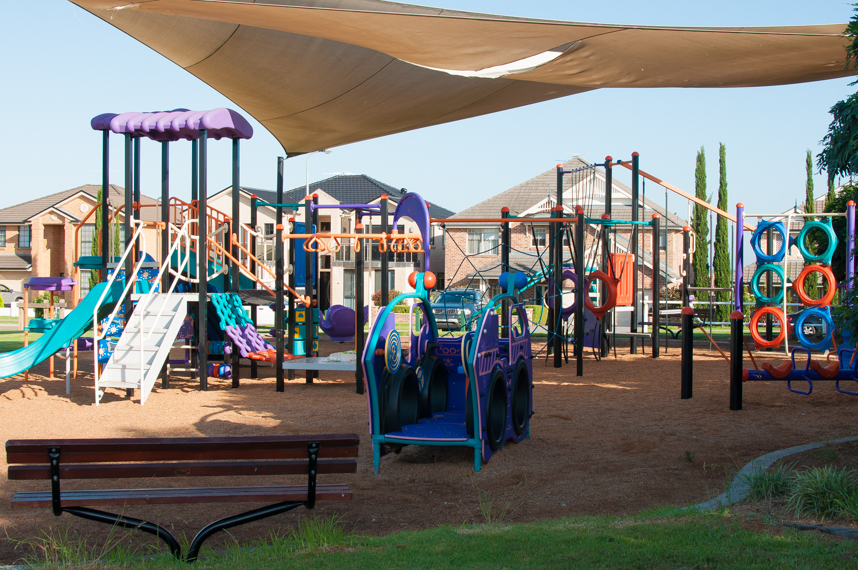 North Kellyville – Twickenham Avenue Reserve, Twickenham Avenue.
This is a great little backstreet park in North Kellyville, with a learn-to-ride track and a playground in a very peaceful spot. The learn-to-ride track was the first to open in the Hills and it's very sweet, with road signs, roundabouts and even a petrol bowser. It's set back from the road and the surrounding streets are quiet so it's very safe. Right by the track is a small playground which includes slides, a climbing structure, pommel spinner and dinosaur eggs sculpture. There are no toilets and only limited shade so don't go in the middle of the day in the height of summer. There's a large shelter, picnic setting and bubbler.
North Kellyville – Tree Frog Park Reserve, corner Oxlade St & Bresnihan Avenue.
Here you'll find a great little spot with junior play unit and swings, a flying fox, climbing net and a cool snakes and ladders board. There's a shade sail over some equipment and a covered picnic table and benches. There's a good lot of green area surrounding it too, perfect for kicking a footy or just running wild!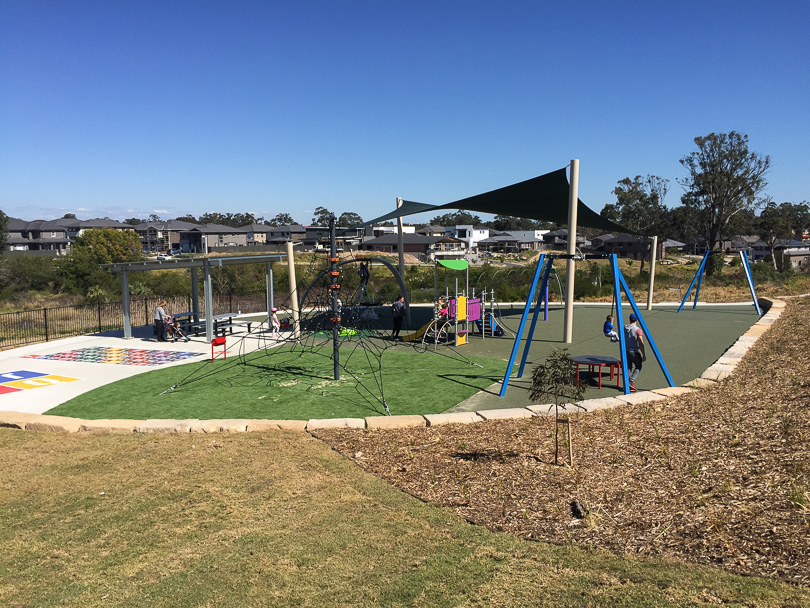 Kings Langley – Twin Willow Reserve, Hawkesworth Parade.
If your little one likes to be a ninja warrior there's plenty for them to make a course out of!  There's also the traditional play structure with slide and swings. Unfortunately it's not shaded and there are no toilets.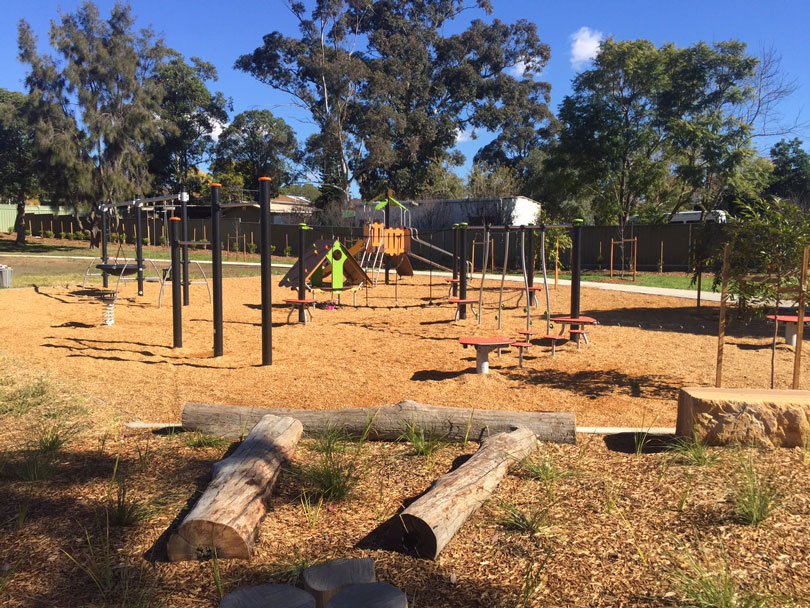 Kings Langley – The pirate park, Anderson Road.
We're probably being a little liberal with the term 'park' here. In reality it's just a pirate ship, but it's an awesome one. So if you've got a pirate crazy toddler they'll love it.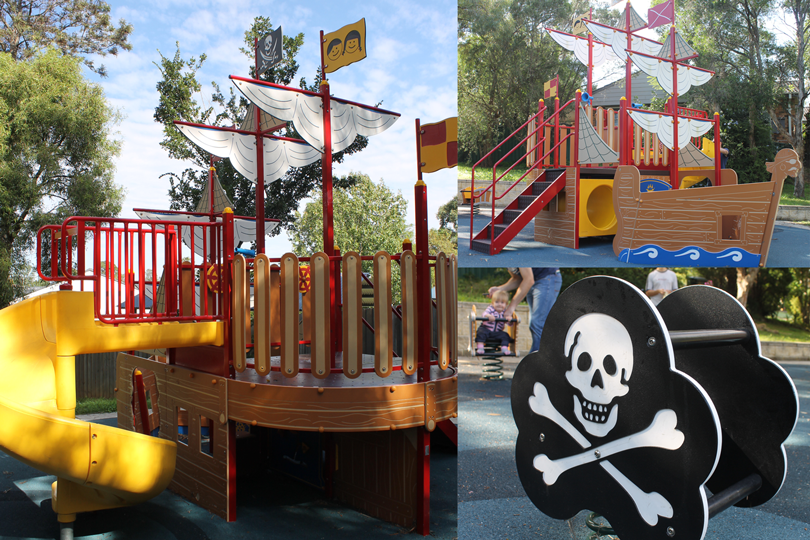 Oatlands – Fred Robertson Reserve, Bells Road.
This cute playground is great for little ones, with swings, a see saw and a play structure. There's also a little path around it  which is great for scooters! While there aren't shade sails, the trees around it do provide some coverage. It's right by the Bells Road Social so you can grab a coffee or take away too.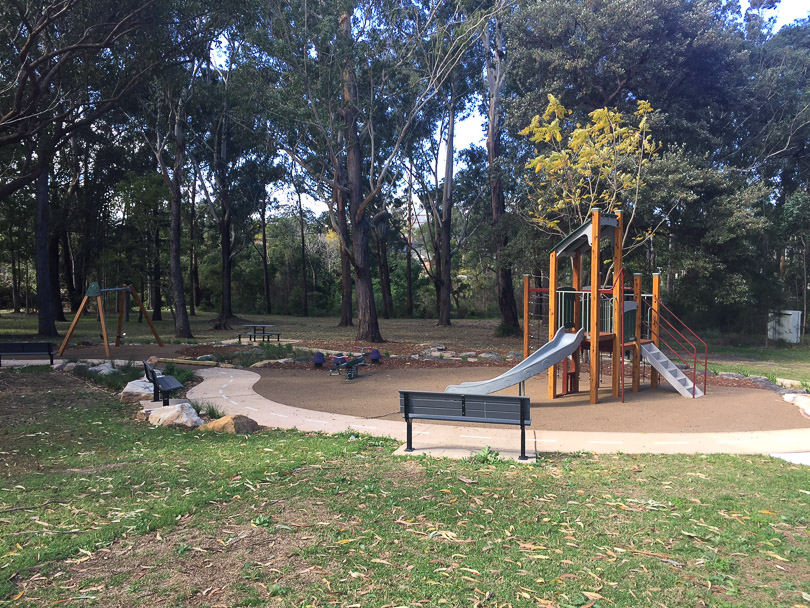 North Parramatta – Sherwin Park, Isabella Street.
This one is super cute! With a mini castle replica, there's plenty to keep kids occupied. It isn't fenced but is a long way from the road and there are toilets, swings and paths for scooters!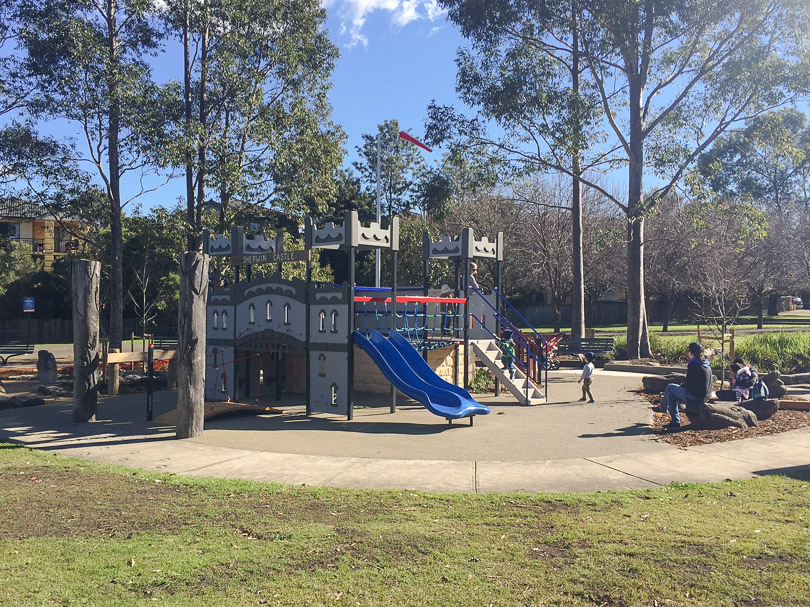 North Parramatta – Barton Park, Gladstone Street.
This is a cute little playground located on the edge of the Barton Park playing fields. It's partially fenced, there's no pesky bark flooring and there are toilets nearby.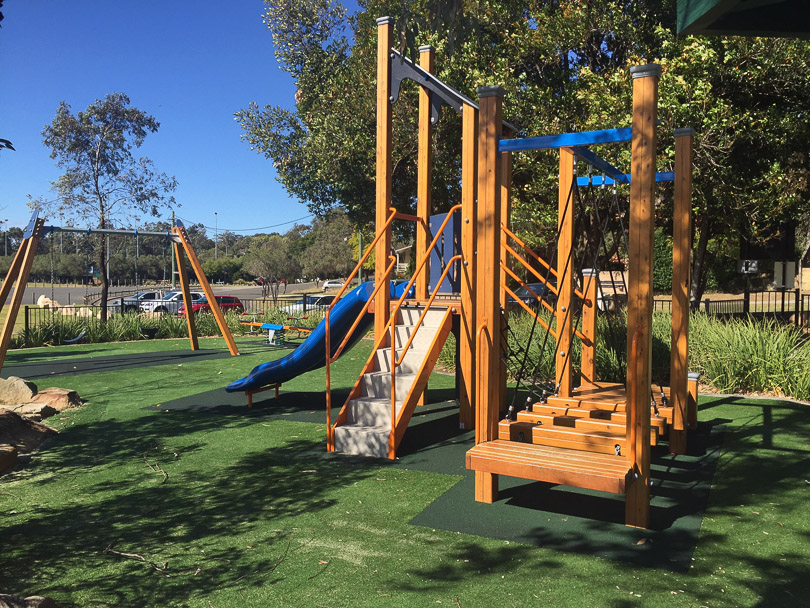 North Rocks – Jason Place
This super cute playground opened late 2018. It has great play equipment, swings and a learn-to-ride track around the outside.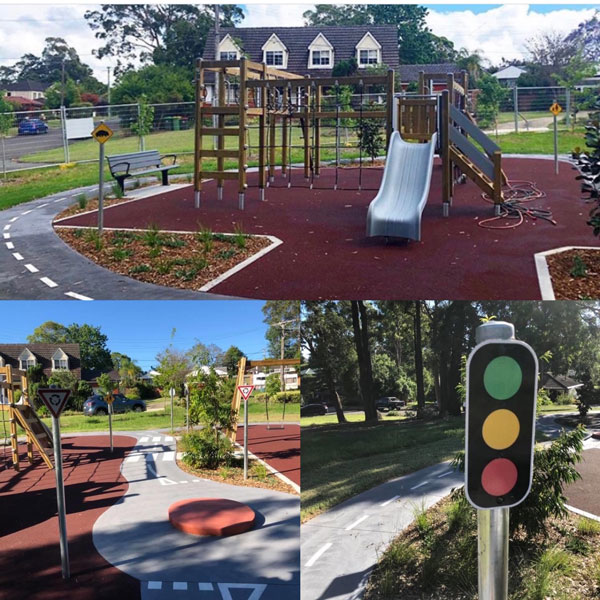 The Ponds – Corner Ridgeline Dr and Mitta Way.
This park is really pretty and also cool because it has three areas to it, which makes it a bit of an adventure. It's surrounded by lovely shrubs and native plants which add to the adventure! There's a focus on climbing it seems, with a huge climbing net and several other things to scale. It's partially fenced and the greenery doubles as a bit of a fence as well. Two of the three play areas are covered with shade sails.

Knox Place Reserve, Rouse Hill.
This little neighbourhood playground has recently received an upgrade, with some new play equipment. It's looking very sweet!
Stanhope Gardens, Watford Drive.
We're still trying to work out if it was a truck, fire engine or ambulance but who cares … it was good fun! This park isn't huge and it's not the greatest playground we've ever seen, but it's in a pretty spot and it's nice and close to the shops without being over-run with people. It's got one of those cool spinning things that you sit on and mum or dad runs around like a maniac making it move – then it goes so fast that someone invariably flies off… awesome!

West Pennant Hills – Richard Webb Reserve, Aiken Road.
A new playground, picnic area, easy walk through the bush and a waterfall after rain makes for a perfect family outing! The new frog themed playground has swings, a see saw and a play frame with two slides. You can read more about the easy bush walk you can do from there here.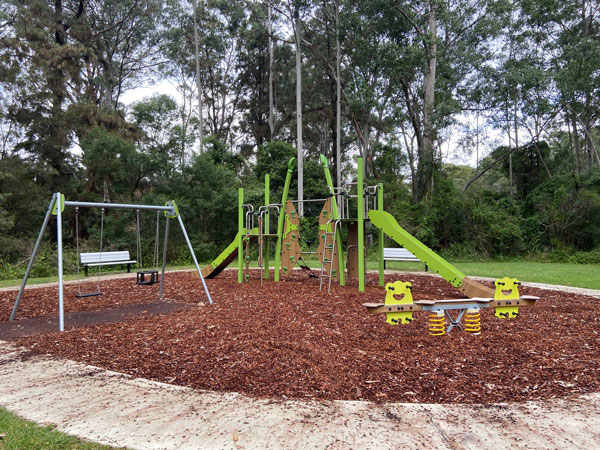 ---
Other articles you may like:
Parks in the Hills with bike and scooter paths