We know that lots of mums grab a coffee en route to the playground and we also know it's made all the more painless when it's a one stop situation – park the car, grab the coffee and head to the park. No getting multiple kids out of the car multiple times. So, here are our picks in the Hills and surrounds where you can park once and have at your disposal both a good coffee and a nice little park.
Note: the below suggestions are for a take away situtation only – these are not places where you can sit, drink your coffee and watch your kids while they play. Those cafes are included in our cafes next to play areas list.
Woodstock Road + The Woodstock Collective, Carlingford
Woodstock Road
This is a brand new playground and the little hole-in-the-wall cafe is also quite new! It's a super cute spot to meet a friend or two or a mother's group with little ones on scooters and balance bikes! And the coffee and take away treats are great too.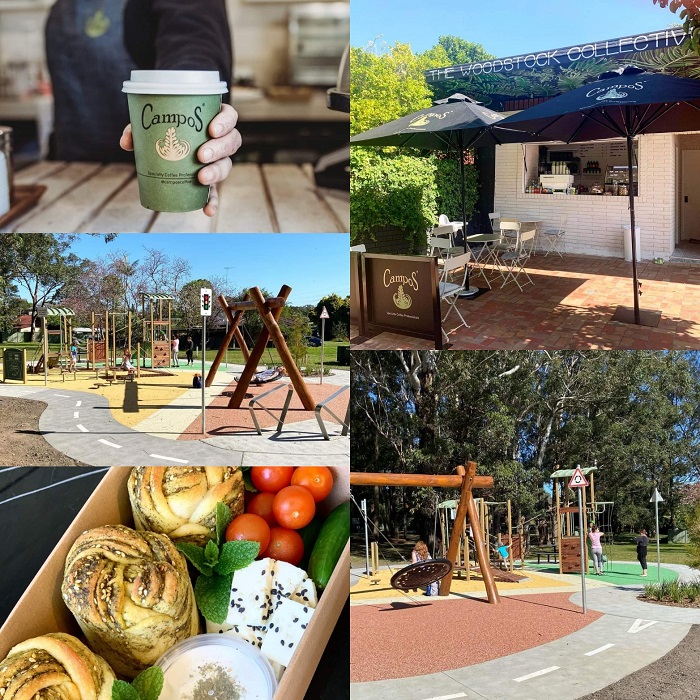 Kanangra Cresent Park + The Burrow, Cherrybrook
Kanangra Cresent
*** Unfortunately in August 2020 the play equipment at this lovely park was recently vandalised and set on fire. The main structure pictured below has been removed. But we're pleased to hear Hornsby Council is giving this great park a makeover, with works commencing November 2021.  ***
This little park is right behind Appletree shops and is a really lovely spot. The play equipment is good for small kids, there's lots of grassy space, it's in a quiet peaceful spot and the tall trees are stunning! And the other plus is that you can get coffee within walking distance! It would be a lovely place for a mother's group to meet.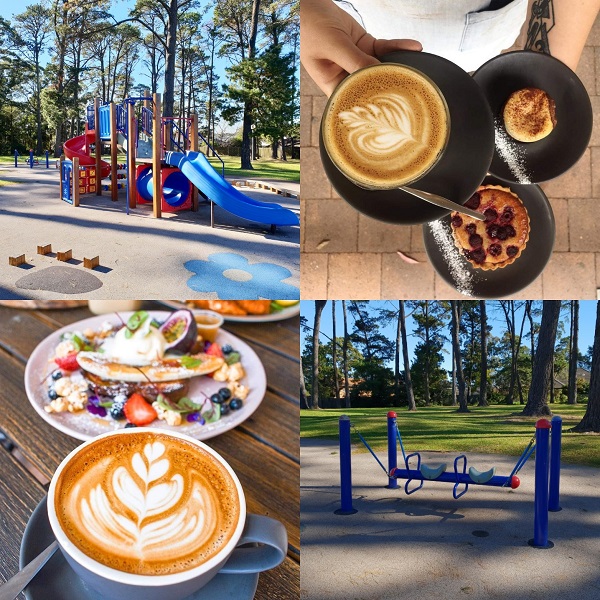 Glenhaven Oval playground + The Tuckshop, Glenhaven
78 Glenhaven Road
This playground has just been refurbished (Nov 2021) which is great as it was a little tired. This is a great cafe park combo as it's only a few metres between the two. There's plenty of room to put down a picnic blanket or there are a number of picnic tables – 2 more were added during the reburb. There are a few trees that cast some shade, although the equipment isn't shaded so it's best to time your visit. You shouldn't have any trouble finding a park as there are a couple of little parking areas next to the park and the shops.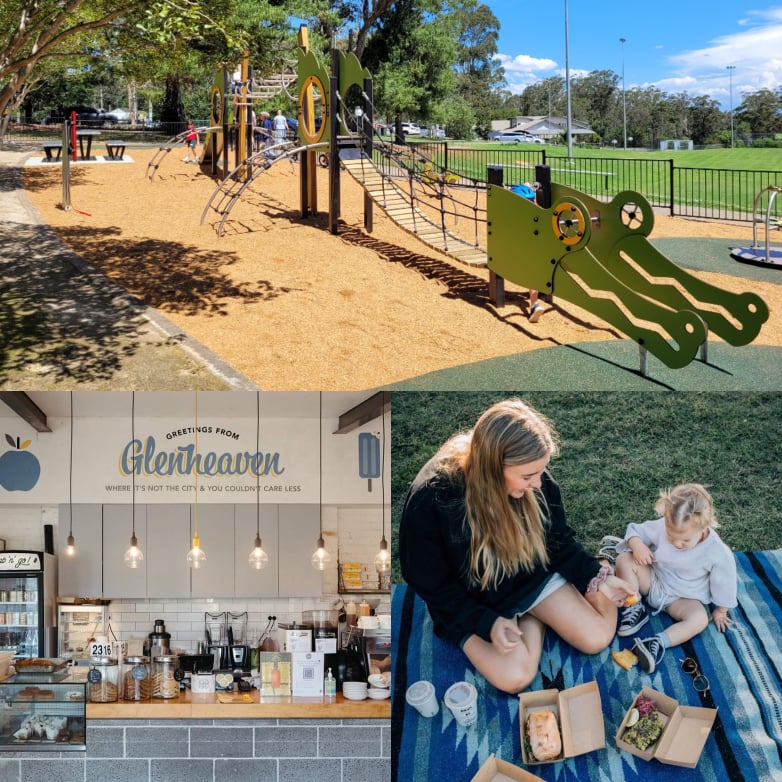 Tilted + Carmen Drive Reserve, Carlingford
Carmen Drive
A playground ticks all the boxes when it is shaded, fully fenced, has toilets, good equipment and is close to coffee… and Carmen Drive Reserve at Carmen Drive has all this!  And the other great news is the coffee from Tilted is REALLY good too!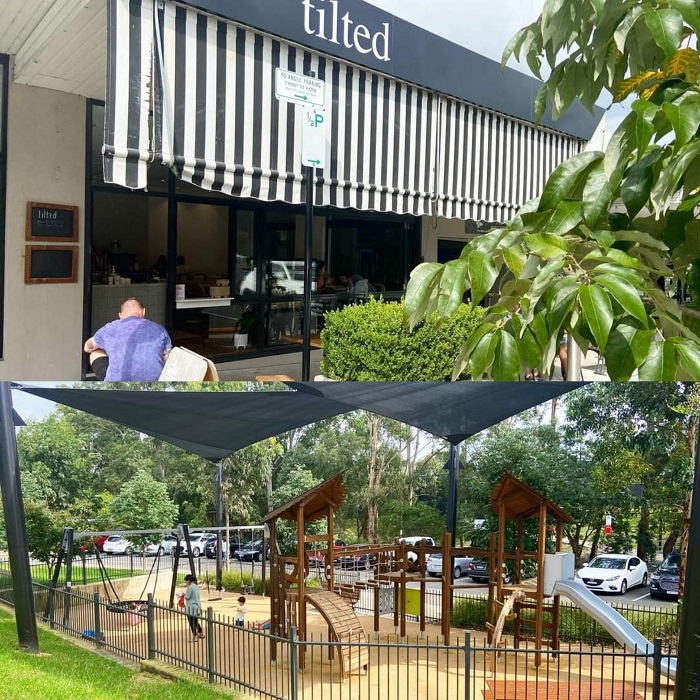 Rotary Park + Hidden Jem Cafe, Kenthurst
Corner of Kenthurst Road and Nelson Street.
Firstly, parking is usually easy here, with spots bordering the park and across the road from the Hidden Jem Cafe. We duck there first and order a take away. We really like this park as it has a lot going for it! And it's recently had a revamp – always a good thing! There are now two brand new play structures – one for smaller kids and one for slightly older kids with some ninja style climbing elements, both have soft fall underneath.
Adding to the pros of this park are the big grassed area next to it, a basketball hoop in sight if you have an older kids, BBQs, shade from large trees, the fact that it's mostly fenced and a large flat track around the grass that's great for scooters.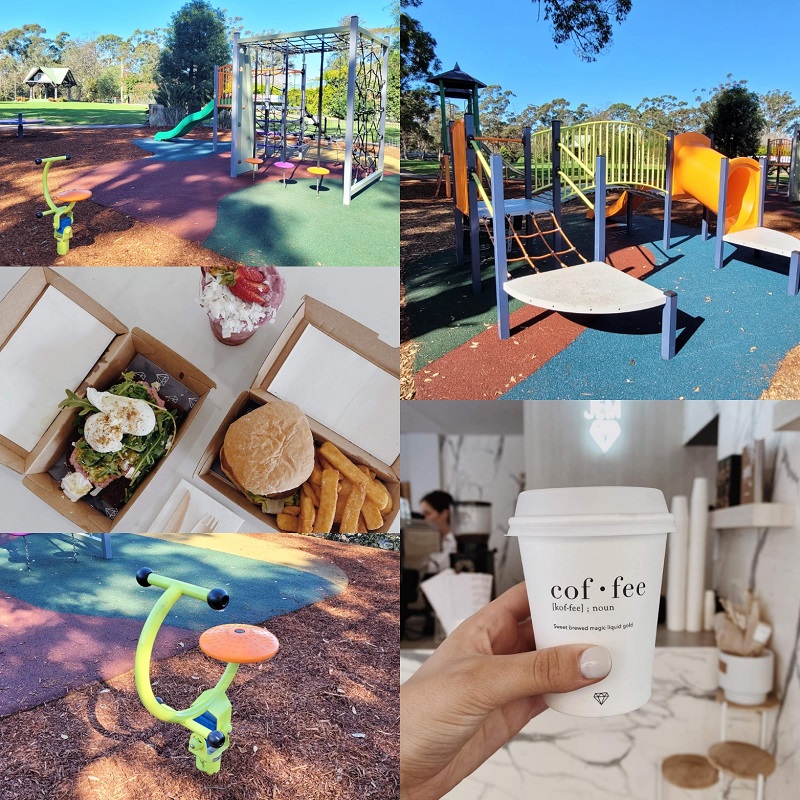 Cafe Longshot / Chicken & Fishhead + Beecroft train park, Beecroft
6-8 Hannah St
Beecroft has a lovely village feel to it and there are some great cafes too! Grab a coffee from Harvest Specialty Coffee and then head to the playground next to the train station. If you're wanting to get something for your little one, like a milkshake, ice cream or cupcake, Chicken & Fishhead caters well for kids. You can find more info on visiting Beecroft playground here.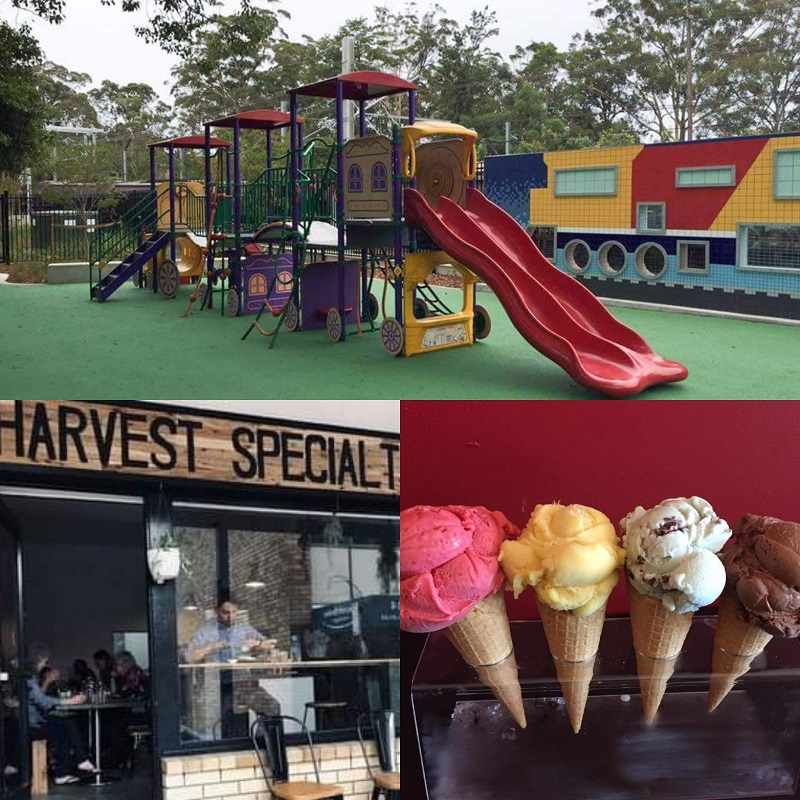 Avenue Perk + Wollundry Park, Pennant Hills
Ramsey and Yarrara Roads
This is one of our favourite coffee/park combos as it holds special memories of times with our mother's group in the very early days! The area around the Pennant Hills Market Place is often busy but you can usually find a parking spot easily enough, either in the centre's car park or on the street. There are a few options for coffee in Pennant Hills but the closest to the playground is Avenue Perk on the corner of Ramsey and Yarrara Roads.
Once you've grabbed a coffee, walk past the library (another good place to visit with the kids) to Wollundry Park. We always really enjoy our time at this park – sure, it's not the newest of parks but there's lots to play on, it's fenced, there are bench seats and the gorgeous tall trees provide lots of shade.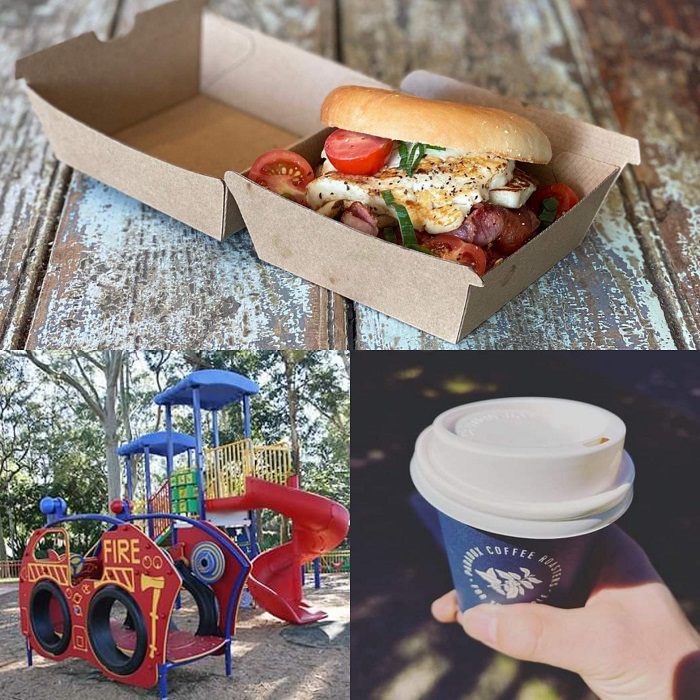 The Bells Road Social – Oatlands
1 Bells Road, Oatlands.
The Bells Road Social is a great little cafe located in a quiet area of Oatlands, right next door to a kids' playground. We always get great food and coffee from The Bells Road Social.  If you have younger kids, you will need to be down at the playground to supervise them but The Bells Road Social has blankets for you to take down for a picnic.
Cafe El's + Caroline Chisholm park, Winston Hills
Caroline Chisholm Drive
Cafe Els is definitely a favourite among locals in Winston Hills for its great coffee and food, warm service and cool fit out. And just across the road is a great little park. In fact there are actually two playgrounds on this corner, so if the kids get tired of one you can stroll across to the other! You can park either on the street or beneath the mall.
Mint Fresh IGA Baker Cres and McBurney Reserve, Baulkham Hills 
Baker Crescent, Baulkham Hills
Mint Fresh IGA at Baker Cres shops serve a great Campos coffee! Just behind the shops there is a little playground which is relatively new. You could also pick up a treat from David's Cakes.

The Leaf Cafe + Pebble Crescent park, The Ponds
Riverbank Drive and Pebble Crescent
This is a great little spot for a lazy morning spent with a coffee and in the playground. You can park in The Ponds Shopping Centre then stroll through to pick up your coffee. It's also handy if you need to grab a couple of things for dinner at the supermarket. Head back out and across the carpark and this great playground is right there. It has seating, shade sails, lots of space for running or dashing around on a scooter and sculptures to explore.

Further afield
Limestone Cafe and the Livvi's Playground, Elara Marsden Park
Elara Boulevard, Marsden Park
The new playground is not directly next door to the cafe but it's only a couple of hundred metres away and is well worth the trip!

The Ugly Mug and Richmond Park Oval playground, Richmond
Windsor Street, Richmond
We haven't actually visited and are going off a tip given to us by another Hills District Mum. The Ugly Mug Richmond always gets a good wrap from other Hills District Mums and the playground at Richmond Oval has been refurbished and looks good!

The Picnic Burwood Park – Burwood
Corner of Park Avenue and Burwood Road Burwood.
Nestled in Burwood Park The Picnic is a funky cafe which is constantly buzzing. Just up from the cafe is a fantastic fully fenced and shaded playground. Well worth a trip! If you are a fan of Googlebox this is the cafe owned by Jad.