Do you have a tween to occupy these school holidays? Here are some ideas to keep them busy. Some are a little on the expensive side but great for a treat, while others are FREE!
Check out one of the BMX racing tracks in the Hills. There's a new brand new one at Turon Avenue Reserve in Baulkham Hills! Or you could take the kids to the BMX racing track in Fred Caterson Reserve. It's challenging for those kids keen to test themselves but can also be used by those that are less confident. It's free and open to the public except when Castle Hill BMX club is racing or training.
Go rock climbing. This is a great activity that gets kids active and challenges them. We're lucky to have two great centres in Castle Hill – there's The Edge Rock Climbing Centre which has a mind-blowing amount of rocking climbing stuff to do and is proudly Australia's tallest climbing and abseiling centre! And there's also Peak Pursuits which offers a sky trail ropes course, a first in Australia, vertical activities, leap of faith, fun walls and more. The activities are designed with varying degrees of difficulty and are themed for extra fun.
Check out John Wearn Reserve Carlingford. This brand new park has a safari playground, which has a hut-like play structure, bamboo tunnel, a teepee, scaled down life-like animals and a soundscape experience where the monkey, elephant, lion and hippopotamus greet approaching children with a roar, cackle and deep bellow! The youth precinct with a skate park and multi-use court, is already proving to be popular. The skate park was well spread out which should allow both big kids and little kids to play together. The multi-use court includes basketball rings, futsal goals, a netball ring, hand ball space, hopscotch and more!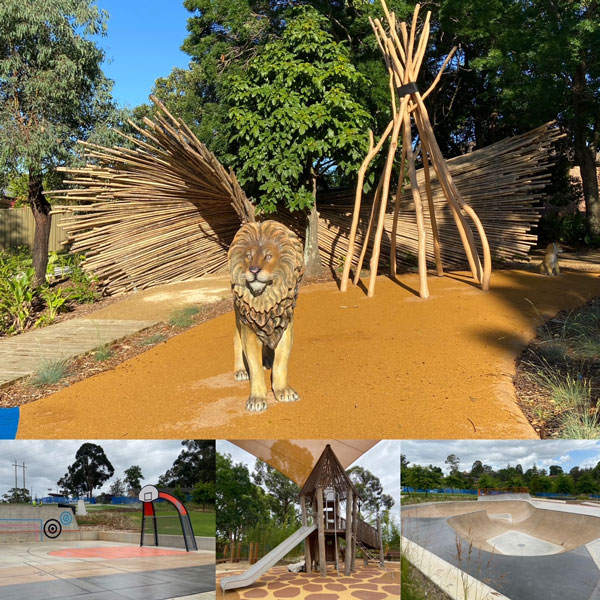 Do a mini bedroom makeover so their room's a little more grown up. Places like Kmart have great kids decor that's not expensive but looks fantastic.
Visit Ultimate Sydney in Northmead. On offer are trampolines, a foam pit, basketball hoops, dodge ball, massive play equipment split by ages 0-5 years and 5-12 years. Read more here.
Go on a bushwalk! Bushwalks are a great family outing for many reasons. Firstly, you're outdoors so if you pick a good day for it, it can prove a stunner! Secondly, it gives all the family a chance to be technology free for a few hours, with no distractions and not much else to do but talk and take in the view. Thirdly, it gets kids (and parents) moving, so even if you don't have a sporty kid they can still do something active. Here are our favourite kid friendly bushwalks in the area – and there's something for everyone! Remember, plan ahead and take a phone to make sure you are on track using Google maps.
Spend the day at Fairfield Adventure Park. This epic playground was designed specifically with older kids in mind, but it certainly doesn't leave out smaller kids! There's something for everyone! It's about 40 minutes from Castle Hill and well worth a visit. Read more about it here.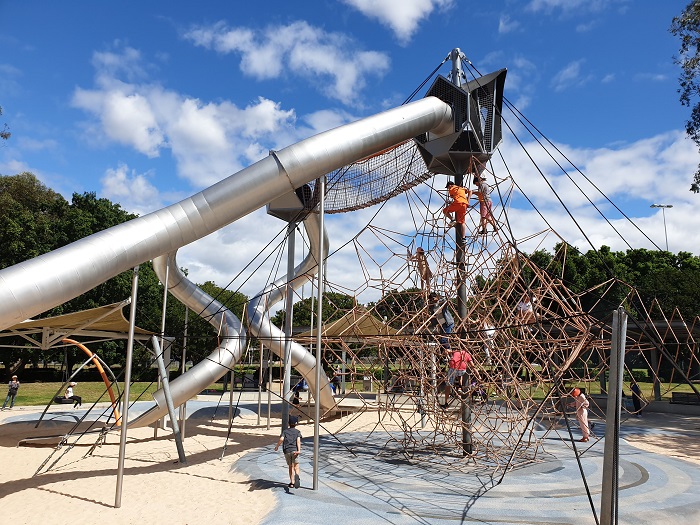 Check out our HDM Activity Library. You would think that we'd all be experts at occupying our kids from home after the year we've had!  But maybe you've run out of ideas. It would be worthwhile checking out our HDM activity library as some of the ideas tweens will love.
Take the kids for a round of mini golf at Holey Moley Castle Towers.
Binge on a TV series. Our kids love The Babysitters Club and Julie and the Phantoms – both on Netflix. There are SO many options to choose from and lots of family friendly picks too.
Learn about a country.  We can't travel overseas at the moment but we can experience different countries at home. Choose a country – you could even do a lucky dip or get them to close their eyes and point to a world map! Get them to learn to say basic words in the language of that country. They could also cook a dish/meal that originates from that country.
Learn a tik tok dance without actually going on tik tok. We're not quite ready for our kids to be on tik tok but that doesn't mean they need to miss out on the fun. You just need to google what's popular and search YouTube for an appropriate video that teaches them how to do the dance! This is one the whole family can get involved in!
Take them to see a movie at the drive-in. The Skyline Drive-in in Blacktown has been very popular during COVID. It constantly has family friendly movies playing so check them out.
Visit the newly renovated Australian Museum. The Australian Museum, the country's oldest museum, has only recently reopened following a $57.5 million renovation. You can check it out (it's free) or join in one of the school holiday programs that are specifically designed for tweens and teens. Find out more about these here.
And if you're really stuck and need some time out, check out our Autumn School Holiday Guide here for some camps and workshops that your tween is sure to love.