UPDATE: As of 24 May 2018, the giant slide is closed and will be relocated to another spot. Read more here. 
A $2.3 million park with a spectacular 30 metre slide is open in Stockland's Altrove community in Schofields. Wechecked it out and all we can say is WOWSERS!!!
The 1.8 hectare Hilltop Park is the community's first play space and features a very cool flying fox, swings, picnic areas and a seriously impressive centrepiece – a climbing tower with 360 degree panoramic views and a mega slide! You can see it from a good distance and even we were impressed as we drove up, never mind the 4 year old!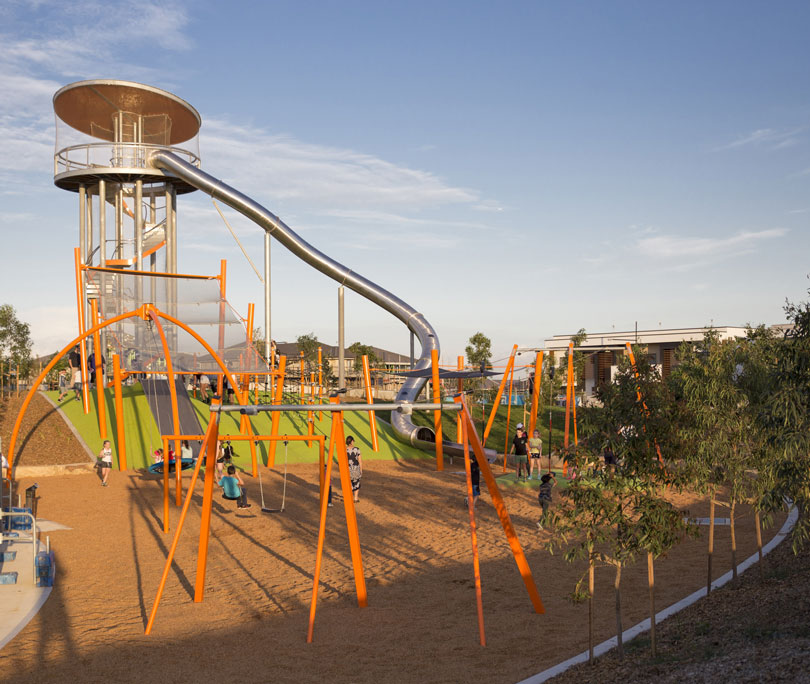 Additional features of Hilltop Park include rope play (a little Ninja Warrior style), a designated fenced area for babies and toddlers where they really can't get into too much trouble, a large grassed area, barbecue facilities, a viewing platform, swings, an embankment with built in slides and multi-age play elements.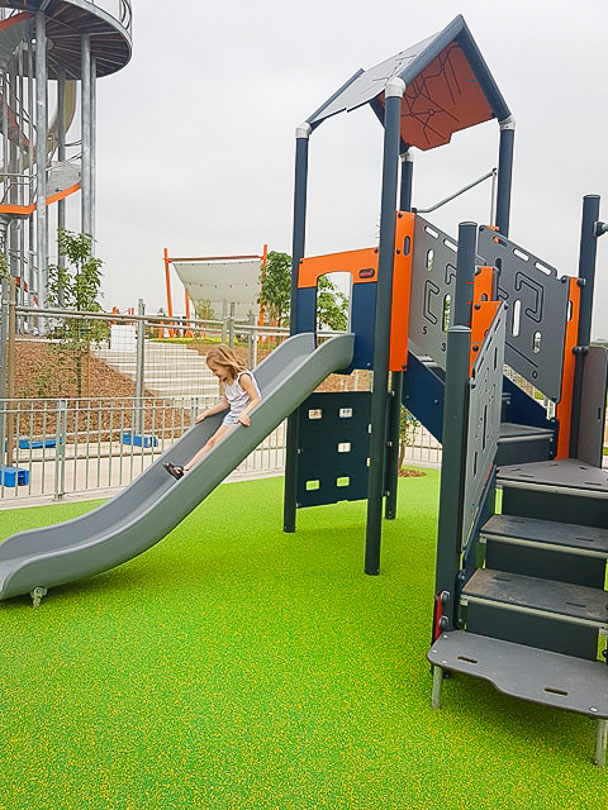 It's very impressive and has clearly been well thought out, with the play elements covering a wide range of ages – older kids can play ping pong, shoot hoops, kick a ball or scoot while younger toddlers are safe in their own fenced area.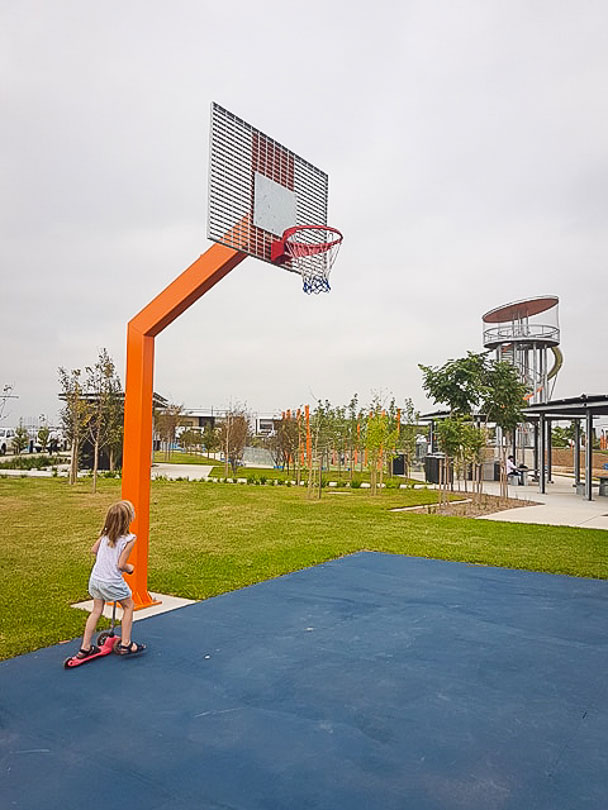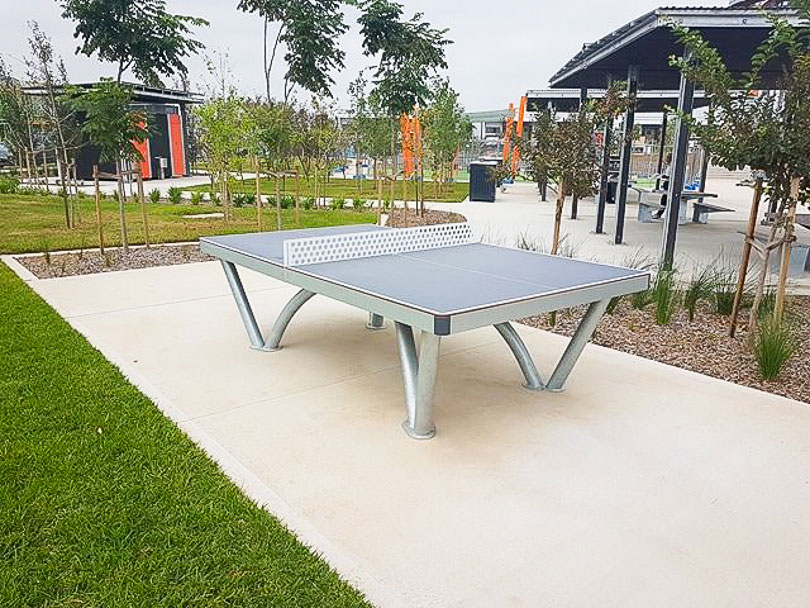 But enough about all that. Let's talk about the slide. There's no denying it's a sight to behold and is the drawcard of the park. Mr 6 said it was the best park he's ever been to. When we suggested we could go back another time and stay longer so he could do some scootering, he said "No, I'll just go on the slide the whole time."! As a grown up, it's full on climbing the tower to the top – it's really high but the view is amazing. Interestingly, no kids seemed bothered by the height at all when we were there and Miss 4 didn't even flinch and went down the slide by herself multiple times.
In terms of safety, we think it will be older kids mucking around that get themselves into trouble. If kids and parents use some common sense it should be fine – for example, think about what you're wearing on the day. Don't wear really loose clothes but equally, don't wear really skimpy clothes either. From what we can gather, kids won't get burned from hot metal at all (the slide wasn't hot and it was about 30 degrees) but may get friction burns. So it's worth telling them to not touch the side as they're going down and keep their elbows tucked in.
At the end of the day, it's darn good fun! All the kids were being really good when we were there, and lining up to wait for their turn. And there were plenty of parents giving the slide a go too!
While there's limited shade until trees mature (worth noting the landscaping is lovely), there's a specially designed shade sail over one of the slides. Also, going back to the slide, yes it's metal, but there's no need to freak out. We spoke to one of the development guys and he explained a few things regarding this – they've tested it on some really hot days, the fact that it's enclosed means the heat is dispersed and also, you're basically going so fast your bottom won't get burned! We need to give these guys some credit – they don't want kids getting burned any more than parents do, so we trust they've done their due diligence.
There is bark though but again, no real need to freak out – it's only in one area and if you're really adverse to it just take your shoes off or wear sneakers. There's also rubber soft-fall which is so new it still smells of rubber – kind of like a new car!
There are toilets right by the equipment and we're loving the cute European-style communal bikes – these are able to be used by local residents who can unlock them with a code. We hope they get looked after as it would be great to see this kind of thing be a success. There are lots of paths to ride or scoot on and apparently they're adding markings to them which will make them extra fun for kids!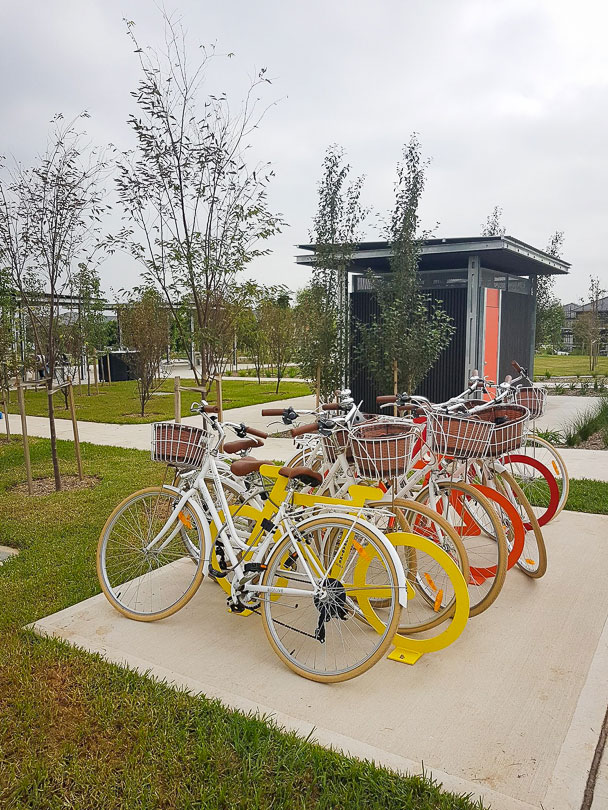 This is definitely one to add to your list to visit – it's a great place to spend a couple of hours and no one will be bored! We're looking forward to going back already and actually getting on that slide ourselves!
---
Hilltop Park
Corner of Hoy Street & Overly Crescent, Schofields.
Other articles that might interest you: