From toddlers and teens, kids' fitness classes across the Hills cater to all ages, interests and skill levels. If you're in search of sports related kids activity and classes, give our list a look and feel confident that your kiddos are staying entertained and healthy in the process.
THE CENTRE DURAL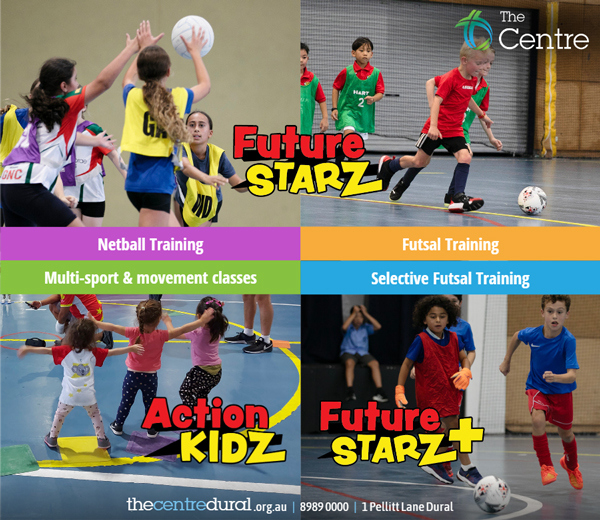 Age group – 2 years to adults
The Centre Dural is a safe, friendly, professional and fun environment for people of all ages to play, train and keep fit! They offer a range of weekly sports clinics and school holiday programs for kids.  Future Starz Netball and Soccer Clinics offer great foundational sporting skills for kids aged 6-10. Friendly coaches support kids in an engaging and fun time of skills and game time. For kids looking to push their Futsal (Soccer) skills further, Future Starz PLUS is our selective training program for kids aged 8-12. For younger kids, Action Kidz is a multi-sports and gross motor movement program for kids aged 2 years to 4 years. Netball and Futsal Competitions for kids and adults start in September. Tuesday and Wednesday Ladies netball also includes a free creche! Read more here.
Location: Dural  |  Contact: (02) 8989 0030  |  sports@thecentredural.org.au  |  www.thecentredural.org.au
---
SOCCAJOEYS
Age group – 2.5 years to 11 years
Developing skills for life through fun! Soccajoeys is Australia's favourite non-competitive soccer program for children aged 2.5 to 11 years. Soccajoeys programs are designed to introduce children to the early learning principles of soccer along with increasing their physical and social development. Young soccer enthusiasts experience this kids soccer program in an indoor environment, using toddler-safe equipment whilst being facilitated by licensed professionals. Read more here.
Locations: Castle Hill, Kellyville, The Ponds, North Kellyville, Bella Vista, North Rocks, Carlingford, Thornleigh plus many more.
Contact: 1300 781 735 or email castlehill@soccajoeys.com   |   www.soccajoeys.com.au
Special offer: Free trial classes available
---
THE LITTLE GYM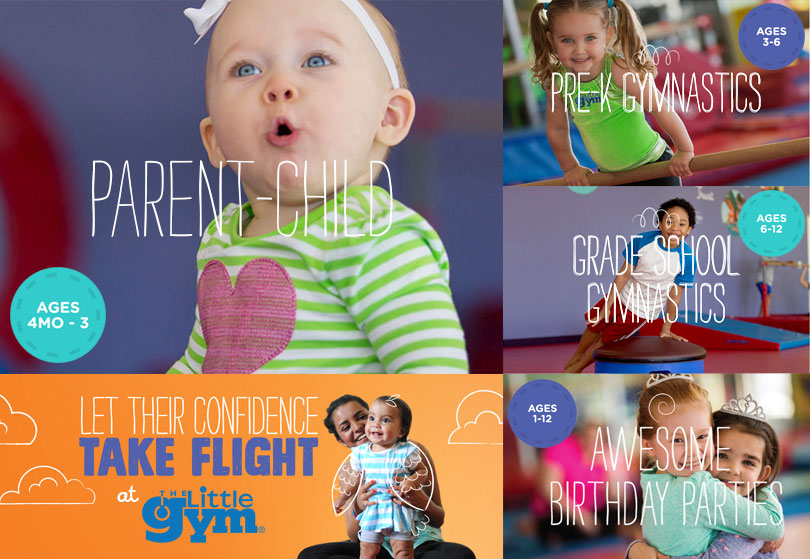 Age group – Babies to 12 years 
For every stage of your child's development – from 4 months to 12 years – The Little Gym offers a diverse line up of classes filled with movement, music, learning and laughter. Your little ones will make friends, reach developmental milestones and build self confidence while having Serious Fun. Read more here. 
The Little Gym Dural | P: 8443 0160 | E: dural@thelittlegym.com.au | W: dural.thelittlegym.com.au
Special offer: Contact us to book a free trial class.
---
SYDNEY HILLS GYMNASTICS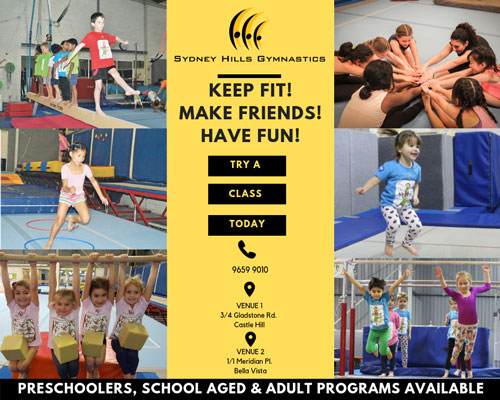 Age group – Early learning, school age and adults programs available. 
Sydney Hills Gymnastics offer a variety of programs for all ages and skill levels from beginner to advanced. We offer recreational and competitive programs in Men's Artistic Gymnastics ( MAG), Women's Artistic Gymnastics ( WAG) and Acrobatics (ACRO) for kids from 6 months to 18 years of age. Our programs include KinderGym, Gym Fun & Gym Skills for Recreation, Extension & Tumbling Classes as well as TeenGym and Adult Classes. Read more here. 
Location: Castle Hill and Bella Vista | Contact: 9659 9010 or email info@sydneyhillsgymnastics.com.au   |   www.sydneyhillsgymnastics.com.au
Special offer: Free trials classes available.
---
Would you like to find out more about other activities your child may be interested in? Click on the link below.