From toddlers and teens, kids' fitness classes across the Hills cater to all ages, interests and skill levels. If you're in search of sports related kids activity and classes, give our list a look and feel confident that your kiddos are staying entertained and healthy in the process.
CARLILE SWIMMING
Age group – 3 month olds to adults
At Carlile, we've been teaching kids to swim well for 65 years and we absolutely love what we do. We offer expert swim programs for all ages and abilities, from Water Confidence classes for babies, right through to Stroke Development and Squads. We pride ourselves on having some of the most experienced teachers in the industry and they're truly dedicated to bringing out the best swimmer in your child. Read more here.
Carlile Swimming Carlingford | Lvl 3, Carlingford Court, Cnr Pennant Hills & Carlingford Roads | 02 9872 4477
Carlile Swimming Cherrybrook | 33 Shepherds Drive | 02 9980 7822
Carlile Swimming Norwest | 6 Century Circuit (Norwest Business Park) | 02 9659 7665
---
THE CENTRE DURAL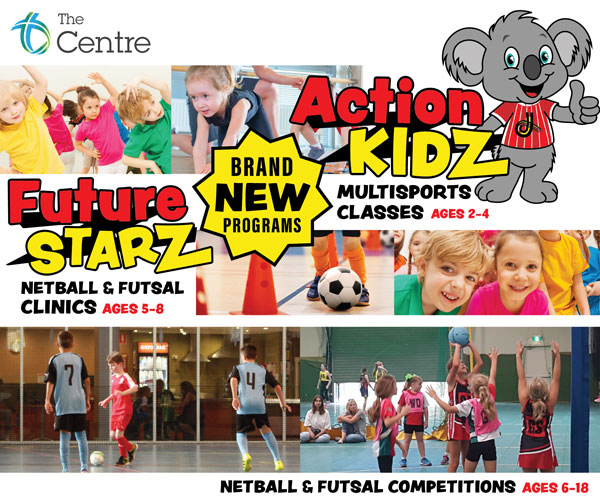 Age group – 2 years to adults
The Centre Dural is a safe, friendly, professional and fun environment for people of all ages to play, train and keep fit!  Action Kidz is our brand new multisports program for kids aged 2 years to 4 years, incorporating skills from futsal, netball, racquet sports and basketball along with obstacle courses, fitness and gross motor skills. For kids aged 5 years – 9 years, Future Starz, allows them to refine their skills in Netball or Futsal Clinics in a fun, experiential and play-based envinronment. Our Netball and Futsal Summer Competitions for kids aged 6 years – 18 years also kicks off in September. Sign your team up now ready for the start of the season. We also have adult competitions! Read more here.
Location: The Centre, 1 Pellitt Lane, Dural
Contact: (02) 8989 0000  |  sports@thecentredural.org.au  |  www.thecentredural.org.au
---
GYMBAROO THE HILLS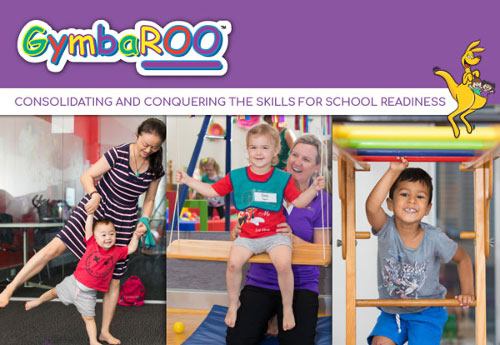 Age group – babies to 5 years
GymbaROO provides active and appropriate movement opportunities that enable your pre-school aged child to explore, develop, practice and refine skills essential for healthy neurological development. Classes are developmentally age appropriate and loads of fun! Bring your child along to crawl, creep, jump, hop, swing, roll, tumble, hang, climb, sing and dance their way to healthy physical, social, emotional and intellectual development. Read more here. 
Location: Castle Hill and Rouse Hill   |  Contact: 02 8883 3449   |    gymbaroo.com.au
---
THE LITTLE GYM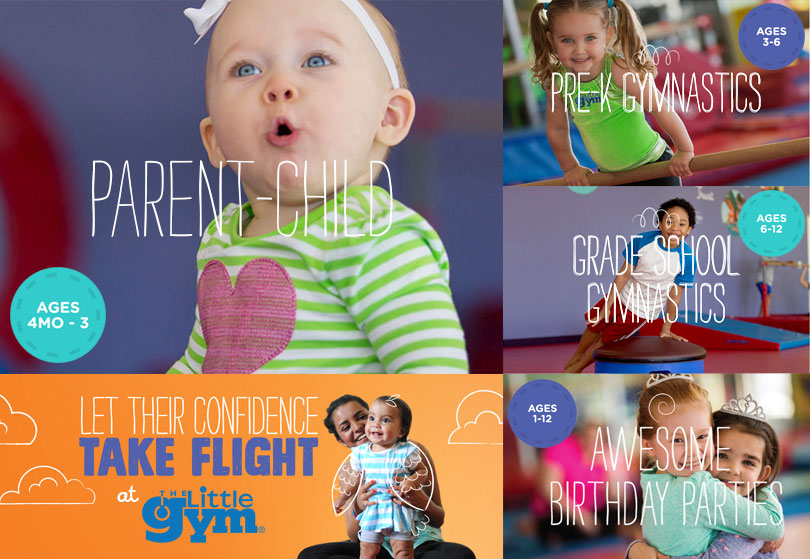 Age group – Babies to 12 years 
For every stage of your child's development – from 4 months to 12 years – The Little Gym offers a diverse line up of classes filled with movement, music, learning and laughter. Your little ones will make friends, reach developmental milestones and build self confidence while having Serious Fun. Read more here. 
The Little Gym Dural is a Registered Covid-19 safe business and we have put many new procedures in place to ensure the health and safety of our families. For more information on what we are doing to keeping the community safe, contact our team today!
The Little Gym Dural | P: 8443 0160 | E: dural@thelittlegym.com.au | W: dural.thelittlegym.com.au
Special offer: Contact us to book a free trial class.
---
SYDNEY HILLS GYMNASTICS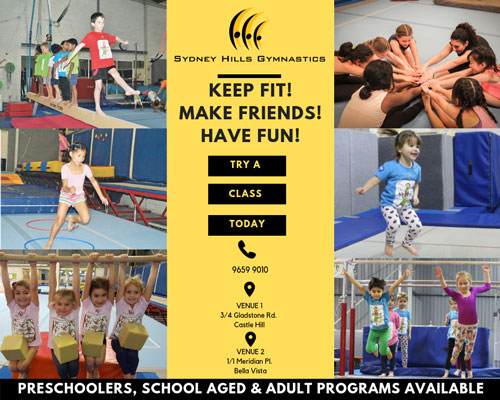 Age group – 2 months old plus 
Sydney Hills Gymnastics offer a variety of programs for all ages and skill levels from beginner to advanced. We follow a National program known as LaunchPad and we have classes available for both boys and girls from the age of 2 months to 18 years. Our programs include KinderGym, Gym Fun & Gym Skills for Recreation, Extension & Tumbling Classes as well as TeenGym and Adult Classes. Read more here. 
Location: Castle Hill and NEW GYM at Bella Vista | Contact: 9659 9010 or email info@sydneyhillsgymnastics.com.au   |   www.sydneyhillsgymnastics.com.au
Special offer: Special offer: Free trials during Week 9 and 10 and throughout Spring School Holidays.
---
SOCCAJOEYS
Age group – 2.5 years to 11 years
Developing skills for life through fun! Soccajoeys is Australia's favourite non-competitive soccer program for children aged 2.5 to 11 years. Soccajoeys programs are designed to introduce children to the early learning principles of soccer along with increasing their physical and social development. Young soccer enthusiasts experience this kids soccer program in an indoor environment, using toddler-safe equipment whilst being facilitated by licensed professionals. Read more here.
The health and wellbeing of our families and coaches has always been our number one priority. We'll be implementing a strict and robust COVID-19: Safe Return To Play Plan so our kids can once again develop skills for life with us. Read more here.
Locations: Castle Hill, Kellyville, The Ponds, North Rocks, Norwest, Carlingford, Thornleigh plus many more.
Contact: 1300 781 735 or email castlehill@soccajoeys.com   |   www.soccajoeys.com.au
Special offer: Free trial classes available
---
Would you like to find out more about other activities your child may be interested in? Click on the link below.