We've always loved doing activities and classes with our children. We remember when they finally became old enough to enrol in a class! It got us out and about and gave us great ideas for interacting and playing with our little ones. We really enjoyed the company of other parents and the classes were beneficial for our children too.
When choosing a class each parent will have different ideas of what they're looking for and what area/s they want their child to develop. Above all, we like for our little ones to have fun and enjoy themselves! Here are some activities ideal for up to 2.5 years.
ART N MOVE HILLS DISTRICT 
Age group – 6 months to 6 years 
Art 'N' Move is a combination of music, dramatic play, story time, art, craft and interactive play all rolled into a 45 minute class.  And they have tailored programs to suit babies aged from 6 months through to 6 year olds. Read more here.
Location: Castle Hill    |   Contact: Lina 0419 971 901   |   Website: artnmove.com.au
Special offer: Sign up with a friend for the term and get $10 off per enrolment.
---
CAPER SCHOOL OF PERFORMING ARTS
Age group – 2 years plus
Are you looking for an introductory pre-school dance class that is not too serious but does not compromise on quality? Ready Set Dance is a combo class of jazz, tap, hip-hop, music and singing for 2-5 year olds that is jam-packed with fun!  We promote confidence building, social development and positive reinforcement.  Plus our classes are gender inclusive with themes, music and activities that include boys. Read more here.
Location: Bella Vista (Norwest Business Park), Rouse Hill and The Ponds | Contact: caper@caperonline.com.au  |  ph 8882 9879 / 0402 328 721  |   caperonline.com.au
Special offer: Contact us to book a free trial class.
---
SYDNEY HILLS GYMNASTICS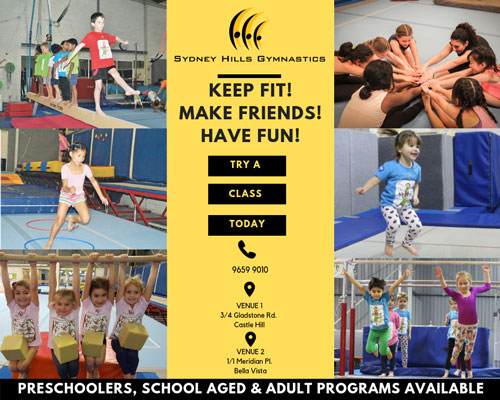 Age group – 2 months old plus 
Sydney Hills Gymnastics believes everyone should enjoy gymnastics!  We follow a National program known as LaunchPad and we have classes available for both boys and girls from the age of 2 months to 18 years. Our programs include KinderGym, Gym Fun & Gym Skills for Recreation, Extension & Tumbling Classes as well as TeenGym and Adult Classes. Read more here. 
Location: Castle Hill and NEW GYM at Bella Vista | Contact: 9659 9010 or email info@sydneyhillsgymnastics.com.au   |   www.sydneyhillsgymnastics.com.au
Special offer: Contact us to book a free trial class.
---
JIGSAW DANCE
Age group – from when you can walk
Our Jigsaw Juniors are lead on a journey of imagination, creation and education. Along the way, our dancers develop new skills, confidence and friendships through the passionate guidance of our teachers.  Our program incorporates multilayered elements of dance, drama, games, props …but most of all, lots of fun and laughter. This program has been specifically developed to enhance strength, flexibility, co-ordination & dance technique. Read more here.
Locations: Castle Hills, Kellyville East, Wahroonga, Hornsby, Hornsby Heights | Phone 0412 687 890 or 02 9634 1725   |  jigsawdance.com.au
Special offers: Free trial class available. Also, 50% off membership for all HDMs. Just mention this article!
---
THE LITTLE GYM
Age group – Babies to 12 years 
For every stage of your child's development – from 4 months to 12 years – The Little Gym offers a diverse line up of classes filled with movement, music, learning and laughter. Your little ones will make friends, reach developmental milestones and build self confidence while having Serious Fun. Read more here. 
The Little Gym Bella Vista | P: 9836 5545 | E: bellavista@thelittlegym.com.au | W: bellavista.thelittlegym.com.au
The Little Gym Dural | P: 8443 0160 | E: dural@thelittlegym.com.au | W: dural.thelittlegym.com.au
Special offer:
---
GYMBAROO THE HILLS
Age group – babies to 5 years
GymbaROO provides active and appropriate movement opportunities that enable your pre-school aged child to explore, develop, practice and refine skills essential for healthy neurological development. Classes are developmentally age appropriate and loads of fun! Bring your child along to crawl, creep, jump, hop, swing, roll, tumble, hang, climb, sing and dance their way to healthy physical, social, emotional and intellectual development. Read more here. 
Location: Castle Hill and Rouse Hill   |  Contact: 02 8883 3449   |    gymbaroothehills.com.au
Special offer: 10% discount on your first term fee's for you AND a friend when you enrol together. New students only! Must mention this article.
---
DANCING WITH MAREE
Age group – 2 years plus 
Dancing with Maree is a fresh and vibrant dance school for children and teenagers.  Young children (aged 2-5 years) start in our Little Dancers program. Our little dancers focus on rhythm, co-ordination and movement and they begin to learn the art of jazz, tap and classical ballet in a fun and safe learning environment.  Read more here. 
Location: Kellyville, Normanhurst, Cherrybrook | Contact: info@dancingwithmaree.com.au  |  ph 0412 85 84 83  |   dancingwithmaree.com.au
Special Offer: 10% discount on your first term fees. New students only! Mention this article to claim your discount.
---
CARLILE SWIMMING
Age group – 3 month olds to adults
Teach your child essential swimming skills with an award winning, aquatic leader. Carlile Swimming provides swimming programs for all ages, from 3 month old babies to Olympians. We have been teaching children to swim well since 1955 and are recognised worldwide as a leader in all aspects of aquatic education. Every week we provide a safe, fun and caring environment to help children become safer and more confident in and around the water. Read more here. 
Carlile Swimming Carlingford | Lvl 3, Carlingford Court, Cnr Pennant Hills & Carlingford Roads | 02 9872 4477
Carlile Swimming Cherrybrook | 33 Shepherds Drive | 02 9980 7822
Carlile Swimming Norwest | 6 Century Circuit (Norwest Business Park) | 02 9659 7665
---
SALTS OF THE EARTH
Age Group: Babies to adults
Discover the benefits of Salt Therapy. Salt therapy is a natural, complementary therapy.  Whilst in a session, the salt particles are inhaled deep into the lungs to help loosen congestion, increase oxygen intake and cleanse the airways of smoke, dust, pollution, pollens and other allergens. When the salt lands on the skin it can also help to improve your skin health and relieve the symptoms of certain skin conditions. We welcome everyone from babies, to elite athletes and the elderly. Read more here. 
Location: Dural | Contact: 02 9651 4396 | www.saltsoftheearth.com.au | www.facebook.com/SOTEDural
Special offer: One free salt therapy session when you book a complimentary consultation! You must mention this article.