Kids classes and tuition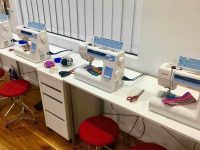 Sewing Time is an after-school and holiday program that teaches children aged 7 – 12 and teens how to sew in a fun, friendly and creative environment!

Sewing Time inspires confidence in your children, aids their hand-eye co-ordination and attention to detail, as well as developing your child's creativity and individuality by teaching them valuable sewing skills through a range of fun and fashionable projects – from clothing to homewares and everything in between!
Multi Sensory Language (Orton-Gillingham) Educators & Dyslexia Specialists

Kids falling behind in reading, writing or spelling?

We specialise in teaching primary school children with reading difficulties such as dyslexia, using a Multi Sensory Language approach in a fun and engaging learning experience.

We are passionate about making a difference to your child's educational experience and since no two children are alike, we tailor Individual Education Plans for each child written by an experienced and qualified Special Education Teacher.
Established in 2004, the Sister2Sister School of Singing is a specialised singing school offering complimentary tuition in Music, Drama and Movement along with varied workshops and ample performance opportunities for Pre School Age to Adults.

Aria Award Winning Directors and sisters, Christine and Sharon Muscat, founded the school with the intention of offering unrivalled professional experience direct to their students with a vibrant and youthful approach. Their passion is to not only deliver excellence in vocal technique, but to nurture individuality and creativity in every student.

From the primary studios in Castle Hill, today the school boasts over 400 vocal students of all ages and abilities, all of whom were personally assessed by one of our school Directors.