Seems like everyone loves a giant slide at a park and in terms of equipment it's the bigger the better! But for many kids under 5, and their parents, this isn't very practical. It's great if there's a dedicated area for smaller kids but sometimes it's easier to go to a park that has more suitable equipment for this specific age group, rather than have to climb on equipment yourself to assist your child! 
Here's a list of playgrounds in the Hills that have great play equipment for under 5s. 
Crestwood Reserve
Peel Road, Baulkham Hills
This one is a local favourite amongst Hills District Mums. The equipment is just great. There are slides, bridges, multiple ways to to climb onto the structure (i.e. ramps, balance beams, climbing ropes, stepping stones) and none of it is too high. In addition to the play structure there are also swings, a liberty swing, a sandpit and the Council has just announced that they are building a learn-to-ride track at Crestwood Reserve!
It's shaded and there's plenty of space to pull up a rug by the play area. There are also toilets. Downsides: it has bark as flooring (so wear enclosed shoes if you're not a fan) and it isn't fenced.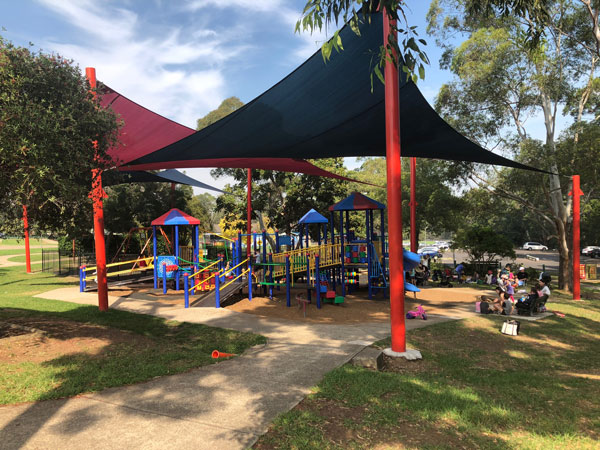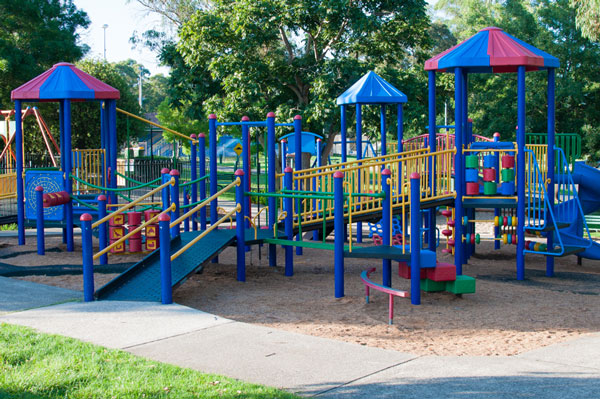 Livvi's Place. Bernie Mullane Reserve
Marella Ave, Kellyville
This park always makes our lists because it ticks all the boxes and usually parks don't cover absolutely everything.
Fully fenced – tick. Shade – over half of the equipment and more is coming. Heaps of cool play equipment – tick. Trees and grass – tick. Coffee nearby – tick. Easy parking – tick. Toilet – tick. And it's just had an upgrade, making it bigger and better than ever! You can read more about the Livvi's Place extension that's been added to the old playground here. It even includes a water play area! Finally we have one here in the Hills!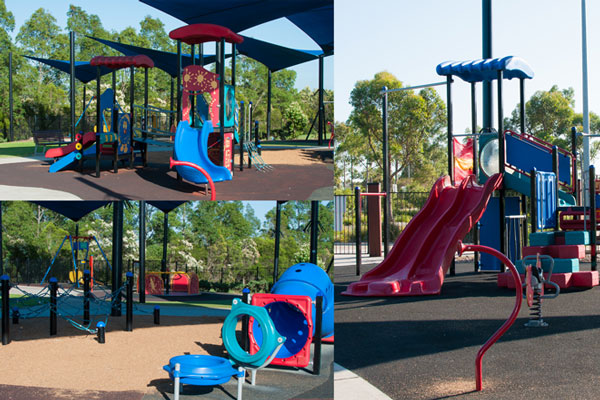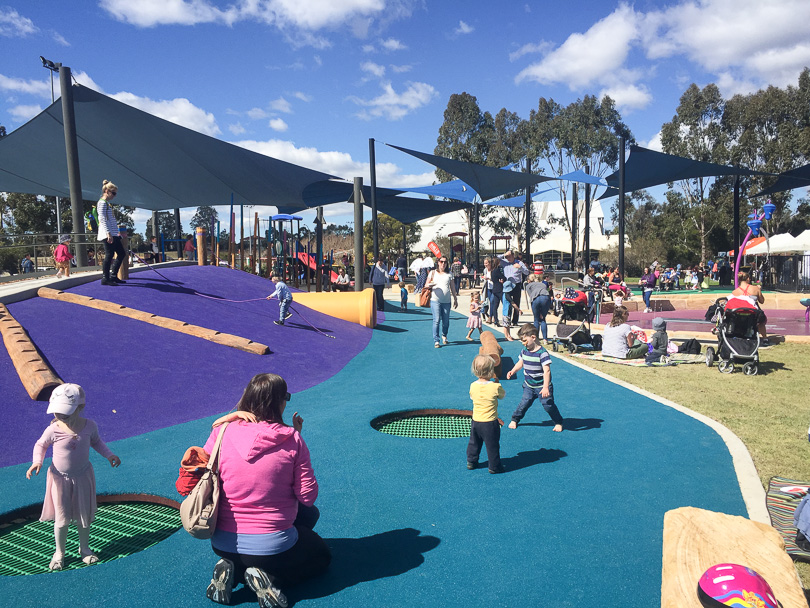 The Gables – Box Hill
There are 3 cool playgrounds out at The Gables Box Hill. The only down side is that there are no toilets in the area at all. More details on these playgrounds can be found here.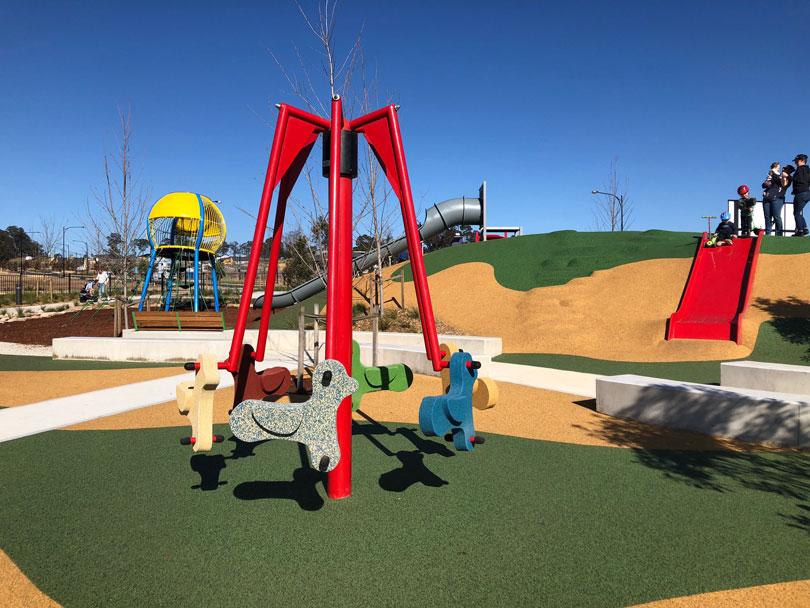 Coolong Reserve – Castle Hill
Coolong Street, Castle Hill
Coolong Reserve has always been a great park and playground for both younger kids and older ones. There's play equipment, swings and a climbing frame and, while the park itself isn't shaded, there's shade from trees surrounding it. So when The Hills Shire Council announced that they were going to add a learn-to-ride track next to the playground it made total sense. The tracks incorporates pedestrian crossings, stop signs and roundabouts. It isn't large but is great for learners, young children and scooter riders. More information on this playground can be found here.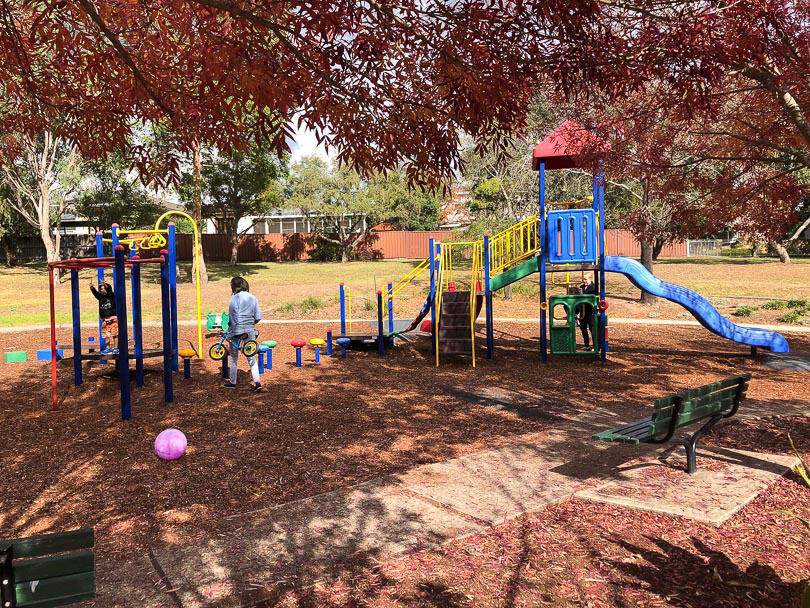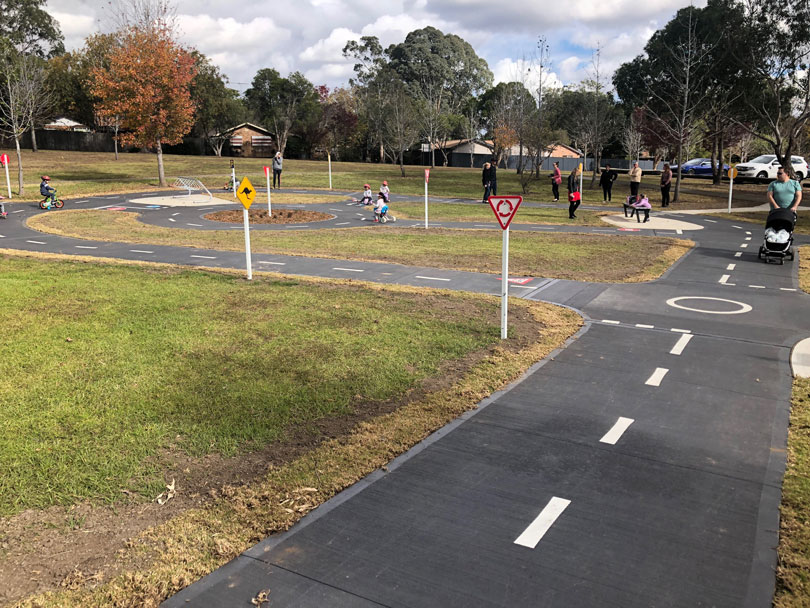 Appletree Park – Cherrybrook
Kanangra Cresent
After the old play structure suffered significant vandalism a while back, the area underwent a total revamp. The new play equipment is fab and lots of new trees have been planted, so as they grow it will be really pretty!  There's also lots of wide open space to run around or kick a ball and there are flat paths to scoot on too. The slide and main play structure are a great size for toddlers and there's a variety of swings. The other plus is that you can get coffee at The Burrow Cafe within walking distance!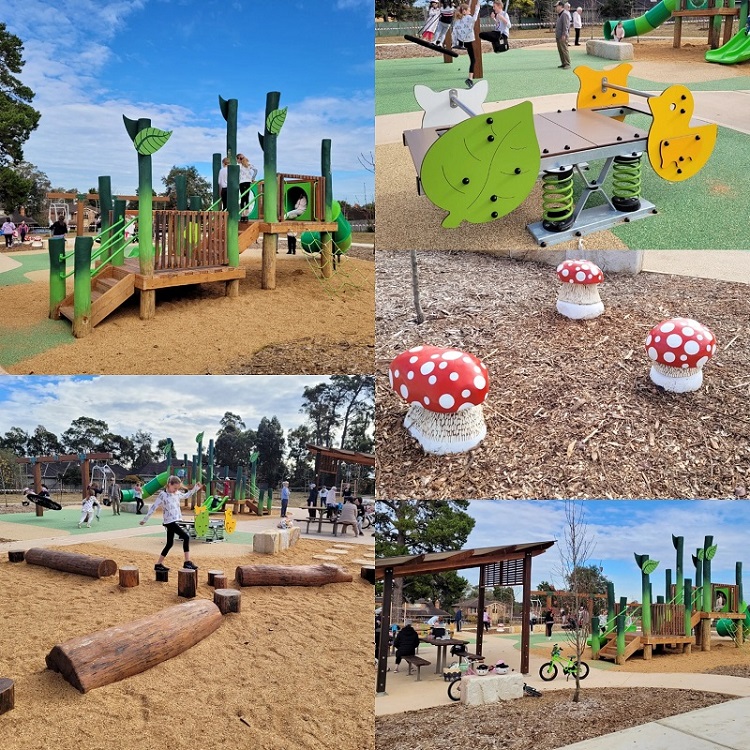 North Rocks Park – North Rocks
North Rocks Road, Carlingford
North Rocks park is ideal for crawlers, toddlers and pre-school aged children. There's a wobbly bridge, rope net to climb, tunnel, three slides, a mini rock climbing wall and swings. There are toilets nearby, picnic tables, BBQ facilities and lots of parking. It's also fenced off, shaded by trees and has a small path for scooters. There are no refreshments nearby.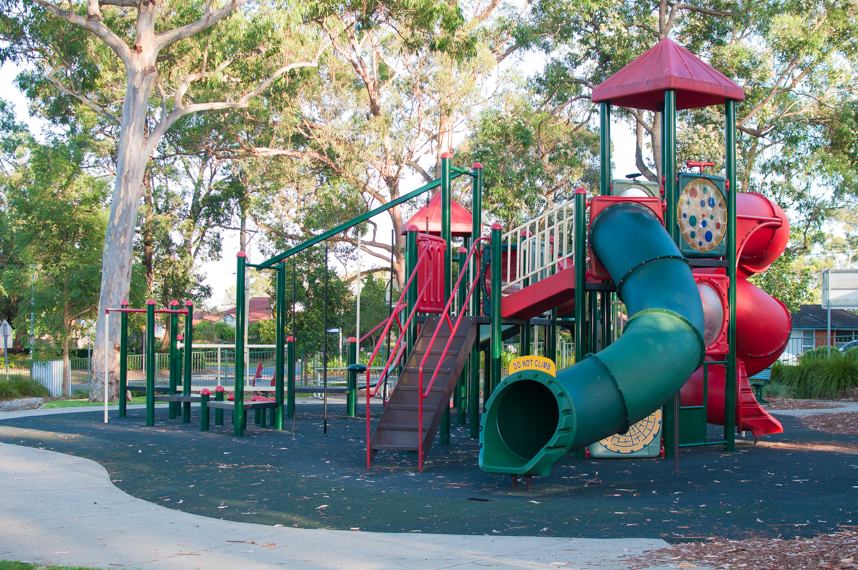 Wollundry Park
Yarrara Road, end of Warne Ave, Pennant Hills
This fully-fenced playground located across from Pennant Hills Train Station and we have a bit of a soft spot for it as we spent a lot of time here when our kids were really small with our mother's group. Nowadays, it's not the flashest of parks, but it's still a great spot due to the convenient location.
The main play structure is ideal for younger kids – practical stairs to access it (or rope climb for those a little older), two different slides and a little cubby underneath. There's also a little firetruck for kids to play on, swings including a nest swing, plus our kids love exploring in the garden.
There are beautiful gum trees providing lovely shade over the park and attracting lots of cockatoos and other birds – great if you have a bird watcher!
Downsides: bark as the flooring and the toilets are a bit of a trek (across at the library).
But it's right next door to Pennant Hills library so you can combine with a trip there. And there's the local shopping centre if you need to grab any supplies.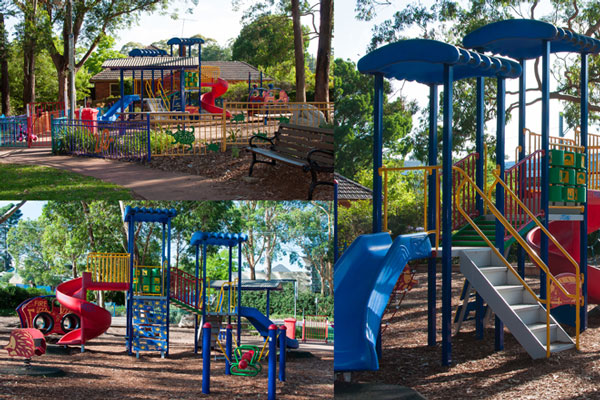 Edward Bennett Park
Edward Bennett Drive, Cherrybrook
This playground is great for little kids. It's quiet and peaceful, nestled in the back streets of Cherrybrook. Parking on the street is easy, the toilets are pretty clean and close by, and there's plenty of equipment (swings, birds nest swing, climbing net, fire engine, slide structure, little bike track) to keep the kiddies entertained, as well as an oval if you want to kick a ball around.
There are no shade sails over the equipment and it's not completely fenced but it's set back from the road. All in all, it's a very pleasant place to spend an hour or two. Someone just needs to open a coffee cart and then mummas would be super happy!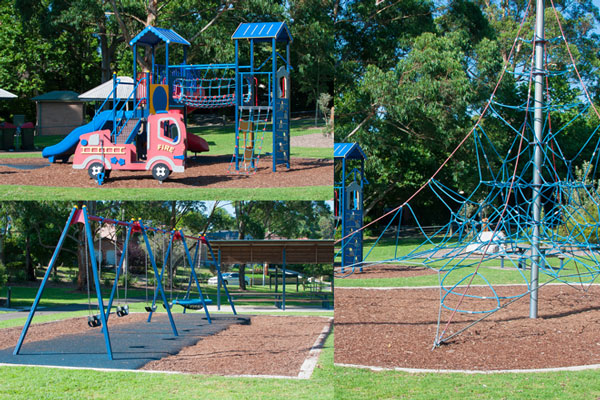 Arthur Whitling Park, Castle Hill Metro Station, Castle Hill
Old Castle Hill Road
This little playground is right by the train station opposite Castle Towers. The playground is only small and is definitely for younger kids. It's handy if you need a break and some fresh air and sunshine while shopping! There is no shade but we visited in Autumn and it was lovely in the sun! It's not technically fenced but is set back from the roads in a landscaped area. You would need to watch kids though, as always.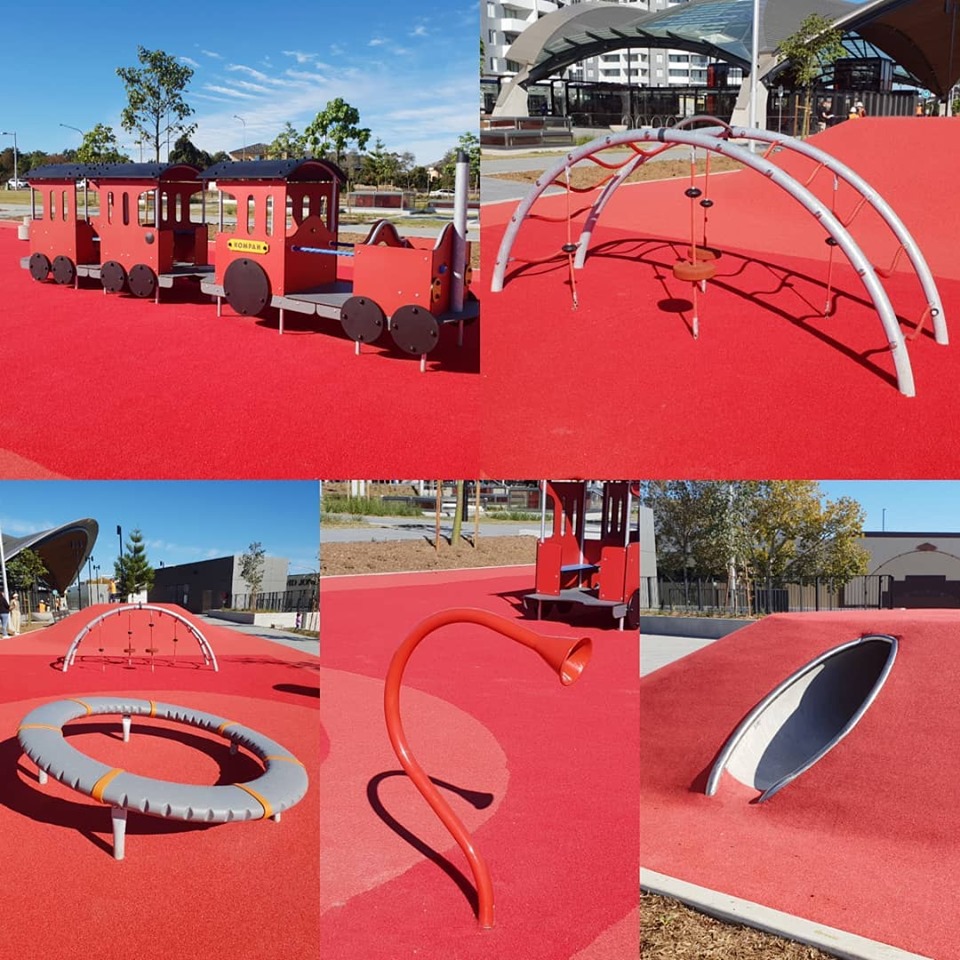 Erlestoke Park, Castle Hill
Erlestoke Place
Erlstoke Park Castle Hill is a great park for both young kids and older ones. Facilities include a flying fox, multi-purpose sports court, large bike track, play equipment for toddlers and pre-schoolers and BBQ facilities. The downside to this park is that it's not fenced, although it's set down from the street.
The park itself is not shaded, however the trees surrounding it have plenty of space underneath to pull up a picnic rug. There's also a lots of room to kick around a ball or play some cricket.
The park has toilets but there is bark under the play equipment so wear closed shoes.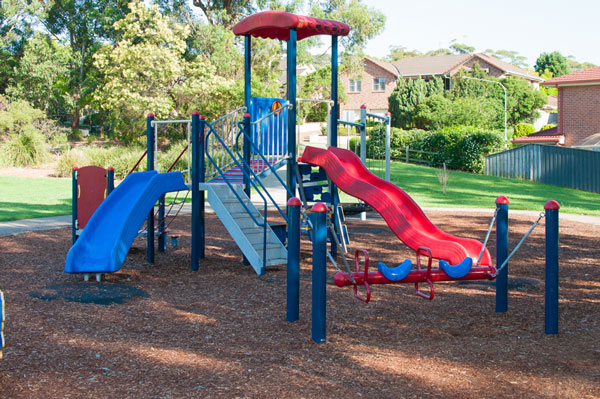 Heritage Park, Castle Hill
Heritage Park Road
Castle Hill Heritage Park has always been a lovely place for families to picnic, play, walk and learn about nature. Now, with the upgraded playground the space is even more enticing for families with children.  Playground equipment includes a flying fox, swings, timber balance beams and sandstone stepping stone, a 'Heritage' water pump leading into channels and a carved sandstone block for toddler water play, stainless steel tube slide with shade sail, 3 way spring rocker and a carousel.  It is situated next to toilets and it has safety flooring under the equipment (no bark except under flying fox).
Find out more here.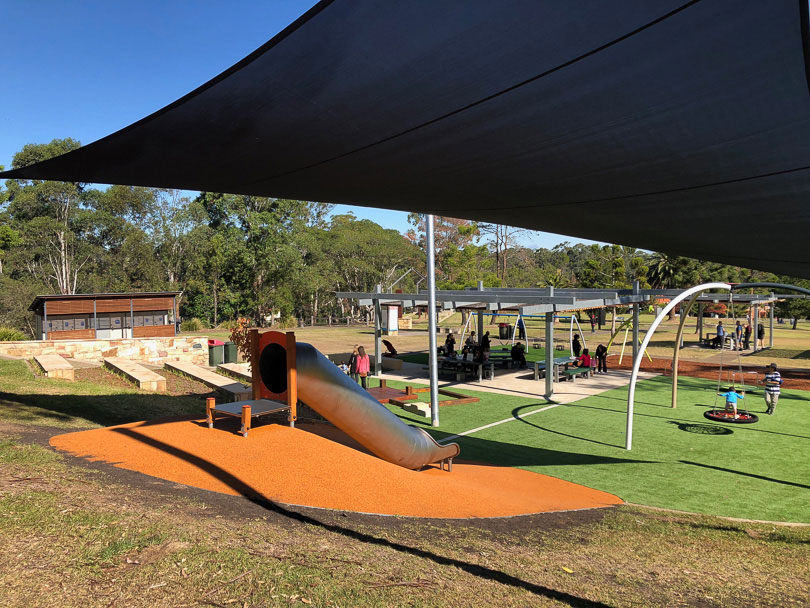 Darlington Reserve, Cherrybrook
Darlington Drive, off County Drive
This is a cute backstreet playground in Cherrybrook and if you have a dinosaur fan then it's right up their alley! Roarsome!
The equipment is great and is best for toddlers up to about 5 or 6. There are dino eggs, a large dinosaur head, carved totem poles, a slide & swings, a climbing wall, stepping stones with dinosaur prints on them, a partially submerged serpent-like creature and a car which we presume you would go dino hunting in.
It's fully fenced, although the locks are simple so you need to still keep a look out if you have an escape artist. There's some shade from the surrounding trees as well as a generous sized covered hut.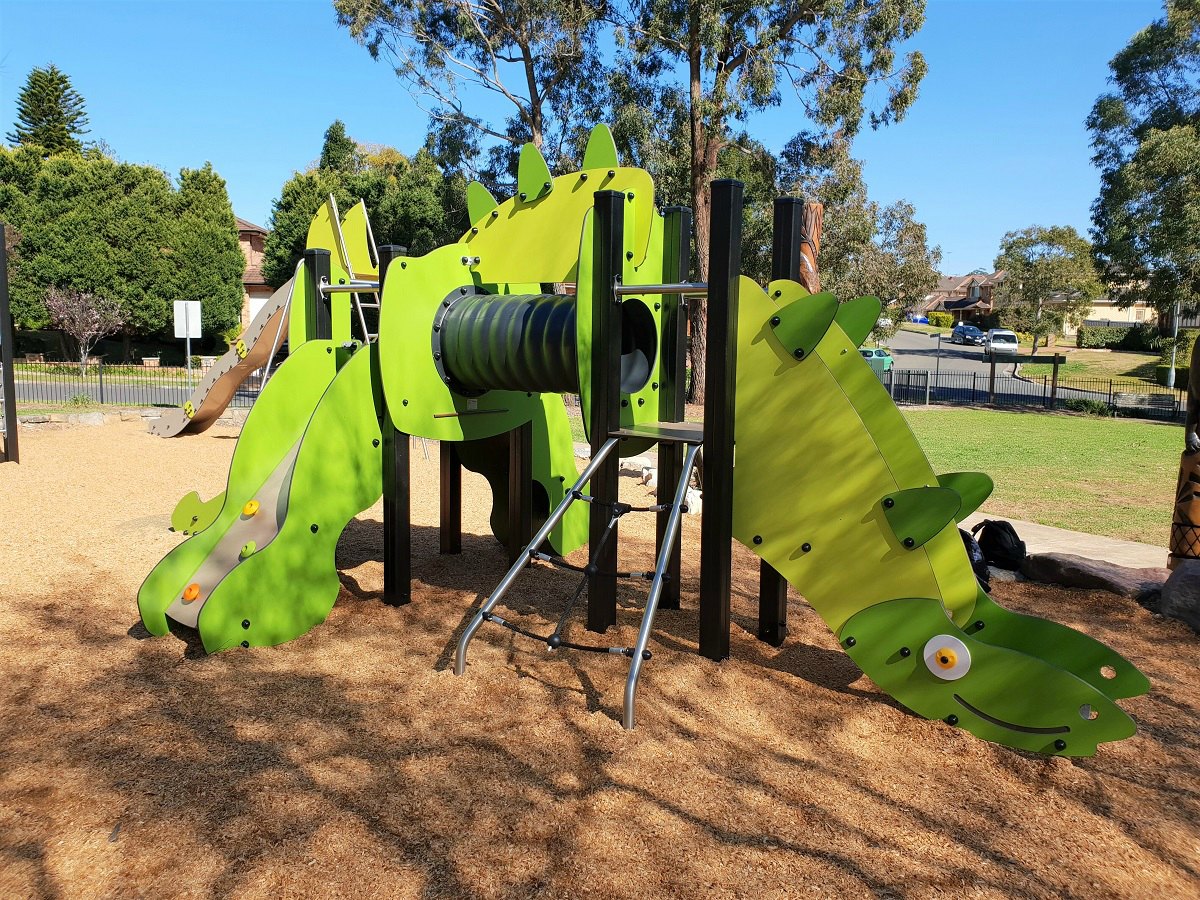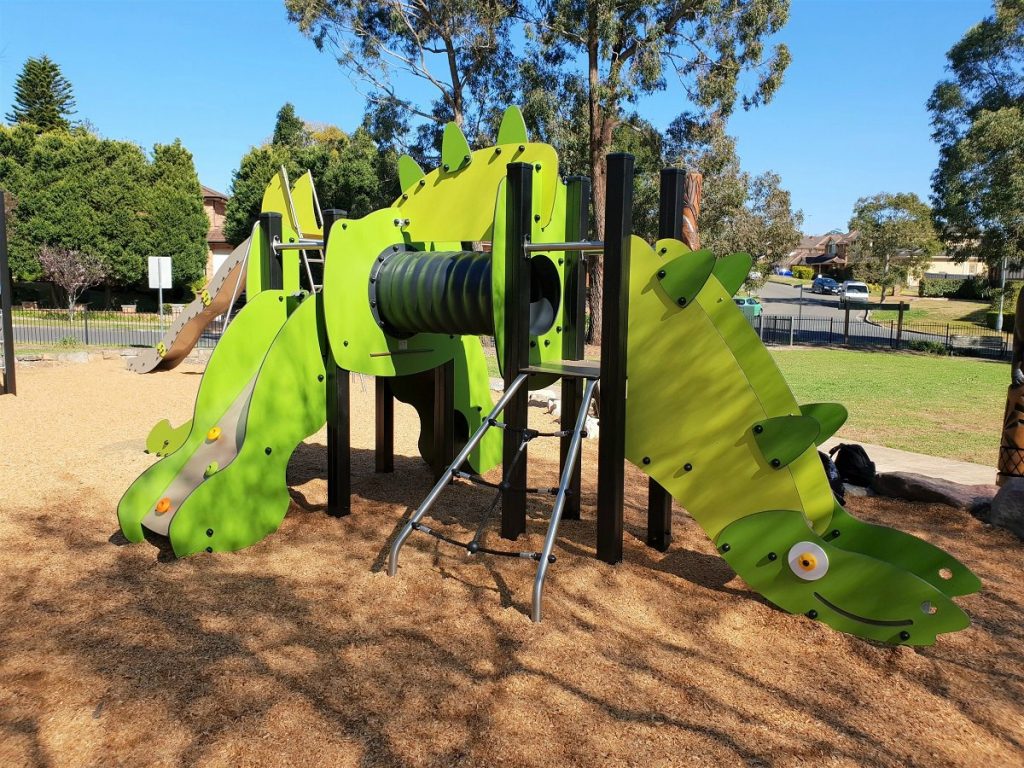 Gumnut Park, Cherrybrook
Corner of Gumnut and Holly Roads
Gumnut Park – cute name huh? This park is awesome! It's pretty, has great equipment and a scooter path, some soft fall rubber (but loads of bark), a nice big patch of grass next to it, benches and is fully fenced. Downsides: no shade or toilets.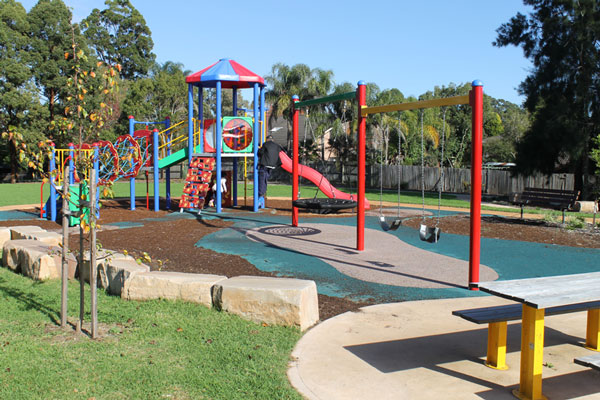 Larry Bolitho Reserve, Carlingford
Corner of Post Office Street and Young Road
Located behind Bunnings in Carlingford this playground is fully fenced, there's plenty of shade, a path to scooter around and lots of space to kick a ball. We're fans of soft fall rubber under play equipment but this playground goes one better – it has faux grass! Hubby says that's just synthetic grass but a superior luscious version of it! There are no toilets at this park.

The pirate park, Kings Langley
Anderson Road
We're probably being a little liberal with the term 'park' here. In reality it's just a pirate ship, but it's an awesome one. So if you've got a pirate crazy toddler they'll love it.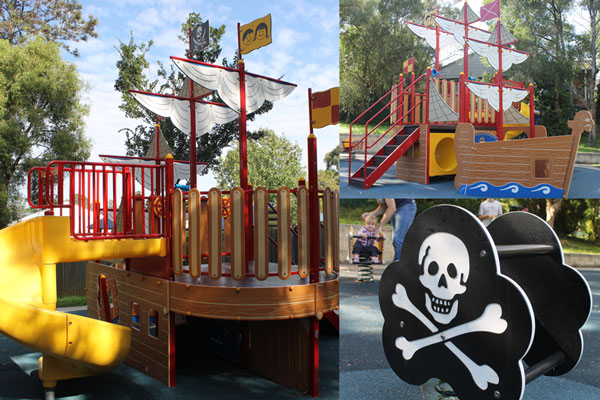 Sherwin Park, North Parramatta
Isabella Street
This playground is super cute! With a replica mini castle, there's plenty to keep kids occupied. It isn't fenced but is a long way from the road and there are toilets, swings and paths for scooters!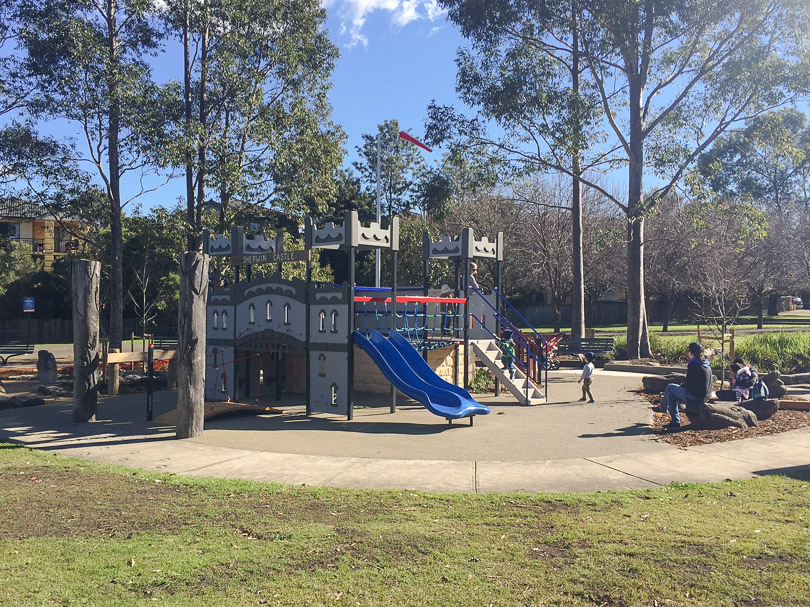 Beecroft Train Station Playground
Cnr Wongala Crescent and Hannah Street, Beecroft
This sweet little park is ideal for toddlers and pre-school aged children. Kids love the train-shaped play equipment and there's even a train spotting platform to watch trains as they pull in and out of the station. The trees surrounding the park do provide some shade cover at certain times of the day. The ground is soft rubber, ideal for crawlers, however it does get hot in summer. And Beecroft has a handful of great coffee shops for take aways.
For our full review of this park click here.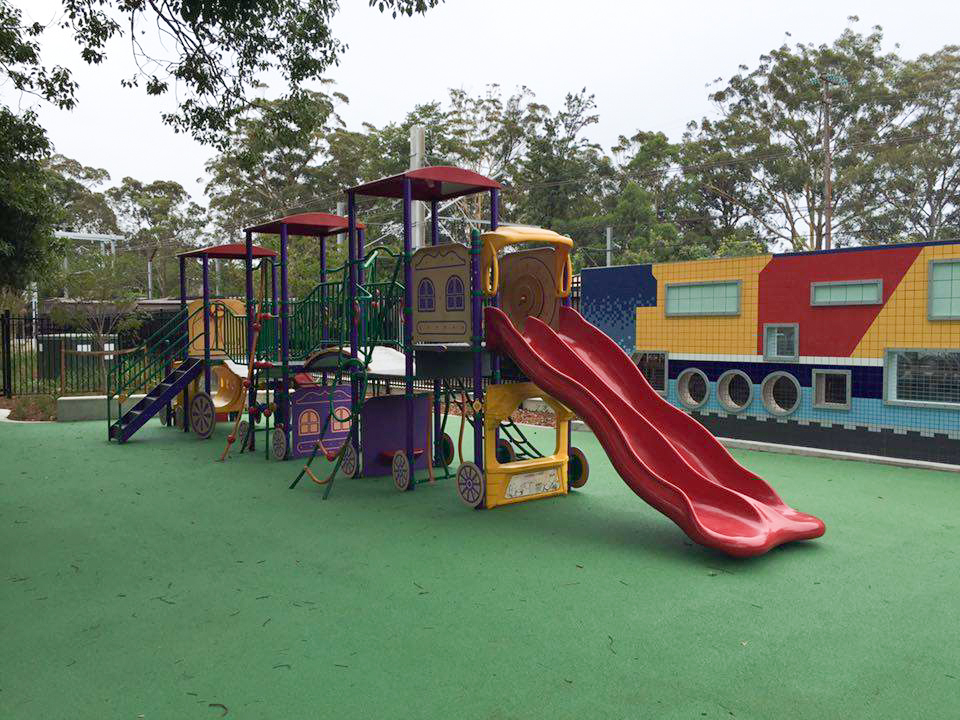 Ruddock Park
Coral Heath Avenue, Westleigh
This is one of our favourites and another pirate ship shaped playground. There is a large learn to ride track around the playground too. There are also toilets and plenty of places for carers to sit and watch little ones.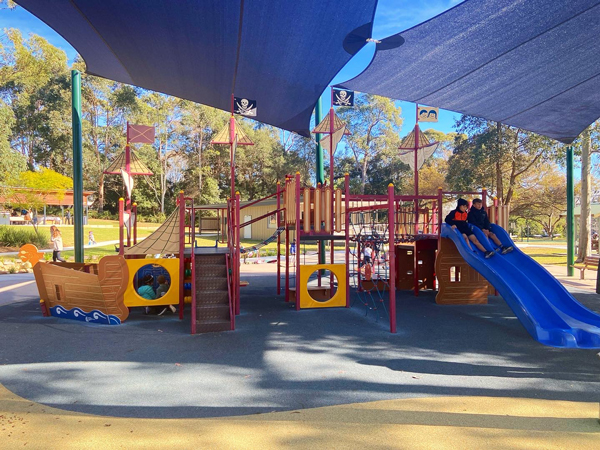 ---
Other articles that might interest you…..
If you liked this article you should also check out: