Fully fenced parks, playgrounds and other play areas sometimes provide parents with a bit more comfort, particularly if you have a runner! While nothing replaces constant supervision, a fence can delay the escape and allow mum or dad to catch up to the escapee! Here are some spots in and around the Hills that have fences.
The Lakes of Cherrybrook – Cherrybrook
Shepherds Drive
This playground has just had a much needed refurb and is looking great. It's opposite Cherrybrook Shopping Village and is fully fenced.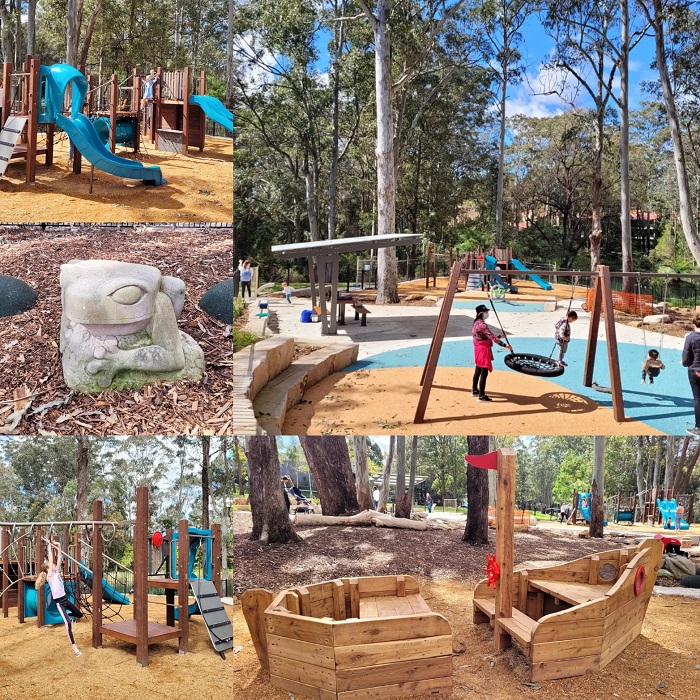 Darlington Reserve – Cherrybrook
Darlington Reserve, Darlington Drive, Cherrybrook. (Off County Drive.)
This is a cute little back street park perfect for dinosaur fans! There are no amenities but it IS fully fenced. Read more here.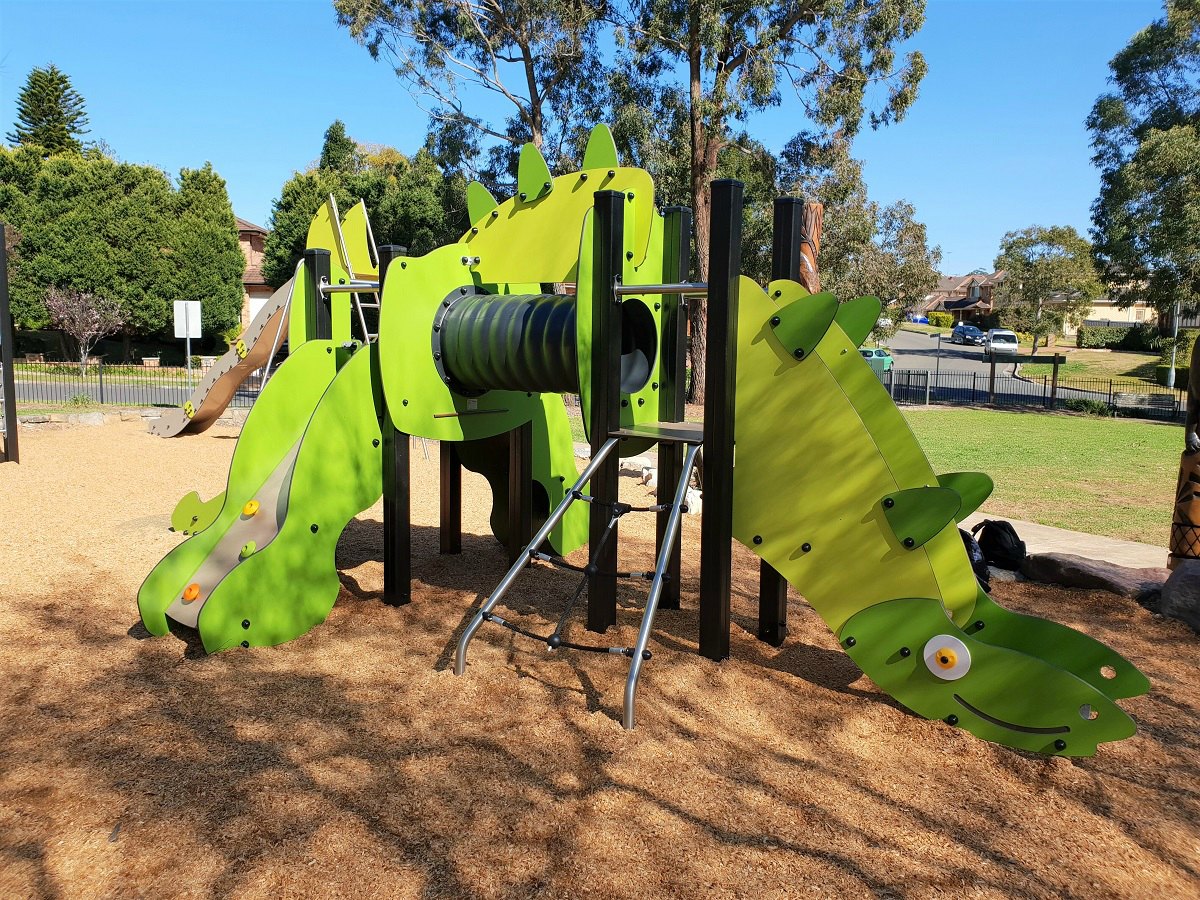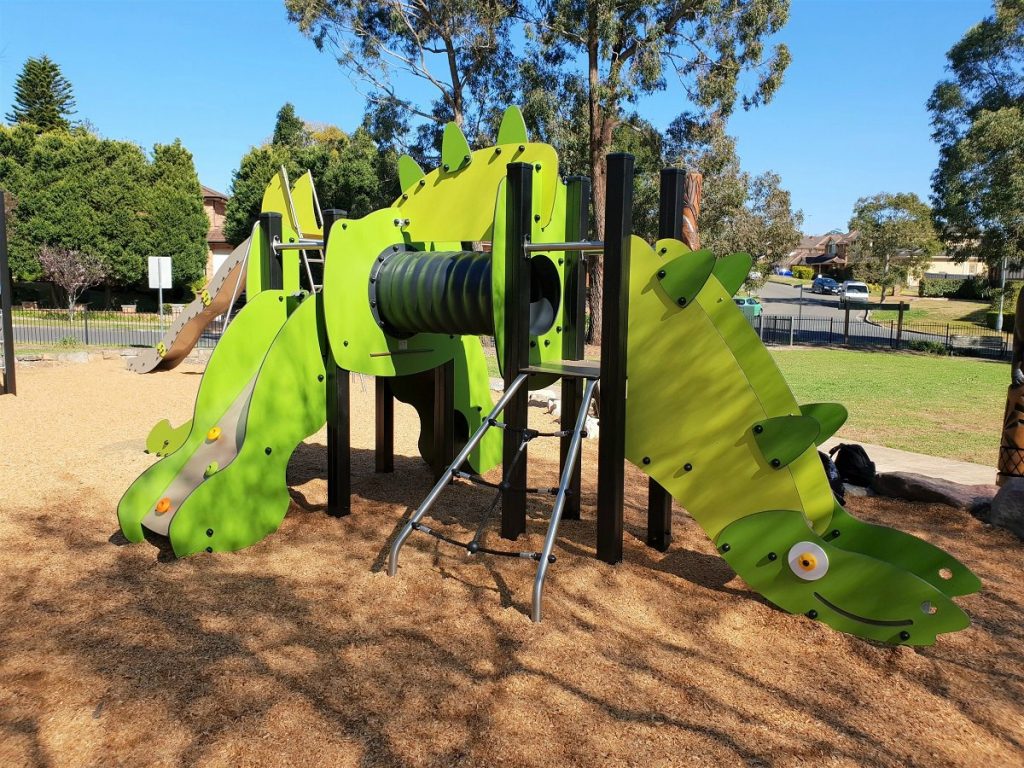 Ollie Webb Reserve – Parramatta
Glebe Street.
While not technically in the Hills, it's not too far for lots of mums, especially given how great it is. This playground is full of fantastic equipment for all ages and abilities. There are tunnels, swings, trampolines, a water play area, a sand pit and slides for the game and not so game! The playground is fully fenced and there are toilets too!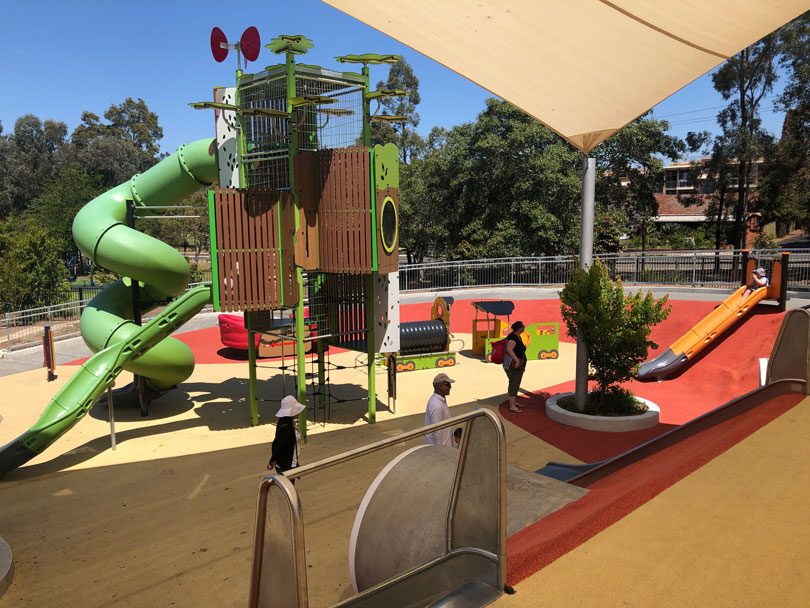 Governor Phillip playground – Windsor
George Street.
This is one of the best playgrounds in the wider Hills area – it offers so much to kids and parents alike such as water play, toilets and of course being fully fenced! Read more here.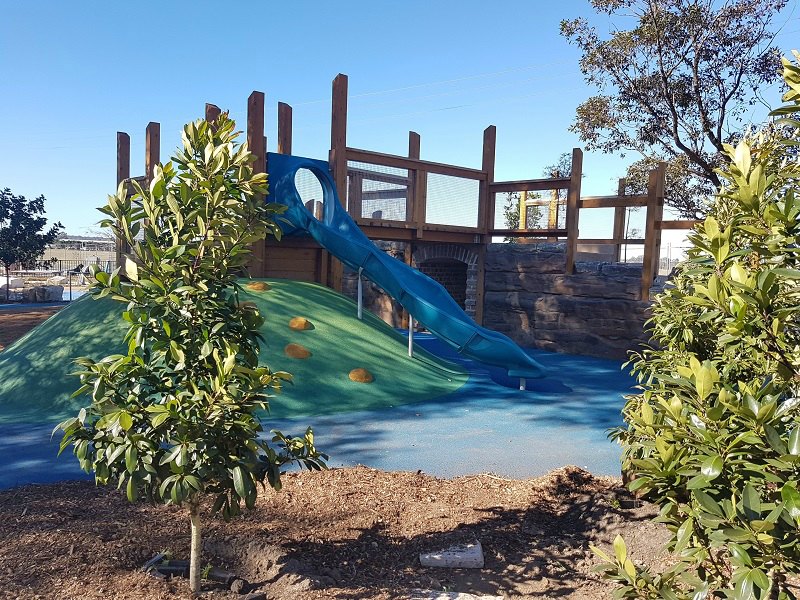 Croc's Playcentre Rouse Hill
4 – 6 Commercial Road (near The Fiddler)
Croc's Playcentre Rouse Hill is the newest Croc's in our area and is great for littles ones and parents alike, with easy parking, a secure play area, parents room and on-site Muffin Break! And the play area sits behind a gate – there's even another smaller secure area within this too.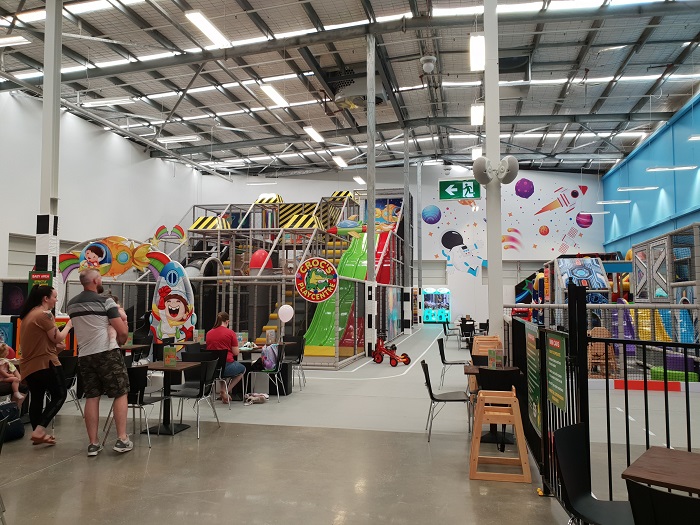 Glenhaven Oval Playground – Glenhaven
Glenhaven Road.
This playground was refurbished in November 2021 which is great as it was a little tired. The draw card for this little playground is that it's right next door to The Tuckshop, a popular cafe. There's plenty of room to put down a picnic blanket or there are a number of picnic tables – 2 more were added during the reburb. There are a few trees that cast some shade, although the equipment isn't shaded so it's best to time your visit.
The fence goes right around the area which is great as it's by a couple of car parks and Glenhaven Road can be busy. But the gate is easy to open so it possibly won't stop an escape altogether! You shouldn't have any trouble finding a park as there are a couple of little parking areas next to the park and the shops.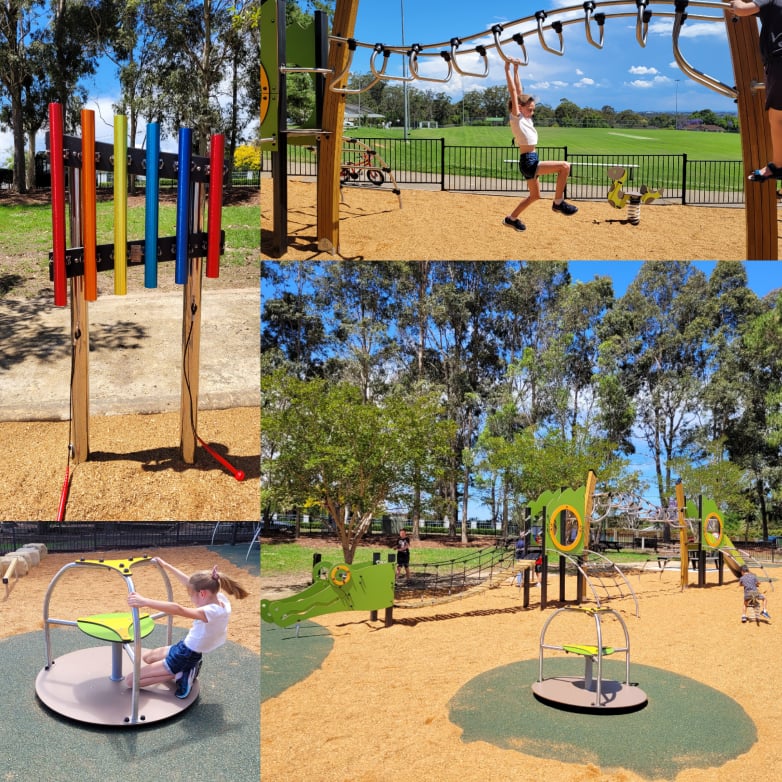 Beecroft Train Park – Beecroft
Wongala Crescent.
This park has always been a favourite of mums in the area. Here's a quick run down of why it's so popular:
Fully fenced
Spongy rubber flooring
Close to great coffee and other refreshments
No scary equipment to send a helicopter mum into a cold sweat
Right next to a train station for train loving children.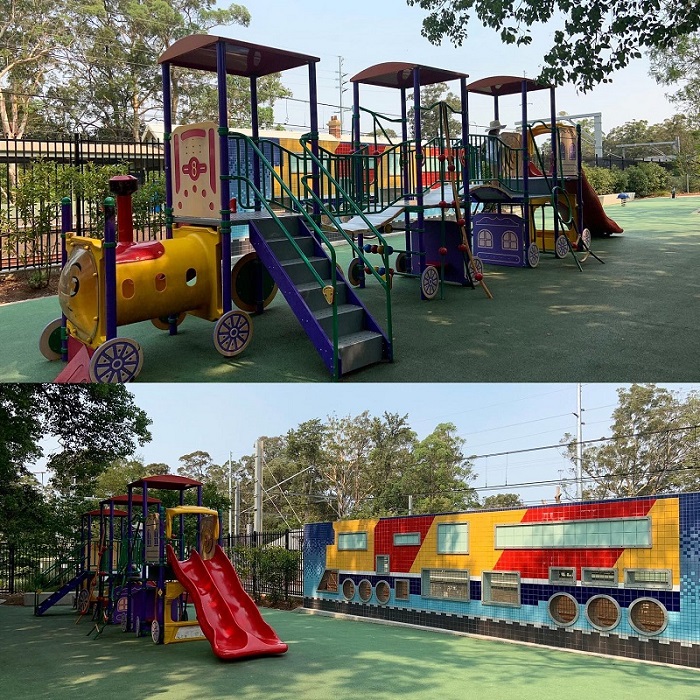 The Fiddler – Rouse Hill
Corner of Commercial & Windsor Roads.
The Fiddler revamped its play area a while ago now but it's remained gated which is great!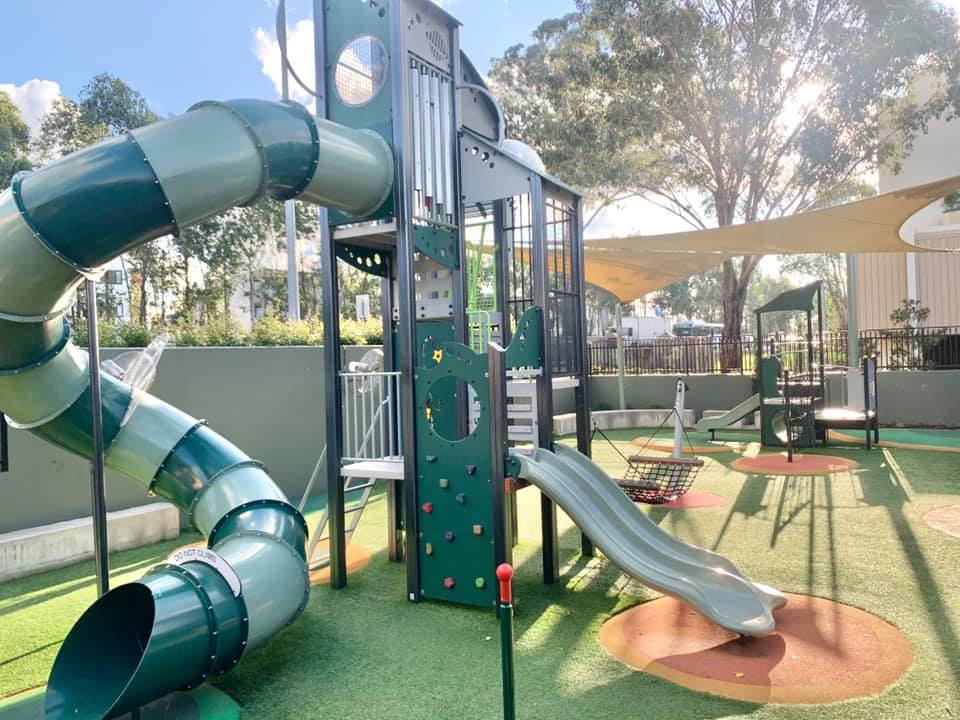 Larry Bolitho Reserve – Carlingford
Corner Post Office Street and Young Road.
Facilities include great equipment, swings including a birds nest swing, a path for scooters and plenty of space to run and kick a ball. The flooring under the play equipment is synthetic grass, the park is fully fenced and there's a shade cloth over the equipment, however there are no toilets and no refreshments close by.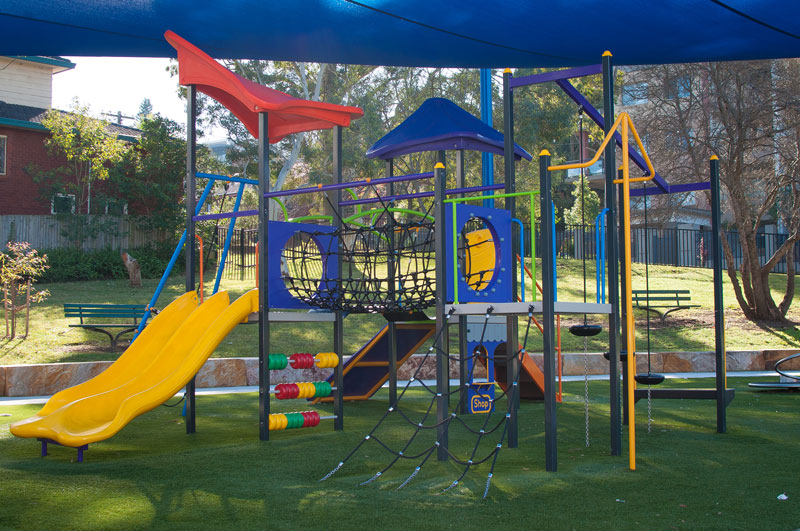 Castle Hill RSL – Castle Hill
77 Castle Street.
The play area at Castle Hill RSL is fully fenced and located in their courtyard area. Older kids can open the gate though and do go in and out frequently so you need to be watching smaller kids.

Lyne Road Reserve – Cheltenham
Lyne Road.
This playground is located in a beautiful grassy reserve that's designated as an off-leash dog area but to keep dogs and children separate the playground is fully fenced! The play equipment is made from timber and is beautiful. Some of the equipment can be a little challenging for toddlers and pre-schoolers but is perfect for school aged kids. You can tell the little car was designed by a parent with more than one child as it has TWO steering wheels to save quarreling between friends and siblings! There are no toilets and it isn't close to refreshments.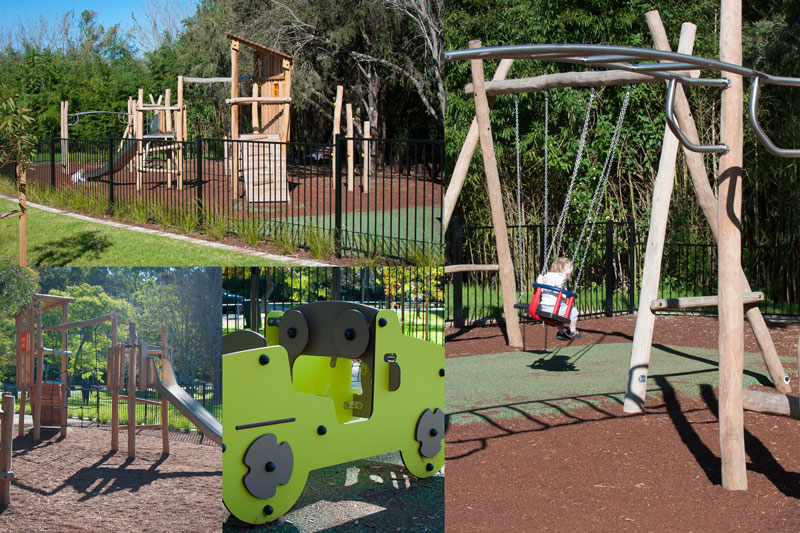 Gumnut Park – Cherrybrook
Corner of Gumnut and Holly Roads.
Gumnut Park – cute name huh? This park is pretty, has good equipment and a scooter path, some soft fall rubber and bark, a nice big patch of grass next to it, benches and is fully fenced. And there's even some gym equipment if you fancy doing some chin ups while the kids play! The downsides – there are no toilets, it's not close to refreshments and there's no shade so it's not great on a scorching hot day but perfect on a sunny winter's one!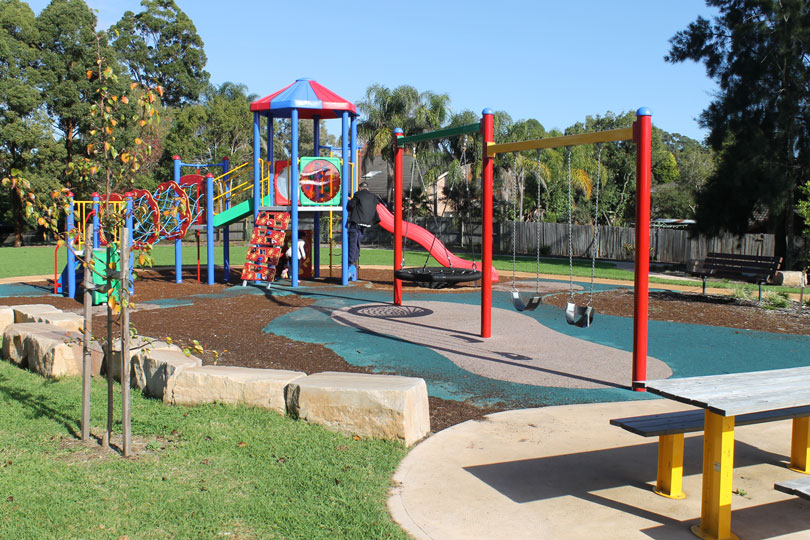 Eric Mobbs Reserve – Castle Hill
Ferguson Avenue.
Eric Mobbs Reserve is comprised of large sporting fields and is the starting point for a great little bushwalk – the Platypus Track in Bidgigal Reserve. There's also a little fully fenced playground there too!

Grove Square – Baulkham Hills
375-383 Windsor Rd.
The play area at Stockland Baulkham Hills is conveniently nestled between not one but two cafes! Stockland Baulkham Hills combined with Touched by Olivia to create a cute play space! It's now also fully shaded – tick! It's great for kids with big imaginations!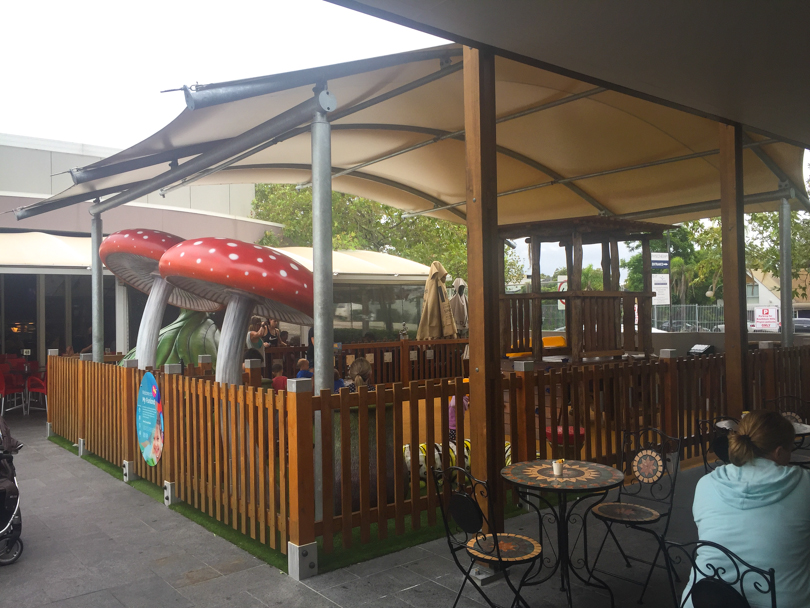 Robert Park – Cherrybrook
Corner of Robert and Dalkeith Roads.
Robert Park is a pretty little park that's fully fenced, has lots of shade and is very peaceful. There are a couple of benches and tables too which is good if you're having lunch or are there with a group of people. There are no toilets and it isn't close to refreshments.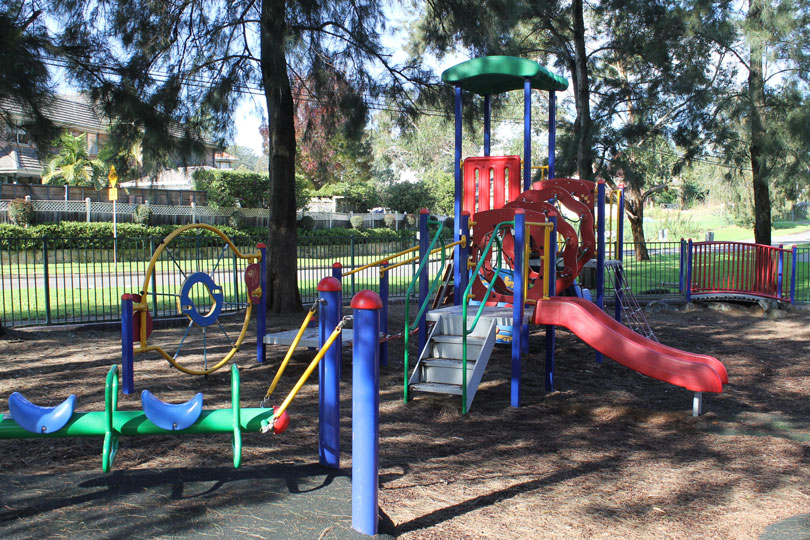 Frankie's @ Flower Power – Glenhaven
609 Old Northern Road.
There's a small fenced play area in the cafe which overlooks a small lake with fish, ducks and now floating flamingos and when you're finished your meal you can head up to Flower Power's impressive nursery and homewares. Do keep a close eye on little ones by the lake though.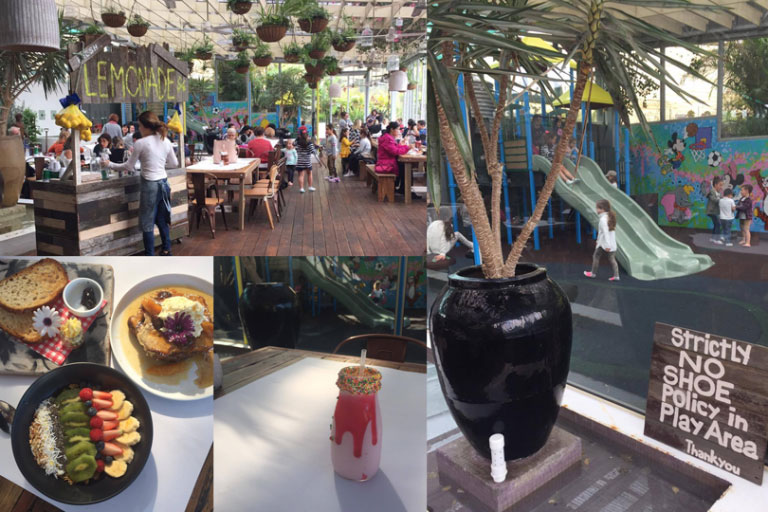 Glenorie RSL
3 Post Office Road
The Glenorie RSL has a gorgeous outdoor area. The fully fenced grassed area has a great playground for younger kids to enjoy and plenty of space for older kids to play footy or tip. Both areas are within sight of your table if you sit outside and they've recently installed shade sails which is an added bonus.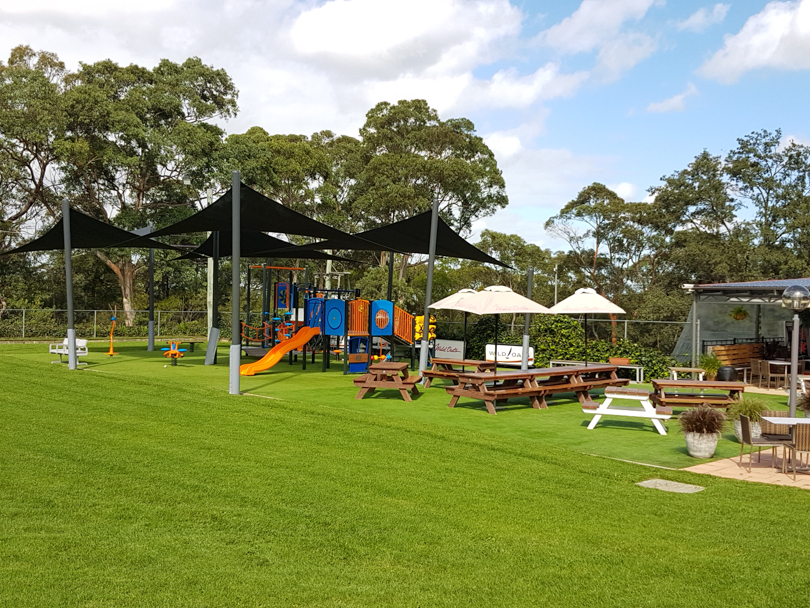 Bernie Mullane – Kellyville
Marella Avenue.
This great park caters for all ages, from crawlers to primary school aged kids. Bernie Mullane has climbing equipment, slippery dips, water play, swings, a grassed area to run around (unshaded) and a small footpath for scooters. Some of the play equipment is covered by a shade but there are no shaded areas to sit on a rug. Read more here.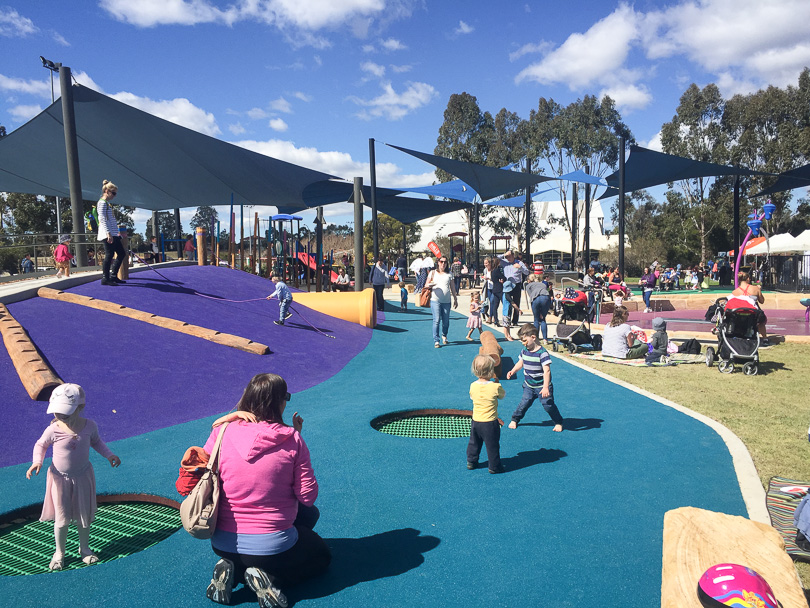 Livvi's Place Stockland Elara – Marsden Park
Corner of Elara Blvd and Northbourne Drive, Marsden Park. Parking available off Northbourne Drive.
This playground literally ticks all the playground boxes! Water play, learn-to-ride track, equipment for all ages and abilities, fully fenced, shaded and toilets. It may be a bit of a drive from some Hills suburbs but it's worth it!! Find out more here.

Kellyville Village – Kellyville
90 Wrights Road.
Kellyville Village has a nice little fully fenced play area. Equipment is excellent for young kids and slightly older ones have a ball too.  It is shaded and just outside a fabulous coffee shop, The Local Trade. There are toilets inside the Village. You're bound to meet another Hills District Mum here – the place is swarming with them!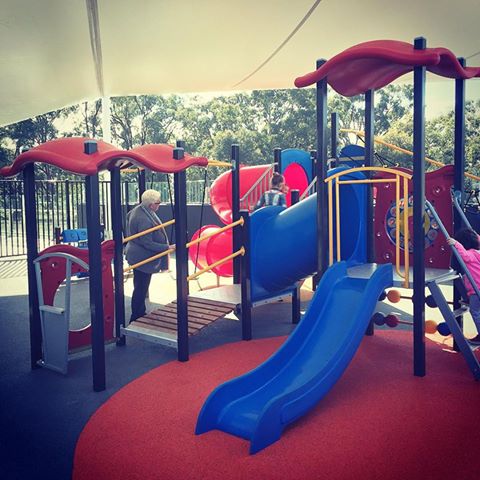 North Rocks Park – North Rocks
North Rocks Road, Carlingford
This North Rocks park is ideal for crawlers, toddlers and pre-school aged children. There's a wobbly bridge, rope net to climb, tunnel, three slides, a mini rock climbing wall and swings. There are toilets nearby, picnic tables, BBQ facilities and lots of parking. It's also fenced off, shaded by trees and has a small path for scooters. There are no refreshments nearby.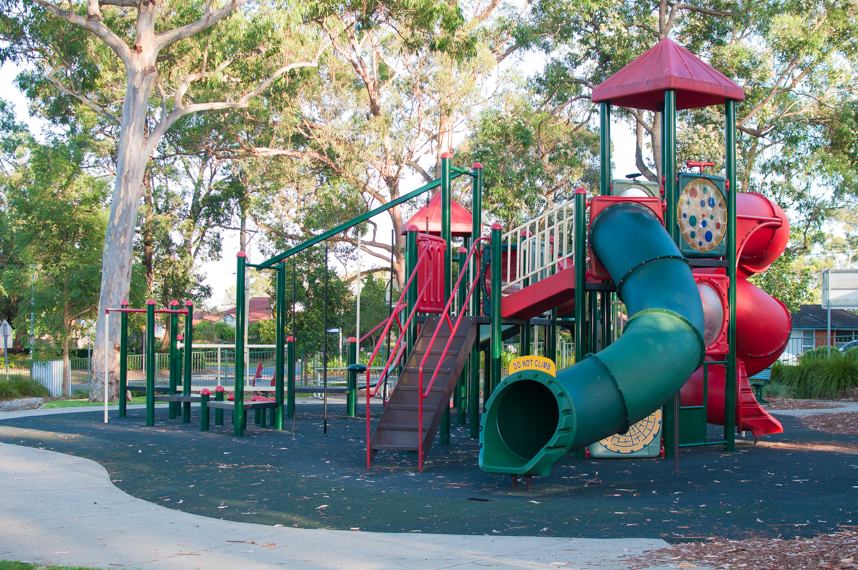 Wollundry Park – Pennant Hills
Yarrara Road.
Wollundry park is ideal for toddlers and pre-school aged children and is fully fenced. The park is directly across the road from Pennant Hills train station, which is perfect if your little one likes trains! There are lots of trees surrounding this park which keep it shady. And it's a short walk from Pennant Hills shops and several cafes for those who love a coffee! The closest toilet is in the library.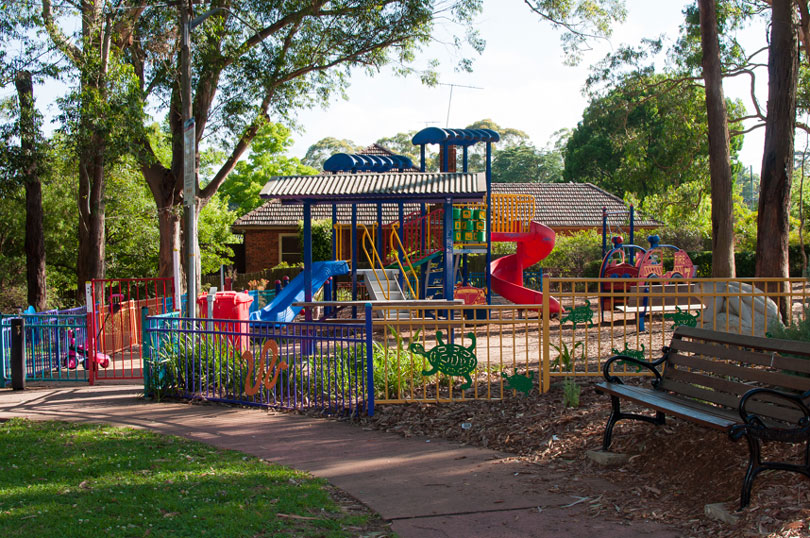 Lynwood Country Club – Pitt Town
253 Pitt Town Road.
The play area at the Lynwood Country Club is great. Called 'The Farm', there's a fantastic gated playground area. It's an excellent spot for lunch with a group of mums or on the weekend with the family. It gets busy so if you can go early and nab a spot right near the play area, you're winning!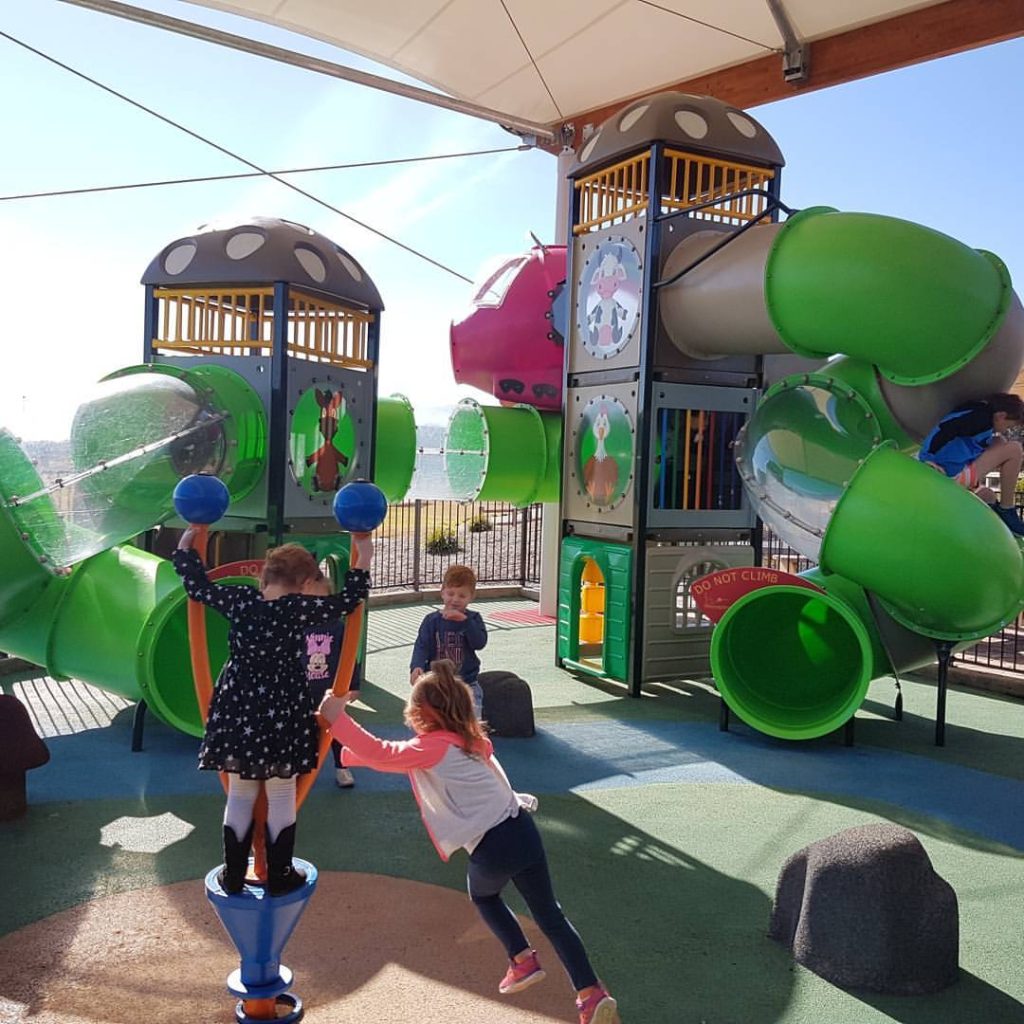 Rouse Hill Town Centre – Rouse Hill
Corner of Windsor Road and White Hart Drive.
Nestled conveniently in between Oliver Brown and Blends and Brothers 'The Backyard' is great for age 2 and up to about 8 years of age. Fully fenced (although older kids could probably scale it) this is a great play area for kids to explore and climb.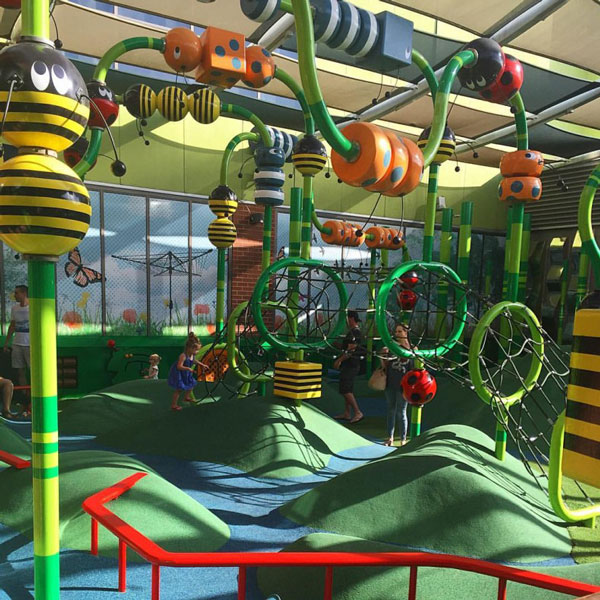 Stanhope Village – Stanhope
2 Sentry Drive.
Stanhope Village has two play areas that are great for toddlers/pre-schoolers. Both have this fabulous soft equipment – it's hard to describe really. Kind of cushioned, padded and squishy.  In technical terms the ground is soft fall with latex covered foam-padded equipment. And the one outside is the one that is fully fenced.  It is located right next to 18 Grams and Michel's Patisserie.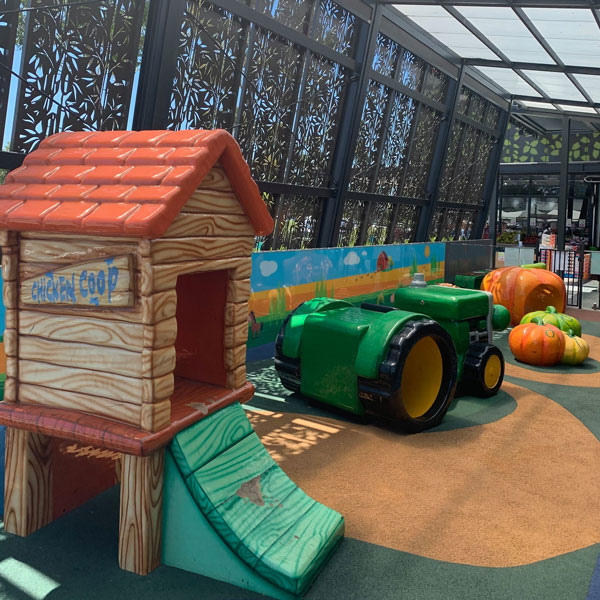 Caroline Chisolm Park – Winston Hills
Caroline Chisholm Drive.
Caroline Chisolm Park is a fenced playground just across the road from Winston Hills Shopping Centre and importantly just across the road from Cafe Els.
Further afield
Bobbin Head Nature Playground – Ku-Ring-Gai National Park
Bobbin Head at Mount Colah in the Ku-Ring-Gai National Park is a lovely spot for a day trip. As well as being a great place to bushwalk, paddle or go fishing, Bobbin Head is the perfect waterfront picnic spot, particularly now that it has a fully fenced, upgraded nature playground for the kids! Full details here.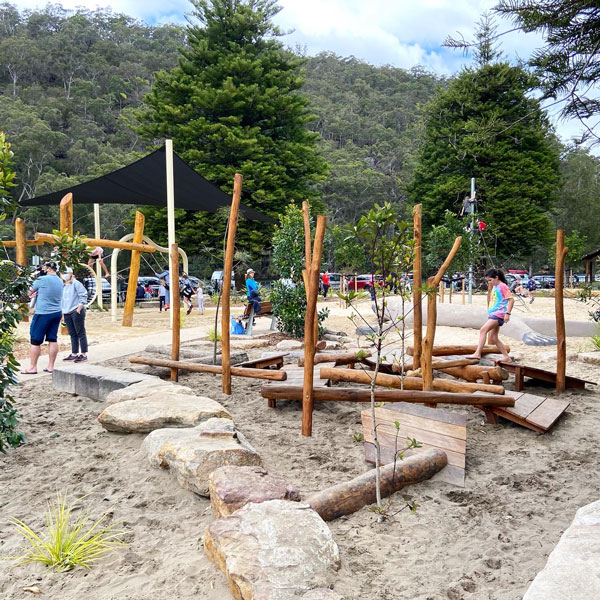 The Picnic Burwood Park – Burwood
Corner of Park Avenue and Burwood Road Burwood
Nestled in Burwood Park The Picnic is a funky cafe which is constantly buzzing. Just up from the cafe is a fantastic fully fenced and shaded playground. Well worth a trip!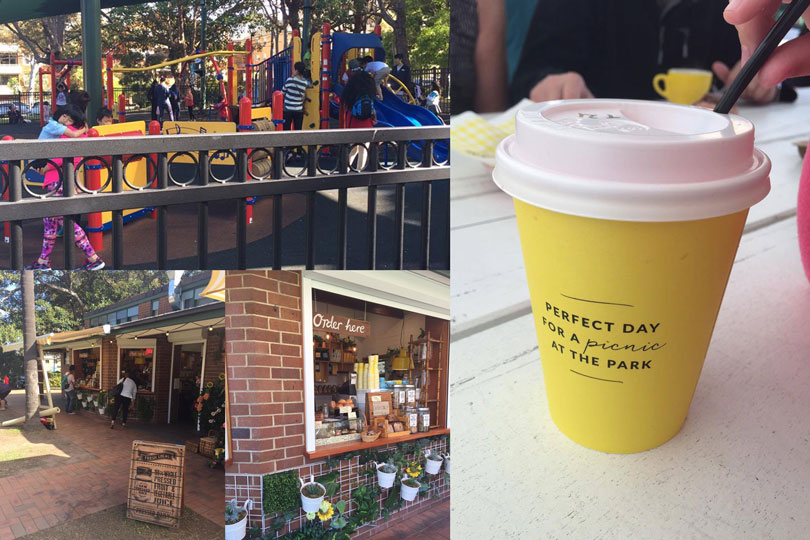 Livvi's Place – Ryde
Yamble Reserve, Quarry Road.
The playground at Yamble Reserve is visually stunning, with different pockets to discover and lots of brightly coloured elements to explore and ponder. There are stepping bells and bongos, a large sand area with a cool water pump, excellent long flying fox and a second one with a chair and harness, big spinning structures, little hills and tunnels and more.
Huge shade sails cover a large portion of the playground but not the flying fox. It's fully fenced with security gates and there's plenty of seating. There's a large toilet block right next to the park but it isn't close to refreshments.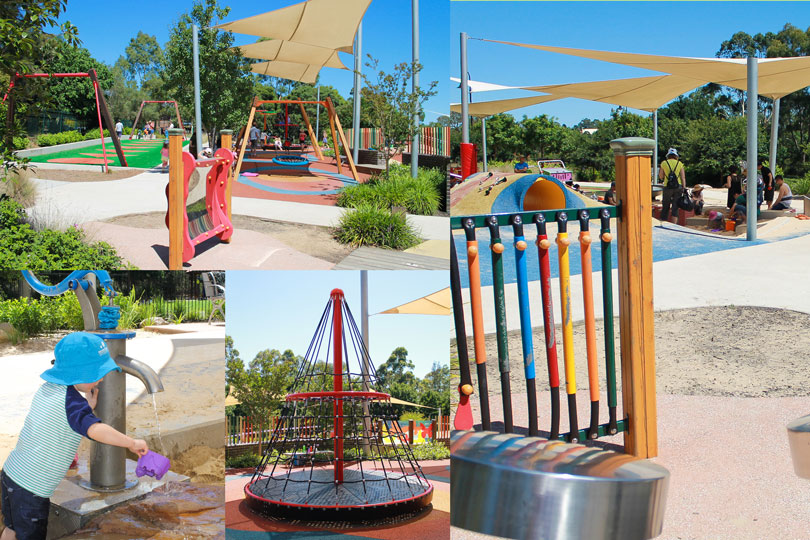 Wahroonga Park – Wahroonga
Coonanbarra Road.
We love Wahroonga Park. The equipment is great and caters to kids up to about 6 or 7, maybe 8 at a stretch. Any older and they may be a little bored or prefer to kick a ball on the grass outside the playground. There's a mini flying fox, a large half sunken pirate ship with slide, train structure, small slide toddler swings and stepping bells.There's plenty of seating and a fair bit is under shade sails. And there's a cafe across the road or a number at Wahroonga shops, so once you're all set up with coffee in hand, you shouldn't have to stray too far from the plentiful seating at all.
The playground is fully fenced (aside from the swings for the older kids) and sits in a bigger park which takes up the entire block. Note, Mr 4 can very easily open the gates though. It's very pretty, with manicured gardens and a rotunda and there are also toilets.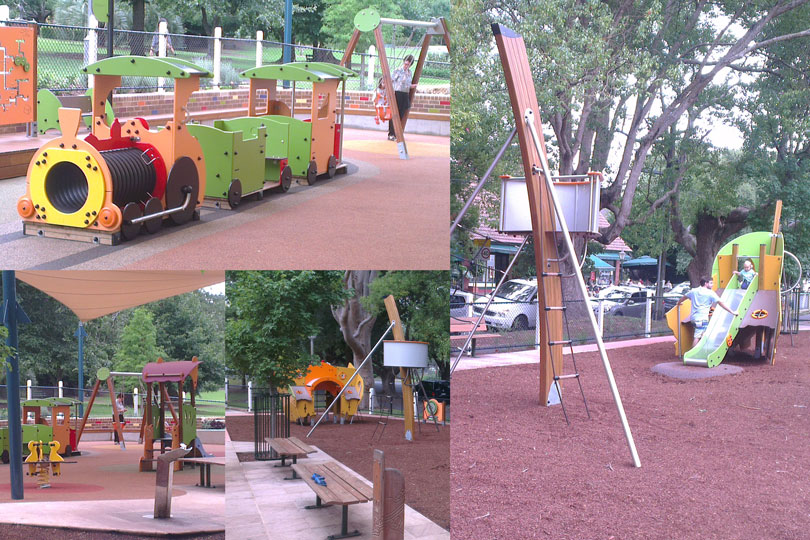 ---
Other articles that might interest you…..