The Hills Schools Expo. Saturday & Sunday March 4 – 5, 10am – 4pm both days. Harvey Lowe Pavilion, Castle Hill Showground.
This free event is an unparalleled opportunity to meet with teachers and principals from Australia's leading independent schools and discover the many school options available to families in the area.
Find out more here.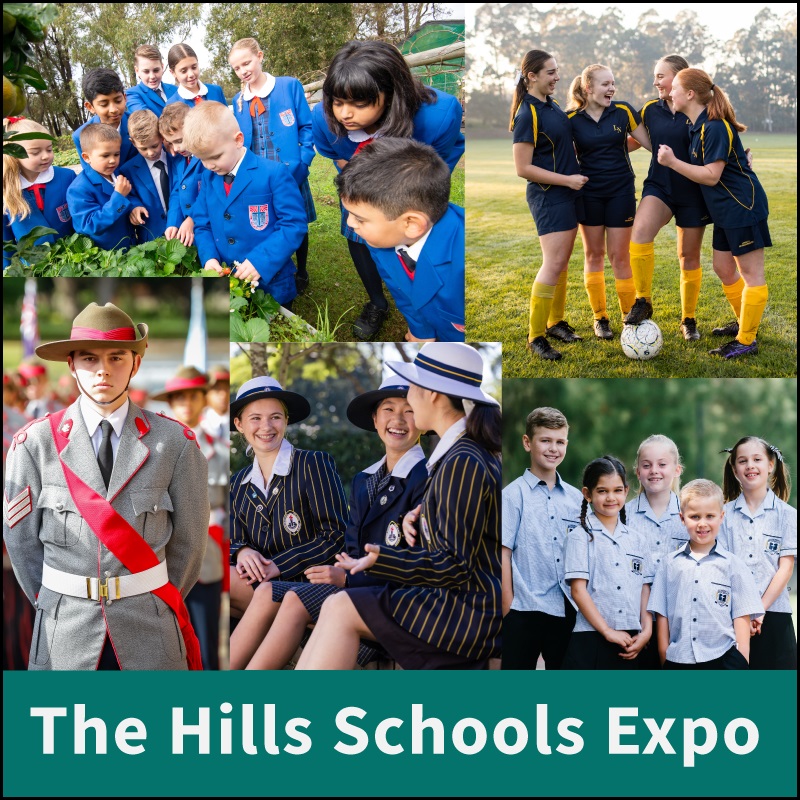 Family Day: Technology and Games. Powerhouse Castle Hill. Saturday 4 March. 10am to 4pm.
A free day of demonstrations, talks and hands-on activities focused on technology and gaming – designed to inspire people of all ages.
Technology Collection – Open 10am – 4pm. All kinds of innovative technologies that changed our lives are contained in Store 2 including telephones, cameras, sewing machines, clocks, heaters, light bulbs, radios, televisions, typewriters, record players and plastics. You can also see printing presses, engines, machines and other intriguing contraptions dating from the industrial age to the present day.
Walkthrough: What's that Sound – Tours at 11am, 1pm and 3pm. Be taken on a tour of the sounds surrounding us. Some sounds provide help, such as alarms and sirens. Others we choose to hear because they enrich our lives, such as the noises made by gaming consoles, clocks, and of course, musical instruments. This tour will explore many types of sounds.
Mars First Logistics – Open 10am – 4pm. Create your own digital mechanised space rover to carry cargo across Mars. Test your engineering and problem-solving skills in this open-world physics simulation by Melbourne-based game developer Shape Shop.
Syrinscape – Open 10am – 4pm. Design the perfect soundscape for your gaming experience. Using Syrinscape you can create immersive, dynamic sound effects to create a musical gaming experience.
Game Design Workshop – Workshops at 11am, 1pm and 2pm. In this workshop, participants will be introduced to the basics of level game design using Unity. Participants will learn various design concepts to make their games fun and challenging. This workshop uses Unity game engine, which is a free and professional game development software. Sign up at the front door as there are limited spaces available.
Too Many Cooks. Open 10am – 4pm. Play a fast-paced, cooperative family boardgame where everyone gets to be a fussy chef. Combine all of your characters' culinary tastes to make a soup before time runs out. Created by Australian boardgame designer Jarrah Bloomfield.
Pixilart. Open 10am – 4pm. Create your own gaming character using PixilArt. Inspired by retro and arcade games, pixel art lets you build 8-bit characters, tools or worlds. A selection of the best PixilArt from the day will be presented at Powerhouse Late X Gaming on the 6 April.
The Godfeather – Open 10am – 4pm. Take back your old neighbourhood in The Godfeather. Play as a cranky pigeon and take over enemy territory to regain control of your neighbourhood. Designed by Sydney-based game developers Hojo Studio.
Mars Rover Demo – Demonstrations at 10.30am, 11.30am, 1.30pm and 2.30pm. Meet our quarter-scale Curiosity Mars Rover replica. Hosts will be available to answer questions and engage in conversation about autonomous robotics, the design process and technology involved in this robot, the current missions exploring Mars and what this means for the search for life elsewhere in our Solar System.
Full details and more information can be found here.
Free Learn to Skate Workshops. Bella Vista Pocket Park. Saturday 4 March. 9am to 1.30pm.
Kids, grab your skateboards and join in the fun at Bella Vista Pocket Park for free Totem Skate workshops every month.
These fun and relaxed workshops focus on the development of motor skills and confidence building. The workshops are open to 6–12-year-olds.
Hurry, these workshops sell out fast. Find out more here.
80s Flashback live at Bella Vista Hotel. Saturday 4 March. From 9pm
The Bella Vista Hotel goes off every Saturday night with lie bands. This week you can catch the 80s Flashback. Show starts at 9pm, with a live DJ post show! Make a night of it and book a table for dinner beforehand.
Bella Vista Farm Open Day. Sunday 5 March. 9am to 2pm.
Interested in having a look around Bella Vista Farm? The historic homestead will be open for tours. Our volunteers from the Friends of Bella Vista farm are available to chat and answer any questions about the Farm and its history. There's plenty to do at the Farm. Relax in the gardens and say hello to the Farm's resident sheep. Visit the Trash & Treasure stall and watch a spinning demonstration. You can also explore the heritage farm buildings and enjoy a Devonshire Tea or bring a picnic, whilst you listen to music by chamber groups from the Hills Shire Symphony Orchestra.
Cars and Coffee at North Rocks Shopping Centre. Sunday 5 March. 8am to 10am.
Whether you're a car enthusiast or just plain curious, join North Rocks Shopping Centre on their rooftop to immerse yourself in cars, old and new. Don't forget to grab yourself a coffee from one of the lovely cafes along the way.
Clean Up Australia Day. Sunday 5 March.
Clean Up Australia Day occurs annually on the first Sunday in March. Get involved and take positive, practical action. Click here to find a location near you.
The Farm at Lynwood Country Club.
Every Sunday 11am – 2pm at Lynwood Country Club. Bring the kids along to see rabbits, birds and sheep! They'll be entertained by the animal feedings and learn about life on the farm.
SCHOOL OPEN DAYS
Loreto Normanhurst Open Day – Saturday 4 March, from 11am.
Oakhill College Open Day – Sunday 5 March, 10am to 2pm.
Mount St Benedict College Open Day – Sunday 5 March, from 10am.
MARKETS
Sydney Boutique Markets – Sunday 5 March. 10am to 4pm. Rouse Hill Town Centre.
---
Other articles that might interest you:
Did you know it's free to list your event on hillsdistrictmums.com.au? We use our calendar to compile this list! List your event for FREE here.