If you enjoy venturing out of the Hills and exploring, here are a few day trip suggestions that we really enjoy.
PATONGA  |  CENTRAL COAST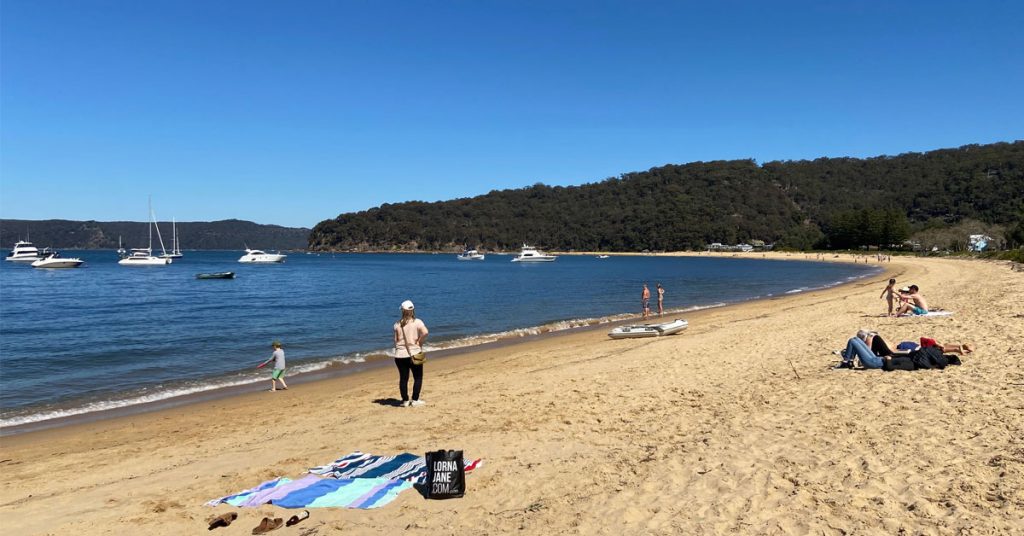 Patonga makes for a lovely day trip if you want to get out of Sydney and feel like you're on holiday! Patonga is the most southerly beach on the Central Coast. While it's unpatrolled, the water is calm due to its location within a recessed bay, making it ideal for kids. There are two playgrounds for kids located at either end of the beach and a cool pub across the road, The Boathouse Hotel Patonga, which offers dine in and takeaway options.
It's only 70km north of Sydney and takes about 1 hour from when you turn off Pennant Hills Road onto the M1 Motorway. You'll need to turn on Google Maps as it isn't signposted once you hit Woy Woy Road. You do go past Umina and Pearl Beach to get there. If you're really keen and want to add something else fun for the kids, you could catch the ferry across from Palm Beach.
Read more here.
IAN POTTER WILD PLAY GARDEN & CENTENNIAL PARK  |  EASTERN SUBURBS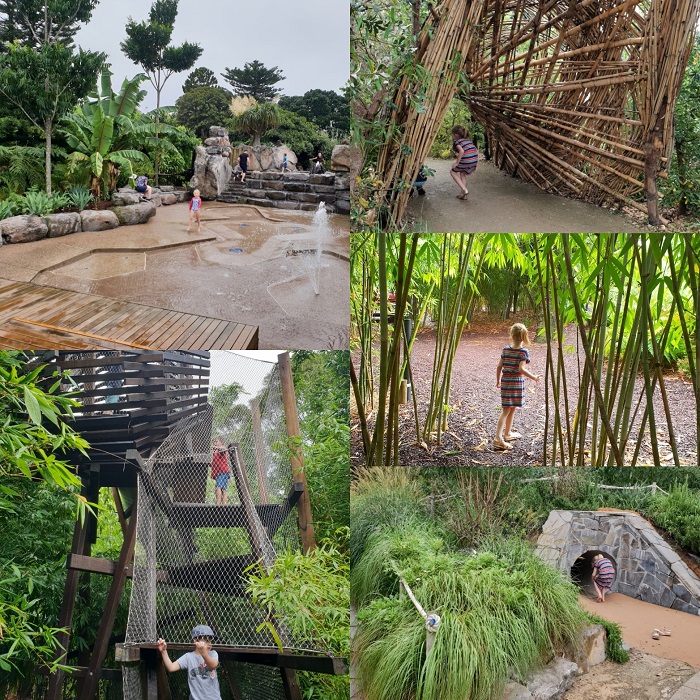 The Ian Potter Children's WILD PLAY Garden is located in Centennial Park. This park is a stunning park already but with the addition of this space it's even more amazing! This $4 million nature play space only opened in late 2017 – the key term to note here is 'play space' not 'playground'. Our kids have visited twice now and absolutely love it because it's so different!
Centennial park has a lot of other areas to entertain families too! So once you've visited the garden you could hire bikes, feed the ducks, have a picnic or go horse-riding!
Read more here.
CREMORNE POINT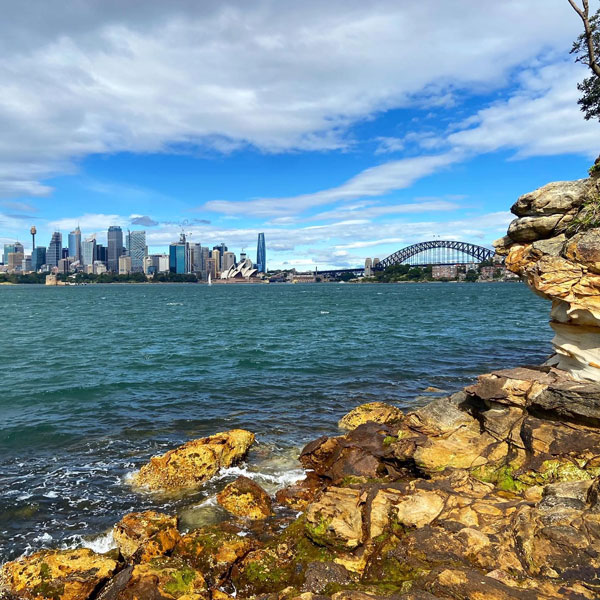 This is a gorgeous part of Sydney and a lovely spot to spend a few hours soaking in the harbour views, watching the ferries, exploring and relaxing. You can be active if you fancy – there's a lovely walk you could do and there's also a harbour pool if you feel like a swim. Otherwise, simply throw down a picnic blanket under a tree and spend a couple of hours relaxing and enjoying one of the best views in all of Australia!
Read more here.
LISGAR GARDENS  |  HORNSBY
This is a gorgeous spot hidden away in Hornsby that's well worth a visit. Lisgar Gardens is a stunning hillside garden with a rich history and bordering this is Florence Cotton Reserve, a valuable piece of remnant urban bushland offering a lovely bushwalk for families.
Opened to the public in 1968, Lisgar Gardens is a terraced garden renowned for its array of camelias, which have been internationally recognised. It boasts many other flowers also, as well as other areas to explore like a shade house containing fish ponds, a gazebo, small waterfalls, informal lawn areas and more. Once privately owned by Dr Max Cotton who created the gardens, they are now owned and maintained by Hornsby Council.
Read more here.
BERRY ISLAND RESERVE  |  WOLLSTONECRAFT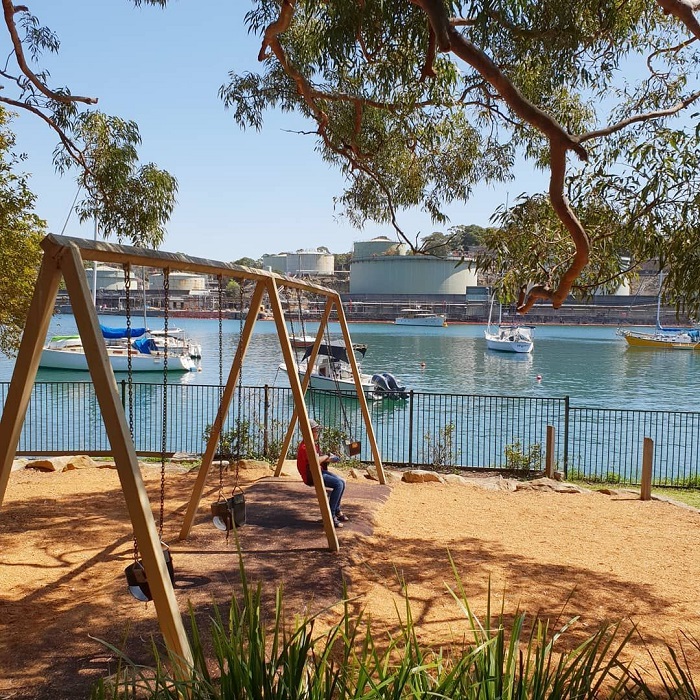 About half an hour's drive from the Hills in Wollstonecraft on the lower north shore, Berry Island Reserve is a beautiful spot to visit for a day trip or picnic. There's lots of space, harbour views, a playground and a short bush walk.
You'll find Berry Island Reserve by the harbour at the bottom of Shirley Road in Wollstonecraft. It's a comfortable drive from the Hills down the M2. It's a gorgeous spot and we remember going here on a school picnic day many moons ago! It's also an area rich in Aboriginal culture and history – the original occupants of the region, the Cammeraygal, lived along the foreshores and in the bushland and the area is dotted with cultural remains.
Read more here.
NARRABEEN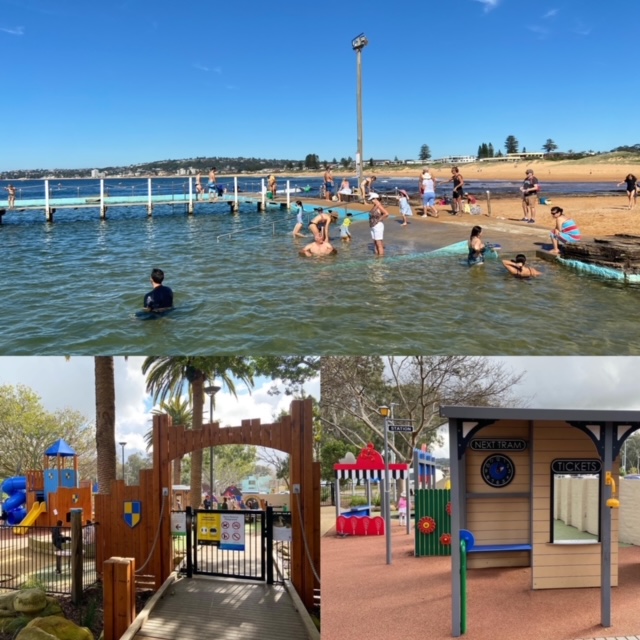 Narrabeen is popular with families with its beautiful beach, great walks, cool playgrounds and a picturesque lagoon. Firstly the beach! Over three kilometres of sand stretch from Long Reef in the south to the Narrabeen Lagoon entrance in the north, with four lifesaving clubs along the beach. With our family, our favourite place to head is the North Narrabeen Rockpool. The ocean pool is neatly tucked into the rocks at the entrance of Narrabeen Lagoon and its a great place to take a calm dip with kids.
At Narrabeen Lagoon you can go walking and enjoy water sports. The Narrabeen Lagoon trail is an easy 8.4km loop, which is totally pram friendly! It winds through bush and parklands and there are plenty of places to stop along the way including the Bilarong Playground and the fabulous Berry Reserve Playground located right next to a cafe. It's fully fenced, there's shade from the trees and the equipment is great for a wide range of ages.
THE COAL LOADER  |  WAVERTON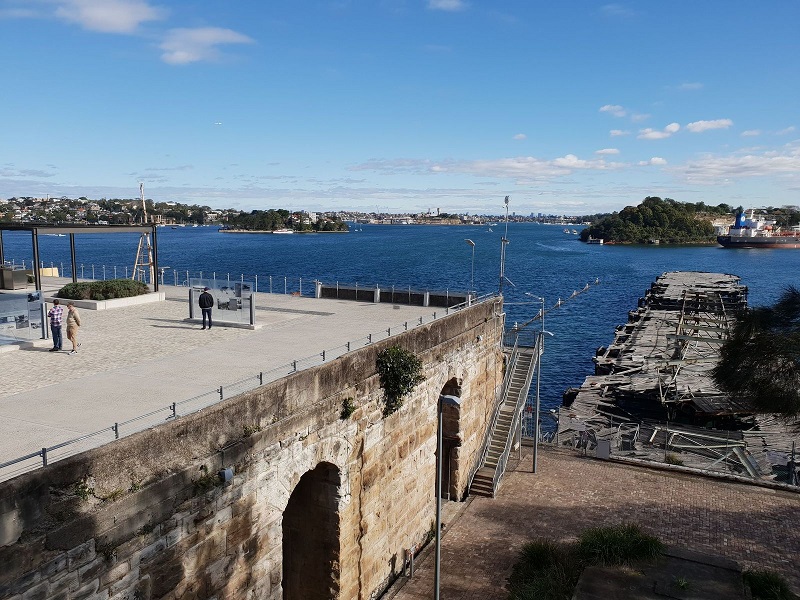 Down in Waverton on the harbour, about half an hour's drive from Castle Hill, is the Coal Loader. It's a fascinating spot for adults and kids alike because of its indigenous heritage and, much later, its contribution to industry and trade for 70 years. It's a great place to visit for a couple of hours or longer if you make a day of it. There are the stunning views, a large open grassed area for a picnic and a cafe, and you'll learn some cools things along the way!
Read more here.
BOBBIN HEAD  | MOUNT COLAH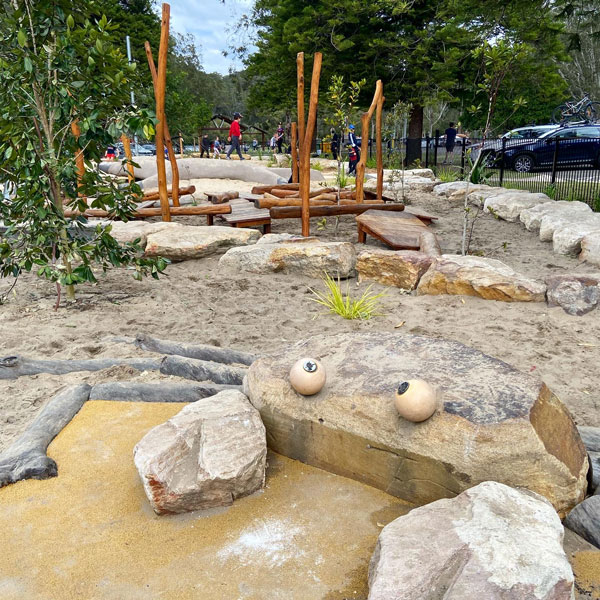 Bobbin Head is located in the Ku-Ring-Gai National Park. As well as being a great place to bushwalk, paddle or go fishing, Bobbin Head is a great waterfront picnic spot, particularly now that it has a fully fenced, upgraded nature playground for the kids. The playground has shade sails in spots, is fully fenced and there are toilets across the road. Surrounding the playground is plenty of space to pull up a picnic rug or kick a ball around. And best of all, there's a cafe across the road for coffee, hot chips, an ice block or more!
CLIFTON GARDENS
Clifton Gardens is a pretty little spot on the North Shore, perfect for families. It makes a lovely day trip from the Hills and if there's no traffic, it only takes about half an hour to 40 minutes. Clifton Gardens looks out over the harbour and offers much to entertain families as well as amenities. You'll see lots of boats, with several pulling into the beach and passengers going for a swim to cool off. You'll also see the Manly ferries passing by.
The eastern side of the water surrounded by the jetty is netted whereas the other side of the beach isn't. When we visited, the water wasn't the cleanest, with a little bit of rubbish and some seaweed – but kids don't care about this sort of thing it seems! What we like is that the beach isn't huge, so the area you have to survey to monitor your kids isn't too vast. Also, when we visited it wasn't packed – we tend to go early to popular places like this to avoid crowds, park easily and before the really hot part of the day.
Read more here.
DANGAR ISLAND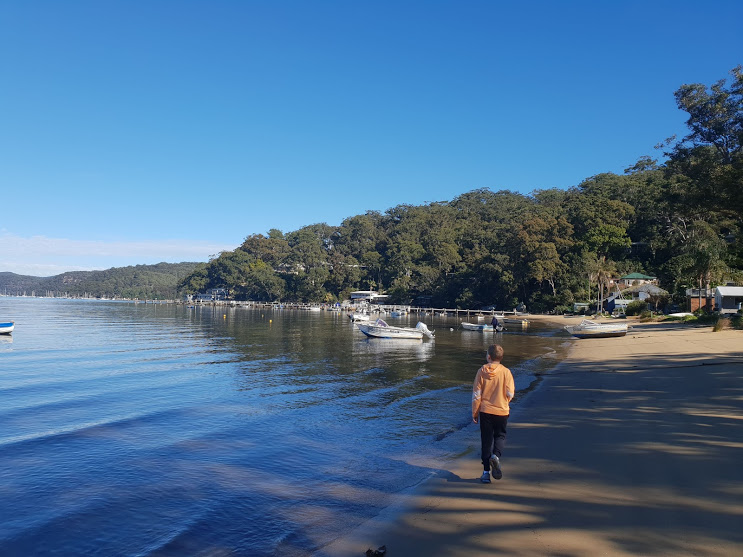 Dangar Island sits in the Hawkesbury River north of Sydney. It has a population of just a few hundred people and is only accessible by water, with no cars on the island. You can visit for the day via ferry from Brooklyn and it makes for a lovely little outing if the sun is shining. To get to Dangar Island you catch the ferry run by Brooklyn Ferry Service from Brooklyn. Brooklyn is about 45 minutes from Castle Hill by car and is also right by Hawkesbury River train station.
Read more here.
FAGAN PARK  |  GALSTON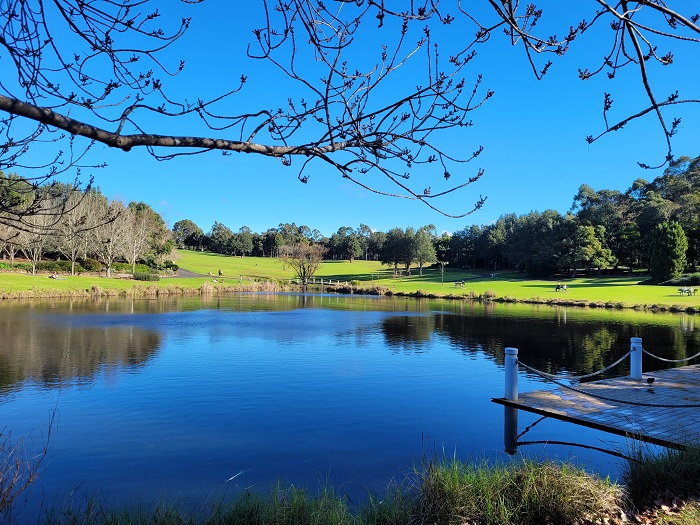 Fagan Park is a truly beautiful park and one of our favourite places to visit with our kids. We know lots of Hills District Mums are fans too! We like to take a picnic lunch, balls, bikes and scooters, and spend the afternoon there perched by the playground. It's beautiful all year round. It's an oasis of rolling green expanses and pretty little nooks for the little ones to discover. There are bike tracks, a large pond, lots of wide open space, two great playgrounds and the Gardens of Many Nations to explore.
Read more here.
PALM BEACH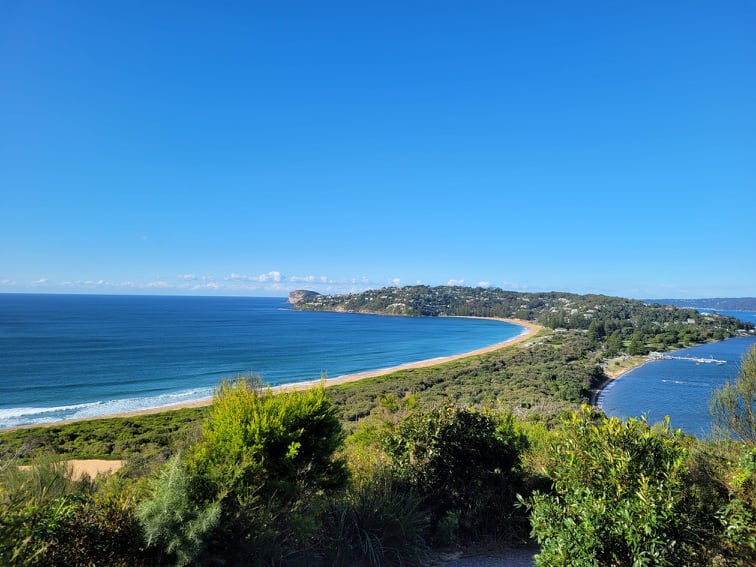 If you set out early, Palm Beach is a lovely spot to visit for the day. The drive is pleasant and you can enjoy some great house porn along the way! Once there, it depends how you want to spend your day. You can just hit the beach and relax – no judging here! There's a surf side and a bay side. There's also the great walk up to the lighthouse that gets your blood pumping – the view is absolutely incredible! There are lots of eateries and there's a playground too.