If you have a little one that's into a particular 'theme' then these playgrounds are for you! Think space & aliens, safari, trains, roads, dinosaurs and more!
SPACE & ALIEN
Stargazing Park, corner Lunette St and Valletta Dr The Gables Box Hill.
This is a new playground, opened in December 2022. It's a fantastic spot with some really unique alien and space themed equipment, but also some natural elements like sandstone steps and mounds to scale and stumps and logs to traverse. The UFO shelters are cool, it's flat with a big circular path for scooting and there's also a large grassed area by the playground. All in all, a great addition to The Gables! There's no shade or toilets however, so time your visit. More info and photos here.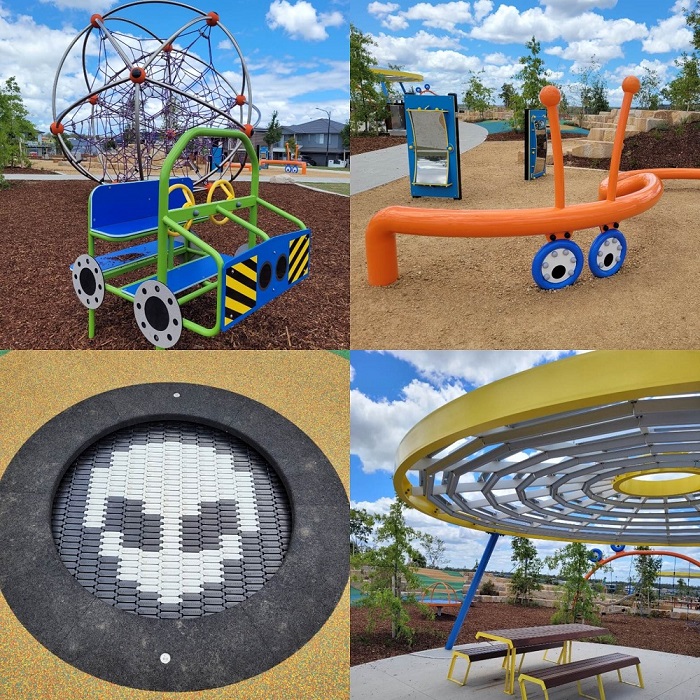 ---
DINOSAUR
Darlington Reserve, Darlington Drive (off County Drive) Cherrybrook.
This is a cute backstreet playground in Cherrybrook and if you have a dinosaur fan then it's right up their alley! Roarsome!
The equipment is great and is best for toddlers up to about 5 or 6. There are dino eggs, a large dinosaur head, carved totem poles, a slide & swings, a climbing wall, stepping stones with dinosaur prints on them, a partially submerged serpent-like creature and a car which we presume you would go dino hunting in.
It's fully fenced, although the locks are simple so you need to still keep a look out if you have an escape artist. There's some shade from the surrounding trees as well as a generous sized covered hut.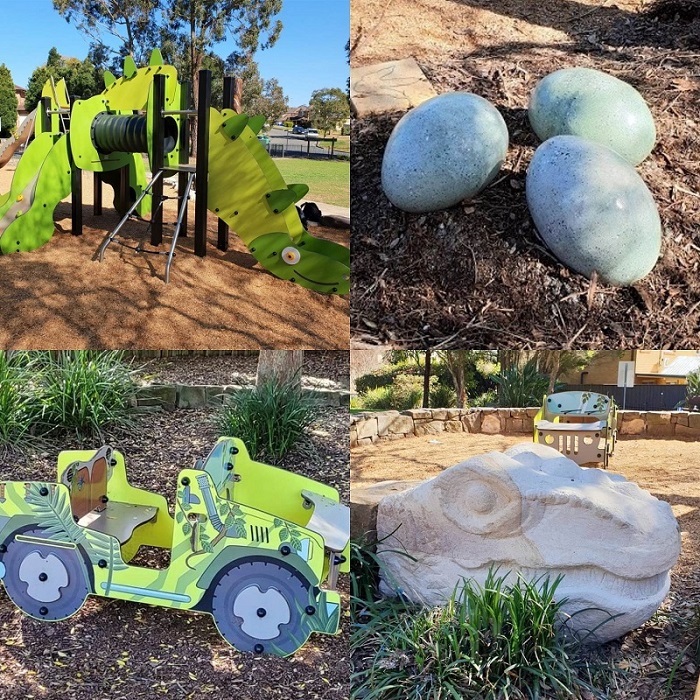 ---
SAFARI & ANIMALS
John Wearn Reserve, Corner Farnell Avenue and Balaka Drive Carlingford.
The safari themed playground at John Wearn Reserve in Carlingford is a great spot! If you haven't visited before, add it to your list. The scaled down life-like animals include an elephant, monkey, giraffe, lion cub and lion, hippo, zebra and more. A great addition is the soundscape experience where the monkey, elephant, lion and hippopotamus greet approaching children with a roar, cackle and deep bellow! The playground is part of a larger space with plenty to do, including for older children. Read more here.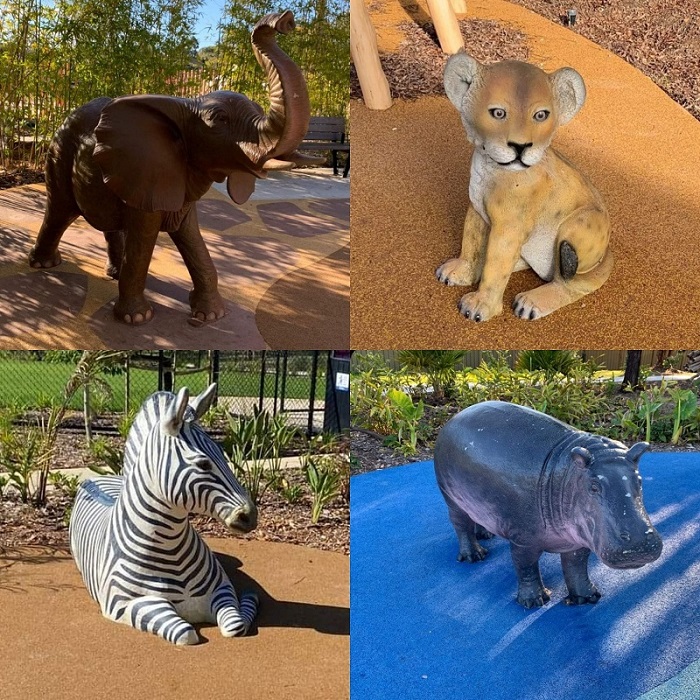 ---
ROADS
There are several great learn-to-ride tracks in the Hills that incorporate pedestrian crossings, signs, petrol bowsers, 'lights' and roundabouts! Kids love these when they're starting out on their bike or scooter and the features of a road lend themselves to awesome imaginary play! There are the following in the Hills, as well as several more not far from the area.
Rutherford Ave Reserve, Kellyville
Twickenham Reserve, Kellyville
Coolong Reserve, Castle Hill
Crestwood Reserve, Baulkham Hills
Centenary of ANZAC Reserve, Castle Hill
Read more about the above here.
Twickenham Reserve pictured below.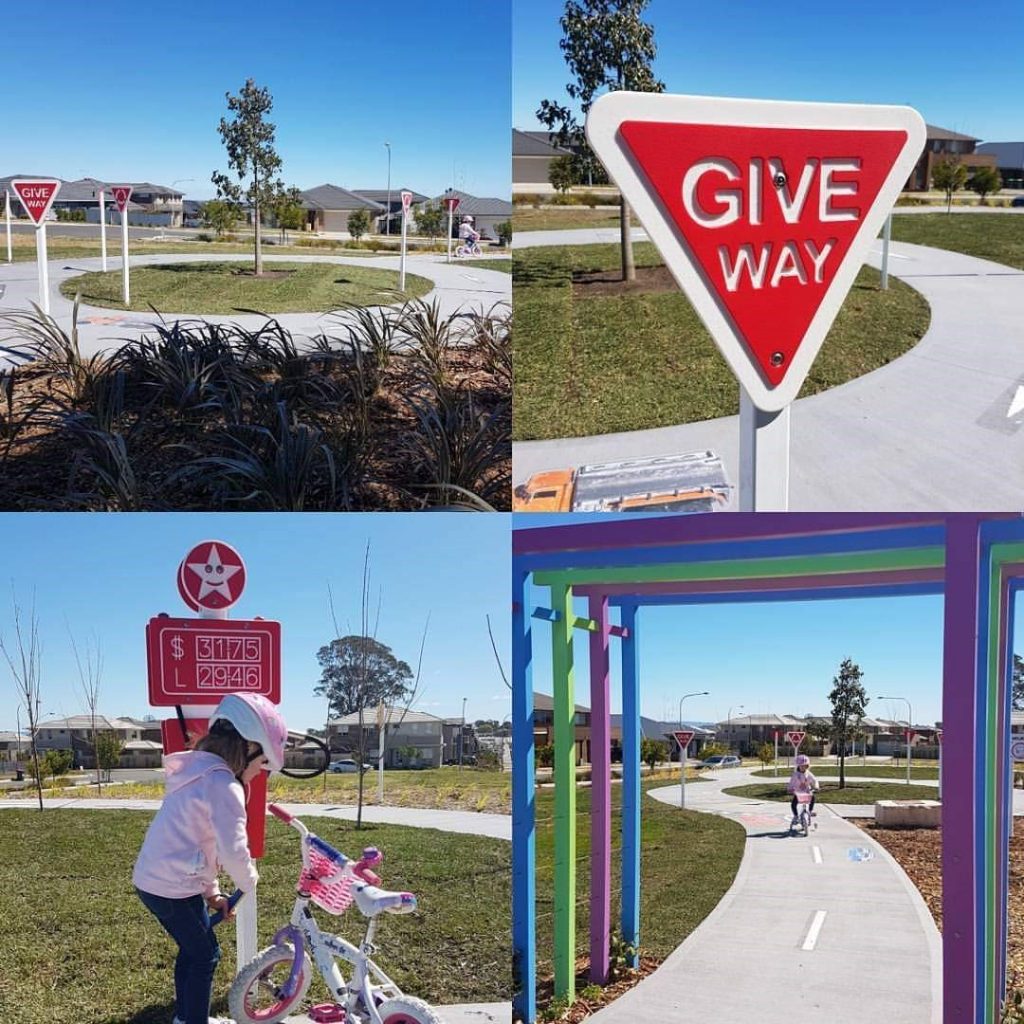 ---
TRAINS
Beecroft train park, Cnr Wongala Crescent and Hannah Street Beecroft.
This sweet little park is ideal for toddlers and pre-school aged children. Kids love the train-shaped play equipment and there's even a train spotting platform to watch trains as they pull in and out of the station. The trees surrounding the park do provide some shade cover at certain times of the day. The ground is soft rubber, ideal for crawlers, however it does get hot in summer. And Beecroft has a handful of great coffee shops for take aways.
For more info and photos click here.
Two right-hand photos below.
Ollie Webb Reserve, Glebe St Parramatta.
The Ollie Webb Reserve Playground is Parramatta's first all-inclusive playground and water-play park and has a small train structure… as well as a stack of other things! As with other playgrounds linked to the Touched by Olivia Foundation this $1.8m playground pretty much ticks every box and is well worth a visit.
This playground is full of fantastic equipment for all ages and abilities. There are tunnels, swings, trampolines, a water play area, a sand pit and slides for the game and not so game! The playground is fully fenced and there are toilets too. Read more here.
Bottom left-hand photo below.
Arthur Whitling Park, Castle Hill Metro Station, Old Castle Hill Road Castle Hill.
This little playground is right by the train station opposite Castle Towers and has a bright red train! The playground is only small and is definitely for younger kids. It's handy if you need a break and some fresh air and sunshine while shopping! There is no shade but we visited in Autumn and it was lovely in the sun! It's not technically fenced but is set back from the roads in a landscaped area. You would need to watch kids though, as always.
Middle left-hand photo below.
Wahroonga Park, Coonanbarra Road Wahroonga.
Wahroonga Park is a super pretty spot for a day out, a picnic and a play. The playground has a small train structure and other great equipment and caters for kids up to about 6 or 7, maybe 8 at a stretch. Any older and they may be a little bored or prefer to kick a ball on the grass outside the playground. There's a cafe across the road or a number at Wahroonga shops
The playground is fully fenced (aside from the swings for the older kids) and sits in a bigger park which takes up the entire block. Note, the playground gates are easy to open so you do have to keep an eye on kids. It's very pretty park, with manicured gardens and a rotunda. There are toilets and they did have a major upgrade a while back but they're often not very clean unfortunately!
Top left-hand photo below.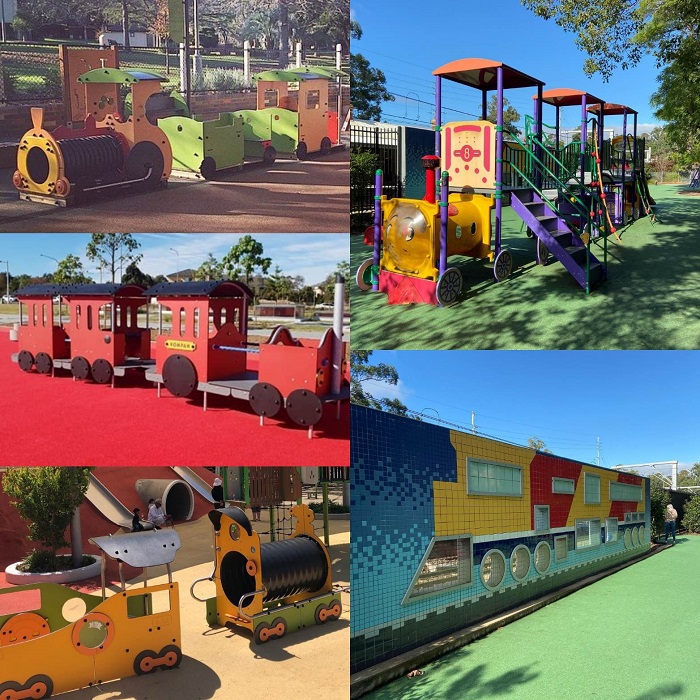 ---
PIRATE SHIP
The pirate park, Anderson Road Kings Langley.
We're probably being a little liberal with the term 'park' here. In reality it's just a pirate ship, but it's very sweet. So if you've got a pirate crazy toddler they'll love it.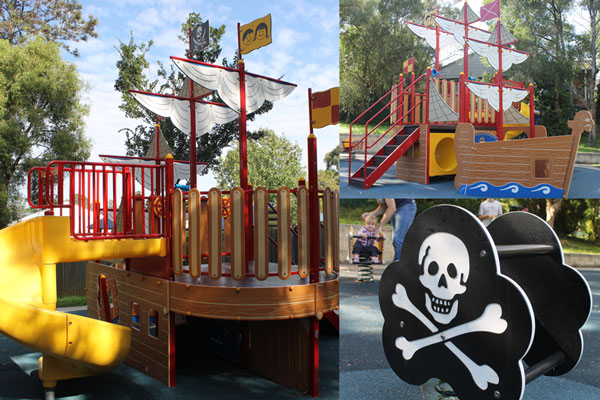 ---
CASTLE
Sherwin Park, Isabella St, North Parramatta.
This playground is super cute! With a replica mini castle, there's plenty to keep kids occupied. It isn't fenced but is a long way from the road and there are toilets, swings and paths for scooters!