It's great getting out and about in the fresh air with kids! I'm really interested in what the Hills District has to offer and love not having to venture too far from home to enjoy a great day out – it makes it much easier to fit in nap times and more. So I was pleasantly surprised to find some beautiful bush walks in our area that provide the opportunity to get in touch with nature, fit in some exercise and spend some quality time with my children – right on our doorstep.
First up is PLATYPUS TRACK. You can find this magical place at the eastern end of Excelsior Avenue in Castle Hill. If you drive all the way to the end of Excelsior Avenue you'll see some sporting fields and the track begins to the left of the driveway entrance to these fields.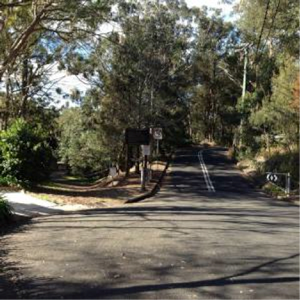 This walk is not suitable for prams. I did bring along my toddler carrier but didn't need it as my daughter coped really well with the walk and only needed a rest or two on the way out and up as it is a bit of an incline.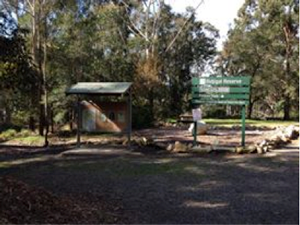 This walk is a 1.7km loop so you can start to the left of the sign or the right. We began to the right as there was a concrete path. Follow the blue platypus signposts along the track. On the way down there was quite a few steps and it was a little tricky at times but was fairly manageable for my 4 year old. I warned her not to run or jump on the rocks as some of them were mossy and would be slippery when wet.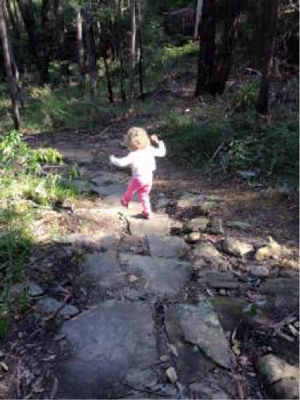 I would only recommend this walk for capable 3.5 year olds and up – even then you will need to hold their hand on some parts. Any younger and I would recommend carrying them in a carrier at least on the way down. Once you're on the forest floor the track is easier and my daughter didn't need much help – but still, it is a bush track which crosses a creek and there are some loose rocks and also tree roots along the path. Having said that, this is an enjoyable walk with only a few tricky parts.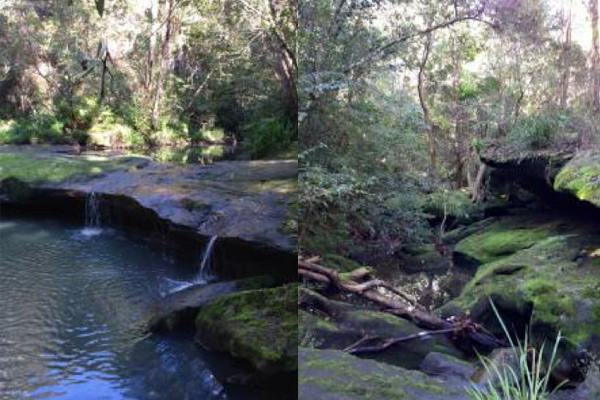 Sadly there are no platypus in the creek anymore. During the 1970s, suburbanisation, storm water drains and sewer treatments caused much disruption to the platypus habitat. However, we did spy a rabbit and my daughter says she saw a 'hedgehog' but I can't vouch for that!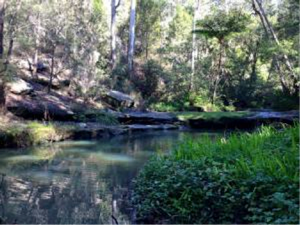 We were really interested in finding the enchanting stepping stones and Loch Bruce – once a popular swimming and picnic spot. These highlights were right at the end of our walk. Had we begun our walk to the left of the sign we would have found the stepping stones quite quickly, followed by Loch Bruce!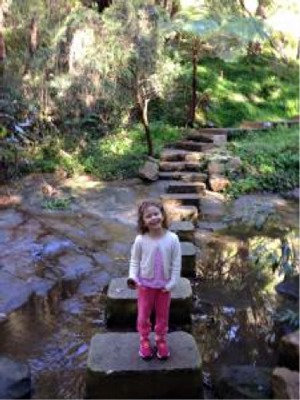 We walked this track in an hour but we could have easily spent at least another half an hour down there just soaking up the beautiful surroundings and listening to the sounds of nature. It really was a gorgeous walk and we'll definitely do it again and spend some more time exploring some other paths down there.
Next up is MURRI YANNA TRACK. This is a long track which follows the Darling Mills creek. It's actually an 8km track leading from Whitbred Place North Rocks to Heidi Place, West Pennant Hills. However it has various entry points so you don't need to do the entire track. We began this walk at Heidi Place in West Pennant Hills. It was a relatively easy track (the small part we did) but still not pram friendly. You can also access this track from Aiken Road in West Pennant Hills (just near Oratava Avenue) which I'd probably recommend as you get a much better view of the Darling Mills creek if you begin here. This isn't a loop track though so don't forget that at some point you need to turn around and follow your footsteps back to your car!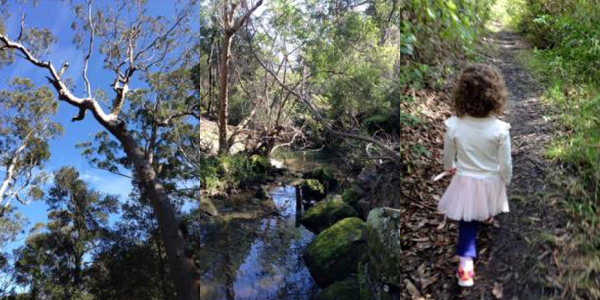 The last track I have to share with you is CUMBERLAND STATE FOREST – SENSORY TRAIL which is a fairly pram friendly track!
If you've never been to Cumberland State Forest before you need to get there one day soon! It's such a great place to explore. You're so close to suburbia, yet feel a million miles away. It has many walks to choose from but only one that's suitable for prams. Also, did I mention there is a cafe in the forest!? Before you begin your walk on the SENSORY TRAIL, go to the visitor centre and grab a Forest Adventure Trail booklet from the visitors' centre so you and your child can learn different facts along the way. This track is a quick and easy 350m and is perfect for the very little people in your life!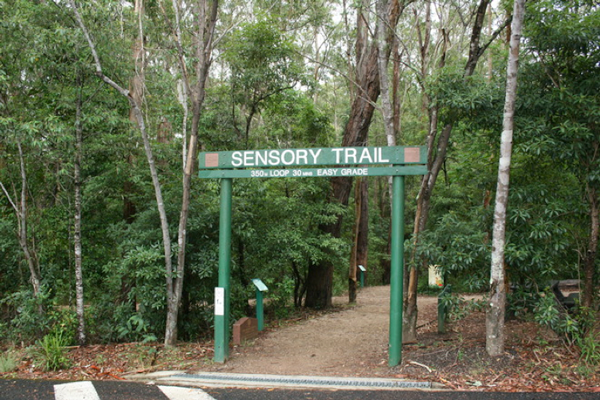 So why not try a Hills District bush walk yourself one day soon? It's so grounding to be surrounded by such greenery and quiet. Just make sure you tell someone you are going into the bush, keep your wits about you and remember which track you take so you don't get lost.
I'm hooked and can't wait to explore other bush walks in the area. Do you have a favourite bush walk you'd like to share?
Beth is the founder of Happy Mummy Movement.  You can follow her here.