Weekends are precious for many families and sometimes it's nice to go out and do something all together rather than get bogged down in chores and jobs around the house. Here are some ideas for spending quality time as a family. Not all cost money and a couple don't even require you to leave the house, but they're the times kids remember for years to come!
Visit a park you haven't been to before – there are STACKS of parks in and around the Hills and kids love exploring ones they haven't been to before. Here are some of our lists of parks that might help you find a few new ones to try:
The Parks & Playgrounds section of the Hills District Mums website also has lots of suggestions.
Go to a movie or host an at-home movie night – lots of kids get a real kick out of going to the movies! It's dark, loud and you usually get to eat a treat or two – what's not to love?! If taking the whole gang to the cinema isn't quite within the budget, you can recreate the magic at home – pick a movie everyone will enjoy, dim the lights, bring the pillows and doonas into the living room, let them stay up late and eat junk and everyone's guaranteed to have fun!
Visit Windsor for the day – It's not far from the Hills at all. If you haven't been before, it's steeped in history and is as pretty as a picture! Read about our recent visit here.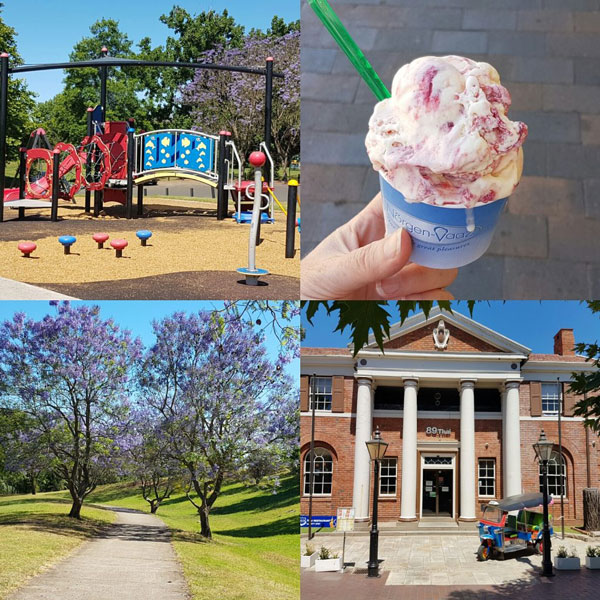 Take a trip into the city – we live in one of the most beautiful cities in the world! And for kids, a trip into town is such a great adventure. You don't even need to spend lots – kids get a kick out of the bus or train trip and then wandering around down by the harbour and seeing all the sights makes for a lovely day out.
Plan a treasure hunt – kids love this sort of thing! You can do a home-based one with little treats or a more sophisticated one that requires you to jump in the car, solve clues and visit destinations. You can keep it close to home or make them as adventurous as you like! Google can help you to plan.
Go bike or scooter riding – it's an inexpensive outing that tires kids out! You can combine with a picnic too. Here are some parks in the Hills that have tracks to ride.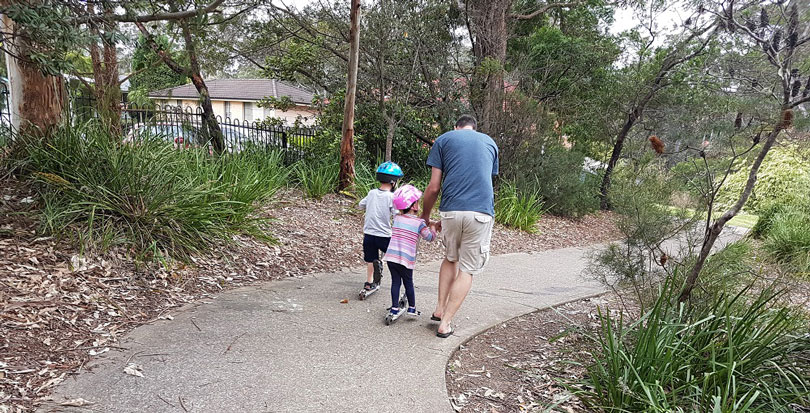 Take a ride on a rivercat or ferry – This is something that's reasonably cheap and fun to do as a family. Rivercats run along Parramatta River and you can hop on at Parramatta or Sydney Olympic Park. Head into Circular Quay to jump on any number of Sydney Ferries – you don't even need to hop off, a round trip will take you back to the Quay.
Go ice-skating – come on, this is very funny to do as an adult and the kids will no doubt be in hysterics! Again, it's a bit of a treat as it's not something you do every day! There's an ice rink at Macquarie Centre.
Visit Galston railway – Run by the Hornsby Model Engineers' Co-operative, Galston Valley Railway is an amazing and unique experience, particularly if you have a train fanatic in the family! It's a miniature railway with a main line length of about 1km running through a picturesque bush setting, with a mix of steam and diesel trains. And it's right here in the outer Hills, although you'd never know from simply driving past! It operates the second Sunday of every month. Read more about it here.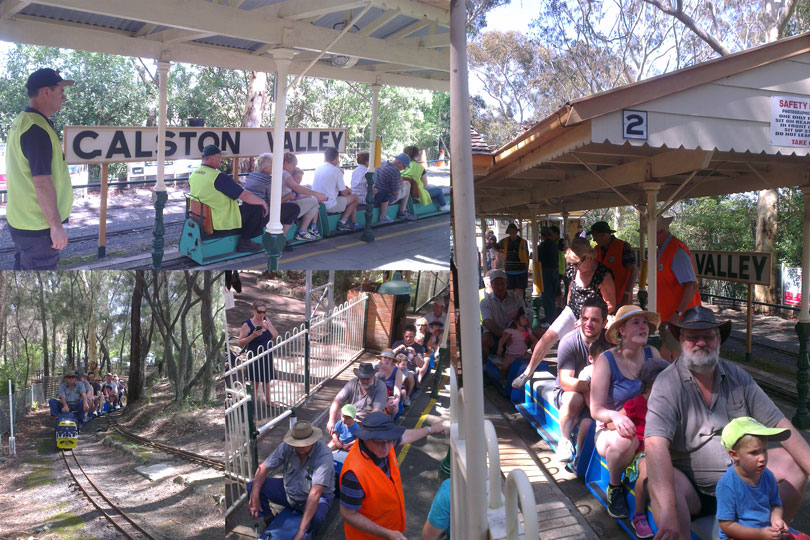 Go camping in the backyard – All kids LOVE the idea of camping. But if you're not seasoned campers, maybe you could road-test it in the backyard by borrowing a tent?
Check out the 'rural' Hills – Here in the Hills, we're blessed to have a piece of the country right on our door step. The 'rural' Hills – areas such as Galston, Kenthurst, Dural, Arcadia, Glenorie and stretching further to the Hawkesbury – offers some unique options for things to do without travelling too far. Here are some ideas.
Go for a bushwalk – we have a few lovely little bushwalks in the Hills. Here are some kid-friendly suggestions.
Go out for dinner – little ones get a real kick out of going out for dinner, kind of like mums – they don't do it often and therefore think it's super special! Dining somewhere with a play area can take the edge off a little and means that everyone is more likely to enjoy themselves! Here are 20 venues in and around the Hills that have play area.